CC Programs
Colorado College Abroad
CC Chinese in Asia-  2021-22 - Blocks 7&8
Chinese in Asia is offered in Blocks 7&8 2022. Students must register for both blocks. The application form should be submitted via Summit. Colorado College students must sign up for the program during their regular pre-registration. 
Block 7 - CN/PA 201- Intermediate Chinese - Prof. Hong Jiang.  Emphasis on continued development of speaking and listening skills and the use of basic structures through reading, writing and films with a view to building proficiency in using the language.  Prerequisite: Chinese Language 101.
Block 7- CN302 - Advanced Chinese language II  - Intensive practice in reading, writing, speaking and comprehending modern Chinese. Taught as an extended format course over the Spring semester. Prerequisite: Chinese Language 301 or consent of instructor.
Block 8 - CN/PA202- Advanced Intermediate Chinese II - Prof. Fanny Zhang - This course builds on the language progress made in Chinese 201. Extensive use of films and increased application of the written and spoken language in order to build proficiency. Prerequisite: Chinese Language 201. 
Block 8 - CN350 - Advanced Topics in Chinese Literature and Culture: Tell Stories - Prof. Hong Jiang
/
CC in China- Summer Course- not offered 2021-22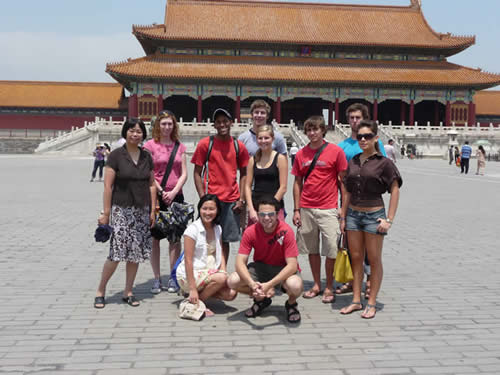 Every other summer, students from CC travel with Professor Hong Jiang to China. The six week course includes 4 1/2 weeks of study at Fudan University in Shanghai, considered the Princeton of the East. There, students are placed into the appropriate Chinese course for daily instruction. Additionally, there are afternoon and evening activities that the school holds for students to understand Chinese culture as well.
This course will provide students an opportunity to study Chinese language and culture in five major Chinese cities, where explorations of culture and daily life will be an integral component of the course. The students will visit famous historical sites and gardens, observe local enterprises, view traditional Chinese art, attend various cultural performances and become acquainted with Chinese families. After studying in Shanghai, students will travel to Xi'an, Wutai Mountain, and Beijing.
Food in Japanese Literature and Culture- Summer 2022 in Japan - Block B - JA350
This course focuses on the intersection of Japanese culture, food, and literature.  This is an interdisciplinary course designed to integrate perspectives on the history, aesthetics, practices and tastes of food in Japan.  It encourages analytic thinking (e.g., weighing evidence, establishing connections) and effective expression (writing and speaking cogently) on food and culture as they are experienced and expressed in Japan's past and present.  The topics covered will range from food production and consumption to religious and artistic representations and the construction of cultural identities.
             Our Summer 2022 "Food  in Japanese Literature and Culture" connects our academic readings with direct experiences in the preparation and consumption of foods and participation in cultural activities and events.  The course is also designed to provide students with a general overview of Japanese cultural and social history.
             All readings will be posted on our course's Canvas page.  Access readings on appropriate module pages, where you will also post your journals and papers. There will also be pdf copies of readings available on flash drives.
Pre-requisites:  At least two (2) courses/blocks about Japan or Consent of Instructor. Professor Joan Ericson and Professor Jim Matson
We will be requesting "Analysis & Interpretation of Meaning" designation under the new Gen Ed Requirements and Global Cultures under the older Gen Ed Requirements.