CC Programs
Colorado College Abroad 
CC Chinese in Asia -  Taiwan and Hong Kong - Blocks 7&8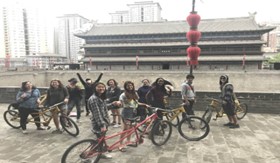 Chinese in Asia is offered in Blocks 7&8 2023. Study in Taiwan and Hong Kong, with the possibility to study in China Block 8, if travel restrictions are lifted. While in China stay in Shanghai, travel to Suzhou, Wuzhen, Nanjing, Xi'an, and Beijing. Students must register for both blocks. The application form should be submitted via Summit by December 1.

All regular financial aid applies to this program. Students who live on campus with a standard meal plan will pay no additional program fee. CC covers all program costs of this study abroad program including room and board, visa fees, field trips and an international flight allowance.

Billing for CC-Led Semester & Half-Semester Programs 
https://www.coloradocollege.edu/offices/globalandfieldstudy/global-education/semesters-off-campus/financial-aid-and-billing.html
Blocks 7 & 8 - CN101 Elementary Chinese

Block 7 - CN/PA 201- Intermediate Chinese
Block 8 - CN/PA202- Advanced Intermediate Chinese II 

Block 7 - CN301- Advanced Chinese Language I

Block 8 - CN302 - Advanced Chinese language II 
Summer 2023 in JAPAN - Block B
Food in Japanese Literature and Culture
This course focuses on the intersection of Japanese culture, food, and literature.  This is an interdisciplinary course designed to integrate perspectives on the history, aesthetics, practices and tastes of food in Japan.  It encourages analytic thinking and effective expression on food and culture as they are experienced and expressed in Japan's past and present.  The topics covered will range from food production and consumption to religious and artistic representations and the construction of cultural identities. We will spend time in the following cities: Tokyo, Fujiyoshida (at the base of Mount Fuji), Omi Hachiman, Kyoto, and Hiroshima.
FACULTY LEADER: Prof. Joan Ericson (Japanese) and Prof. James Matson (Asian Studies)
PREREQUISITES: Two blocks of coursework related to Japan (Language or other) and faculty approval.
PROGRAM FEE: $3,100. Fee includes program lodging, ground transportation, group meals & meal allowance, excursions & class activities, and international travel & health insurance. 
NOT INCLUDED: Airfare and incidentals.  An estimated airfare cost is included in our calculation for financial aid and aid awards will represent a set percentage of both the program fee and the estimated airfare.