Block Break 5 Newsletter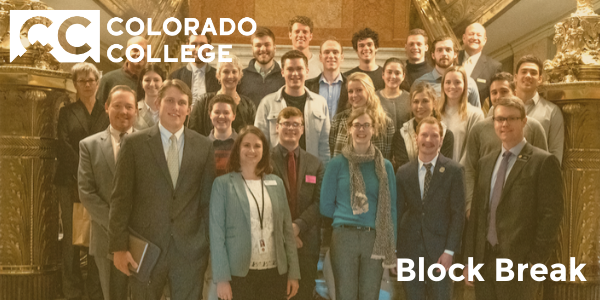 Students in the Economics of Higher Education met with CC alumni during our Denver field trip to the Colorado Department of Higher Education and the State Capitol. Photo by Jennifer Coombes.
Dear CC Alumni and Parents,
Campus has been bustling since early January, and I'm excited to share some highlights of Half Block and Block 5. As of January 1, 2020, Colorado College is carbon neutral, reaching our goal that was set in 2009. CC is the eighth institution in North America, and the first in the Rocky Mountain region, to achieve this goal. Provost Townsend is leading a task force to guide CC's next steps to advance our commitment to environmental sustainability.
We had another successful Half Block with 427 students enrolled in for-credit offerings such as Patagonian Ecology and Biogeography. An additional 274 students took one of the 21 non-credit courses that provided opportunities to develop life skills and learn about career fields from finance to public policy. Thanks to Toddi Gutner P'21, Meryl Holland P'21, Jerome De Herrera '97, Rick Kilbride '78, Michael White '02, and Dez Stone Menendez '00 who taught Half-Block courses!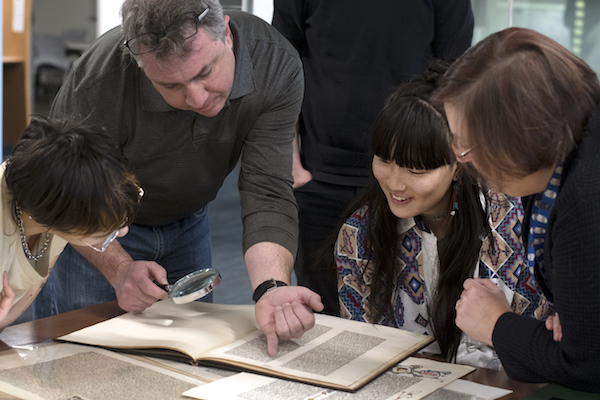 One of our Half-Block courses was History and Future of the Book, co-taught by Jessy Randall, curator of special collections; Steve Lawson, librarian; and Aaron Cohick, printer at the Press at Colorado College. Photo by Vivian Nguyen '20.
Martin Luther King, Jr. Day marked the first day of Block 5. We had an excellent community turnout for the CC-hosted All People's Breakfast, which featured keynote speaker, alumnus, and trustee Ryan P. Haygood '97, Esq. presenting "Where Do We Go from Here: Chaos or Community?" He also delivered our First Mondays talk, "Dr. Martin Luther King, Jr.: The Visionary, the Truth Teller, and Most Hated Person in America." Haygood is a nationally renowned civil rights lawyer and the executive director and chief executive officer of the New Jersey Institute for Social Justice. In January, we also welcomed renowned author and historian Ibram X. Kendi, who delivered "How to Be an Antiracist Institution," and emphasized the importance of dialogue, action, and advocacy.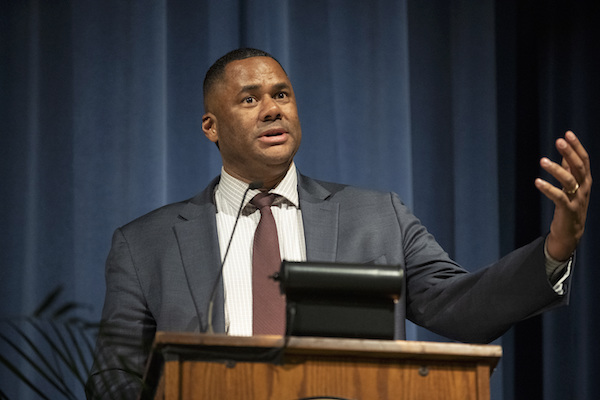 Colorado College trustee Ryan P. Haygood '97, Esq. delivers "Where Do We Go from Here: Chaos or Community?" at the All People's Breakfast on Martin Luther King, Jr. Day. Photo by Jennifer Coombes.
My highlight of Block 5 was co-teaching the Economics of Higher Education with my husband, Kevin Rask. Our students were fantastic! Over the block, we examined trends in higher education using economic theory and data analysis, and met with many experts. We visited with leadership at the University of Colorado-Colorado Springs and Pikes Peak Community College to learn about their business models and strategies for access and affordability. The class also spent a day in Denver at the Colorado Department of Higher Education and the Capitol, where we connected with CC alumni working in public policy.
Our faculty and students continue to receive recognition. CC Assistant Professor of Molecular Biology Sara Hanson and her student collaborators Dahao Feng '18 and Juliana Olliff '20 published their research in Yeast. Assistant Professor of Molecular Biology Olivia Hatton co-authored research on the Epstein-Barr virus with Madeline Smith '20, Madison Alexander '20, Melanie Mandell '20, Carissa Sherman '21, Madeline Stesney '20, Joselinne Medrano '20, Kurt Ringwalt '20, and Gillian Dohrn '19, in collaboration with the Transplant Immunology Lab at Stanford University School of Medicine. CC was recently recognized as a top producer of Fulbrights, with 10 CC students and recent graduates in this year's semifinal round.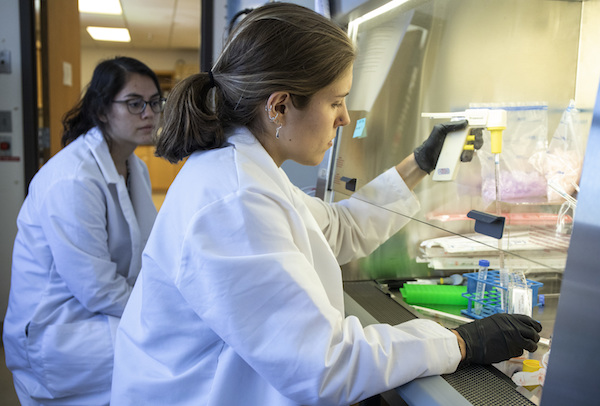 Seven students worked alongside Professor Olivia Hatton to research the Epsteinn-Barr virus through CC's Summer Collaborative Research Program. Above, Carissa Sherman '21 and Melanie Mandell '20 prepare specimens for testing in the lab. Photo by Jennifer Coombes.
The debate team is also celebrating a successful season. During their most recent competition in January at the University of Utah, the team brought home the title of "First Place Overall Sweepstakes." Congratulations to varsity members Noah Hirshorn '20, Deksyos Damtew '22,Stephen Sigman '22, Alanna Jackson '23, and Colleen Campbell '23, who will represent CC in the upcoming International Forensics Association's Speech and Debate Tournament in Tokyo, Japan.
As you may know, this is my last semester at Colorado College, as I will begin my role as chief executive officer for the National Geographic Society on August 1. The Board of Trustees will announce an interim president after their February board meeting, who will serve while the college conducts a national search for CC's next president. It has been a joy and an honor to serve as your president. Thank you, our parents and alumni, for your support and engagement!
Best regards,



President Jill Tiefenthaler