President's Office Home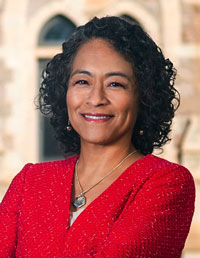 L. Song Richardson is an award-winning educator, legal scholar, and lawyer who is recognized for her transformational leadership in higher education. She became Colorado College's 14th president in July 2021. She earned her Bachelor of Arts degree from Harvard College and her Juris Doctor degree from Yale Law School.
Before coming to CC, President Richardson was the dean and chancellor's professor of law at the University of California, Irvine School of Law. At the time of her appointment there, she was the only woman of color to lead a top-30 law school, and under her leadership, the school became the first law school less than 10 years old to be ranked #21 by U.S. News and World Report. While she was dean, the school received accolades for its commitment to students, its faculty scholarship, the diversity of its student body, and its leadership in addressing the societal implications of artificial intelligence and emerging technologies. Under her leadership, UCI Law quadrupled the number of endowed student scholarships; launched a CEO Fellowship program; created a partnership with the UN's AI for Good Conference; launched new revenue generating educational programs; established a satellite program on the East Coast; and enrolled one of the most diverse student bodies in the top 30 law schools.
President Richardson sits on the board of Lord Abbett and is a member of the Advisory Committee of the Law School Admission Council's Legal Education Program. She is a member of the Colorado Forum, a group of business and civic leaders committed to Colorado's future; the Council of Korean Americans; and the American Law Institute. She is the 2022-23 chair of the Southern Collegiate Athletics Conference Presidents Council.
She is frequently invited to speak on the challenges facing higher education. Her awards and recognitions include the Association of American Law Schools' Derrick Bell Award, which recognizes a faculty member's extraordinary contributions to legal education through mentoring, teaching, and scholarship, and the National Asian Pacific American Bar Association's Trailblazer Award. In recognition of her accomplishments, the Thurgood Marshall Bar Association created the L. Song Richardson Legacy Award to honor individuals whose contributions make a lasting impact on the legal profession.
President Richardson's interdisciplinary research uses lessons from cognitive and social psychology to study decision-making, and judgment. Her scholarship has been published by law journals at Harvard, Yale, Berkeley, Cornell, Duke, and Northwestern, among others.
President Richardson also is a classically trained pianist who performed twice with the Boston Symphony Orchestra and won numerous major piano competitions, including the Boston Symphony Orchestra and Harvard/Radcliffe concerto competitions.