Commencement and Baccalaureate Speakers and Honorary Degree Recipients
March 6, 2018
Dear Students, Faculty, and Staff,
I am delighted to announce that Tony Award-winning producer Nancy Nagel Gibbs '71 will give this year's Commencement address. Ms. Gibbs has been a producer, general manager, and company manager for Broadway, Off-Broadway and international productions for over 40 years. Her producing credits include "Peter and the Starcatcher" (9 Tony nominations and 5 Tony Awards), "Come From Away" (Tony nomination), "Bat Boy: The Musical" (Lortel Best Musical Award), "Fun Home" (Tony Best Musical Award), and many others. With Nina Essman '87, Ms. Gibbs co-founded 321 Theatrical Management, whose credits include Broadway productions of "Wicked," "Oh, Hello," "The Graduate," "Man of La Mancha," and "Bring it On: The Musical," among many other national and international productions. She is the recipient of the rarely-given Edith Oliver Award for Service to Off-Broadway and serves on the boards of the New Professional Theater, the Roger Rees Awards, and the American Musical Theatre Project at Northwestern University. In addition to her degree from Colorado College, Ms. Gibbs holds a Master of Arts in Theatre from the University of Northern Colorado.
I am also pleased that Assistant Professor of Political Science Elizabeth Coggins has agreed to give the Baccalaureate address. Professor Coggins attended Wake Forest University, where she received her bachelor's degree in political science. She received a master's degree from the University of Georgia before attending the University of North Carolina at Chapel Hill, where she earned a master's degree in political science and her Ph.D. in American Politics and Methodology. Professor Coggins was a post-doctoral fellow at Washington University in St. Louis before joining the Colorado College faculty in 2014. The author of several articles, she is an expert on public opinion, ideology, and media and politics. In nominating her for Baccalaureate speaker, students noted that Professor Coggins "is one of the best professors on campus," and "will be able to inspire the senior class to go forth and make a difference in the world."
Also, on the recommendation of the Academic Events Committee and with the approval of the Board of Trustees, the college will award honorary degrees to Ms. Gibbs and the following individuals who have made outstanding contributions in their fields:
Dr. David Buck '83 M.D., M.P.H., is a professor at Baylor College of Medicine's Department of Family & Community Medicine, and an adjunct professor at University of Texas School of Public Health and Rice University's Department of Sociology. After working with Mother Teresa in Calcutta, he began working with the underserved in Houston, developing medical and dental clinics for the indigent population. Dr. Buck has founded or co-founded several Houston-based clinics and organizations including Healthcare for the Homeless, Doctors for Change and the Houston-Galveston Albert Schweitzer Fellowship Program. He also served on the Consumer Operated and Oriented Plan Advisory Board at the request of the U.S. Secretary of Health and Human Services from 2010-2012. Dr. Buck currently leads the Patient Care Intervention Center, a nonprofit that leverages community-wide care coordination and technology to deliver resources to patients with complex social and medical needs. Additionally, Dr. Buck continues to serve as a practicing physician, including medical street outreach.
Dr. Frieda Ekotto '86 is Chair of the Department of Afroamerican and African Studies and Professor of Comparative Literature at the University of Michigan. An intellectual historian and philosopher with areas of expertise in 20th and 21st-century Anglophone and Francophone literature and in the cinema of West Africa and its diaspora, she concentrates on contemporary issues of law, race and LGBTQI issues. She has published numerous articles in prestigious literary journals and is the author of six books including "What Color is Black? Race and Sex Across the French Atlantic" (Lexington Press, 2011). She also produced the film documentary "Vibrancy of Silence: A Discussion with my Sisters in 2017." Professor Ekotto is the recipient of numerous grants and awards, including a Ford Foundation grant for research and collaborative work with institutions of higher learning in Africa and most recently is a recipient of a John H. D'Arms Faculty Award for Distinguished Graduate Mentoring in the Humanities at the University of Michigan. In 2015, she received the Benezet Award from the Colorado Alumni Association Board.
Peggy Fleming Jenkins '70 is an Olympic and World champion figure skater. Peggy's athletic, graceful and elegant skating style led to five U.S. titles, three World titles and the gold medal in the 1968 Olympics in Grenoble, France. Her achievement in Grenoble was particularly significant since she won the only gold medal for the United States at these Olympic Winter Games, and her victory united the American people at a time when the country was suffering many uncertainties and problems. Following her Olympic championship, Peggy headlined five NBC television specials and starred in the "Ice Follies," "Holiday on Ice," the "Ice Capades" and her own traveling skating show, "Concert on Ice." Peggy became a well-known commentator for ABC Sports and ESPN in the years 1981-2008. After recovering from breast cancer, Peggy took on speaking engagements to raise awareness of the importance of early detection and regular checkups. This was as healing for Peggy as it was helpful to other women, as she became a spokesperson on behalf of women's health. Throughout her career, Peggy has contributed to philanthropic causes and helped to raise millions of dollars for many nonprofit organizations. In 1999, at the Sports Illustrated "20th Century Awards," Fleming was honored as one of seven "Athletes Who Changed the Game."
I look forward to honoring these individuals, along with our graduating seniors, at this year's Commencement on Monday, May 21.
Best regards,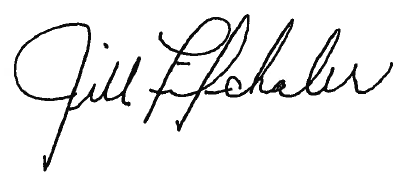 Jill