CC Launches $435 Million Campaign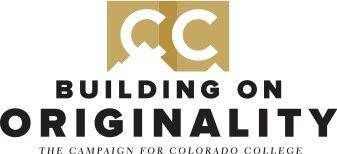 During today's dedication of the newly renovated Charles L. Tutt Library, President Jill Tiefenthaler announced Building on Originality: the Campaign for Colorado College. She was joined by Board Chair Susie Burghart '77, Campaign Co-Chair and Trustee Bob Selig '61, Trustee Thayer Tutt Jr., and Life Trustee Van Skilling '55.
The $435 million campaign, which is the largest-ever by Colorado College and among the 15-largest campaigns by a liberal arts college, is focusing on raising funds for scholarships, innovation, the Colorado Springs Fine Arts Center at CC, and the library renovation, among other priorities.
Learn more at www.coloradocollege.edu/campaign
Ask President Tiefenthaler about the campaign during a phone call on Monday, Oct. 16, at 6:30 p.m. Mountain Time. She will call all alumni and parents for whom we have a cell phone number. If you miss the call, you can dial 1 (888) 480-3675 to join the conversation.