Biography
President L. Song Richardson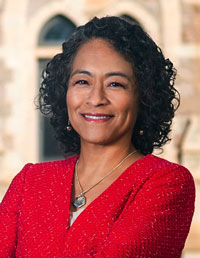 L. Song Richardson, a legal scholar, dedicated educator, lawyer, and expert on implicit racial and gender bias, became the 14th president of Colorado College on July 1, 2021. Richardson, who is Black and Korean, is the first woman of color to hold the presidency at Colorado College. She received her A.B. from Harvard College and her J.D. from Yale Law School.

During her tenure at Colorado College, President Richardson has led Project 2024, an inclusive community-based approach designed to co-create the college's vision and priorities. The resulting vision for Colorado College is to ignite the passions and potential of students, and the entire Colorado College community, to create a more just, equitable, and humane world.

Under President Richardson's leadership, the college has implemented an antiracism, diversity, equity, and inclusion (ADEI) strategic plan to support its commitment to antiracism. Mental health and well-being have been elevated to a key priority at the college, with a significant expansion of support and resources for students, faculty, and staff. In February 2021, President Richardson led Colorado College's decision to withdraw from the U.S. News & World Report's "Best Colleges" rankings, as they incentivize actions that are antithetical to CC's values and aspirational goals. She is focused on expanding access to Colorado College, increasing equity in the CC experience for all students, and ensuring post-graduate success.

Richardson was Dean and Chancellor's Professor of Law at the University of California, Irvine School of Law prior to her presidency. At the time of her appointment as UCI Law's second dean, she was the only woman of color to lead a top-30 law school.

Richardson's interdisciplinary research uses lessons from cognitive and social psychology to study decision-making and judgment in a variety of contexts. Her scholarship has been published by law journals at Harvard, Yale, Berkeley, Cornell, Duke, and Northwestern, among others.

Her awards and recognitions include the Association of American Law Schools' Derrick Bell Award, which recognizes a faculty member's extraordinary contributions to legal education through mentoring, teaching, and scholarship; and the National Asian Pacific American Bar Association Trailblazer Award. In recognition of her accomplishments, the Thurgood Marshall Bar Association created the L. Song Richardson Legacy Award to honor individuals who make extraordinary impacts in the legal community. In October 2023, she will be awarded the prestigious Council of Korean American's Empower Award, which honors exceptional Korean American leaders who have demonstrated outstanding life and professional achievements of national significance.

President Richardson serves on the board of the Council of Independent Colleges and is a member of the American Law Institute and the Council of Korean Americans.

Richardson also is a classically trained pianist who performed twice with the Boston Symphony Orchestra and won numerous major piano competitions, including the Boston Symphony Orchestra and Harvard/Radcliffe concerto competitions.