Biography
President L. Song Richardson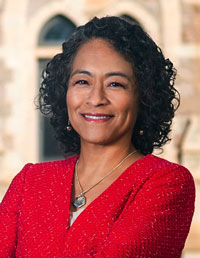 L. Song Richardson, a legal scholar, dedicated educator, lawyer, and expert on implicit racial and gender bias, became the 14th president of Colorado College on July 1, 2021.
Richardson was formerly the dean and chancellor's professor of law at the University of California, Irvine School of Law. At the time of her appointment as UCI Law's second dean, she was the only woman of color to lead a top-30 law school. Prior to becoming dean at UCI Law, she served as interim dean and senior associate dean for academic affairs. She held joint appointments in UCI Law's Department of Criminology, Law, and Society, and in the Department of Asian American Studies. She received her AB from Harvard College and her JD from Yale Law School.
She was drawn to Colorado College because of its people, its sense of purpose, and its commitment to diversity, equity, inclusion, and antiracism; increasing access for students; sustainability; the arts; and creativity and innovation.
Richardson, who is Black and Korean, is the first woman of color to hold the presidency at Colorado College. 
Richardson's interdisciplinary research uses lessons from cognitive and social psychology to study decisionmaking and judgment in a variety of contexts. Her scholarship has been published by law journals at Harvard, Yale, Berkeley, Cornell, Duke, and Northwestern, among others. She is working on a book that reflects on the current reckoning with anti-Blackness that is occurring across the U.S. and its implications for law and policy.
Her legal career includes partnership at a criminal defense law firm and work as a state and federal public defender. She was also an assistant counsel at the NAACP Legal Defense and Educational Fund, Inc. She  was a Skadden Arps Public Interest Fellow with the National Immigration Law Center in Los Angeles and the Legal Aid Society's Immigration Unit in Brooklyn, NY. 
Richardson frequently speaks on the science of implicit bias and its influence on decisions, perceptions, and judgments. She has consulted with public and private entities developing practices to address racial and gender disparities. She is a leading expert on race and policing, and has worked with police departments addressing the impact of race on their policing practices.
Her awards and recognitions include the Association of American Law Schools' Derrick Bell Award, which recognizes a faculty member's extraordinary contributions to legal education through mentoring, teaching, and scholarship; the National Asian Pacific American Bar Association Trailblazer Award; being named one of the Top Women Lawyers in California; and being chosen as one of the two most influential Korean Americans in Orange County. In recognition of her accomplishments, the Thurgood Marshall Bar Association created the L. Song Richardson Legacy Award to honor individuals who make extraordinary impacts in the legal community.
Richardson is a member of the American Law Institute. In 2020, she was appointed by California Gov. Gavin Newsom to the California Penal Code Revision Committee. She also serves on the board of Lord Abbett.
Richardson is also a classically trained pianist who performed twice with the Boston Symphony Orchestra and won numerous major piano competitions, including the Boston Symphony Orchestra and Harvard/Radcliffe concerto competitions.
In her capacity as president of Colorado College, she serves on the board of directors of the National Collegiate Hockey Conference and on the Southern Collegiate Athletic Conference Presidents Council.
She and her husband, sculptor Kurt Kieffer, live in Colorado Springs.