Two Colorado College affiliated artists — Idris Goodwin, executive director of the Colorado Springs Fine Arts Center at Colorado College, and Basil Kincaid '10, a CC art major, multi-media artist, and recent visiting artist at the college — have been named members of the United States Artists' 2021 Class of Fellows. This year 60 artists were chosen.
Goodwin, an award-winning playwright who took over as director of the FAC last year, was recognized in the theater and performance category. Kincaid, who graduated from CC with a concentration in Studio Art and an emphasis on drawing and painting, was honored in the traditional arts category. Each will receive a $50,000 unrestricted cash prize.
Goodwin and Kincaid are the second and third artists affiliated with Colorado College to be recognized by United States Artists. Stephen Scott, a CC professor of music and composer and founder of CC's Bowed Piano Ensemble, was honored in 2008.
The 2021 United States Artists (USA) Fellows were chosen for their bold artistic vision and significant impact. "Each artist demonstrates generosity and care toward field-building that continues to inspire and propel their discipline," according to USA, a national arts funding organization based in Chicago. "The annual awards celebrate artists and cultural practitioners who have significantly contributed to the creative landscape and arts ecosystem of the country. These awards aim to promote the work of these visionary practitioners to a broader public while allowing them to decide how to best support their lives." 
"This is major to me. It feels really good. I'm really proud and so grateful," says Goodwin in a newspaper interview. I'm entering a new chapter of being more multi-disciplinary and moving more into a space of being an advocate for the arts and other artists."
When deciding on fellows, United States Artists panelists were impressed with the diversity of Goodwin's professional experience and career trajectory, noting his numerous accomplishments and the great potential for more.
"Our panelists noted the strength of Idris' writing and within that, his nuanced approach and understanding of hip-hop," says United States Artists Program Director Lynnette Miranda. "They were excited he wasn't working in a very coastal major art city." Panelists also noted Goodwin's commitment to access and community and thinking about new models and ways of working.
From 2012-18, Goodwin, a break beat poet and arts educator, taught playwriting, hip-hop aesthetics, and spoken word writing in CC's Theatre and Dance Department. He went to become the producing artistic director of StageOne Family Theatre in Louisville, Ky., before returning as executive director of the Colorado Springs Fine Arts Center at Colorado College.

His work has been produced across the country and recognized nationally. He's performed his poetry on HBO's "Def Poetry Jam" and PBS' "Sesame Street," written award-winning plays, and several books of his poetry and essays have been published, including the 2011 Pushcart Prize-nominated "These are the Breaks."
His solo play, "A Tribe Called Tubman," commissioned by TheaterWorksUSA, a New York City-based company that creates theater for young and family audiences, puts a 21st-century spin on the life of abolitionist Harriet Tubman.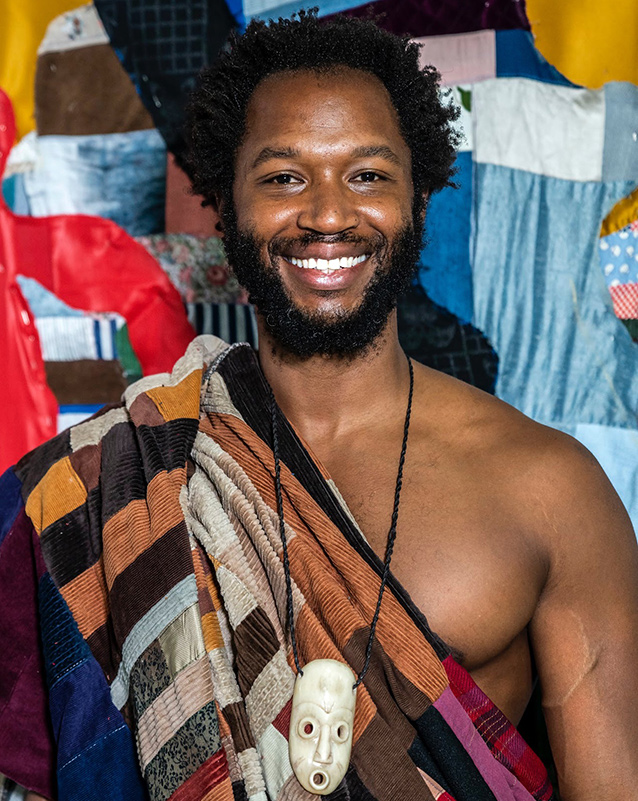 Kincaid, a multi-disciplinary artist, recently was a visiting artist in a class taught remotely by visiting professor Jody Joyner '10. Just before the pandemic, Kincaid relocated his studio from St. Louis to Ghana.
"Basil Kincaid's beautiful craftsmanship and commitment to community make Basil an ideal member of USA's 2021 cohort of shapemakers," Miranda says.  "The panelists praised Basil's clear point of view and sense of innovation in utilizing sculptural quilts as a form of storytelling and healing. Basil's work acknowledges the long and critical history of quilting in African culture and also finds new modes of expression within it, centering themes of interconnectedness and shared humanity."
His work can be seen in conceptual terms as an examination of two big ideas: reclamation and heritage. He achieves this by amassing donated and found materials, which he then uses as mediums to be incorporated into his assemblages, collages, and quilts. The quest to understand his own heritage is partly what inspired Kincaid to adopt quilting as an aesthetic technique. For more than 100 years his family members have quilted, and Kincaid has stated that his grandmother, who was an avid quilter, visits him in his dreams. He considers the quilts he makes to be a sort of metaphysical collaboration with his ancestors, which allows him to participate in a legacy that extends far back and infinitely forward.
Kincaid has exhibited works with Kavi Gupta Gallery in Chicago, Mindy Solomon Gallery in Miami, Kravets Wehby Gallery in New York, and Carl Kostyál in London. His work is part of the JP Morgan permanent art collection and he recently debuted "The Release," his first museum performance, at the Pulitzer Arts Foundation in St. Louis.
United States Artists raise money and redistribute it to the country's most compelling artists and cultural practitioners. Since its founding in 2006, the organization has awarded more than 700 individuals with over $33 million of direct support.