Academic Resources
From thesis research to help with your first-ever college assignment, CC offers a variety of resources and services for students with academic questions. Several academic departments employ recently-graduated paraprofessionals who are there to assist students and faculty without teaching classes. Departments can also recommend peer tutors with proper expertise to students.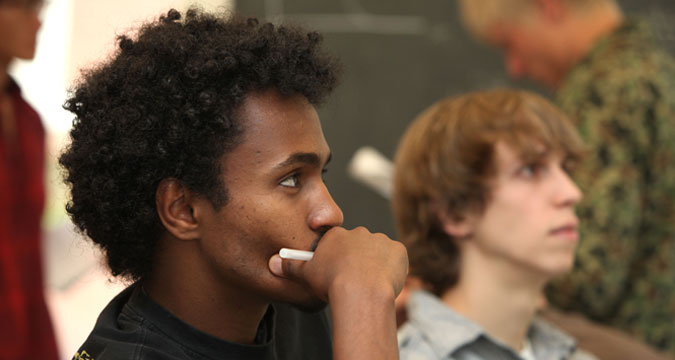 (719) 389-6564
Mission: The Colorado College Honor System was established in 1948 to promote personal responsibility and academic integrity. Founded upon the value of mutual trust between students and professors, it is an essential tradition of the college. The Honor Code applies to all assignments completed for credit, and any potential code violation is the concern of the Honor Council. The Honor Council is the student-run organization that maintains and enforces the Honor Code through educating the campus community and administering Honor System procedures.
(719) 227-8285
Located: Armstrong 211
Mission: Accessibility Resources collaborates with the campus community to ensure an inclusive and accessible college experience for students with disabilities. They offer a variety of accommodations and resources to support students as they pursue their academic goals. Whether you're a new student at CC or a current student just now checking out resources, the Accessibility Resources staff would be happy to talk with you about your individual situation and how they can best assist you. For additional information, please contact Jan Edwards, CC's Director of Accessibility Resources (jedwards@coloradocollege.edu).
(719) 389-6168
Located: Tutt Library
Mission: The Colket Center for Academic Excellence at Colorado College offers students the resources they need to succeed academically. Because of the intensity, pace, and intellectual rigor of the Block Plan, the Colket Center was established in 2002 to provide support programs that offer resources to students across the disciplines.
(719) 389-6846
Mission: The Collaborative for Community Engagement supports and facilitates a wide range of programming designed to meet student interest and community need. From student-run organizations to a community-engaged leadership certificate program, from community-based research to living learning communities, our programs engage a diverse group of stakeholders from the campus and community to promote the common good and propel academic learning into the world.
(719) 389-6986
Located: Tutt Library
Mission: The Crown Faculty Center encourages the development and maintenance of imaginative, dedicated, self-reflective teaching. It also promotes and supports faculty scholarship, research, and writing. A part of the faculty development program at Colorado College, it is a space in The Learning Commons at Tutt Library where faculty can come together to discuss the challenges of teaching, research, and service.
(719) 389-6130
Located: Tutt Library 130
Mission: The GIS Lab offers student and faculty spatial research consultations for research or teaching purposes. The lab trains students in developing and executing spatial research questions and facilitates spatial reasoning, data visualization, and spatial statistical analysis. The lab offers space and tutoring for multiscalar projects, from self-directed research to classroom training to collaborative, cloud-based work that extends to the greater Colorado Springs community. For more information contact Matt Cooney, the GIS Technical Director.
(719) 389-6378 [Equipment Reservation & Checkout]
(719) 389-6379 [Maintenance]
(719) 389-6382 [Special Events]
Located: Armstrong Hall Basement
Mission: Media Services (formerly "Audio/Visual Services") assists the campus community in presentation of aural, photographic, film, and video materials. This group supports classroom instruction, special events, and student and faculty projects. Services include delivery of equipment, scheduling of technical support, as well as media editing and training.
(719) 227-8282
Located: Armstrong 213
Mission: The Center for Global Education & Field Study serves students who study off-campus (domestically and internationally) , incoming international students, faculty who lead students on off-campus programs, and international faculty who require immigration services.
(719) 389-6449
Located: Tutt Library
Mission: The Solutions Center is a campus source for online computer assistance at Colorado College. Solutions Center support specialists offer assistance to the CC community in protecting, maintaining, and operating computers.
(719) 389-6687
Mission: Before beginning the first year at Colorado College, students are matched with a pre-major faculty academic advisor. Students are encouraged to discuss with their advisors course choices that will complement the intellectual paths they would like to explore at CC while completing all-College requirements. They may also consult with their pre-major advisors about research and internship opportunities beyond the classroom. As students declare their majors, they identify an advisor in the department of the major. Major advisors work with students to choose courses in the major. They help their advisees identify discipline-specific research and internship opportunities. Major advisors also work with their advisees to identify a faculty member who can guide them in their research for the senior thesis or capstone project.
(719) 389-6686
Located: Armstrong 213
Mission: There are exciting opportunities for all students at CC. We encourage students to explore these opportunities as early as possible in their time at CC. We invite students to make individual appointments with the Associate Dean of the College to learn about how to prepare for and apply for the various internal and external grants available.
(719) 389-6656
Located: Armstrong 213
Mission: Summer session offers on-campus blocks, courses abroad, and off-campus courses, as well as new linked-block thematic Institutes.
719) 389-6025
Located: 1004 N. Weber St.
Mission: Sustainability at Colorado College is an integral part of who we are and how we have defined ourselves. We aspire to make Colorado College a model for campus and community sustainability - an academic village that instantiates a commitment at all levels to a sustainable and desirable future, not only for the human economy but for the larger ecosystem in which it is embedded.
(719) 227-8289
Located: Tutt Library
Mission: The Quantitative Reasoning Center (QRC) offers free professional and peer tutoring; assistance with study skills, problem solving, and time management; and study areas for group work with white boards, computers with science software, and the "amoeba table." Steve Getty, the Director of the QRC organizes tutoring for science and math courses and supports and conducts study sessions for specific courses.
(719) 389-6662 [Reference Desk]
(719) 389-6184 [Circulation Desk]
Mission: To provide bibliographic, intellectual, and physical access to knowledge and information, to support the educational aims of Colorado College, and to promote continued independent learning.
(719) 389-6742
Located: Gill House/Tutt South
Mission: The Writing Center offers an arena where students can work through the writing process and improve the expression of their ideas by participating in individualized conferences with trained peer consultants and professional staff. The Writing Center is staffed by a full-time professional director, a professional English as a Second Language (ESL) instructor, two professional writing consultants, and student peer consultants.