News & Events
Performances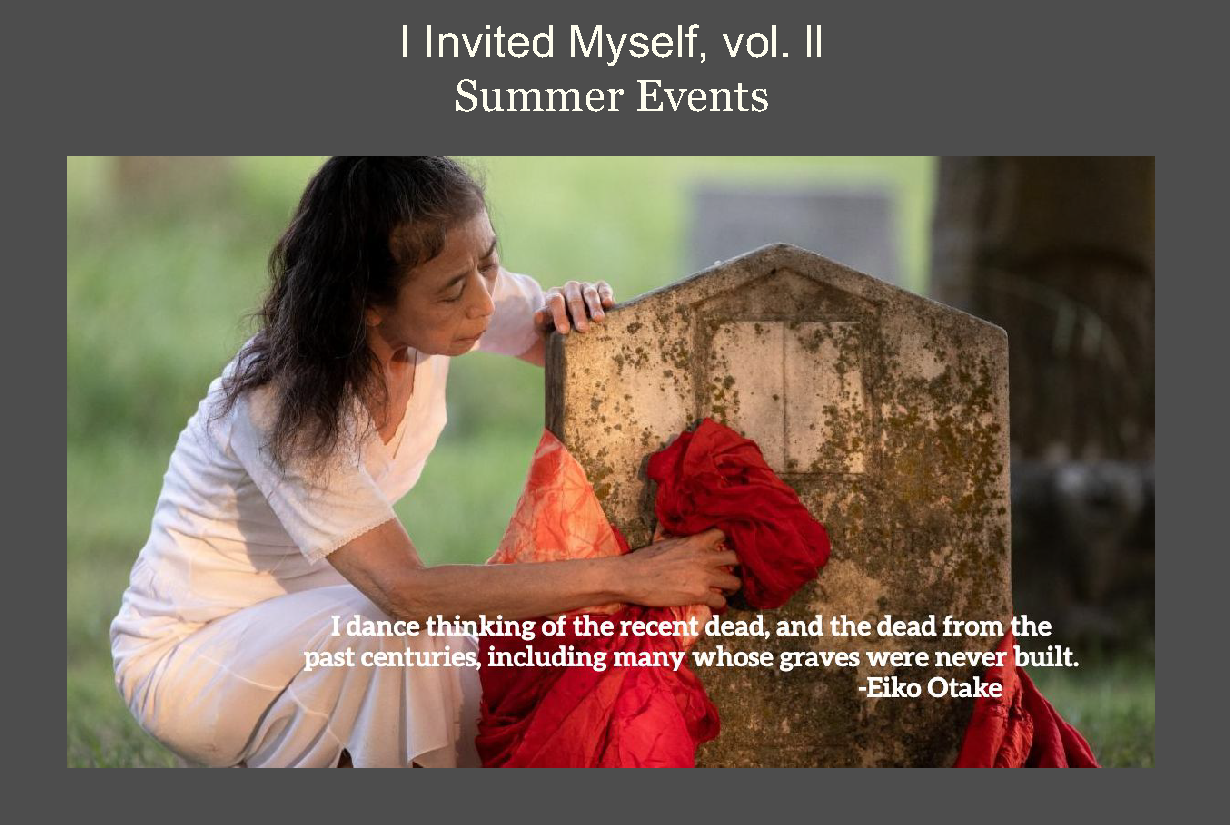 Featured Courses
BLOCK 4: DA200/TH200/PA250/FG206: The Nakedness of Being

The Department of Theatre & Dance at Colorado College is pleased to host Eiko Otake as the 2022-23 Pamela Battey Mitchell Visiting Artist-in-Residence in Contemporary Dance. Born and raised in Japan and a resident of New York since 1976, Eiko Otake is a movement–based, interdisciplinary artist. With her partner Koma, Eiko became a key figure in contemporary dance in the United States, receiving numerous awards, including the Doris Duke Artist Award and the prestigious Macarthur Fellowship. Throughout her career, Eiko has explored historical, political, and ecological catastrophes in sites such as Fukushima, Wall Street, and the Western United States. She teaches at Wesleyan University, NYU, UCLA. In Block 4, she will return to CC to teach her popular course, Naked & Delicious. While at CC, Eiko will also conduct a creative residency co-sponsored by Theatre & Dance and the Colorado Springs Fine Arts Center, which will host I invited myself, vol. 2, a solo exhibition of multi-media works running from February 3 until July 31. During the exhibition, Eiko will travel to Colorado Springs in February, April, and July to host a philosophical and critical conversation with artists, scholars, and curators. In addition to these conversations, Eiko will stage performance interventions, including site-specific dances, film screenings, and community-based workshops. This winter, she will be on campus to perform at the opening of I invited myself, vol. 2 alongside critical conversations and talks on February 9-10 that will highlight, among others, NYU Performance Studies Professor Andre Lepecki.
---
Block 7: TH200/AS210 Rogue Objects: Creative Research and Art-Astrophysics Practice
Eligible for the Creative Process credit, pending final approval
Rogue Objects is a combined studio/seminar class taught by multimedia artist Janani Balasubramanian. Students spend approximately half their time exploring ethical and cultural implications of emerging brown dwarf astrophysics with insights from feminist science studies, trans studies, critical theory, anti-colonial histories of science, and art history. The rest of the course is focused on creative experiments for the operatic film Rogue Objects, described below. No prerequisites are required other than expansive and rigorous curiosity; the course is ideal for students with interests across math, physics, astronomy, music, STS, computer science, feminist and critical race studies, history, film, performing arts, and visual arts.
Made in collaboration with the brown dwarf astrophysics group at the American Museum of Natural History, Rogue Objects is an operatic film for planetaria that explores the emerging science of brown dwarfs: a newer class of in-between celestial bodies, neither planets nor stars. Brown dwarfs are primarily bright in the infrared -- a segment of the electromagnetic spectrum just outside the wavelengths of human sight -- and to observe them we, humanity, had to make the creative leap that darkness was worth looking at. Through animation, renderings from the new JWST and Gaia space telescopes, and an operatic score built from sonified light curves of nearby brown dwarfs, Rogue Objects invites audiences into the wonderful life of these objects that abound and sing in the dark.
Student and Faculty Features
Abi Walls '21 Play To Be Produced by Riot Act in September
Abi Walls won first place in Riot Act's New Play Festival Competition. Her play, an evolution of her thesis project, titled in-memory, is being produced by Riot Act in Jackson, WY, this September. Congrats to Abi on this great accomplishment!
Read more info here: https://riotactinc.org/new-play-festival/ 
---
Short Film About Dallo Fall
Dallo Fall is our Senegalese dance instructor and a DanSix choreographer. Her wisdom goes far beyond how to move your body, as she teaches us to drum and to sing and most importantly, how to survive.
A special thanks to John-Henry Williams '19, a film and media major, for making the film.
Lapse, a short film by Patrizia Herminjard
Artist-in-Residence Patrizia Herminjard recently shot a new short film, Lapse.
Over time, even the most tender moments come to pass, questioning if they ever happened in the first place.