Performance Season
Upcoming Event
EIKO OTAKE: "I INVITED MYSELF, VOL. II" SPRING 2023
Schedule of Events
In celebration of Otake's solo exhibition I Invited Myself, vol. II, the Department of Theater and Dance at Colorado College will host a series of two-day events featuring film screenings, live performances by Otake, and conversations with faculty, scholars, curators, and others. 
Wednesday, April 5  
Exhibition contents change in the El Pomar Galleries at the Fine Arts Center. 
Thursday and Friday, April 6–7   
Spring Conversations: Public Talks, Screening, and Performance  
Q&A will follow all events. 
Screening: A Body in Fukushima 
Thursday April 6, 6 p.m. 
Edith Kinney Gaylord Cornerstone Arts Center at Colorado College 
A feature length film created and edited by Eiko Otake is composed from still photographs combed from thousands by William Johnston that recorded her lone performance in the surreal, irradiated landscapes of post-nuclear meltdown Fukushima over five visits.  
The film had its world premiere at the Museum of Modern Art's Doc Fortnight Festival 2022 and has since been screened in many festivals worldwide. Historian and photographer William Johnston's talk will follow the screening.   
Performances: 
Remembering Slow Turn 
Friday, April 7, 2 p.m. 
Edith Kinney Gaylord Cornerstone Arts Center at Colorado College 
An experimental performance work conceived and performed by Eiko Otake accompanies the video documentary of her performance commissioned for the 20th year anniversary of the 9/11. Otake proposes to use her body as a place of recalling historical events that cannot and should not be xrepeated. 
Friday April 7, 6 p.m.  
Fine Art Center  
Eiko Otake will perform live as a part of Free Museum evening at the Fine Arts Center.  
Additional Activities To Be Announced. Please check the Fine Arts Center's website for the most up-to-date schedule of events. All events are free and open to the public. 
Panelists and Special Guests for April Include:
Elise Butterfield, Independent Curator based in Chicago 
Rosemary Candelario, Associate Professor of Dance at Texas Woman's University  
Joshua Chambers-Letson, Professor of Performance Studies at Northwestern University  
William Johnston, Photographer and Professor of History, Science in Society, Environmental Studies, and East Asian Studies at Wesleyan University 
Thomas (T.) Jean Lax, Curator, Department of Media and Performance at the Museum of Modern Art  
Paula Lawrence, independent art consultant, New York 
Jodee Nimerichter, Executive Director of the American Dance Festival 
Jonathan Lee, Professor of Philosophy, Colorado College  
Karen Shimakawa, Associate Professor, Department of Performance Studies at NYU Tisch School of the Arts 
Brian Rogers, Artistic Director of The Chocolate Factory, New York 
Andrew Wallace, Senior Advisor at Funders for LGBTQ Issues and Organizational Development Consultant. CC'12 
Marda Kirn, Founding Director of EcoArts Connections  
Additional guests to be announced.  
PAST EVENTS

Eiko Otake's "I Invited Myself Vol. II"
https://fac.coloradocollege.edu/exhibits/eiko-otake-i-invited-myself/
* No Rule is our Rule (2022, 75 mins)
Filmed by Wen Hui and Eiko Otake in China in January 2020, and collaboratively edited during the pandemic.
This is a story of friendship between two independent female artists and their body memories each willingly carry. In January 2020, New York based, interdisciplinary performing artist Eiko Otake arrived in Beijing to visit Wen Hui, a Chinese choreographer and filmmaker. Eight years apart, Eiko grew up in postwar Japan and Wen during the Cultural Revolution. They planned to visit each other for a month to converse and collaborate. 
The surge of COVID-19 abruptly cut off Eiko's visit and the pandemic has so far made Wen's visit to the USA impossible but not the collaboration. Looking back on the video diaries they shot without a script, Eiko and Wen continued their dialogue on Zoom, sharing past works that form a deeper understanding of their circumstantial differences and characteristic similarities.
*Eiko Otake
Born and raised in Japan and a resident of New York since 1976, Eiko Otake is a movement-based, interdisciplinary artist. She worked for more than 40 years as Eiko & Koma, but since 2014 has been working on her own projects. such as A Body in Places, The Duet Project and I Invite myself. Since 1980's, Eiko has also created a large number of media works, "dances for camera," and documentaries. Created in post-nuclear-disaster Fukushima over six visits, A Body in Fukushima produced many photo exhibitions, performances, and a book publication. The feature-length film of the same title was premiered at MoMA's Doc Fortnight Festival and shown in other film festivals. www.eikootake.org
* Andre Lepecki is Professor of Performance Studies at NYU. He works at the intersections of contemporary dance studies, curatorial practice, performance theory, and visual arts. His curatorial projects have been seen at Berlin's Haus der Kulturen der Welt, the Sydney Biennale, and MoMa. His many books include Exhausting Dance: performance and the politics of movement (Routledge 2006) and Singularities: dance in the age of performance (Routledge 2016).
*Jonathan Lee is Professor of Philosophy at Colorado College. His research interests include recent French philosophy, psychoanalysis, and aesthetics, and he writes regularly on experimental music, photography, cinema, and sound art. He is the author of Jacques Lacan (University of Massachusetts 1991), and his Jean-Luc Godard: Philosopher/Insurgent is forthcoming from Lexington Books in 2024.
*DonChristian Jones is a multidisciplinary artist whose work spans painting, music albums, videos, and performance installation. They have shown and performed in the Whitney Museum, MoMa PS1, the New Museum, Brooklyn Museum, and the Shed. DonChristian's and Eiko have collaborated in creating media works and performance works.  
*Brandon Shimoda is a 4th gen Japanese American poet, writer, and Assistant Professor of English at 
Colorado College. His books have received the PEN Open Book Award, the Williams Carlos Williams award and appeared with Nightboat Books, City Lights, and Tin House Books. He is currently writing a non-fiction book on the afterlife of Japanese-American incarceration.
*Joshua Lubin-Levy is a scholar, dramaturg, and curator. He is working on a monograph on the photography and performance of Jack Smith. He is editor-in-chief of the Movement Research Performance Journal, Director of the Center for the Arts at Wesleyan University.
*Ashley Ferro-Murray is Senior Curator for Theatre and Performance at the Experimental Media and Performing Arts Center at Rensselaer Polytechnical Institute. Recent commissions include works by Maria Hassabi, Jaamil Olawale Kosoko, Su WenChi, and Ni'ja Whitson. She has received major awards from the Macarthur and Mellon Foundations and served as an advisor for the Institute of Curatorial Practice in Performance at Wesleyan University.
*Elise Butterfield is a curator, cultural producer, and arts administrator who specializes in performance and disability. She co-curated Eiko's experimental exhibition, I Invited Myself, vol. 1, at School of the Art Institute 
of Chicago (SAIC) galleries in Winter 2022 and has served as dramaturg for two of Eiko's performances, including her new collaborative work with DonChristian Jones. Elise lives in Chicago and holds master's degrees in arts administration and art history from SAIC.
Click Here to Watch Eiko Otake's Opening Night Performance of "I Invited Myself, Vol. II" 
https://vimeo.com/800705673/81bc07d87d
Eiko performed at the opening of her exhibition "I Invited Myself, vol.ll" on Feburuary 3, 2023 at Colorado College Fine Art Center. A record breaking number of audience showed up.
Dansix
Creative Residency and Performance:   boy moth er/faceless bloom  by Juni One Set
Juni One Set is Senga Nengudi, eddy kwon, and Degenerate Art Ensemble's Crow Nishimura & Joshua Kohl.
Block 6, February 24-27, 7-9 PM
Cornerstone Arts Center
A mosaic of autobiography, mythology, and collective inquiries, Boy mother / faceless bloom combines ritual, dance, music, poetry, video, and sculptural installation to explore transformation & transgression, the creativity & conflicts of motherhood, and ancestral lineage in a time of colonialism, imperialism, and planetary crisis.
More info on the FAC website:  https://fac.coloradocollege.edu/connect/works-in-progress-boy-mother-faceless-bloom/ 
---
Dance Residency: Nora Chipaumire

Block 8, dat es TBA
Norberg Studio A, Cornerstone Arts Center
Nora Chipaumire is the 2020-21 Pamela Beatty Mitchell Visiting Artist in Dance.
Nora Chipaumire was born in 1965 in what was then known as Umtali, Rhodesia (now Mutare, Zimbabwe). She is a product of colonial education for black native Africans - known as group B schooling - and has pursued other studies at the University of Zimbabwe (law) and at Mills College in Oakland, CA (dance).
---
Kristina Wong, Sweatshop Overlord: A Work-in-Progress Reading by

Kristina Wong
Block 1, Thursday, September 2 at 6:30 PM
Palmer Tent West - This event is only open to the CC campus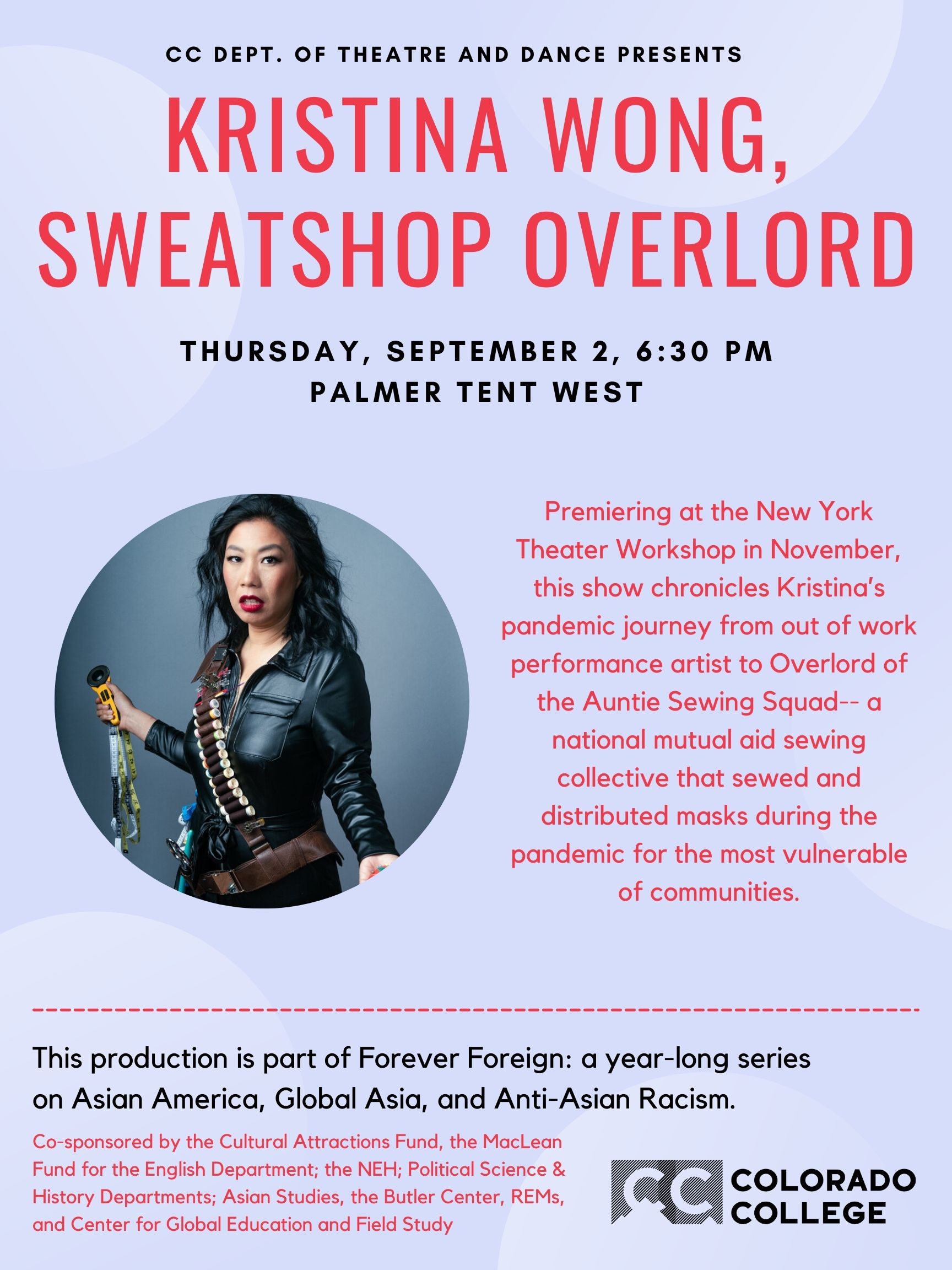 Get in on the ground floor of Kristina Wong, Sweatshop Overlord, her brand-new solo theater work that will have gone from lived experience to fully-realized off-Broadway production in just 20 months-- an unusually short period to hatch an original theater work about our unprecedented times.  The show chronicles Kristina's pandemic journey from out-of-work performance artist to Overlord of the Auntie Sewing Squad-- a national mutual aid sewing collective that sewed and distributed masks during the pandemic for the most vulnerable of communities.  Kristina Wong will be reading excerpts of this play-in-progress and sharing her process in making this show while living it. It will premiere at New York Theater Workshop in November.
---
23:59 Fall Production
Directed by Mónica Sánchez