Webex
Webex is a video conferencing application available to all CC faculty, staff, and students. On Webex you can meet online at any time to conduct virtual meetings, lectures, conference calls, or webinars. You can share your screen, draw on a virtual whiteboard, take polls, record the meeting, and allow others to share content.
Your Webex account has a Personal Meeting Room that can be used as an online office or conference space. Your Personal Meeting Room has a simple link that never changes, in general using this format: https://coloradocollege.webex.com/meet/username (replace username with your own CC username).
If you might not be able to attend your scheduled Webex meeting, Webex lets you Set an Alternate Host to allow someone else run the meeting on your behalf.
Setup Webex
Download Webex for: Mac, PC, Android & iOS, Chrome extension. On Mac, we recommend also downloading the Webex Productivity Tools to create Webex meetings directly from Outlook.
Run or open the installation file and follow the instructions.
Launch Webex and enter your CC email when prompted.
CC login page should display, please log in as usual with your CC username and password.
If you are requested to enter your organization's Webex URL during setup, please enter: coloradocollege.webex.com
Start a Meeting
Open your Webex app. Find the scheduled event on the list and click

 

Start

 

or click

 

Start a Meeting

 

to start impromptu meeting in your personal meeting room.
Before entering your meeting, setup and test your audio options by selecting

 

Settings

 

in the bottom right:

Choose different speaker and microphone options in the drop-down menus.
Test speakers and speak into microphone to verify everything is working.


When you are ready, go ahead and click

 

Start Meeting.
Call In Alternative

You can alternatively call into the meeting instead of using computer's speakers and microphone.
Before entering your meeting, click the computer/phone audio option in the middle on the bottom toolbar.
Select

 

Call in, then

 

Start Meeting. You should now see instructions for how to call into the meeting from your phone.
Manage Participants
On the top toolbar, select Participants to:
Mute Participants on Entry
Turn on or off "Anyone Can Share in meeting"
Open the Participant panel 

, then click or right-click on user's name to:
Change Role to:

Presenter

 

- Allow them to share screen or content
Host

 

- Allow them to control meeting and keep meeting active if you need to leave

Allow to Annotate

 

- Lets them draw on shared screen or whiteboard
Mute/Unmute

 

the individual or all participants
Chat

 

- Send text chat directly
Move to the Lobby

 

- Send to waiting room outside of meeting - they will remain there until you re-admit them
Expel

 

- Remove user from the meeting completely
Share Screen
Click

 

Share content

 

icon

 

on the meeting toolbar. You can scroll down on menu to see all options.
Select a screen or app to share with participants.
An orange frame will highlight what content you are sharing. To access the toolbar when sharing content, move your cursor to the top of the screen onto the orange bar to reveal a toolbar.
The toolbar will give you options to stop or pause sharing, assign others to share, annotate, as well as the standard tools. Annotate will give you drawing tools that let you annotate directly on your shared content.

Polling
Polling tool will let you create basic questions for your participants to answer to gather feedback or check for comprehension.
Click More Options icon

 

and select 

Polling. This will open up Polling panel on your right.
On Polling panel, click Add New Question iconto enter question, then click Add New Answer icon  to enter possible responses.

You will have an option to change question type to "Multiple Answers" or "Short Answer"

Repeat this process to add additional questions & answers.
When you are ready, select

 

Open Poll. By default, the poll will be open for responses for 5:00 minutes.
Save Poll Results
After you close a Poll, you can save Poll results to view later by going to File > Save > Poll Results (found on the top toolbar). This will save responses to a text file that you can view later.
Create Polls in Advance
Webex does not have a separate tool to create Poll questions in advance. You can either:
Create Poll questions before class by entering meeting early OR
You can enter an empty meeting at any time then create a Poll to use later. Save the Poll by clicking the download buttonin the Pollling panel.
To load a saved Poll, click File icon 

in Polling panel to locate file and open.
Record & Share
During the meeting, select Recorder icon 

on bottom toolbar. Click 

Record

 to start.

If needed, click Record icon again to Pause or Stop meeting recording.

Once meeting has ended, log in online to retrieve and share recording:

 

https://coloradocollege.webex.com/
Go to the

 

Recordings

 

tab and click the recording name to review it.

Note: Recordings may take extra time to process before becoming available online.

Click Sharing icon  next to recording to share with others. You can send recording directly via email or give them a link with the recording password. There is also an option to download the recording as an MP4 file.
Recording settings can be found on your account online (https://coloradocollege.webex.com/) under Preferences > Recordings.
Chat
Click chat icon 
 on toolbar to expose Chat panel. You can choose to message everyone or pick an individual from the drop-down list to message someone directly.
Whiteboard
After clicking Share Content icon 

, scroll down to the bottom of this menu to find New Whiteboard.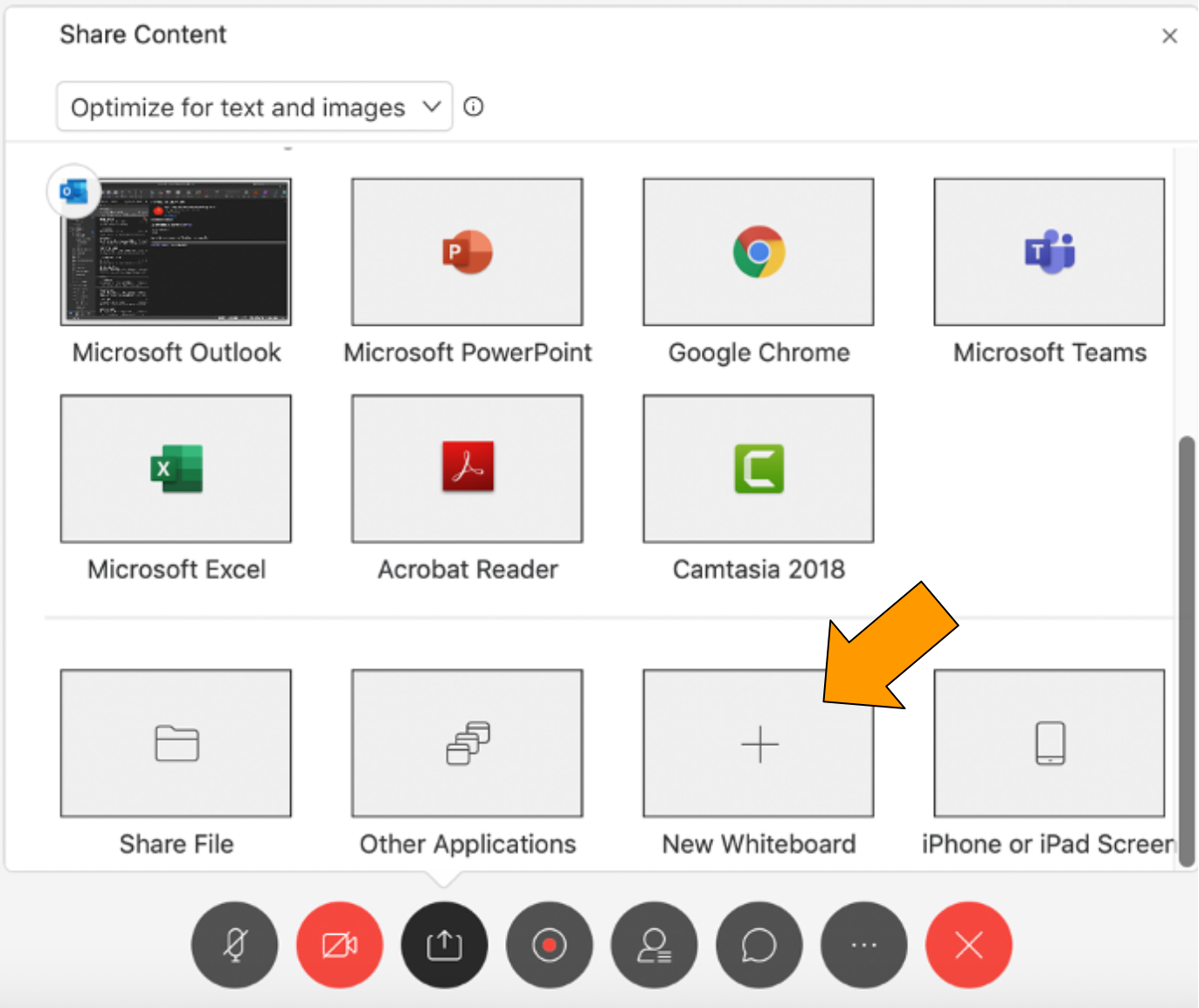 Here's a video on Canvas and Webex.