Postgraduate Information
Postgraduate Pursuits by Department
Check out what graduates from different departments have been doing*. We currently have infographics for Art, English, Economics, Sociology, Molecular Biology, and Environmental Science. Click on the images to enlarge them. If you would like to see your department up here, please let us know.
*Data sourced from the National Student Clearing House.
Economics (out of 464 students)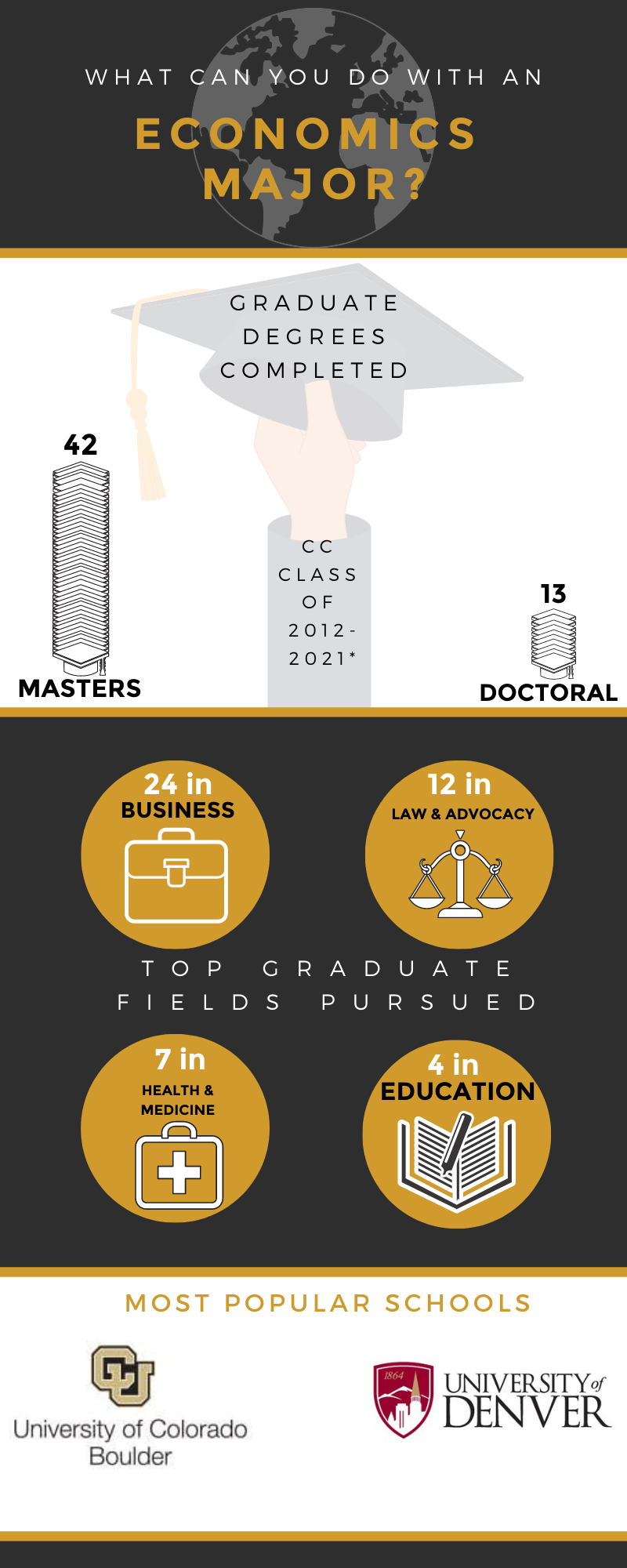 Sociology (out of 281 students)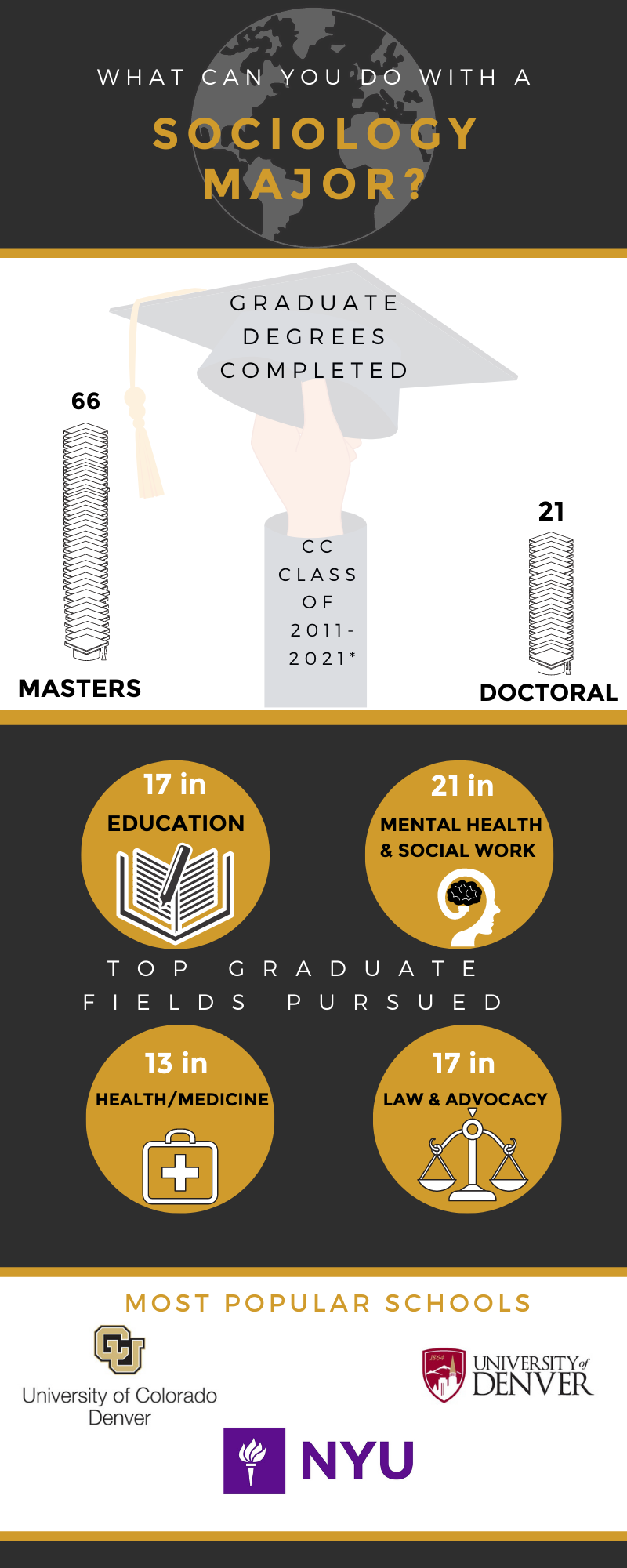 O.B.E. (out of 159 students)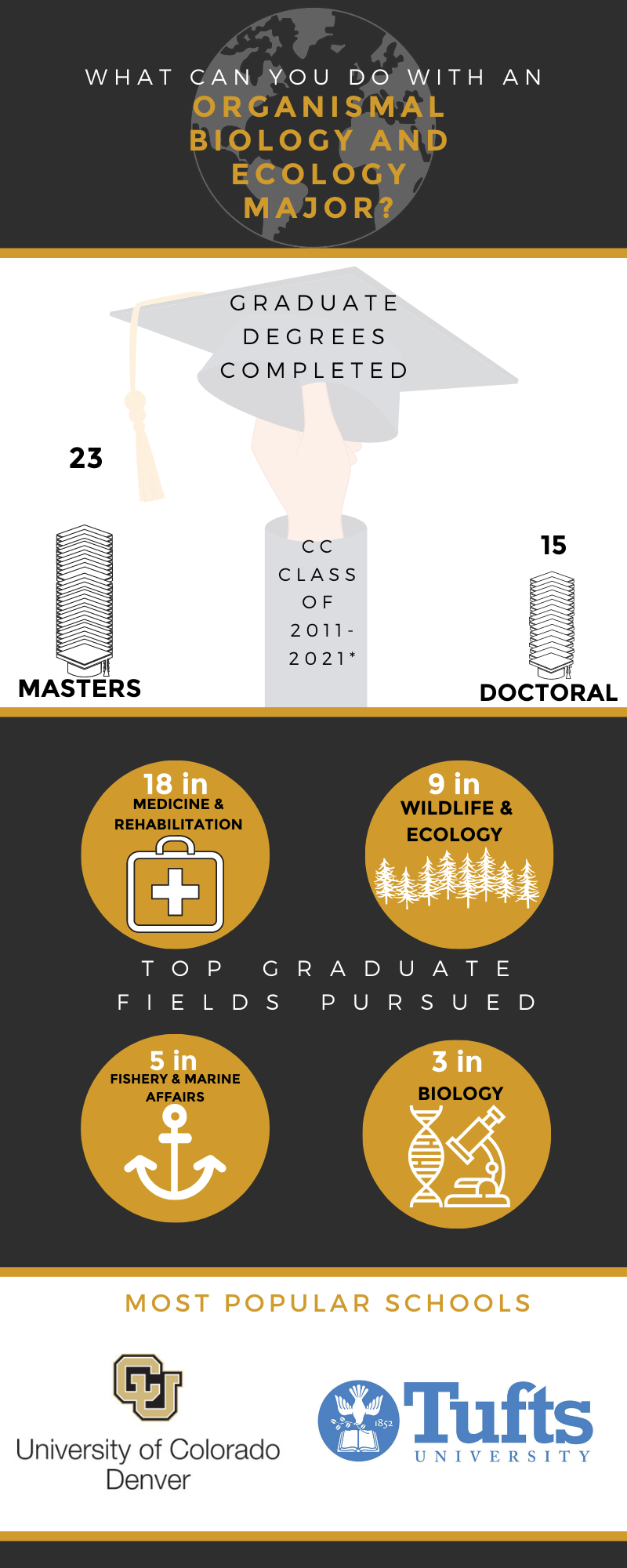 Env. Sci. (out of 230 students)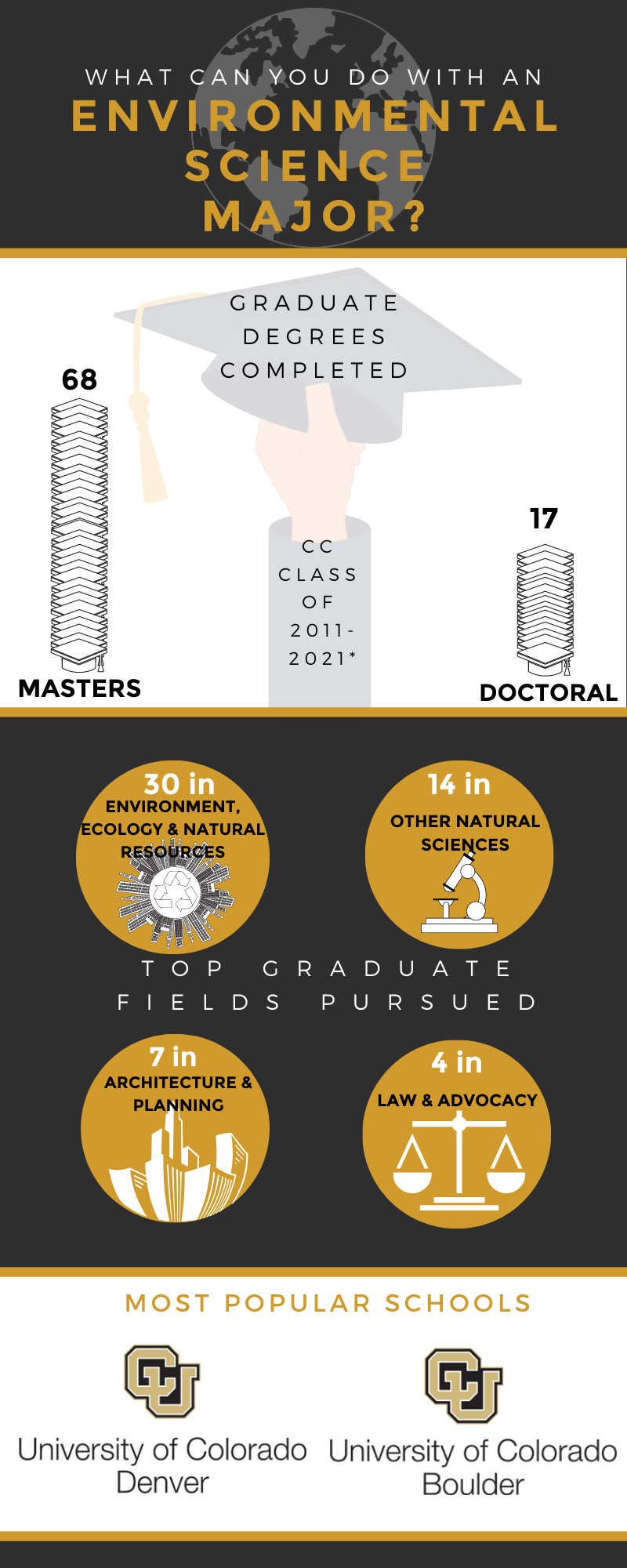 Molec. Bio. (out of 130 students)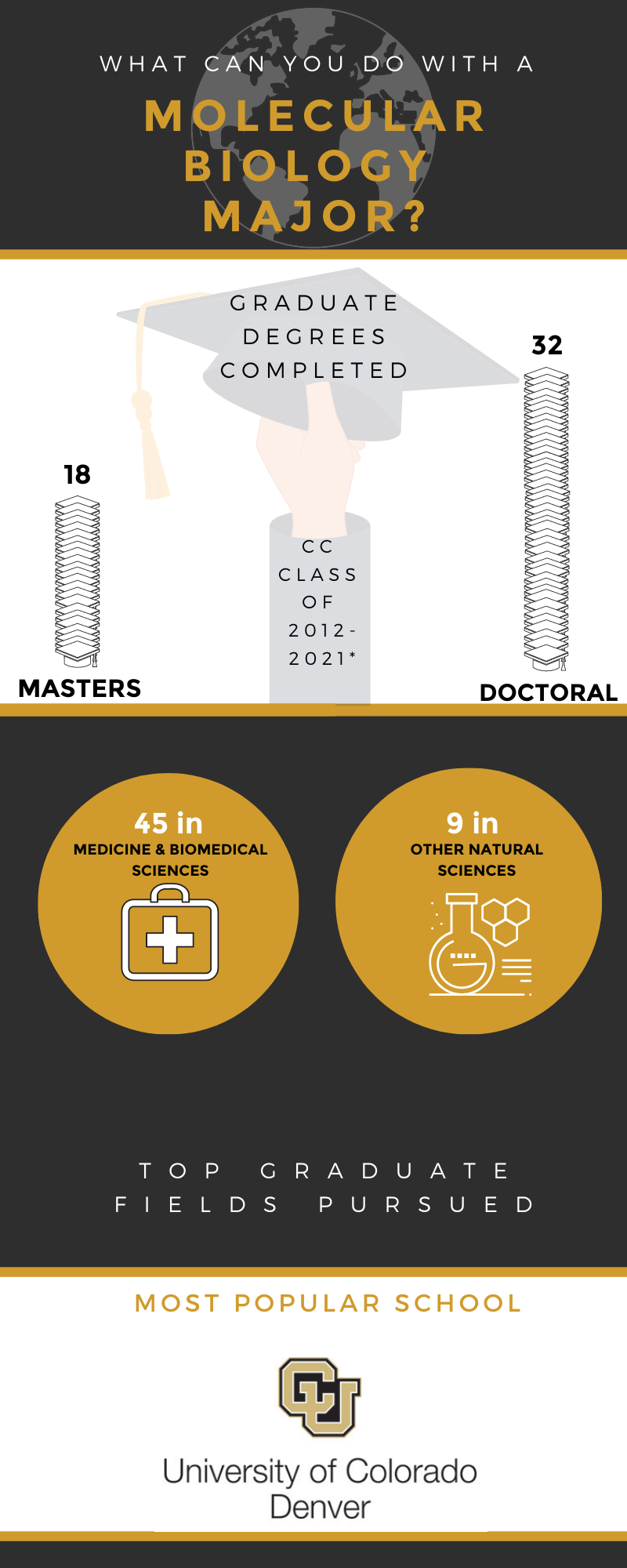 Art (out of 241 students)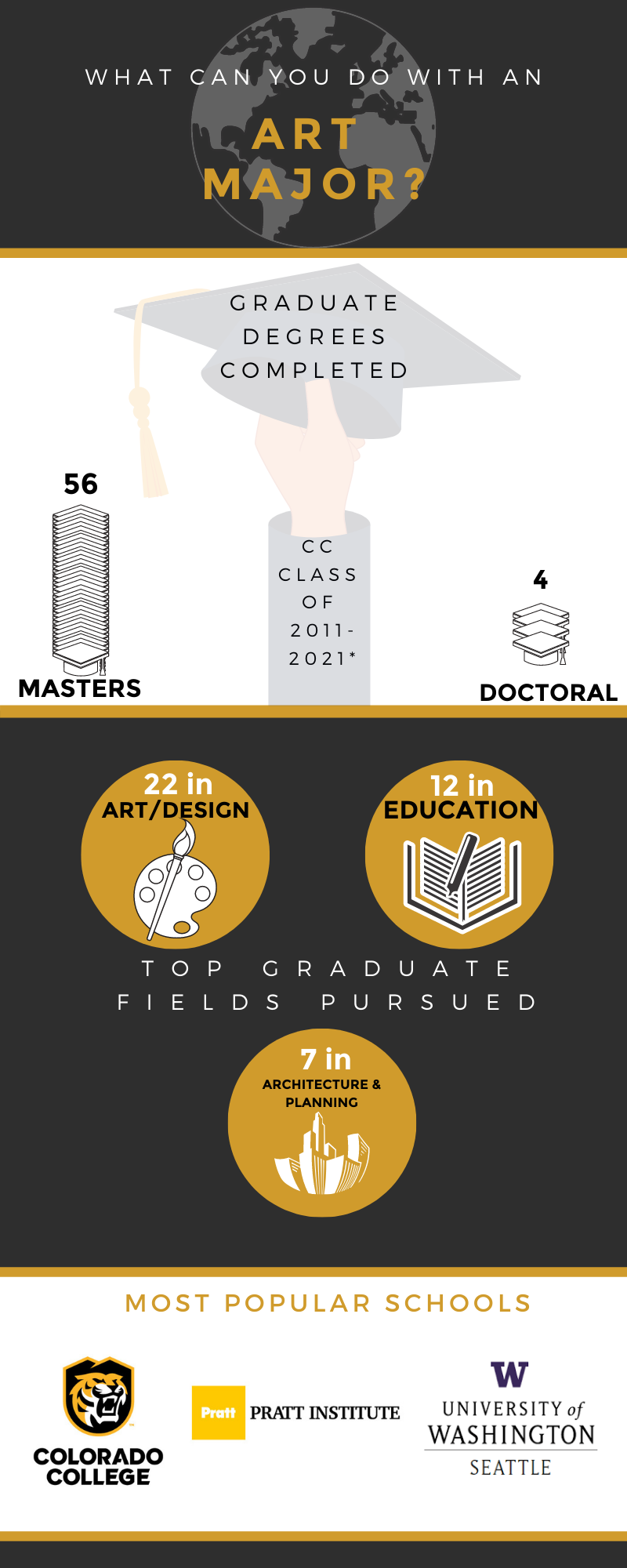 Postgraduate Pursuits - Five-Years-Out
The Office of Institutional Planning works with several other campus offices to conduct an annual survey of alumni, five-years after graduation from CC. This survey gathers information on their academic and career activities, as well as information on volunteer activities and any other endeavors pursued. Data from those surveys, combined with educational pursuit information obtained from the National Student Clearinghouse are combined to create a profile of our graduating classes. Data from these profiles have been compiled into the brief Post-Graduate Activity summaries, by class, linked below. Each report, downloadable in PDF format, gives a snapshot look at where our alumni are, five-years after graduation from Colorado College. Further information drawn from these profiles can be found in our CC Facts Postgraduate Pursuits dashboard.
Requests for Postgraduate Educational Information
Annually, the Office of Institutional Planning and Effectiveness receives data from the National Student Clearinghouse on alumni who pursue additional education beyond CC. This data allows us to provide the CC community with richer data regarding the fields and institutions in which our alumni pursue additional study.
Faculty and Staff may use the Postgraduate Educational Pursuits Request Form to make requests for this data (filling out all fields). Bear in mind that in most cases, only aggregate data will be provided. Unit-record data may be provided based on the security access of the requestor and their parameters for use. Students may request information through their professors if the request is related to a class assignment. All other student requests for information will be reviewed by the Associate Vice President of Institutional Planning and Effectiveness on a case by case basis.