Creativity & Innovation at CC
Creativity & Innovation at CC seeks to empower all students with the creative confidence to be changemakers. By integrating creativity and creative problem-solving, mindfulness, reflection, self-awareness, productive risk-taking, and collaboration into our curricular and co-curricular programs, we help students to generate multiple, diverse possibilities in order to bring ideas into action. We create spaces where work merges with play and encourage students to take risks without preconceived outcomes. While students might think it unwise to risk anything less than excellence, the quality of resilience that is crucial to any successful career and life requires reframing failure as a necessary and fruitful learning tool in an ongoing process of discovery. From exploring ways to harness the power of our creative minds, to envisioning radical entrepreneurial or social justice projects, to nurturing an idea from creative spark to execution, Creativity & Innovation at CC prepares students to approach any challenge with flexibility, openness and confidence. Ultimately, we seek to help students redefine success for themselves, as well as empower them to lead holistic, balanced lives driven by passion and curiosity - lives that include meaningful work.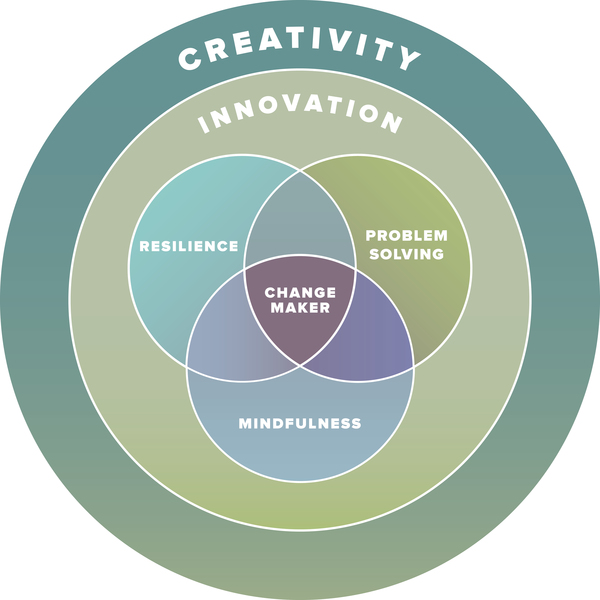 Our four main areas of emphasis, Creativity & Creative problem-solving, Resilience, and Mindfulness, are all practices and tools that will lead students into the Changemaker space where ideas become actionable. We use the term "changemaker" instead of "entrepreneur" to emphasize the reality that innovation occurs culturally, socially, and personally, rather than exclusively in the business and tech worlds. The term changemaker includes the same skills denoted by the term entrepreneur, but by changing the language, we broaden the scope and invite more students into the space. Diversity and inclusion are core values of CC as an institution, and we are committed to reflecting that value in the space of Creativity & Innovation at CC.
"Innovation at CC is undertaking a simple, but virtually always neglected premise in higher education and our society more broadly: creativity matters and needs to be carefully cultivated across all disciplines. In the mad rush towards definitive outcomes and testable results, it is all-too-easy to forget that breakthroughs and advances in science, technology, business, and politics often occur in unexpected, non-linear ways that require time and space for creative reflection and experimentation that's free to play without expectations on instant success. With this in mind, Innovation is helping to remind faculty and students at CC that creativity is not just for the arts, and that the arts can help all disciplines to explore with new ways of thinking."

- Ryan Platt
Associate Professor of Performance Studies
Chair, Department of Theatre & Dance