Approved Licensed Vendors
Colorado College employees and students must use approved licensed vendors to reproduce official Colorado College logos and other identity marks on merchandise, apparel, and other products. In addition, any appearance of the words "Colorado College" must be reproduced using the wordmark of the logo. These requirements help the college to protect and manage the brand as well as to represent the college visual identity correctly.
Orders that utilize logos or any part of the visual identity incorrectly will not be approved. Most vendors will do their utmost to create and ship products in the timeframe requested; advanced planning helps the vendors meet your needs effectively and efficiently.

Club Colors is Colorado College's preferred vendor. Club Colors is a one-stop marketing company that can source almost any product, provide competitive prices, offer design and shipping services, and will meet with you to ensure success for your promotion or event. Per the college's preferred status relationship, Club Colors must be contacted for any product, merchandise, or apparel order to provide a competitive bid. This does not mean employees and students must eventually use Club Colors for their order.
Club Colors brand manager contact:
Brandon Hankla
Collegiate Brand Advisor
(847) 744-6063
bhankla@clubcolors.com
Club Colors has also created a custom online product catalog just for CC! You may use this site to browse merchandise, test how CC logos will look on products, and even order directly from the site using your college P-card. Club Colors' brand manager Chloe Urbina will follow up with you directly about your order or if you have any questions about products.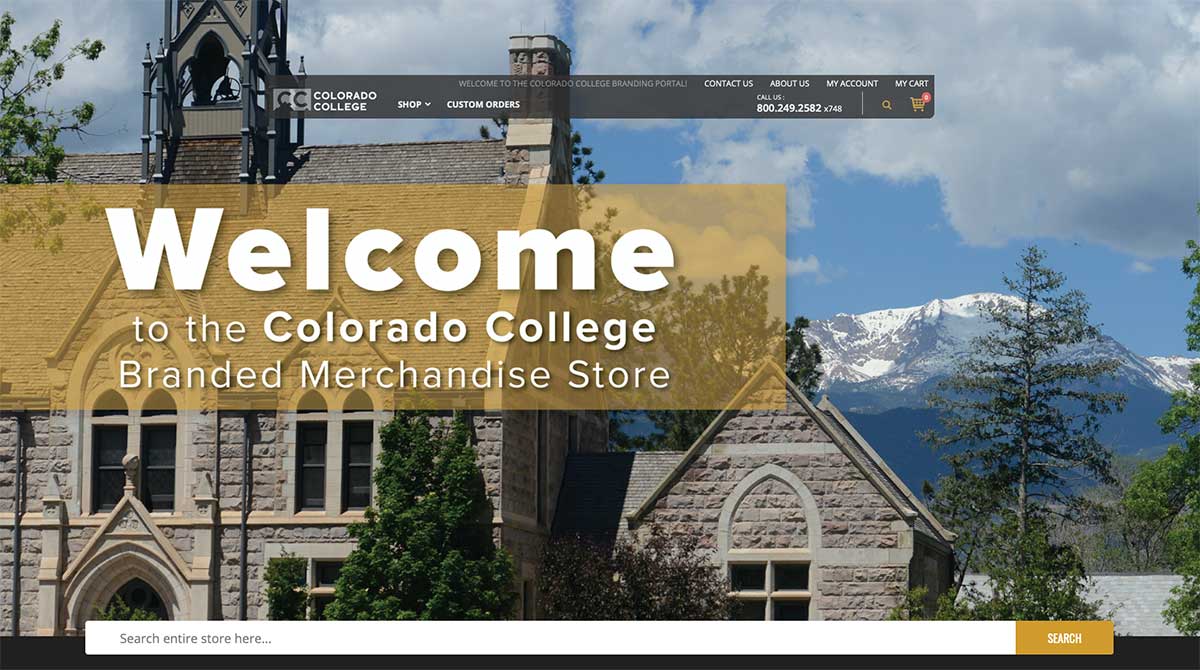 Commitment to sustainability: to meet the college's sustainability goals, choose:
eco-friendly products
products with longer life-cycles (avoid single-use products that immediately add to the waste stream)
items that can biodegrade effectively (try to avoid plastics; micro-plastics are harmful to humans, animals, and the environment)
products that are sourced and made locally (try to avoid products made overseas and/or have to be transported over long distances)
Additional Licensed Vendors:
Local/Colorado Vendors
Denver Athletic Supply Inc
Mr. Mick Montgomery
mick@denverathletic.com
3101 S Platte River Drive
Englewood, CO 80110
Ph. 303-761-7773
Fax 303-761-9993
www.denverathletic.com
Account # 12345
DeSandro Custom Apparel
Vince DeSandro
desandrocustomapparel@gmail.com
40 Langley Place
Colorado Springs, CO 80906
Ph. 719-659-0331
Fax 719-540-9094
Account # 200606

DSP, Inc.
Don Pettrow
don@bigleaguegraphics.com
3730 Constitution Ave
Colorado Springs, CO 80909
Ph. 719-550-9214
Fax 719-550-4098
Account # 200648
Garb Inc.
Licensing Coordinator
Ms. Juli Messenger
jmessenger@garbinc.com
730 South Jason St. Unit # 34
Denver, CO 80223
Ph. 303-674-3139
Fax 303-679-0272
www.Garbinc.com
Account # 50224
L3 ScreenPrinting & Embroidery, INC
Vice President
Gregory Liebermann
greg@l3screen.com
3823 N Academy Blvd
Colorado Springs, CO 80917
Ph. 7192191069
Fax 7192191071
Account # 202328
Needlepaint LLC
Seth Berman
seth@needlepaint.com
2720 S Tejon Street
Englewood, CO 80110
Ph. 303-728-4941
www.needlepaint.com
Account # 201412
Ouray Sportswear LLC
Licensing Specialist
Ms. Ashley Hays
licensing@ouraysportswear.com
1201 W. Mansfield Ave
Englewood, CO 80110
Ph. 303-789-4035
Fax 303-789-9923
www.Ouraysportswear.com
Account # 44006
Shirt Stop of Colorado Springs Inc
Michelle Davenport
michelle@shirtstoponline.com
875 Ford St.
Colorado Springs, CO 80915
Ph. 719-574-7710
Fax 719-574-0730
www.shirtstoponline.com
Account # 201824
Tayco Screen Printing, Inc.
Martin Taylor
marty@taycoscreenprinting.com
117 S Nevada
Colorado Springs, CO 80903
Ph. 719-634-4622
Fax 719-634-4361
www.taycoscreenprinting.com
Account # 202010
Tuxedo Ranch, LLC
Ms. Cathy Valenzuela
cathy@tuxedoranch.com
PO Box 456
Pueblo, CO 81002
Ph. 719-924-5275
www.tuxedoranch.com
Account # 82652
Zephyr Graf-X
Director of Licensing
Ms. Tiffany Swenson
tswenson@zhats.com
5443 Earhart Rd
Loveland, CO 80538
Ph. 888-282-0994
Fax 970-663-7695
www.Zhats.com
Account # 13475
Top 15 National Vendors
4imprint Inc.
Ms. Kristin Hilla
khilla@4imprint.com
PO Box 320
Oshkosh, WI 54903-0320
Ph. 877-446-7746
Fax 920-236-7282
www.4imprint.com
Account # 49210

Antigua Group Inc.
National Sales Manager
Mr. Kevin O'Neill
koneill@antigua.com
16651 N 84th Ave
Peoria, AZ 85382-4772
Ph. 800-562-9777
Fax 623-523-6009
www.Antigua.com
Account # 11622

CC Creations Ltd.
Licensing Admin
Ms. Dea Corpora
d.corpora@cccreationsusa.com
1800 Shiloh Avenue
Bryan, TX 77803
Ph. 979-693-9664
Fax 979-823-4301
www.Cccreationsusa.com
Account # 35738

Charles River Apparel
Licensing Coordinator
Mr. Jeremy Whiting
jeremyw@charlesriverapparel.com
1205 Providence Highway (Rt 1)
Sharon, MA 02067
Ph. 781-793-5323
Fax 781-793-1129
www.Charlesriverapparel.com
Account # 13670

Crestline Specialties Inc
Mr. Michael Truchon
crestlinelicensing@crestline.com
PO Box 2027
Lewiston, ME 04241
Ph. 207-777-7075
Fax 800-242-8290
www.Crestline.com
Account # 73827

CustomInk LLC
Ms. Bailey Rockwell
licensing@customink.com
2910 District Ave
Ste. 3
Fairfax, VA 22031
Ph. 703-891-2270
Fax 703-852-2730
www.Customink.com
Account # 37786

Eastbay, Inc.
Mr. Alex Christensen
achristensen@eastbay.com
111 South 1st Ave.
Wausau, WI 54401
Ph. 715-261-9071
Fax 800-991-6832
www.eastbayteamservices.com
Account # 117865

Forbes Marketing Group
Ms. Pauline St. Amand
pauline@forbesmarketing.com
6 Merrill Industrial Dr
Unit 2
Hampton, NH 03842
Ph. 603-778-1102
Fax 603-778-0764
www.Forbesmarketing.com
Account # 17164

Fresh Prints LLC (NY)
Mr. Josh Arbit
licensing@freshprints.com
134 East 70th Street
New York, NY 10021
Ph. 201-421-6814
www.Freshprints.com
Account # 82234

Global Sourcing Connection
Tom Levy
tomlevy@gloso.com
2610 Lake Cook Rd #190
Riverwoods, IL
Ph. 847-580-9056
Account # 118193

Jostens Inc.
Ms. Joley Podein
Joley.podein@jostens.com
148 E. Broadway
Owatonna, MN 55060
Ph. 507-455-6561
www.Jostens.com
Account # 11572

Public Identity, a division of BAMKO, LLC
Mr. Leland Felsenthal
licensing@publicidentity.com
1218 South Boyle Avenue
Los Angeles, CA 90023
Ph. 323-266-1360
Fax 323-266-1010
www.Publicidentity.com
Account # 52871

South By Sea
Director of Operations
Ms. Victoria Brock
licensing@southbysea.com
2727 Commerce Way
Philadelphia, PA 19154
Ph. 888-855-7960
Fax 888-261-5353
www.Southbysea.com
Account # 110987

W Republic
Ms. Felicia Guardado
feliciag@wrepublicapparel.com
2121 S. Wilmington Ave.
Compton, CA 90220
Ph. 310-608-2620
Fax 310-608-3648
www.wrepublicapparel.com
Account # 113539
You may work with 125 licensed vendors across the country for your product, merchandise, and apparel needs, in addition to requesting quotes from Club Colors.