Our Staff
Todd Woodward Cami Barragan-McIntosh Jessi Burns Megan Clancy Owen Craft Noel Dolan Julia Fuller Alexa Gromko Mark Lee Nicole Leung Miriam Roth Karen To Naomi Rene Trujillo Serena Wolford Karuna Worsham Stephanie Wurtz
---
Todd Woodward
Vice President of Strategic Communications and Marketing
(719) 389-6212
twoodward@coloradocollege.edu
---
Cami Barragan-McIntosh
Communications Coordinator
(719) 389-6603
cbarraganm2023@ColoradoCollege.edu
---
Jessi Burns
Fine Arts Center Marketing & Communications Strategist
(719) 389-6624
jburns@coloradocollege.edu
---
Megan Clancy
Senior Writer & Editor
mclancy2023@coloradocollege.edu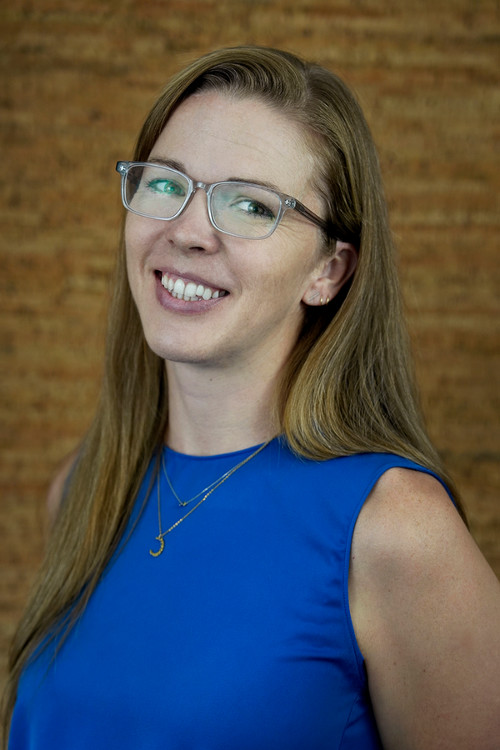 Megan's passion is story. Writing it. Reading it. Living it. As the department's Senior Writer & Editor, she works to hone the voice of CC communications and design strategy around the stories we tell. She is particularly excited to be using her skills and experience in support of CC's dedication to antiracism and LGBTQIA+ rights.
Megan is a Colorado College alum and graduated in 2007 with a degree in English on the Creative Writing Track. During her four years at CC, Megan was a member of the women's basketball team and a PIFP Fellow working with CASA Colorado Springs. After graduating, Megan moved to Melbourne, Australia, earning her Masters in Creative Writing at the University of Melbourne and then teaching English in Nepal. She returned to the States in 2011 to teach middle school & high school English for 6 years before leaving the classroom to write and work as a book coach. Her first novel was published in 2018.
Megan is so excited to be back at CC. She finds it incredibly strange to be returning to campus with her two young children in tow, but pretty awesome too. (We just won't tell them all the memories quite yet.) She's looking forward to relearning all the mountain trails in the summer, taking full advantage of the ski slopes in the winter, getting in as much hockey as she can, and maybe getting a couple more punches in her Josh & John's card.
---
Owen Craft
Graphic Designer
(719) 389-6355
ocraft@coloradocollege.edu
---
Noel Dolan
Creative Director
(719) 389-7120
ndolan@coloradocollege.edu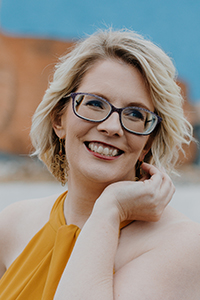 Noel Dolan joined the communications team as the Creative Director in February 2023. She is a graduate of Colorado State University and The Art Institute of Colorado. Noel has 20 years of industry experience working in-house for non-profits and higher education, freelancing, and teaching an advanced typography class at Pikes Peak State College.
Noel was awarded the prestigious American Advertising Federation (AAF) Silver Medal in 2020 for her contributions to design, advertising, and the Colorado Springs creative community. Additionally, she was named the AAF Colorado Designer of the Year and has accumulated nearly 40 professional awards at a local, regional, and national level.
When Noel isn't drooling over ampersands and ball terminals, she loves to travel the globe (33 countries and counting!), spend time with her furry felines Todd and Margo, read true crime, and watch The Office.
---
Julia Fuller
Video Producer
(719) 389-6602
jfuller@coloradocollege.edu
---
Alexa Gromko
Director of External Relations & Editorial Content
agromko@coloradocollege.edu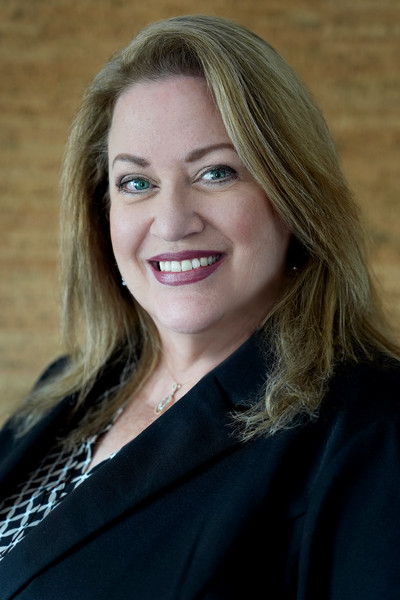 A lifelong Colorado resident, Alexa is thrilled to join CC to head institutional public relations, editorial content, and media relations. She is focusing on elevating the local, regional, and national profile of Colorado College through storytelling and executing meaningful PR campaigns, as well as positioning college leadership as thought leaders in higher education.
Alexa comes to CC following a lengthy role as adjunct faculty at the Center for Creative Leadership in Colorado Springs, a world class executive leadership training facility, where she facilitated media training, research, and communication strategy.
Prior to that, Alexa had an Emmy Award-winning broadcast news career spanning over a dozen years with news anchor and reporter positions in Colorado Springs, Denver, Portland, Oregon, and Lexington, Kentucky. She earned three prestigious Emmy Awards for excellence in reporting and anchoring the news, along with seven Emmy nominations.
Alexa's PR experience includes a spokesperson role for AAA Colorado in Denver as well as media relations and marketing for the United States Olympic and Paralympic Museum, Mt. Carmel Veterans Service Center, and the Colorado State Fair. She also has extensive writing experience and was editor of a monthly magazine for Best Version Media.
In her free time, you'll find Alexa with her family enjoying the outdoors kayaking, skiing, mountain-biking, and hiking Colorado's magnificent Rocky Mountains.
---
Mark Lee
Director of Web & Digital Media
(719) 389-6030
mlee@coloradocollege.edu
Mark has been helping to build the web since 1999. Over this time he has collaborated with fellow staff, faculty, and students on countless interesting and creative web/digital media projects. Mark provides leadership, strategy, hands-on management, technical implementation, and front-end development (coding) of the web and other digital communications channels for the college.
Mark has a B.A. in psychology, a Graduate Certificate in computer information systems, and an M.Ed. in instructional technology. He is a lifelong learner and continues to take a variety of professional development and continuing education classes whenever possible, including from Colorado College, Parsons School of Design, HarvardX/EdX, and Berklee College of Music.
Involvement in the community is important to Mark, and he has volunteered with and served on several nonprofit boards in the Pikes Peak region, as well as being a 2008 graduate of the Leadership Pikes Peak Signature Program.
In his spare time, he enjoys: learning, experimenting with, and sometimes writing about cutting-edge web technology; honing his photography and videography skills, and making music with friends.
---
Nicole Leung
Web Communications Paraprofessional
(719) 389-6139
nleung@coloradocollege.edu
Nicole received her BA in Integrative Design & Architecture from CC's Art department in '21, simultaneously graduating from the College of ZOOM of COVID University. For all things Cascade CMS-related, Nicole is your go-to person.
Outside of website management, Nicole spends time with her two fluffy kitties, Bear and Willow, as well as ballet, hiking, weightlifting, making books, and going to farmers' markets. She also never got over her love of painting and drawing; Nicole is continually adding to her portfolio of random works of whatever she felt like making at the time. 
---
Miriam Roth
Internal Communications Manager
(719) 389-6053
mroth@coloradocollege.edu
Miriam Roth is originally from California but spent 15 years in New York City, where she studied Theatre Arts and Music. In addition to performing while in NYC, Miriam had a successful career in sales and marketing for both the fashion industry, and international mail.
Miriam comes to CC after working in a myriad of places doing all kinds of things, mostly being creative, building relationships, and keeping others organized. She still teaches singing in her private studio in the evenings, as well as performing around town. Most recently Miriam was taking a course on the Neuroscience of Singing, through San Francisco Conservatory of Music.
---
Karen To
Director of Web & Digital Media
(719) 389-6144
kto@coloradocollege.edu
Karen provides leadership, strategy, and hands-on management of the web and other digital communications channels for the college.
Karen joined CC eagerly in 2005, after a long (at least it seemed that way) and illustrious career in Corporate America. With a degree in linguistics and no direct path to a profession, she started her career sending form letters to AARP members. Thanks to a knack with computers and software, she promptly began a steady migration to technology. She has been a programmer, system administrator, software support specialist, and content manager.
Karen thinks that industrial agriculture is public enemy #1 and enjoys yoga, hiking, and backpacking.
---
Naomi Rene Trujillo
Senior Project Manager
(719) 389-6774
ntrujillo@coloradocollege.edu
In her role as project manager for the Office of Communications and Marketing, Naomi works with campus partners to achieve their institutional goals and bring their communications projects to successful outcomes. She enjoys developing relationships, supporting collaborations, gathering necessary resources, and removing potential boulders that might disrupt any of these.
Naomi received a BFA with honors from the Art Center College of Design. She has a master's in art therapy from Vermont College and spent five years as an art therapist at Pikes Peak Mental Health working with those who have chronic mental illness.
Naomi has been at CC for 16 years. She has completed coursework towards a master's in project management at CSUGlobal, and has also earned the Advanced Certificate in Strategic Management of Digital Assets & Services from San Jose State University.
Favorite (project management) quote: "In the beginning was the thing. And one thing led to another." –Tom Robbins
---
Serena Wolford
Graphic Designer
(719) 389-6793
swolford@coloradocollege.edu
---
Karuna Worsham
Social Media Manager
(719) 389-6239
kworsham@coloradocollege.edu
---
Stephanie Wurtz
Associate Vice President for Communications
(719) 389-7601
swurtz@coloradocollege.edu
Building relationships is at the heart of Stephanie's role of providing vision for the college's integrated communications strategy. As assistant vice president for communications, Stephanie collaborates with college leaders, as well as internal and external stakeholders, to elevate the CC identity. She leads the editorial functions of the Office of Communications and provides executive leadership by identifying strategies and initiatives to advance and measure CC's communications efforts.
Stephanie joined the communications team in 2014 as CC's first director of internal communications, a position identified as key to the CC strategic plan. She continues working to strategically build cross-organization relationships and provides structure, support, and leadership to achieve the college's communications goals.

Prior to starting at Colorado College, Stephanie worked in K-12 public education, directing the communications program for Falcon School District 49. She also spent five years as a television news reporter. Stephanie received both her B.A. in journalism and M.A. in strategic communications from the University of Missouri School of Journalism in Columbia.
When she's not on campus, Stephanie spends time out on the trails, running, and mountain biking. She's run across the Grand Canyon and up several of Colorado's 14,000-foot peaks, and ridden her bike over numerous mountain passes, occasionally stopping to snap photos and catch her breath.