College Logos & Visual Identity Resources
Find flexible and easy-to-use communications resources that will help you create and share CC stories and reflect characteristics that make Colorado College unique: our program, our place, and our people. Resources include the college logo, official colors and typography (fonts), and how to use these tools properly.
By using these tools well, the college community can help to ensure that communications about Colorado College are always strong, consistent, and purposeful.
Logos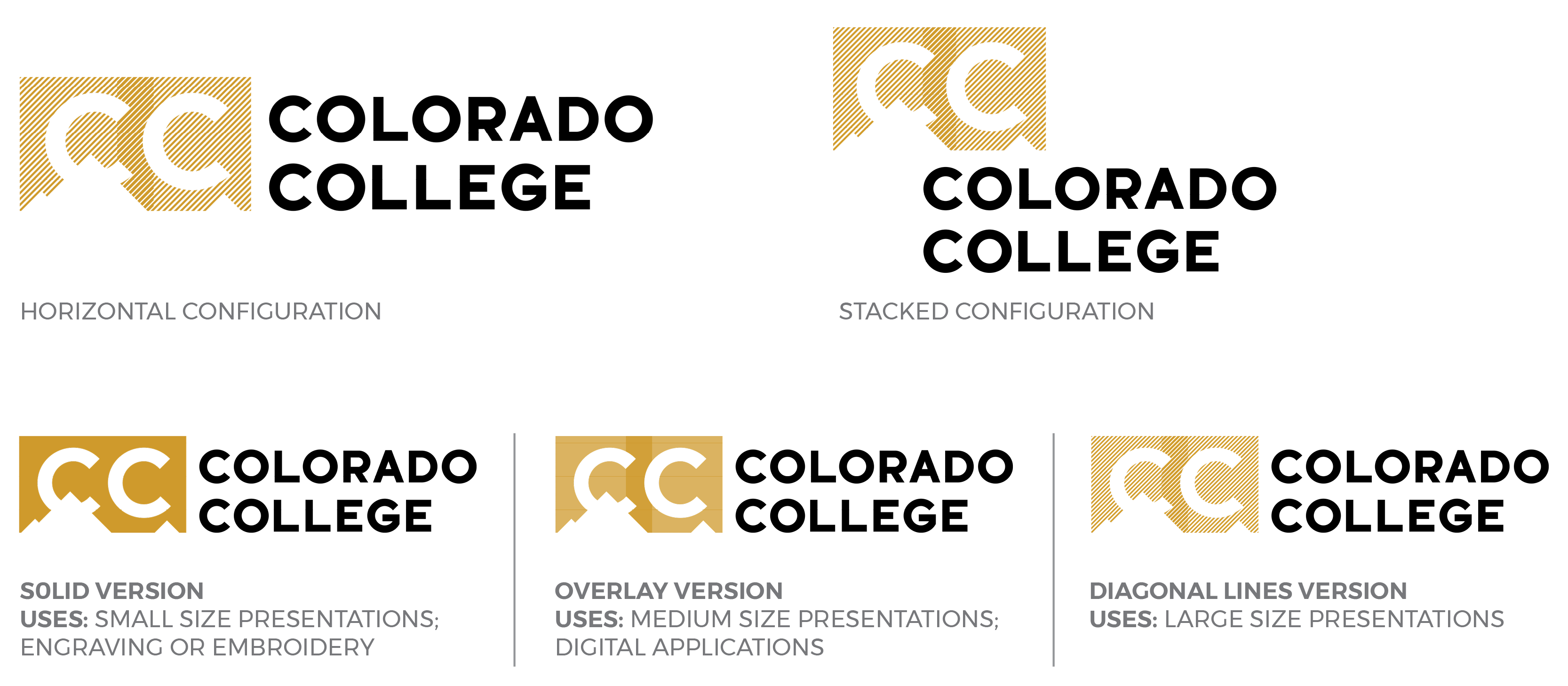 The main college logo has two configurations and three versions, and use cases described for each, all detailed above. The college logo may only be reproduced in black and gold, all black, all gold, or all white.
Download the horizontal configuration package.
Download the stacked configuration package.
Each package includes the main logo configuration in solid, overlay, and diagonal lines versions. Colors include black and gold, all black, all gold, and all white.
File formats include EPS, PDF, and PNG (transparent background). Not sure which file type you need? See our file format FAQ! Please contact the Office of Communications & Marketing if you require additional formats.
Discover how the CC logo was developed.
Other Identity Marks, Limited Uses

The college seal is reserved for use by academic departments, the Office of the President, and for academic events and documents like Commencement and diplomas. Contact the Office of Communications & Marketing to request use of the college seal.
The Tiger logo is reserved for use by the Department of Athletics, sports teams, and all athletics-related communications. Other areas of campus have limited use of the Tiger logo for spirit products and apparel. Contact the Department of Athletics to request use of the Tiger logo.
The FAC logo is reserved for use by the Colorado Springs Fine Arts Center at Colorado College, including the FAC Museum, performing arts theatre company, and Bemis School of Art. Contact the Fine Arts Center to request use of the FAC logo.
Refer to the Visual Identity Standards document and video tutorial to understand and apply the correct use of the college logo and other visual identity assets.


Brand Fonts

Using official CC typography, or fonts, helps to create a strong and consistent college brand. When you use any of the typography sets above in your communications, you help to express the consistent "look" and "voice" of CC.
Electra and Proxima Nova are the main fonts used in the Office of Communications & Marketing and are licensed fonts; you must pay the font creators to use the fonts on your computer. Contact the Office of Communications & Marketing for information on a licensing agreement.
Crimson Pro and Montserrat are free fonts offered by Google. Download the package that contains both fonts.
Georgia and Verdana are system fonts installed on both PC and Mac computers. You can use them right away at any time without extra payment, downloads, or installations.
Some fonts require instructions for installation. Contact the Office of Communications & Marketing or ITS for support.


Brand Colors

CC's main institutional colors are CC Black and CC Gold. White and tints of black can also be used. Additionally, CC has four additional sets of palettes: expanded institutional colors that reflect our sense of place; bright, energizing colors that we use to communicate to students; rich, sophisticated colors that we use to communicate to donors, alumni, and parents; and colors used exclusively for Fine Arts Center communications. Download a PDF document featuring the color palettes and specifications to build each color in your software programs for CMYK, RGB screen, and HTML websites.


Visual Identity Standards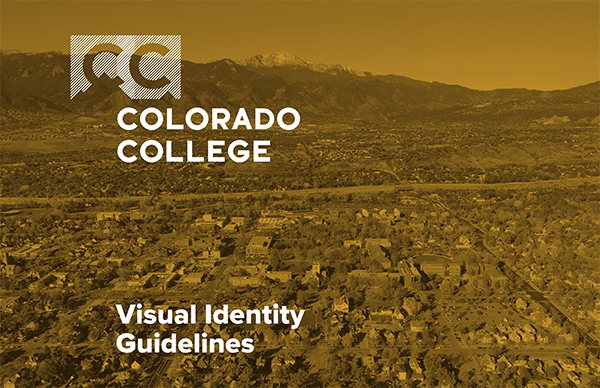 Find more detailed descriptions about our various logos and identity marks, fonts, color palettes and correct use for each in the CC Visual Identity Standards document. You can also watch an hour-long presentation on our brand, visual identity, and standards for use.


CC-Branded Powerpoint
An adaptable PowerPoint file with CC logos and images. (4:3 ratio)
An adaptable PowerPoint file with CC logos and images. (16:9 ratio, widescreen/HD)