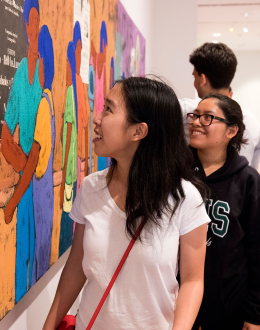 An innovative gift from the Marie Walsh Sharpe Foundation Scholarship Fund provided scholarships for three first-generation Colorado students to attend a pre-college collaborative art class this past summer.
With support from the funds, the students enrolled in a CC Summer Session course at the Bemis School of Art at the Colorado Springs Fine Arts Center at Colorado College. The pre-college art class, A Material Exploration of Drawing: On and Off the Press, was CC's first class offered for credit through the school. The fund was established in honor of Joyce Robinson, a former director of the Bemis School of Art and a local and national advocate for the arts.
The class was a synthesis of two studios - drawing and printmaking - and was taught by Kate Aitchison '10. Aitchison graduated from Colorado College cum laude with a degree in studio art and earned an MFA in printing from the Rhode Island School of Design.
"This was an opportunity for Summer Session, Bemis, and CC's Art Department to collaborate and develop a new initiative that builds on the academic strengths of CC, the expertise of Bemis, and our offices' commitment to making Colorado Springs a center for the arts in the Rocky Mountain West," says Jim Burke, director of CC's Summer Session.
The Marie Walsh Sharpe Art Foundation, which supports students in the arts, closed a few years ago, when the director passed away. Tara Sevanne Thomas '00, director of the Bemis School of Art, says the reimagined use of the funds was in keeping with the foundation's wishes to support scholarships in art instruction for young students who show talent, promise, and interest in the visual arts.
Thomas notes that the fund is to be used to ensure the continuing heritage of the Fine Arts Center as a center for arts education, and that the Fine Arts Center is accessible and relevant to each new generation of audiences.
The Fine Arts Center is a significant part of the Building on Originality campaign. Through the alliance between CC and the Fine Arts Center, the community has benefited from additional free days for K-12 students; Colorado College faculty have brought their classes into the Fine Arts Center for new learning opportunities; and CC students have found new ways to interact with members of the community.