The American Brass Quintet (ABQ), internationally recognized as one of today's premier chamber music ensembles, announces the arrival of two new members: trumpeter Brandon Ridenour and trombonist Hillary Simms. Ridenour takes the place of Louis Hanzlik, who was part of the ABQ from 2013 to 2022. Simms joins the ensemble to take Michael Powell's place; Powell, who had been with the ABQ from 1983 to 2022, left the quintet after suffering a stroke last year.
Simms was invited to the Colorado College Summer Music Festival in both 2017 and 2018, when she worked with Festival Faculty Kevin Cobb, trumpet, and John Rojak, bass trombone. Rojak has been a member of ABQ since 1991 and Cobb since 1998.
"We are thrilled to add two truly wonderful, multi-talented artists as partners and stewards of the mission of ABQ," said Cobb, hornist Eric Reed, and Rojak. "Hillary and Brandon have already brought new energy and inspiring ideas to the group, not to mention a fresh look and sound. We can't wait to share this new version of ABQ with audiences worldwide."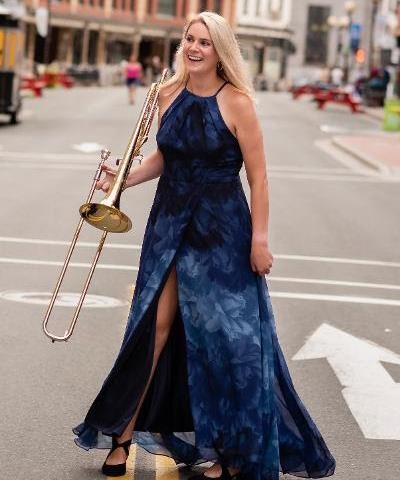 "As a student, I thought only in my wildest dreams could I share the stage with an ensemble of such prestige and perform alongside my mentors," said Simms. "I am absolutely humbled and honored to be the next trombonist of the American Brass Quintet and join the faculty at Juilliard. Mr. Powell leaves some large shoes to fill, and I am greatly looking forward to continuing his legacy… but in heels." 
"When I first heard ABQ as a student at Juilliard it inspired a new direction for me," said Ridenour. "The pristine refinement of Ray and Kevin's trumpet-playing and the musical sensitivity within the group were eye- and ear-opening as a young brass player. Realizing that I could make a career in chamber music changed the trajectory of my musical life. And now, to my surprise, it has all come full circle again—returning to my alma mater, Juilliard, and joining ABQ!"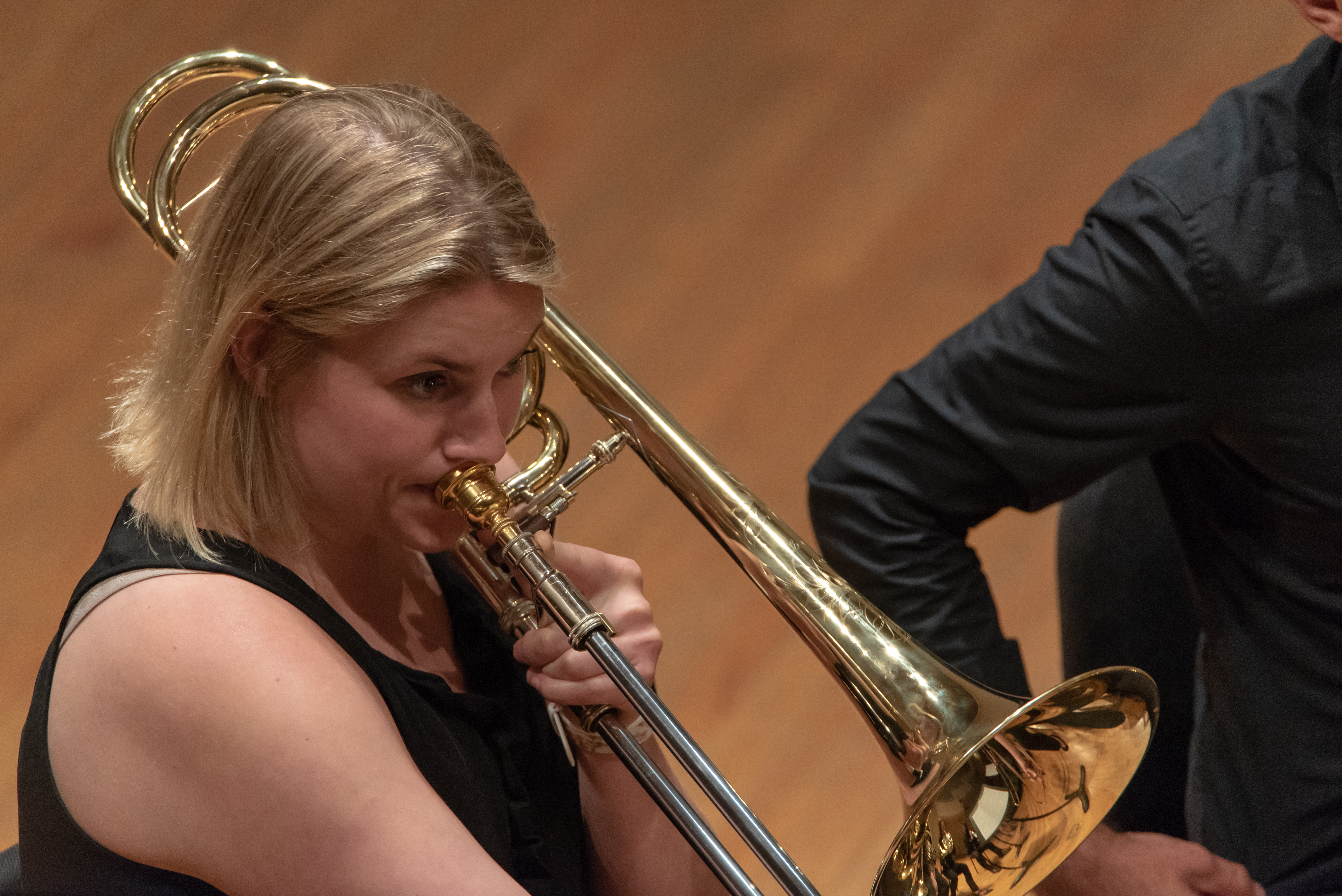 About Hillary Simms
Hailing from Torbay, Newfoundland and Labrador, trombonist Hillary Simms became the first woman to join the ABQ. With her 2023 appointment, Hillary joins the faculty of Juilliard, having previously served on faculty at Memorial University of Newfoundland. Simms performs in both the United States and Canada with the National Arts Center Orchestra of Canada, Vancouver Symphony Orchestra, Chicago Symphony Orchestra, Newfoundland Symphony Orchestra and the Canadian Opera Company. She gave her solo debut playing the Tomasi Concerto with the National Arts Center Orchestra. Hillary serves on the artistic committee for the Canadian Women's Brass Collective and is a founding member of the Canadian Trombone Quartet and the Saltwater Brass Quintet. Hillary holds a BM from McGill University, an MM from Yale University, an AD from The Glenn Gould School Royal Conservatory of Music and is currently pursuing her DMA at Northwestern University.
About Brandon Ridenour
Stylistically diverse as a soloist, collaborative artist, composer, and arranger, Brandon Ridenour joined the ABQ in 2023. Originally from Grand Rapids, Michigan he graduated from Juilliard (BM) and immediately began touring with the Canadian Brass. Simultaneously embarking on a solo career, he has been a featured soloist with the National Symphony Orchestra, Los Angeles Philharmonic, Chamber Music Society of Lincoln Center, Orpheus, Orchestra of St Luke's, Indianapolis Symphony Orchestra and many more. On faculty at Juilliard , Manhattan School of Music and The New School, he is co-director of a performer-composer focused ensemble based in Brooklyn called Founders. He has worked with a diverse array of musicians including Sting, James Taylor, Marvin Hamlisch, Yo-Yo Ma, Esperanza Spalding, Bruce Cockburn, Caroline Shaw, Vienna Teng, and esteemed ensembles such as the New York Philharmonic, International Contemporary Ensemble, the Knights, Mahler Chamber Orchestra, yMusic, and Publiquartet, amongst others. 
About the American Brass Quintet
Kevin Cobb (Trumpet); Brandon Ridenour (Trumpet); Eric Reed (Horn); Hillary Simms (Trombone); John D. Rojak (Bass Trombone)
"The members of the American Brass Quintet breathe as one, provide effortless well-matched phrasing, and generally produce a superbly balanced, fine golden sound."
– Los Angeles Times
Since its founding in 1960, the American Brass Quintet has performed on five continents, made nearly 60 recordings, and premiered more than 150 contemporary works for brass. In addition to their performing and commissioning work, the ensemble is committed to the development of brass chamber music through higher education; the ABQ has served as Ensemble-in-Residence at The Juilliard School since 1987 and at the Aspen Music Festival since 1970.
"The most distinguished" of brass quintets (American Record Guide), the group has earned its stellar reputation through its celebrated performances, genre-defining commissioned works, and ongoing commitment to the education of generations of musicians. Since its founding in 1960, the American Brass Quintet has performed on five continents, made nearly 60 recordings, and premiered more than 150 contemporary works for brass.
The American Brass Quintet has commissioned works by leading composers that have contributed significantly to both contemporary chamber music and the foundation of the modern brass quintet repertoire. Such composers include Robert Beaser, William Bolcom, Elliott Carter, Eric Ewazen, Anthony Plog, Huang Ruo, David Sampson, Gunther Schuller, William Schuman, Joan Tower, and Charles Whittenberg, among many others. The Quintet's Emerging Composer Commissioning program produced brass quintets by rising stars Gordon Beeferman, Jay Greenberg, Trevor Gureckis, and Shafer Mahoney. The group's latest recording Perspectives (2017), one of 12 albums with Summit Records, features music by Robert Paterson, Jay Greenberg, Sebastian Currier, and Eric Ewazen, and has earned praise for bringing the "utmost cohesion, balance, and expressivity to each of the scores they perform with ear-catching intensity and finesse" (Gramophone).
Committed to the development of brass chamber music through higher education, the American Brass Quintet has served as Ensemble-in-Residence at Juilliard since 1987 and at the Aspen Music Festival since 1970. President Emeritus Joseph Polisi has said of the group's residency at Juilliard, "With intelligence, artistry, and imagination, the American Brass Quintet has exemplified the highest standards of chamber music for brass instruments during its remarkable existence." In 2018, the group launched the ABQ Seminar @ Aspen, a four-week brass chamber music intensive at the Aspen Music Festival that offers the highest caliber of training for emerging brass quintets and musicians. Since 2000, the Quintet also has shared its expertise in chamber music coaching and performance through a program of short residencies that feature regularly in the group's touring schedule. Offering young musicians an intense chamber music experience over several days, the Quintet's residencies have been embraced by schools and communities throughout the United States and in a dozen foreign countries.
Among its numerous distinctions and citations, the American Brass Quintet is the 2013 recipient of the Richard J. Bogomolny National Service Award for significant and lasting contributions to the field, the highest honor accorded by Chamber Music America.