Pianist Susan Grace will be part of the upcoming premiere of Fred Lerdahl's new cycle for two pianos: Embedded Loops, Inner Life, and Solitude.
Along with Steven Beck, the Quattro Mani duo will perform the world premiere at 7:30 p.m. Nov. 9 at the University of Massachusetts Amherst in Bezanson Recital Hall, followed by the New York City premiere at 7 p.m. Nov. 21 at the Klavierhaus. Both performances are free and open to the public. The Nov. 9 performance will be live streamed on YouTube.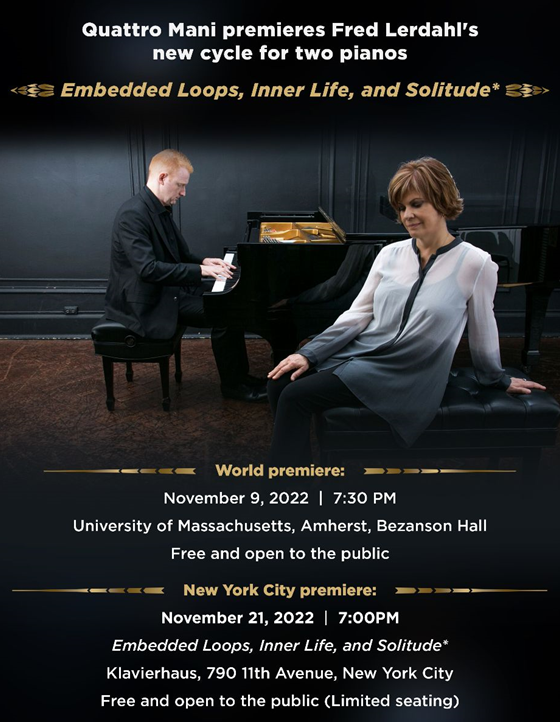 "The music of Fred Lerdahl (b. 1943) may just be one of America's great secret treasures," wrote Guy Rickards in 2017 in Gramophone.
Grace is the associate chair, artist-in-residence and senior lecturer in the Colorado College Department of Music. She is also the music director of the Colorado College Summer Music Festival. Beck is assistant professor of piano at the University of Massachusetts Amherst.
Grace has performed solo and chamber recitals, and she has appeared as soloist with orchestras in the United States, Europe, the former Soviet Union, Korea, India and China. She has also performed in the Aspekte Festival in Salzburg, St. Paul Chamber Orchestra's new-music series Engine 408, Phillips Collection in Washington, D.C., the Grand Teton Festival, the Cape Cod Music Festival, Festival Mozaic, Concordia Chamber Players, Music at Oxford, and the Helmsley Festival in England.
Grace was awarded the 2020 Gresham Riley Award, the Alumni Association's highest honor for service to Colorado College. She was awarded the Christine S. Johnson Professorship of Music from 2014-16. In June 2014, Mayor Steve Bach and the city of Colorado Springs presented Ms. Grace with the Spirit of the Springs award for her work with the Colorado College Summer Music Festival. Grace was nominated for a Grammy in the Best Small Ensemble Performance category.
Quattro Mani's performances and recordings, as well as the duo's collaborations with important composers of our time has led to numerous dedications and premieres of new repertoire, including pieces by George Crumb, Paul Lansky, Tod Machover, Poul Ruders, Tania León, Michael Daugherty and Lerdahl. QM's recent CDs Lounge Lizards and Restructures were released to widespread critical acclaim, featuring new works by American and European composers. A third recent disc of Stefan Wolpe's two-piano works had Fanfare's Robert Carl writing that "Quattro Mani is one of the most enduring and leading keyboard duos anywhere."
Following Quattro Mani's premiere of Lansky's double concerto Shapeshifters and Graham Fitkin's Circuit with the Austin Symphony, the Austin Chronicle cited their orchestra's performance with Quattro Mani as one of the Top 10 Classical Treasures. Recent QM performances include the Alabama Symphony, Colorado College Intermezzo Series and Summer Music Festival, Colorado Symphony Drum Show, as well as Subculture, Bargemusic, National Sawdust, Weill Recital Hall at Carnegie Hall and Steinway Hall, all in NY, La Labortoire Cambridge, and Curtis Institute in Philadelphia. Quattro Mani records for and is managed by Bridge Records.
Lerdahl studied with James Ming at the Lawrence University Conservatory of Music, where he earned his Bachelor of Music degree in 1965, and with Milton Babbitt, Edward T. Cone and Earl Kim at Princeton University, where he earned his MFA in 1967. He then studied with Wolfgang Fortner at the Hochschule für Musik Freiburg in Freiburg im Breisgau in 1968–69, on the Fulbright Scholarship. He worked at IRCAM in Paris in 1981, 1984 and 1991. He received an honorary doctorate from the Lawrence University Conservatory of Music in 1999.