Max Kade Theater
German Theater
The Colorado College German Theater program began in 1962 with Dürrenmatt's Der Besuch der alten Dame. In 1967, Professor Horst Richardson began his long tenure as director of the annual plays which continue to be very popular with both the College and the community. In the 1990s and 2000s, after the Max Kade Theater was built in 1993, Professor Richardson has alternated with Professor Heinz Geppert in directing the German plays. Today, we regularly invite block visitors to help direct the theater workshop. Organization for the yearly play usually begins in January, with rehearsals beginning in earnest during February or March. Opening night is generally toward the middle of April.
The plays selected for performance vary widely. In recent years, the department has put on Nurkan Erpulat's and Jens Hillje's Verrücktes Blut, sketches from Loriot and Anke Engelke's Ladykracher, an evening of Berlin-style cabaret (Kabarett Berlin), a musical revue of German popular classics from the thirties and forties (Kann denn Liebe Sünde sein?), Max Frisch's Biedermann und die Brandstifter (Biedermann and the Arsonists, or The Firebugs), and an evening of scenes from the works of Bertolt Brecht (Eine kleine Brecht Revue) to commemorate the 100th anniversary of his birth.
Following is a list of plays performed since 1992 in the Max Kade Theater (for a complete list of plays).
2020

Dr. Natasha A. Kelly's

Afroculture: The Space Between Yesterday and Tomorrow

(English-language premier)

Dr. Natasha A. Kelly

2019

Friedrich Dürrenmatt's

Die Physiker

Michael Seyler & Astrid Grenzdörffer

2018

Janne Teller's

Nichts. Was im Leben wichtig ist

Nils Bannert

2017

Nurkan Erpulat's and Jens Hillje's

Verrücktes Blut
Justin Garoutte
2016
Anke Engelke's Ladykracher
Wesley Lim
2015
Ein Loriotabend: Scenes from the Works of Loriot
Wesley Lim
2014
Das letzte Feuer
Garoutte
2012
Der Reigen
Rubin
2011
Konferenz der Tiere
Geppert
2010
Aus zwei mach eins: De Wecks Lieblingsmenschen und Schimmelpfennigs Die Frau von früher
Geppert und Richardson
2009
Dürrenmatts Die Panne
Geppert
---
Film Screenings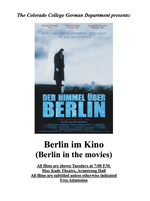 We offer courses in German film and have a large collection of DVDs and VHS. Some films are subtitled in English, some are not, but all will help you improve your language skills and get to know German culture.
Films in the collection include classics and modern films:
Der Blaue Engel (The Blue Angel)
Der Himmel über Berlin (Wings of Desire)
Sieben Zwerge - Männer allein im Wald (Seven Dwarves: an interpretation of Snow White)
and hundreds more!
Come watch a movie with us! Please see News & Events page for more information.