German Film and Theater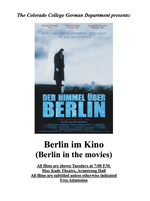 The CC German Program has a rich theatrical history dating back to 1964 and one of the largest German film collections at any American college. Each year, the program puts on a major play production with students and faculty during the sixth block. Recently, the program has performed Nurkan Erpulat's and Jens Hillje's Verrücktes Blut, sketches from Loriot and Anke Engelke's Ladykracher, Dea Loher's Das Letzte Feuer, Max Frisch's Biedermann und die Brandstifter, Eine kleine Brecht Revue, Kann die Liebe Sünde sein?, Brecht's Der gute Mensch von Sezuan, Ödön von Horvath's Geschichten aus dem Wiener Wald and Konferenz der Tiere.
Any students interested in German film will find the movie collection a great resource. There you can also view an alphabetized database of the film collection.
This is the Department of German
Browse all Departments & Programs
​