Sign into CC
Tiger Service Awards
2 years of service
Kevin Beechwood
Dylan Sanchez
5 years of service
Charles Autry
Belinda Barrientos
Mark Cannon
Eric Cassavaugh
Sarah Mascotti
Steve Pattillo
Nick Smith
10 years of service
Darren Ceckanowicz
Stephanie Daigle
Libby Fletcher
Kim Taylor
20 years of service
Jenn Sides
Donna Sison
Jeff Verhey
25 years of service
Andrea Culp
Brad Fairbanks
Amy Ingalsbe
Gerald Mondragon
Welcome to CC!
New Arrivals
Melanie Audet, OC Patron Experience Guide
Jeremy Beckman, Temporary Speech Coach
Kacie Bell, Outdoor Ed/RKMF Coordinator
Eri Binnings, Temp Data Processor
Megan Brockriede, OC Patron Experience Guide
Alvar Cabeza De Vaca Bonilla, Events Set-Up Staff
Precious Destiny Cooper, Covid Response Coordinator
Katherine Czukas, Temp Data Processor
William Deitch, Campus Safety Officer
Analucia Deliz, Temp Data Processor
Rachel Deon, Exec. Asst. to the President & Exec. VP/Chief of Staff
Holden Eckhout, Asst. Director, Operations
Jonathan Finley, Lead Carpenter
Madeline Forbes, Program Coordinator
Alexandra Garcia, FAC Temp/OC Staff
Morgan Gatson, Int. Artistic Assoc/Line Prod.
Carolyn Gering, Early Childhood Teacher (I-1)
Alisa Hannum, Clinical Psychologist
JJ Harnick, OC Arena Operations/Ice Tech
Veronica Harper, Early Childhood Teacher (T-2)
Cindy Hyman, Associate VP, Engagement
Mike Jaennette, HVAC Mechanic Tech
Misa Kabashima, Temp Assoc Director
Jared Karlin, OC Arena Specialist
Taylor Kelson, OC Head Coach, Mock Trial
Sarah Kohler, Assistant Technical Director
Caroline Kosnak, Administrative Assistant
Nick Metskas, Interim Assoc Athletic Trainer
Damon Mitchell, Senior Project Manager
Don Moffatt, Arena Operations Coord.
Kendrid Monefino, FAC Temp/OC Staff
Tim Muldrew, Company Manager & Admin Assist
Ty Nagamatsu, Temp Dev/PG Advisor
Sarah Nurmi, Asst Dir College & FAC Events
Andy Obringer, Assistant Director Fitness Ctr
Sandra Paz, Temp Data Processor
Natalie Pond, OC Educational Assistant
Alexis Riley, OC Educational Assistant
Danielle Sanchez, OC Patron Experience Guide
Garrett Schuh, FAC Temp/OC Staff
Mike Spiers, Temp Apps & Syst Integrator
Jonothan Stephenson, Asst. Dir. Residential Life
Lisa Strawbridge, HR Coord, Data Integrity
Steph Turco, Administrative Assistant
Rosalinda Van Dyke, Admission Coordinator
Anna Wermuth, Patron Services Associate
De'Anni Wilkins, Academic Records Assistant
Lydia Zamora, Temp Data Processor
Support Resources for Students
News & Announcements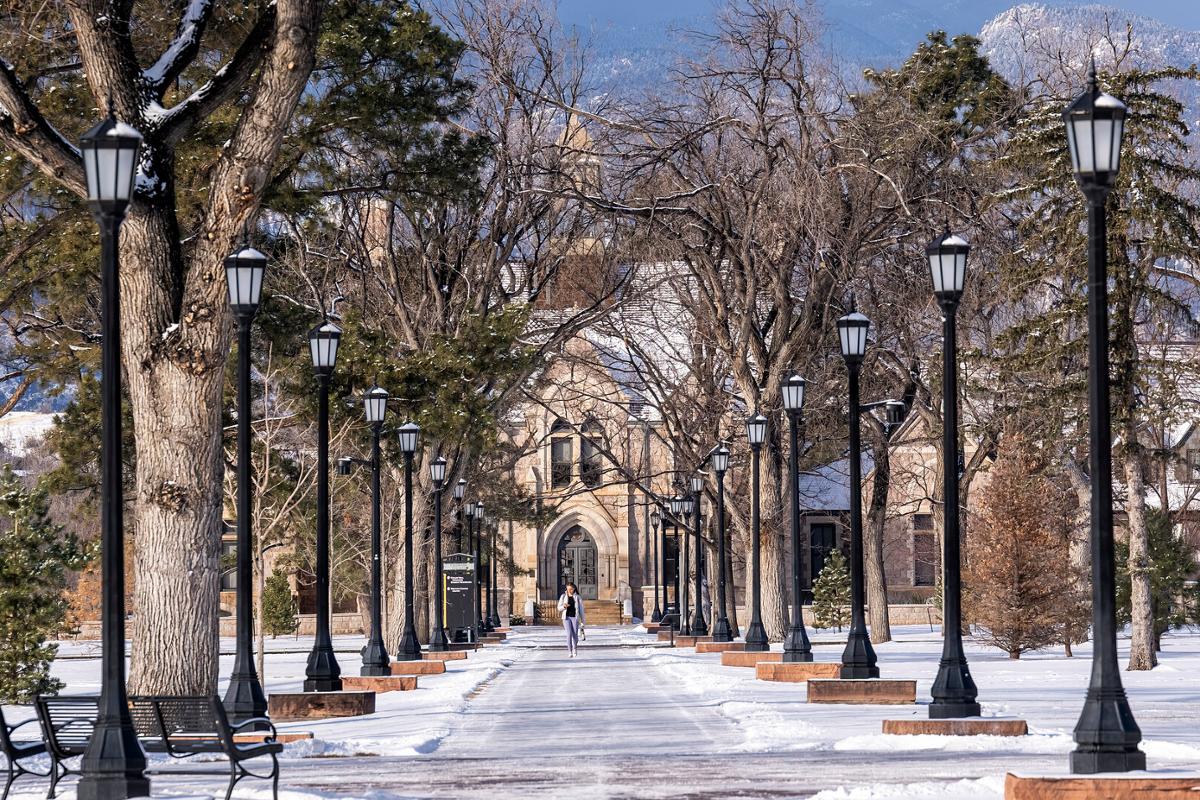 Featured Photo
Cutler Hall on Jan. 18, after a moderate, overnight snowfall. Photo by Lonnie Timmons III
COVID-19 Tests Available for Students
24-hour Mental Health Support for Students
CC students now have access to a telehealth service that provides free, unlimited access to therapists and on-demand counseling 24 hours a day, seven days a week, 365 days a year including holidays.
Visit this page to register, choose a therapist, and speak with that therapist. Questions can be emailed to care@thevirtualcaregroup.com.
Our Shared Goals
Major CC Efforts and Commitments
CAMPUS NEWS
Around the Block