Dynamic Half Block


For-Credit Offerings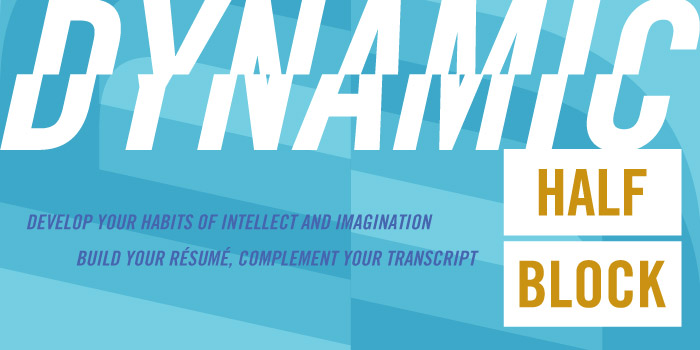 Immerse Yourself in the Life of the Mind
For-credit academic offerings during the nine-day half block give students the opportunity to explore courses outside of their major and requirements, or to work closely with professors to delve deeper into a subject matter for which they already have foundational coursework. Students can earn 0.5 unit of credit towards the 32 required for graduation and tuition for half block is already included in the spring semester tuition.
Registration in SSB for Half Block will begin once the results of preregistration are posted, target date: December 4, 2019. No points will be used and registration will be first come first served. Half block dates: January 6 - 16, 2020.
2020 Half Block Offerings
---
BE389: Patagonian Ecology and Biogeography
Instructors: Professor Marc Snyder, Professor Brian Linkhart
Department: Organismal Biology and Ecology
Description: Introduction to the ecology and biogeography of Patagonia, including montane, steppe and coastal ecosystems. The course is linked to BE390 Ecology and Biogeography of Patagonia, and students must enroll in both courses.
---
CH104: Topics in Chemistry: The Mole and it's Mathematical Role in Chemistry
Instructor: Associate Professor Margaret Daugherty
Department: Chemistry
Description: The emphasis in the course is practicing the stoichiometric relationships and chemical calculations that are required for success in the general chemistry courses. (CH107 & CH108), especially CH107.
---
CH204: Foundational Concepts in Organic Chemistry
Instructor: Lecturer Jared Harris
Department: Chemistry
Description: This class will deepen understanding of basic concepts important for success in organic chemistry: Lewis structures, hybridized atomic orbitals, VSEPR theory, resonance structures, and acid-base chemistry. An introduction to drawing and interpreting three-dimensional bond-line representations of organic molecules will also be provided.

---
CO200: Queer Science Fiction
Instructor: Assistant Professor Chet Lisiecki
Department: GREAL
Description: Intermediate level consideration of various topics in comparative literature. Topics might include a single genre, a period or a theme. Texts usually in English but with reference to non-English materials within the competence of students.
---
EC111: Personal Financial Planning
Instructor: Professor Jim Parco
Department: Economics and Business
Description: The study of the development and implementation of a personal financial and investment program. Includes analysis of budgeting and tax planning, managing liquidity, financing large purchases, protecting assets and income, analyzing investment information, examining alternative investment types, and investing money for retirement.
There is no enrollment limit to this course and it is graded Pass/Fail only.
---
EN280: Topics in Literature: Great American Film Comedies
Instructor: Professor George Butte
Department: English
Description: Great American Film Comedies looks at important American Jerry Lewis, Wes Anderson, and 'Raising Arizona'. The class will look at theories of comedy and basic elements of film form as well.
---
EN280: Topics in Literature: Disability Culture & Literature
Instructor: Associate Professor Jared Richman
Department: English
Description: The early modern era introduced and heightened critical debates on identity, medicine, and the human body that resonate in contemporary society. This course will focus on the discussions around the notion of disability and its representation, purpose, and function in Anglo-American literature and film by looking specifically at the theoretical writings of prominent scholars of the new Critical Disability Studies paradigm. Taking these approaches, the course will then apply such critical frames to, among others, eighteenth- nineteenth- and twentieth- century writers such as Swift, O'Connor, Melville, and Steinbeck among others, and films such as My Left Foot, Fixed, The King's Speech, and The Station Agent, for the purposes of developing a deeper understanding of cultural responses to physical and neurological difference within the context of literary and cinematic representation. Course requirements will include several short response papers, lively class discussion, and a group presentation.
---
EV127: Introduction to Geographic Information Systems (GIS)
Instructor: GIS Technical Director Matt Cooney
Department: ITS: Innovative Technology
Description: Explores the basics of computer-based information analysis and manipulation. Teaches students fundamentals of basic GIS tasks: mapmaking, spatial analysis, and database creation. Students learn to use software that links these three functions together. Computer-based exercises are used both in class to teach fundamentals, and in labs that assist students to learn and use basic GIS tools.
---
GS222: Topics: Welcome to Colorful Colorado: Problems and Promises in the Great Outdoors
Instructor: Director of Field Study Drew Cavin
Department: Center for Global Education and Field Study
Description: Colorado is one of the United States' most popular outdoor playgrounds. With towering mountains and crystal-clear rivers, opportunities for recreation and play abound. But do those opportunities exist equally for everyone? Are outdoor spaces welcoming for all people? What do you think of when you think of Wilderness? Who do you imagine when you think of an "outdoorsy" person? And why would anyone want to spend the night in a tent or paddle down a whitewater river anyways? Can outdoor recreation/tourism and other sports be a mode of resistance to dominate narratives and a place of restoration? Through a critical race lens, we will dive deep into these questions and the historical, social, and racial issues around outdoor recreation activities, and look at why they can provide positive experiences. We will also unpack the history of outdoor tourism and recreation and critically analyze how white, European notions of nature and systemic racism have shaped the ways that we conceive of and recreate in natural places. Along with field experiences in the "Great Outdoors", this experiential education course will develop your college level qualitative analysis, reading, writing, and discussion skills.
---
GS257: Topics in Reading and Rhetoric: Star Wars
Instructor: Writing Center Specialist Roy Jo Sartin
Department: The Colket Center for Academic Excellence
Description: This course will explore how we read and talk about Star Wars. For the sake of time, we'll center our exploration on the films, which will allow us to look at author intent, audience expectation, comparative mythology, fandom, gender identity, ethnic representation, and the film industry as big business. In doing so, we'll seek to understand how rhetoric – the persuasive arguments, the context of the conversation, the expectations of the fans and anti-fans making the claims – affects how we read Star Wars, as a film series and as a cultural phenomenon.
---
GS257: Topics in Reading and Rehetoric in the Liberal Arts: Conspiracy Theories
Instructor: Assistant Director Chris Schacht
Department: Writing Center
Description: Conspiracy theories are everywhere, from Twitch streams to the highest reaches of government. But what counts as a conspiracy theory? And has technology caused an uptick in conspiracy theories? Through readings, TV shows, YouTube, and other media, students will explore the history, rhetoric, and psychology of conspiracy theories.
---
GS300: Peer Tutoring Theory
Instructor: Director Kat Bell
Department: Ruth Barton Writing Center
Description: This course has three purposes: (1) to delve into the complex history of writing center work; (2) to familiarize new consultants with the theoretical grounding of our work in writing centers; (3) to acquaint new consultants with initial strategies we use in the Colorado College Writing Center. Key course themes include the theory and practice of writing, the theory and practice of tutoring, critical thinking, self-awareness, and team-building. Students will have the opportunity to discuss and apply theories to specific tutoring situations, role play, solve problems in groups, and practice tutoring.
** COI after application process and acceptance to the two part training for new consultants. Application link: https://forms.gle/m7ueLsLTG2DDsN2B9
---
HK254: Advanced Head and Neck Anatomy
Instructor: Lecturer Dan Miska
Department: Human Biology & Kinesiology
Description: A laboratory based human cadaver dissection course designed to help students gain an advanced understanding of the structures of the head and neck and to develop the skills of human cadaver dissection.
Prerequisite: Human Biology and Kinesiology 204 (Introduction to Human Anatomy).
---
HY200: The History and Future of the Book
Instructor: Archivist-Special Collections Jessy Randall, Humanities Librarian Steve Lawson
Department: Tutt Library
Description: In this course we will examine the development of technologies of the written word, from clay tablets and sheepskin scrolls to the manuscript codex, early printed book, modern printing, and digital text. We will question the way reading, writing, and preserving texts intersect with identity, memory, and history, making extensive use of primary materials in the library's Special Collections and incorporating a hands-on experience at The Press at Colorado College.
---
MU228: Topics in Music: Jazz Theory
Instructor: Visiting Instructor Michael Van Arsdale
Department: Music
Description: Review of basic music theory and the relationship between Western harmony and jazz theory nomenclature. Study and performance of basic jazz scale and chord theory, standard chord progressions, guide tones, voice leading, and jazz forms with an emphasis on blues forms. Analysis of transcribed jazz melodies and solos plus composition of a jazz solo to develop understanding of practical applications of jazz theory. Final demonstration of knowledge gained through classroom performance of improvised solo over a given chord structure.
Prerequisite: Consent of instructor or Music 199.
---
MU228/IT120: The Renaissance Banchetto
Instructor: Visiting Instructor Dario Sponchiado, Visiting Instructor Nancy Ekberg
Department: Italian/Music
Description: This course is open to students interested in Renaissance music and Italian culture. "The Renaissance Banchetto", a center of wealth and power, included theatrical and musical performances, and is the perfect setting to teach music and history. Upon completion of the course, students will have acquired an understanding and an appreciation of the Italian Renaissance with the festive and sinister undercurrents of the banchetto!
---
PC210: Investigations in Engineering: Process Engineers are Experimentalists

Instructor: Visiting Lecturer John Lindsey
Department: Physics
Description: This course aims to give you a taste of the fascinating, fast-paced and challenging statistical-experimental work of the engineers who build, develop and design products.
---
PG199: Brazilian Music and Language
Instructor: Associate Professor Naomi Wood
Department: Spanish and Portuguese
Description: This course will introduce students to some of the musical traditions of twentieth and twenty-first century Brazil as well as basic communication in Portuguese language. Students will explore traditions such as forró, samba, bossa nova, tropicália, MPB, sertaneja, batucada, funk, among others.
Course may be taught in Portuguese depending on enrollment and prior language experience of students
---
PH208: Philosophical Topics: The Cinema Theory of Gilles Deleuze in 8 Films
Instructor: Associate Professor Alberto Hernandez-Lemus
Department: Philosophy
Description: This course will stop to consider some of the basic characteristics of the medium, which distinguish it from photography, theater and literature. How it is that film manages to produce moving images out of still photographs projected on a screen at a rate 24 frames per second? Is it simply an illusion that produces an impression of reality, as it has often been accepted? Cinema as material medium presents an interesting and important problem for philosophical reflection: how is it that the impression of movement is obtained out of 24 still frames crossing our field of vision per second? Is that the way we perceive reality ourselves: by taking instantaneous, stopped "pictures" of the moving world around us? What implications would this have for our perception of time?
---
PS203: Liberal Education: What and Why?
Instructor: Associate Professor Eve Grace
Department: Political Science
Description: We at CC claim to be engaged in the enterprise of "liberal" or "liberal arts" education. Yet, when pressed, we often find it difficult to articulate what a "liberal education" is or ought to be. In an effort to clarify this question, this course will seek to address the following issues: what, if anything, is distinctive about a liberal education? How does it differ from, and why would it be preferable to, specialized training, no matter how sophisticated and informed? If it has never been primarily understood as skills training, what is its aim? Is it to seek "truth"? To "liberate" us? And if so, from what and to what? To make us more morally serious? To prepare us to engage in public service? How do we prioritize these concerns? Or, if they are in tension with one another, which is most critical to pursue? We will read various contemporary and historical readings on liberal education, as well as portions of texts often considered to exemplify a liberal education.
---
PY318: Topics in Neuroscience
Instructor: Professor Bob Jacobs
Department: Psychology
Description: This half-block course provides students with the opportunity to explore topical areas of neuroscience through current publications. These readings will consist of recent trade books, review articles, journal articles, and/or neuroscience information in the popular press. The course will be conducted in a seminar format with heavy emphasis on discussion of the relevant readings. May be repeated multiple times for credit. (Half block) 0.
Prerequisite: Psychology 299. Does NOT count toward Neuroscience major.
---
PY363: Science and Pseudoscience in Clinical Psychology
Instructor: Professor Kristi Erdal
Department: Psychology
Description: An investigation into the efficacy claims of controversial assessment techniques, diagnoses, and forms of psychotherapy. Assessment of whether claims are empirically supported according to scientific as well as legal standards of evidence. The Commercialization of mental health treatments will also be addressed.
Prerequisite: PY100
---
SO311: Community Based Praxis
Instructor: Director Jordan Radke
Department: Collaborative for Community Engagement
Description: A course designed to put sociology into practice for a community, organization, or movement. A praxis course is distinguished by genuine collaboration with community partners and by a process of reflection that incorporates lessons learned in the classroom and application of theoretical understandings to work for social change. Must be arranged at least one block in advance.
Questions?
Please contact the Office of the Dean at (719) 389-6681.