Half Block For-Credit Offerings
Dynamic Half Block

For-Credit Offerings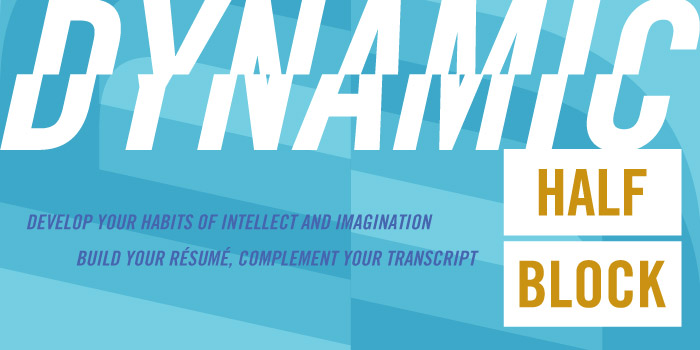 Immerse Yourself in the Life of the Mind
For-credit academic offerings during the nine-day half block give students the opportunity to explore courses outside of their major and requirements, or to work closely with professors to delve deeper into a subject matter for which they already have foundational coursework. Students can earn 0.5 unit of credit towards the 32 required for graduation and tuition for half block is already included in the spring semester tuition.
Registration in SSB for Half Block will begin once the results of preregistration are posted, target date: December 2, 2020. No points will be used and registration will be first come first served. Half block dates: January 12 - 22, 2021.
2021 Non-Credit Half-Block Courses
Half Block Class Policy
Half block is a .5 unit course offered in the beginning of spring semester. If a student is enrolled full time in EITHER fall semester OR spring semester (while remaining enrolled at least part time in the other semester), half block does not carry a tuition charge. If, however, a student is part time in both fall and spring and not enrolled in one semester or the other, half block is charged as a half unit course with the standard tuition for that year.
For financial aid purposes, half block is part of spring semester. If a student is not taking 3 other units in the spring, half block will be added to their enrollment to determine their federal aid eligibility. However, no CC financial aid will be offered for enrollment in half block.