Day of Remembrance: Japanese American Incarceration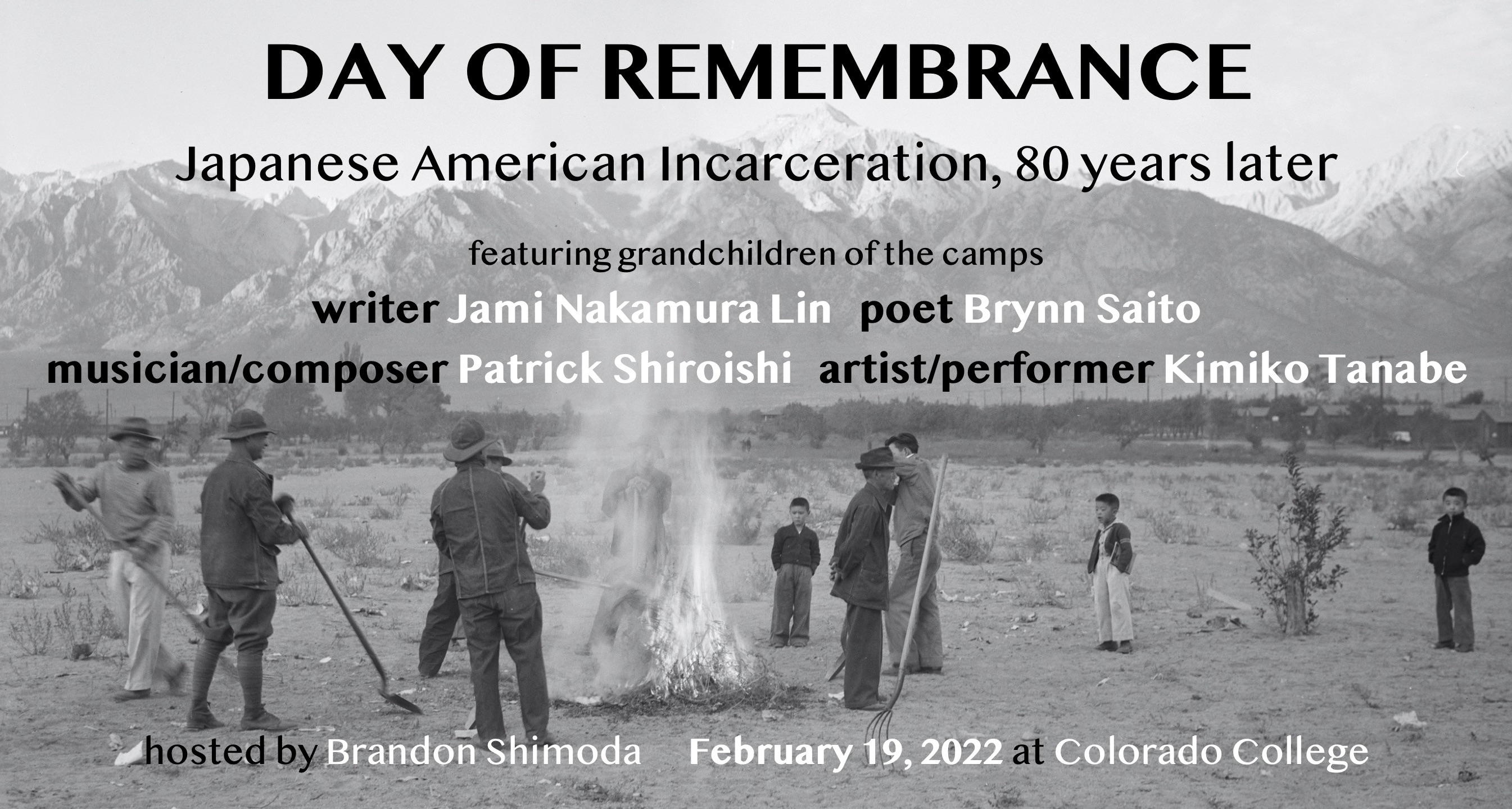 Day of Remembrance: Japanese American Incarceration, 80 Years Later
a memorial on the 80th anniversary of the signing of Executive Order 9066 (February 19, 1942), which formalized the dispossession, forced removal, and mass incarceration of Japanese immigrants and Japanese Americans during WWII, and a conversation on its legacy and ongoing afterlife.
featuring descendants/grandchildren of the camps: writer Jami Nakamura Lin, poet Brynn Saito, musician/composer Patrick Shiroishi, and artist/performer (and CC alum) Kimiko Tanabe, hosted by CC professor of English/Creative Writing Brandon Shimoda.
Read Brandon Shimoda's introduction to the Day of Remembrance here.
Saturday, February 19, 2022, 6-7:30 pm MST, at Colorado College, on Zoom.
Jami Nakamura Lin is the author of the illustrated speculative memoir The Night Parade, which will be published by Custom House/HarperCollins in 2023. As a recipient of the 2016 National Endowment for the Arts/Japan-US Friendship Commission fellowship, she spent four months studying yōkai and folklore in Japan. Her work has appeared in the New York Times, Electric Lit, and other publications. She is of Japanese, Taiwanese, and Okinawan descent; her grandfather, Tom Nakamura, was incarcerated in Amache/Granada along with his family.

Brynn Saito (she/her) is the author of two books of poetry—Power Made Us Swoon (2016) and The Palace of Contemplating Departure (2013)—and co-founder of Yonsei Memory Project (YMP). YMP awakens the archives of Japanese American history through arts-based, intergenerational, and intercultural public programming. Her poetry has been nominated for a Northern California Book Award and her work and writing have appeared in the New York Times, Vogue, and American Poetry Review. Currently, Brynn is an Assistant Professor of Creative Writing and English at California State University, Fresno. Her paternal grandparents, Alma Teranishi Saito and Mitsuo Saito, were incarcerated in Gila River.

Patrick Shiroishi is a Japanese-American multi-instrumentalist & composer based in Los Angeles who is perhaps best known for his extensive and incredibly intense work with the saxophone. Over the last decade he has established himself as one of the premier improvising musicians in Los Angeles, playing solo and in numerous collaborative projects. Shiroishi may well be considered a foundational player in the city's vast musical expanse. His paternal grandparents, Pat Hidemi Shiroishi and Dorothy Sayoko Shiroishi, were incarcerated in Tule Lake.

Kimiko Tanabe is a freelance dance artist hosted on Lenape land, currently known as Brooklyn, NY. She graduated from Colorado College with a degree in Creative Writing and Dance in 2016. She is currently a 2022 Gallim Moving Artist in Residence and performs in New York City with marion spencer and glenn potter-takata. In her work, she explores the mediums of performance art, dance, writing, origami and paper, and is in a committed partnership with her .38 Muji pen. Kimiko is the granddaughter of Mas and Miyeko Tanabe, incarcerated at Rohwer, Arkansas and Topaz, Utah. She is forever fascinated with Japanese folklore and as a lover of literature she finds herself making important life decisions under the eyes and influence of fiction. For Kimiko, art is intimate and inexact.

Brandon Shimoda is the author of several books, most recently The Grave on the Wall (City Lights, 2019), which received the PEN Open Book Award. His book on the afterlife of Japanese American incarceration received a Creative Nonfiction grant from the Whiting Foundation, and is forthcoming from City Lights. Shimoda is an Assistant Professor of English at Colorado College and also teaches in the low-residency MFA program in creative writing at Pacific Northwest College of Art at Willamette University. His grandfather, Midori Shimoda, was incarcerated in a Department of Justice prison (Fort Missoula) under suspicion of being a spy for Japan. He also had family incarcerated in Heart Mountain and Poston.
Visit Colorado College's Tutt Library to see both rare and regular/circulating books and materials on Japanese American incarceration—in the display case to the left of the Circulation desk and in the glass exhibition case outside Special Collections (garden level/basement).
Learn more about the annual Day of Remembrance, at Densho
Photo: Ansel Adams, Burning leaves, autumn dawn, Manzanar, 1943
This event is supported by the CC Cultural Attractions Fund and the CC English Department.