Connecting to the System in Smart Rooms
Many of our classrooms have been upgraded to Crestron digital control systems. They are as user friendly as the older SP Control Panel rooms, but offer more flexibility, and improved signal quality over the analog systems.
Using Crestron Panels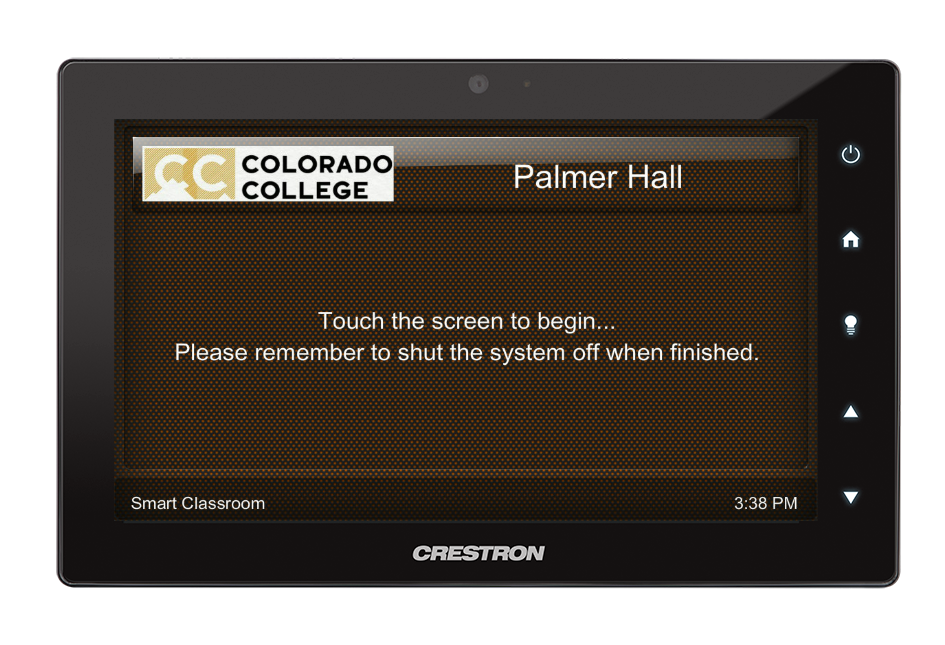 If the touch panel is unresponsive, try restarting the processor by using a pen or other narrow object to press the hardware reset button (HW-R) on the front. Note that the complete reset can take upwards of two minutes. Please call the Solutions Center at 389-6449 if the panel is still unresponsive.

You can play audio without turning on the projector by pressing the AUX AUDIO button and connecting your device via the 3.5mm headphone connection at the rack.
Rooms that have Apple TV or Air Media will indicate which Airplay network or IP address to enter on your device.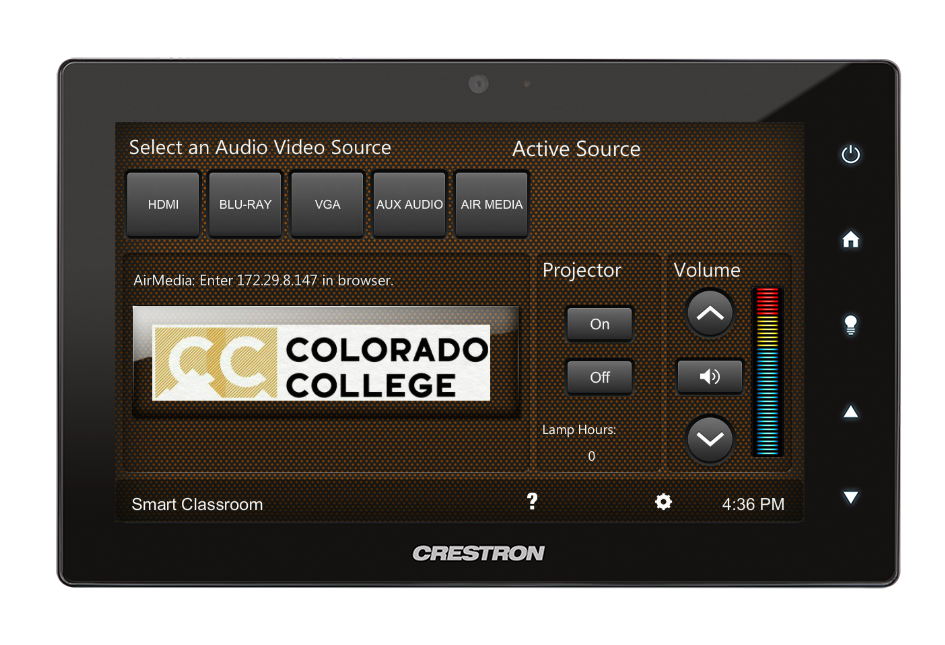 All smart classrooms will have HDMI or VGA connections, both in most cases. Many rooms are also equipped with Thunderbolt to HDMI and USB-C to HDMI adapters. To connect your computer, be sure you have selected the appropriate input (HDMI or VGA) on the control panel. If you do not see your image displayed, check that all connections are tight, try re-seating the cables and any adapters. It takes a few moments to establish a connection, so please be patient. If using a PC, press Windows-P and ensure that you are not set to display "PC Screen Only". If these steps fail to correct the problem, please call the Solutions Center at 389-6449.
Normally, when connecting your computer via HDMI, audio will automatically be routed to the system. In the event it is not, however, follow the steps outlined below.
Connecting PC audio
When you hover your mouse over the speaker icon, audio routing will be indicated. It should reflect your connected HDMI destination, i.e. Crestron, projector or TV model number, etc. If it shows the built-in speakers (Speakers / Headphones), right-click the speaker icon and open Sounds. Select the display device, and Set Default.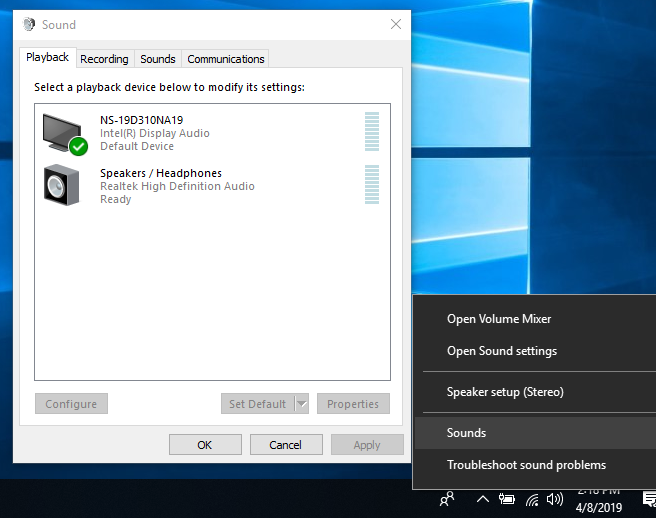 Connecting Mac audio
Hover over the volume icon at the top of the screen and select the Output (to) Device. If you do not see the icon, open the system preferences and select Sound. Choose the output tab and select the HDMI destination.