The Organ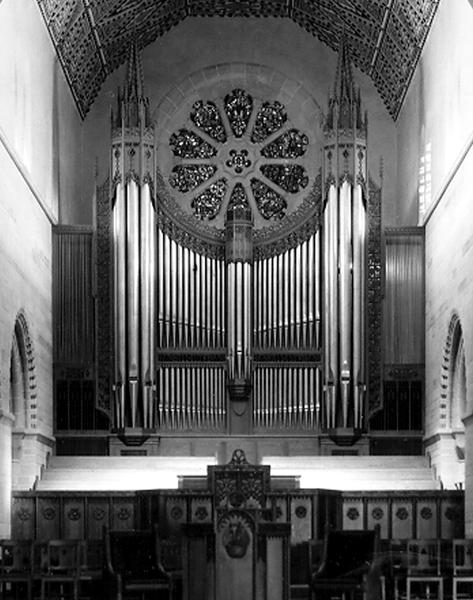 The Shove Chapel organ was built by the Welte-Tripp Organ Company of Sound Beach, Connecticut in 1931 and was recently selected by the Organ Historical Society as "an instrument of exceptional historic merit worthy of preservation."
The organ includes 3,065 pipes of various sizes and more than 200 miles of copper wire. The smallest pipe in the organ is of wheat straw, only 1/2-inch in length, weighing less than one ounce. The largest pipe, made of sugar pine wood from California, is 16 inches in circumference, stands 16 feet high, and weighs more than 300 pounds.
The organ is of the concert type and, with the exception of drums, is capable of reproducing all the music of a symphony orchestra. Built into the body of the organ are a harp, chimes with full wood, brass and string divisions. The console, of beautifully grained oak, is of English design. It comprises three manuals with 65 draw stops, 26 couplers, 37 combination pistons and 25 accessory pistons.
The organ is operated by wind pressure, furnished by a 15 horsepower motor in the basement. The motor provides from 5 to 17 inches of pressure, the latter being equivalent to one pound to the square inch. The instrument is operated by remote control. The relay mechanism fills one entire room in the basement of the chapel. This room contains thousands of silver contacts.
The organ, which weighs 40,000 pounds, is enclosed in a hand-carved oak case. The original case cost $3,500. One of the many unique features is that the display pipes, which the congregation sees, also are speaking pipes. In many organs the so-called display of pipes is merely ornamental. The highest spire is 30 feet tall, the entire front giving the appearance of a miniature cathedral.
In 1999, the console was rebuilt by Morel & Associates, Inc. The new console is changed only in height and shoe placement to bring it to AGO standards. As in 1931, when all the modern conveniences were included, so were they again in 1999. These include 99 levels of memory, programmable crescendo and full organ, piston sequencer and MIDI capabilities.
Distinguished Organist Series
The Distinguished Organist Series at Shove Chapel is co-sponsored by the Organist, the Chaplain, and the Dean of Colorado College to bring to the Colorado Springs community some of the world's finest organists. The response to these programs has been overwhelming. Hundreds of organ aficionados come to Shove Chapel to hear unforgettable programs from world-renowned recording artists such as Peter Richard Conte, James Diaz, and Haskell Thomson. Recently, we have been recognized as "one of America's top venues for distinguished organists." To join our mailing list and receive information about future programs, please email the Chaplains' Office or call 719-389-6638.
Friends of Shove Chapel Organ
Renovation of the Shove Organ is ongoing. The two remaining phases - releathering the windcrest or air reservoir and reconditioning the reeds and flues - are estimated to cost $200,000. Donations towards the renovation effort are being accepted. Please make checks payable to "Colorado College" and mail to:
Shove Memorial Chapel Organ Renovation Fund
c/o Chaplain's Office
Colorado College
14 East Cache La Poudre Street
Colorado Springs, CO 80903
Shove Organ Stops
16' Double Diapason *
8' First Open Diapason *
8' Second Open Diapason
8' Hohl Flute
8' Gemshorn
4' Principal *
2 2/3' Twelfth
2' Fifteenth
2' Mixture III
8' Tuba (CH)
Chimes
Harp
Tremolo
Swell/Great 16'
Swell/Great 8'
Swell Great 4'
16' Lieblich Gedeckt
8' Horn Diapason
8' Clarabella
8' Cor de Nuit
8' Salicional
8' Viole dolce
8' Celeste
4' Octave Geigen
4' Traverse Flute
2 2/3' Nazard
2' Super Octave
2' Flagolet
2' Mixture IV
16' Double Trumpet
8' Harmonic Trumpet
8' Oboe
8' Vox Humana
4' Harmonic Clarion
Harp
Celesta
Vox Humana Vibrato
Tremolo
Swell/Swell 16'
Swell/Unison off
Swell/Swell 4'
Choir/Swell 8'
16' Contra Dulciana
8' Geigen Principal
8' Concert Flute
8' Dulciana
8' Unda Maris
4' Suabe Flute
2 2/3' Rohr Nasat
2' Piccolo
8' Tuba
8' Clarinet
8' Cor Anglais
Chimes
Harp
Celesta
Tremolo
Choir/Choir 16'
Choir/Unison off
Choir/Choir 4'
Swell/Choir 16'
Swell/Choir 8'
Swell/Choir 4'
16' Open Diapason *
16' Double Diapason (GT)
16' Bourdon *
16' Leiblich Gedeckt (SW)
16' Contra Dulciana (CH)
10 2/3' Quint
8' Octave (GT)
8' Stopped Flute
4' Fifteenth (GT)
16' Trombone
16' Double Trumpet (SW)
8' Tromba
4' Tromba Clarion
Chimes
Great/Pedal 8'
Swell/Pedal 8'
Choir/Pedal 8'
Great/Pedal 4'
Swell/Pedal 4'
Choir/Pedal 4'
* unenclosed registers