The Colorado College Summer Music Festival presents two concerts in Packard Hall this spring during its annual Intermezzo Season. Tickets are available now at www.coloradocollege.edu/musicfestival.
Opening Intermezzo this year is "The Art of Perseverance: Sounds of Hope and Restoration," beginning at 7:30 p.m. Wednesday, April 5, featuring Festival Faculty Mark Fewer, violin; Phillip Ying, viola; David Ying, cello; SMF music director Susan Grace, piano; and featured guests CC principal voice instructor Jennifer DeDominici, mezzo-soprano; and CC violin instructor Jerilyn Jorgensen.
The program will include a wide range of music that explores themes of human fragility and how we persevere through difficult times, to include movements from two Brahms piano quartets, a movement from Messiaen's Quartet for the End of Time, D'Rivera's Danzón, and songs from Heggie's Camille Claudel: Into the Fire.
The concert also includes a wealth of CC student participation. Poetry that corresponds to the music will be chosen and read by Jane Hilberry's poetry students: Iyanla Ayite, Janeiya Porter, Henry Freedman, Mary Andrews, Keiko Ito, and Anna Heimel. Music students Lillie Gray on violin, Jacob Lynn-Palevsky on cello, and Forrest Tucker on piano will play Carlos Simon's piano trio be still and know, and Tucker and Lincoln Grench will perform Shostakovich's Concertino for 2 pianos. Performing "Everything Else" from Next to Normal will be Will Burglechner, baritone (alternate vocalist: Kiara Butts, mezzo-soprano).
"Beginning this fall, we began thinking about the conversations around us at the college and with others in our community – conversations about the challenging moments in our lives. Emerging from Covid, unforeseen tragedies of illness and death, war, gun violence, natural disasters – such events continue to surround us," Grace said. "As we contemplate the cumulative impact of these events and our responses to them, we want to acknowledge how art and music can be a part of how we continue to find beauty, hope, courage, empathy, and perhaps transcendence."
Tickets are free to the April 5 concert. The event is presented with additional support from the Colorado College Wellness Resource Center.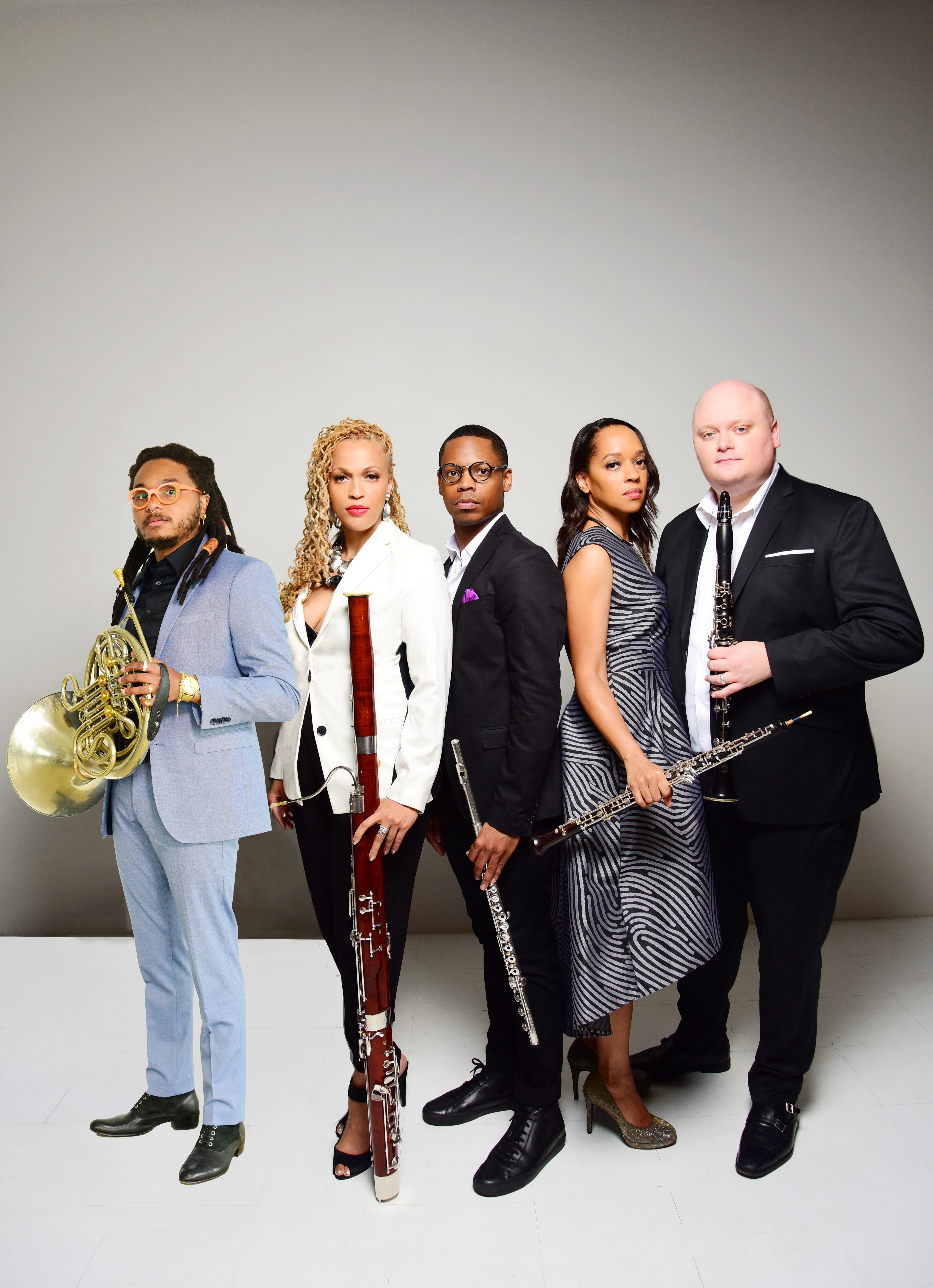 On Thursday, May 11 at 7:30 p.m., Intermezzo Season concludes with twice Grammy nominated Imani Winds, who have led both a revolution and evolution of the wind quintet through their dynamic playing, adventurous programming, imaginative collaborations, and outreach endeavors that have inspired audiences of all ages and backgrounds.
Imani Winds joined the faculty at the Curtis Institute of Music, where they serve as the school's first ever Faculty Wind Quintet. Imani Winds has also served as Resident Artists at Mannes School of Music, and as Ensemble-in-Residence at University of Chicago.
Their May 11 program is titled De Memorias: A Latin Perspective, featuring works by Cuban, Brazilian, Argentine, and Uruguayan-American composers. The group's program reflects its deep commitment to enriching the traditional wind quintet repertoire. They are acclaimed for their "bristling energy" and "febrile flair and panache" (Chicago Classical Review).
Tickets to hear Imani Winds are $30 for the general public and $5 for non-CC students. Summer Music Festival donors receive discounted tickets, and tickets are free for CC students, faculty, and staff with their ID.