Last summer, Colorado College Assistant Professor of Music Technology Iddo Aharony explored what could emerge from engaging with the sound of a quaking aspen tree located near Kenosha Pass, Colorado, as part of a three-year project titled Tree Talks: Populus Tremuloides .
After some delays due to covid, the project culminated in the release of an album that was unveiled during a Listening Party on March 24, hosted by the artist who spearheaded the project, Ben Kinsley.
"Ben and I work mostly in different mediums and methodologies, but both our practices involve seeking new ways to engage audiences with our environments. And so, the mutual interest in collaborating emerged some time before the concrete opportunity via this project," Aharony said.
During the Tree Talks project, Kinsley invited participants to a grove of quaking aspen to hear lectures by experts in various fields of study, all "focused on understanding a single tree through a multitude of perspectives," Kinsley explains on the project's website. These experts shared their knowledge about the tree during four gatherings, held in each season, from October 2021 through August 2022.
Aharony lectured during the Summer gathering on Aug. 5, along with Gregory Ragland, biology professor at the University of Colorado, Denver, and Brandon Vogt, geography and environmental studies professor at UCCS. Aharony's lecture was unique in that in addition to discussing the relationship between environment and sound through the prism of this project, he also brought equipment to capture sound within an aspen tree trunk and processed it in real time to create and perform a live electronics piece.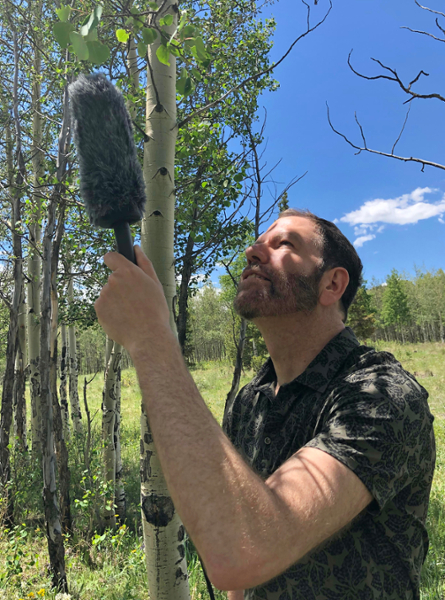 The resulting 20-minute work is called " cycles.scales.webs.dreams," named after the four sections of the piece, each with a "title that reflects my entryway into conceptualizing that section. Each title is a gesture towards some abstract element I found inspiring listening to the previous Tree Talks, resonating with different aspects of these trees," Aharony said during his lecture. The piece is unique in that the real-time sound from an ultra-sensitive contact mic, connected to the trunk of the tree, is the only sound source for the entire piece. This sound is processed and manipulated in different ways in each of the sections of the piece, at times exploring noise-like features within the sound and at times isolating certain resonating frequencies that can resemble musical pitch.
Although Aharony had been to the grove before the performance to prepare by testing his technology and pre-programming some of the processes to help create a smooth live experience for the audience, he delighted in the real-time experimentation with sound that would ensure that any iteration of this piece would produce something that could never be duplicated.
"We ultimately don't know what's going to come out of the microphone or speakers, we don't know what will happen with the technology," Aharony said to his audience prior to beginning the performance. He also emphasized that the sounds of the actual sonic environment of the grove are as much a part of the piece as any digitally processed sounds: "whatever happens, I hope it is part of our experience, and our soundscape will become part of this piece. Ultimately, that's what it's all about: an unassuming invitation to be present with and engage with this tree, in this specific moment with this specific group of people through the prism of listening."
For Aharony, this creative methodology — engaging with the real-time sound of our environment within that very environment — opens up new possibilities and potential artistic directions for future work.
"The main question I am interested in asking is how can we meaningfully interact, sonically, with our environment, and what can we learn from such interaction within this evolving relationship," he said. "That question is at the heart of the Environment and Sound course I teach at CC, where it is investigated and experienced through creative and other lenses. And I am curious to explore how this question can continue to resonate in future collaborative creative projects, including one I am especially excited about that revolves around the Colorado River amidst our current water crisis."
Beyond "cycles.scales.webs.dreams" being featured in the project's resulting vinyl release (on the Black Cube label), it was also recently presented as part of the UCCS Visual Arts Faculty Triennial Exhibition at the Ent Center.