Howard Drossman
Professor
Education
Professor of Environmental Education and TREE (Teaching and Research in Environmental Education) Semester Program Director 2014-present
Professor of Environmental Science 2006-June 2014
Executive Director, Catamount Center, 2005-2008
Environmental Science Program Director, 2000-2007
Associate Professor of Chemistry 1998-2006
Executive Director, Catamount Institute, 1997-2002
John D. & Catherine T. MacArthur Assistant Professor of Chemistry 1995-1997
Assistant Professor of Chemistry: 1992-1998
First year at Colorado College: 1992
Contact Info
(719) 389-6756
Gill House
Interdisciplinary Connections
Environmental Science
Environmental Education
Bioanalytical Chemistry
Research Summary
Curricular Reform
Atmospheric science undergraduate course curriculum development with Center for Multiscale Modeling of Atmospheric Processes (CMMAP) at Colorado State University, National Science Foundation)
Mentoring program for atmospheric science graduate students (CMMAP)
Systemic changes in undergraduate chemistry teaching with ChemLinks.
Member of the Project Kaleidoscope Faculty for the 21st Century since 1994.
Vitalizing analytical chemistry with modern instrumental methods and chemical speciation analysis.
Developing interdisciplinary curricula and courses in environmental science and bioanalytical chemistry.
Developing POGIL exercises for topics in environmental science.
Integrating service learning and the environment (CTTS article).
Teaching international classes in Human Rights and the Environment in Thailand (ISDSI) and in Inuit Sustainability in Canada.
Ecosystem Ecology & Environmental Chemistry
Interactions of carbon cycling, nitrogen cycling, and nitrogen stable isotopes in plants as affected by mycorrhizal fungi, N Availability and N Form (w/ John Hobbie, MBL Ecosystem Center and Erik Hobbie, UNH Complex Systems Research Center; funded by National Science Foundation) .
Ecological and biological effects of thinning in Colorado Front Range forests (w/ Peter Marchand, Mary Stromberger, Bill Massman & Sam Johnson; Catamount Center; funded by US Forest Service, Colorado Springs Utilities).
Analysis of terpenoids in ponderosa pine by GC-FID as a marker for genetic diversity (w/ Marc Snyder, Colorado College).
Assessing treeline migration on Pikes Peak (w/ Miro Kummel)
Water quality in the Fountain Creek watershed (w/ Mat Reuer and Miro Kummel)
Modeling photolytic and hydrolytic fate of model pollutants in aquatic systems (w/ Ted Mill, SRI International).
Nitrogen speciation in clouds on the Big Island (Hawaii) (w/ Dr. Barry Huebert).
Nitrogen availability in the arctic. Curricular reform with a focus on atmospheric science, undergraduate chemistry, and the development of interdisciplinary curricula between environmental science and biochemistry. Environmental Chemistry with a focus on Nitrogen biogeochemical cycling and Colorado forest Ecosystems.
Environmental Non-profit Foundations
I was co-founder and currently serve on the Board of Directors of the Catamount Center, based in Woodland Park, Colorado. The Center performs contract research on forestry, watershed "health" and ecological sustainability and sponsors conferences on transdisciplinary topics related to environmental sustainability.
I serve as a director of the Leopold Foundation, a non-profit dedicated to the "Seven-S" approach for promoting ecological sustainability.
Along with my wife, Julie Francis, I founded the Catamount Institute in 1998. The Institute provides educational programs that promote environmental sustainability.
I serve as a reviewer for environmental education certification portfolios for the Colorado Alliance for Environmental Education (CAEE).
Chemistry and Bioanalytical Chemistry
Biogeochemical nitrogen cycling in the Arctic. This project is funded through the NSF Polar Directorate with collaborators from the Woods Hole MBL Ecosystem Center and the University of New Hampshire.
Developing atmospheric science curriculum for undergraduate students. The work is partnership with Colorado State University's atmospheric science department as part of a five-year NSF Science & Technology Center grant entitled Center for Multi-scale Modeling of Atmospheric Processes (CMMAP).
Effects of poppy seed consumption on urinary morphine (w/ Nate Bower, Colorado College, in Chemical Educator).
Development and teaching of Bioanalytical Chemistry classes and labs
Single molecule DNA hybridization assays using Genisphere's DNA dendrimers.
Separations methods development using capillary electrophoresis.
Employment Experience
Genomyx/Genentech-Genomic sequencing instrumentation
SRI International -Environmental chemistry
Molecular Designs Laboratory-computer chemistry
Cutter Laboratories -pharmaceutical chemistry
Publications
(* denotes undergraduate student)
Recent Publications (see Howard Drossman's CV for full list)
Drossman, H., Gaia, S., Dawson, T., Development of an Integral-Motivated Lectical® Ecological Stewardship Assessment, Journal of Integral Theory and Practice (in press).
Harness, H.,* Drossman, H., "The Environmental Education Through Filmmaking Project." In The Media, Animal Conservation and Environmental Education (J. Bewitt, ed.), Routledge, 2012.
Harness, H.,* Drossman, H., "The Environmental Education Through Filmmaking Project." Environmental Education Research, 2011, 17(6), 829-849, DOI:10.1080/13504622.2011.618626.
Drossman, H., Bennett, J., McGrath-Spangler, E., VanRoekel, L., Wells, K. E. "Assessment of a Constructivist-Motivated Mentoring Program to Enhance the Teaching Skills of Atmospheric Science Graduate Students." Journal of College Science Teaching, 2011, 41(2), 72-81.
Drossman, H., 2012, "How Does an Automobile Engine Convert Heat to Work?," in ChemConnections Activity Workbook, Anthony, S. and Mernitz, H. (eds.), New York: Norton.
Drossman, H., 2012, "How Does Engine Temperature Affect CO and NOx Production?" in ChemConnections Activity Workbook, Anthony, S. and Mernitz, H. (eds.), New York: Norton.
Hobbie, J. E., Hobbie, E. A., Drossman, H., Conte, M., Weber, J.C., Shamhart, J., Weinrobe, M.* "Mycorrhizal fungi supply nitrogen to host plants in Arctic tundra and boreal forests: 15N is the key signal." Canadian Journal of Microbiology, 2009, 55(1): 84-94.
Drossman, H. Chemical Speciation Analysis of Sports Drinks by Acid-Base Titrimetry and Ion Chromatography: A Challenging Beverage Formulation Project, Journal of Chemical Education, 2007, 84(1), 124-127.
Drossman, H. Myers, J.B*., Bower, N.W., Radioimmunoassay of Morphine in Urine from Ingestion of Poppy Seeds: A Research-Based Laboratory, Chem. Educator 2006, 11, 1-6, DOI 10.1333/s00897061038a.
Hamann, H., Drossman, H., Integrating Watershed Management with Learning: the role of information transfer in linking educators and students with community watershed initiatives, Comparative Technology Transfer and Society, December 2006, 4(3), 305-339.
Drossman, H., Laursen, S, Tikkanen, W., How Can We Reduce Automobile Air Pollution: A ChemConnections Module for General Chemistry Students, W.W. Norton & Company, New York, 2003.
Drossman, H., Hamann, H, "Teaching Chemistry at the Watershed Level," American Chemical Society Environmental Chemistry Section Abstracts, August, 2003. (extended abstract)
Regular Classes
Past Classes
Introduction to Global Climate Change (EV 128)
Human Impacts on Biogeochemical Cycles (EV 211)
Environmental Education (ED203/EV 260)
Environmental Inquiry (EV 221)
Analysis of Environmental Data (EV 228)
Energy: Environmental Thermodynamics & Energetics
(EV 212)
Water: Ecohydrology & Aquatic Chemistry (EV 311)
Air: Atmospheric Physics & Chemistry (EV 431)
Bioanalytical Chemistry (CH 345)
Intro to Environmental Science: Global Climate (EV 121)
Intro Env Science: Campus Sustainability (EV 120)
Environmental Science Capstone (EV 411)
Environmental Science Practicum (EV 490)
Environmental Science Seminar (EV 491)
Environmental Science Thesis (EV 499)
Global Bioethics (EV 120)
General Chemistry I (CH 107)
General Chemistry II (CH 108)
Introduction to Analytical Chemistry (CH241)
Instrumental Analysis (CH342)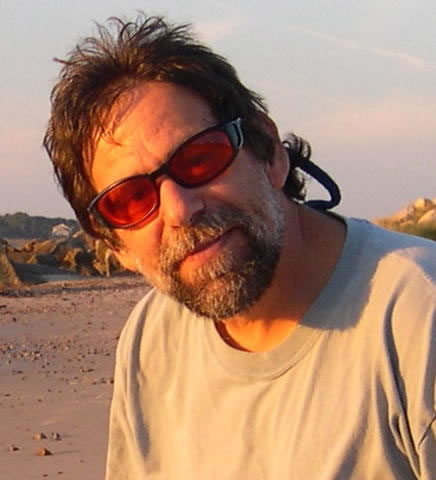 Education
Ph.D., University of Wisconsin at Madison (1992): Analytical Chemistry; distributed minor in biological chemistry. Dissertation: Construction and Evaluation of a Capillary Electrophoresis DNA Sequencer.
M.S. Honors Coop Program, Stanford University: Environmental Engineering.
B.S., University of California at Berkeley (1981): Chemistry.
Requesting a Letter of Recommendation
Click here for guidelines on requesting a letter of recommendation from me.