A Walking Tour of the College's Historic Buildings
Given the college's considerable commitment to our historic properties, we wish to share these important buildings more comprehensively with our community and the public at large. In order to provide visitors with an introduction to the college's fascinating history, we have developed this self-guided walking tour of some of our most significant buildings. In an effort to keep the self-guided tour at a manageable length, this site features only those buildings currently listed on the National Register of Historic Places or the State Register of Historic Properties. While all buildings could be viewed in one tour, visitors also have the option to take the tour on two separate occasions: A western loop starts at Cutler Hall and an eastern loop starts at Palmer Hall. (Please see the map above.) We estimate that each loop will take about 45 minutes.
Please note that some buildings, particularly residences, have restricted access. In addition, we ask that visitors not disturb classes or other activities taking place inside classroom and work buildings. (We recommend that visitors wishing to view the interior of these buildings take the tour between 9 a.m. and 4:30 p.m. Monday through Friday.)
Welcome, and enjoy.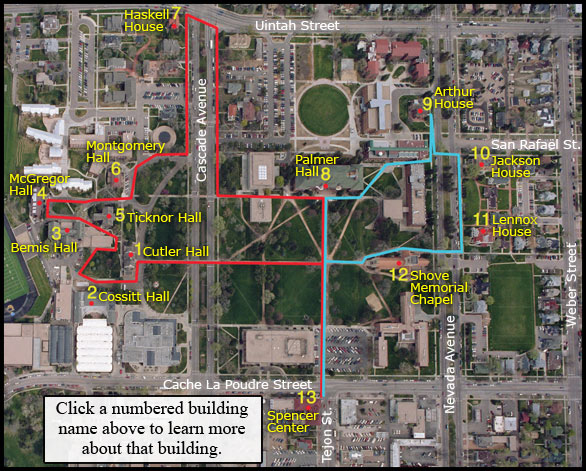 Parking: Public street parking is available in the immediate vicinity of campus on Cascade Avenue south of Cache La Poudre Street, Cache La Poudre Street, Nevada Avenue and Tejon Street. Visitors may also pay to park in one of the visitor spaces available in four of the College's parking lots, marked by a P above. (Instructions for payment are provided at the visitor pay stations in these lots.)