Supervisor Toolkit
*New Supervisors
New to supervising student employees or interested in employing students in your department for the first time? Please reach out to the Office of Financial Aid & Student Employment with the contact info below! We're here to help!

Supervisors must complete online training prior to gaining access to Handshake or EPAF.
Reach out to studentemployment@coloradocollege.edu to inquire.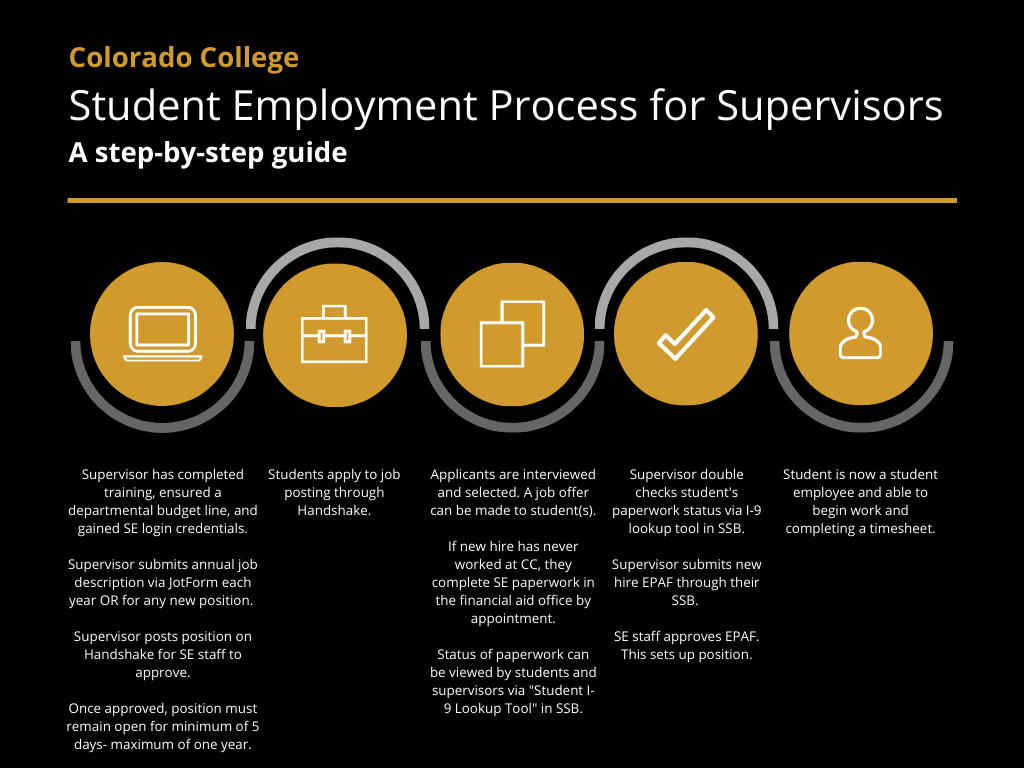 Supervisor Handbook:
JotForm:
Video Tutorial:
JotForm: Why, When, & How
JotForm Other Resources:
JotFormLink
Use this form to complete an annual job description for each student job BEFORE posting the opportunity on Handshake. JotForm is used as a job description bank for legal and auditing purposes.

Learning Competencies Reference Sheet
At least five learning competencies must be listed on BOTH the JotForm and the bottom of the job description in Handshake. 

Handshake
All student positions are required to be posted for at least 5 days. The 5 days begins AFTER our office approves the posting request in Handshake. This includes all positions, including seasonal positions and promotions. 
EPAFS may NOT be submitted prior to the end of the 5 day requirement.
*Please note, Handshake job postings can take up to 3 business days to be approved by CC Student Employment staff depending on office workload
Please DO NOT share your individual Handshake login with others. Individuals are only given login credentials AFTER they complete supervisor training.
How to Post a Job Instructional Guide
Student I-9 lookup:
Video Tutorial:
Student I-9 Lookup for Supervisors
*Use this tool to find out if a student's employment paperwork is completed & processed BEFORE beginning an EPAF.
EPAF (Employee Personnel Action Form)
Video Tutorials:
EPAF: Setup Approval Routing Que
EPAF: New Hire Tutorial
EPAF: Promotion Tutorial
EPAF: Termination Tutorial
EPAF: Checking the Status Tutorial
EPAF Other Guides:
EPAF Manual
 
Timesheets and Proxy Setup:
Steps to approve timesheet
Proxy Set-Up Directions
Payroll Calendar & Deadlines
Supervising Forms:
Student Employee Evaluation
Job Separation/Termination Form
Confidentiality Agreement