Tutt Science Center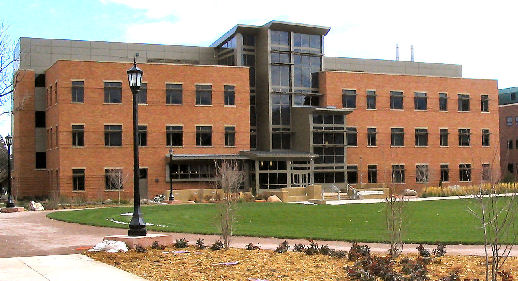 The Psychology Department at Colorado College is housed within the Tutt Science Center, a state-of-the-art, LEED certified facility constructed in 2005. The department occupies the entire third floor as well as portions of the first and second floors. Utilizing 100% Smart Classrooms, two wet labs, a dedicated computer lab/classroom, and numerous specially equipped research rooms, the department is well equipped for teaching and research endeavors. For more information about Tutt Science Center see the Environmental Program website.
Click on the links in the sections below to see images of the spaces.
Classrooms
The Psychology Department's classrooms are designed to facilitate whole class, small group, and instructor interactions as well as multimedia presentations. Shared tables, often facing each other, are used rather than "standard individual desk-chair combos" found in many schools. Seating and tables can be reconfigured for different classroom activities. All classrooms are 100% "smart" (data projector, whiteboards, Streaming/DVD/VCR, audio system).
TSC324, TSC313*, TSC312*, TSC307*, TSC305**, TSC301, TSC218, TSC214, TSC122, TSC108
* Denotes also used as a research laboratory.
** Made possible by a gift from Allen W. Mathies Jr., Class of 1952 and Weta Austin Mathies, Class of 1955
Laboratories
TSC313* Animal Communication Neuroscience & TSC307 Behavioral Neurotoxicology Wet Labs
These web lab areas are equipped with workbenches, computer workstations, a joystick-enabled microscope and camera with Neurolucida 3D neural-imaging software, automated equipment to assess cognitive function in rodents, a water distiller, and other specialized equipment. Students may work in this area with neuroanatomy slides, software, texts, as well as with plastinated brains and wet-brain sections. 
* Made possible by a gift from the Coit Family
TSC312* Research Methodology Lab
This teaching lab contains 16 workstations loaded with SPSS, R, EPrime, and other specialized research software. Students use this space to take methodology and statistics classes and to design and administer independent research projects.
* Made possible by a gift from Frank A. Colton Jr., Class of 1941 and Vergie Colton.
TSC216 Social-Developmental Lab
This suite includes two-way mirror observation rooms, a clinical testing room, and an eye-tracking and video technology room that support Clinical, Social, and Developmental research, including research with children.
Research Rooms
This room is outfitted with soundproof paneling on the walls, ceiling, and door, and carpeting on the floor. It is ideal for Perception research or any project where noise cancelation is important. It is equipped with a workstation and can also be used as a quiet office.
These adjacent rooms are connected by a two-way mirror allowing nonobtrusive observatio from either side. The rooms are equipped with workstations and can be used as offices or for a variety of research purposes.
This room is equipped with 6 workstations and specialized software that can be used for database searches or analysis. Additionally there are 9 reservable desk areas with filing space for storing project needs.