The 39th SMF Season: June 4 - 23, 2023
Five Festival Artists Concerts    *    Two Festival Orchestra Concerts    *     Seven Chamber Music At Midday Concerts    *   Children's Orchestra Concert, Peter and the Wolf Extravaganza    *    Outreach Concerts
For more about our 39th Season, go to our 2023 Concerts page for tickets, complete programs, and more.
SMF 39th Season is around the corner!
 The 2023 SMF Faculty and Fellows will be here on June 4th.  Concerts will begin that same week, with our opening Faculty Artists Concert on June 7 at 7:30 p.m. in Packard Hall. 
Get your tickets now before they are sold out!    

Colorado College Summer Music Festival episode on PBS!
Now Hear This Season 3, episode 3 "Aaron Copland: Dean of American Music" takes place in Colorado Springs on the CC campus and with the faculty and students of the CC Summer Music Festival.
WATCH THE TRAILER HERE ON YouTube.  
Drawing from his Jewish roots, modernism and American folk music, Pulitzer-, Grammy- and Oscar-winning composer Aaron Copland created a distinctive American sound in both his classical compositions and film scores. Like Copland did for much of his career, host Scott Yoo and fellow musicians spend time working with students at a music festival in Colorado to strengthen their auditioning skills and better understand Copland's music. To discover Copland's inspiration, Yoo travels to New York to explore the Jewish music Copland was raised with as well as modernist music through performances by Cantor Daniel Mutlu, violinist Steven Copes, cellist Mark Kosower, festival music director and pianist Susan Grace and more. Later, Yoo becomes the student and learns from pianist and Copland enthusiast John Novacek about how the composer developed his signature sound, now so familiar to us all.
Go to PBS to stream the entire episode.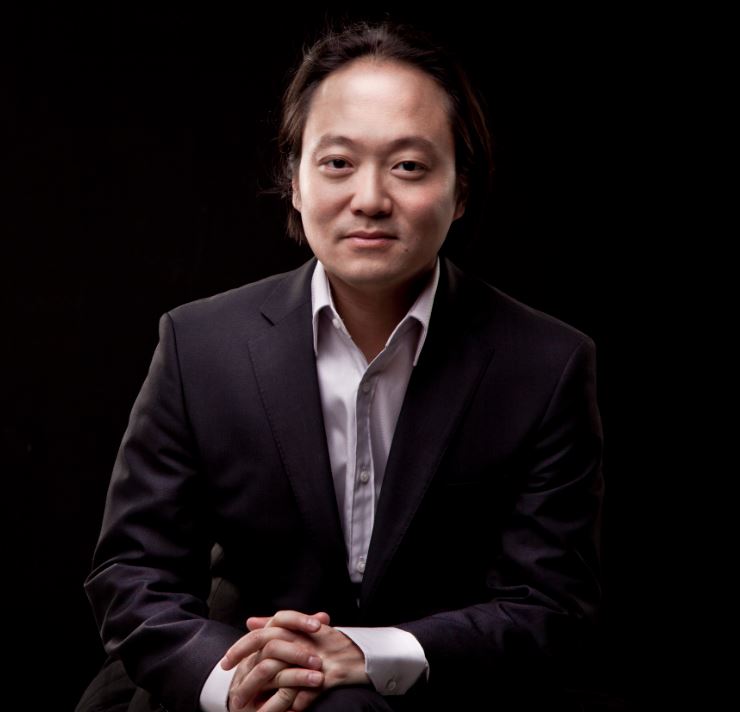 Scott Yoo, conductor of the CC Summer Music Festival
is also the host and executive producer of Now Hear This  

Season Four of Now Hear This
Great Performances: Now Hear This Series 4 premiered April 7-28 at 9 p.m. ET on PBS, pbs.org/nowhearthis and the PBS App.  You can still see the episodes on PBS Passport.  Host of the show, and the conductor for the Summer Music Festival at Colorado College, Scott Yoo, danced halls of Buenos Aires, the place where guitars are born in Granada, the culturally vibrant neighborhoods of Brooklyn, and Schumann's newlywed home in Leipzig in the lastest season of Now Hear This on Great Performances. In this fourth season of the critically acclaimed miniseries, Yoo shines a spotlight on the collaborative process and the source of creative inspiration while exploring the backgrounds of tango's Astor Piazzolla, the Romantic era's Robert Schumann, steel pianist and composer Andy Akiho and flamenco's Isaac Albéniz. Showcasing the talents of artists around the world including pianist and Schumann expert Dr. Richard Kogan.  Summer Music Festival cellist Bion Tsang, and flutist Alice Dade were both featured in this season.
MEMORIES OF 2022 SUMMER MUSIC FESTIVAL FUN!
Contact Us
Ann Van Horn

Assistant Director, Colorado College Summer Music Festival
avanhorn@coloradocollege.edu

(719) 389-6552
Mailing Address: 819 N. Tejon St.
Physical Address: 5 W. Cache La Poudre St., Office #112
Colorado Springs, CO 80903