Presidential Inauguration
Save the Date
Join us August 25-29, 2022, for the inauguration of L. Song Richardson, the 14th president of Colorado College. 
About President Richardson
L. Song Richardson is an award-winning educator, legal scholar, and lawyer who is recognized for her transformational leadership in higher education. She became Colorado College's 14th president in July 2021. She earned her A.B. from Harvard College and her J.D. from Yale Law School.
She was drawn to Colorado College because of its people, its sense of purpose, and its commitment to antiracism, diversity, equity, and inclusion; increasing access for students; sustainability; the arts; and creativity and innovation.
President Richardson, who is Black and Korean, is the first woman of color to hold the presidency at Colorado College.
Before coming to CC, President Richardson was the dean and chancellor's professor of law at the University of California, Irvine School of Law.
Her interdisciplinary research uses lessons from cognitive and social psychology to study decision-making and judgment. Her scholarship has been published in top law journals, including at Harvard and Yale. She has won numerous awards and recognitions for her work.
President Richardson also is a classically trained pianist who performed twice with the Boston Symphony Orchestra.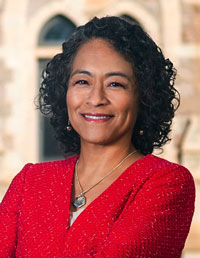 President L. Song Richardson
​Inauguration Festivities
Thursday, August 25
BIPOC Presidents' Roundtable
8-10 a.m.
Tava Quad
NOTE: This event is part of Fall Conference and is open only to CC faculty and staff.
Sonya Malunda, President, Associated Colleges of the Midwest
Vincent D. Rougeau, President, College of the Holy Cross
L. Song Richardson, President, Colorado College 
Moderator: Ryan Haygood, Vice Chair, Colorado College Board of Trustees 
Saturday, August 27
Free Art Adventure Day at the FAC
Art Adventure Day will offer a variety of hands-on art projects in the Bemis School of Art studio classrooms along with artist demonstrations and interactive, self-guided activities.
FAC Member early access from 10am-11am (which includes CC students)
Open to the public from 11am to 2pm
Learn more here and please RSVP in advance.
Sunday, August 28
Community Day 
10 a.m.-4 p.m. 
CC will provide free access to members of the CC and broader community
Speed Seminars


Starting at 10 a.m. in the Fine Arts Center, faculty will present on all types of interesting topics, from how the Fed sets interest rates, to the recent Supreme Court rulings, to what we can learn from zombies. See the full list of sessions and times.

Colorado Springs Fine Arts Center at Colorado College


Highlight Exhibition:  Chicanx Landscapes
This exhibition explores landscapes as a system of ecology, history, culture and belonging from a Chicanx perspective with new works presented by the interdisciplinary artist collaborative, Desert ArtLAB.  Desert ArtLAB is an interdisciplinary artist collaborative co-directed by April Bojorquez (she/her) and Matthew Garcia (he/him) whose work promotes Indigenous perspectives on ecological practice and climate change. Bojorquez and Garcia were the 2022 Mellon Artists in Residence for the Colorado Springs Fine Arts Center at Colorado College. Opens August 26th.

Ed Robson Arena, Athletics, and Recreation Events


From 10 a.m.-noon, experience the new home of Tiger hockey, Ed Robson Arena, with free ice skating; no pre-registration is necessary.

At El Pomar Sports Center, CC Athletics and Recreation will give tours and offer classes and clinics in floor pilates, lacrosse, rugby, ultimate frisbee, zumba, tennis, and much more! The Ritt Kellogg Climbing Gym will also be open for indoor rock climbing (no instruction, waiver required). Get more information and be sure to register in advance. 

Come cheer on CC's women's soccer team as they face Army in a home match on Stewart Field at 2 p.m.
Monday, August 29
Inauguration Ceremony
Doors open at 8 a.m., seated by 8:30 a.m.
8:45 a.m. Presidential Inauguration 
Mainstage, Colorado Springs Fine Arts Center at Colorado College
(400 seats available; first-come)
Inauguration Livestream
8:45 a.m. Help us commemorate L. Song Richardson's inauguration as the 14th President of Colorado College by watching the ceremony livestream on Monday, Aug. 29. Tune into coloradocollege.edu/inauguration at 8:45 a.m., Mountain Time, or watch a recording after the event concludes. We hope you'll celebrate this historic moment with the CC community!
All-Campus Celebration on Tava Quad
12:30-2:30 p.m. Food, games, entertainment
Kronos Quartet and Sam Green: A Thousand Thoughts
7 p.m. at Mohrman Theater
See more details here and please be sure to register in advance.
Sponsors
Thank you to our Community Partners and Sponsors!

More events and activities will be announced later, so be sure to check back!