2012
List of Presenters
---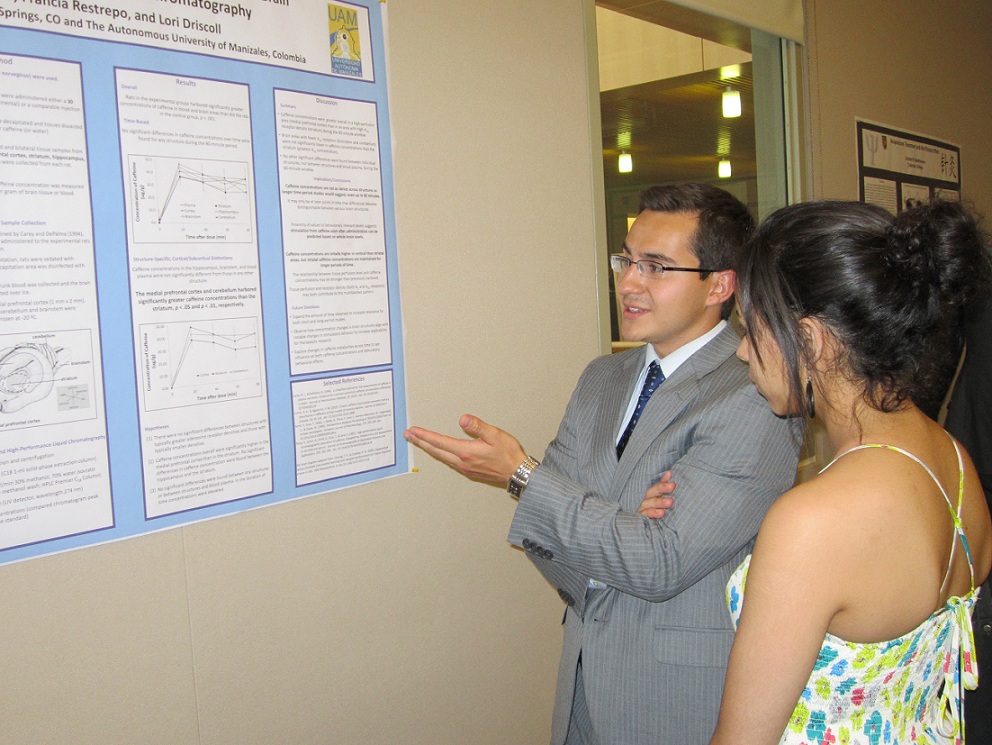 Juan Arias
Neuroscience
Advisors: Lori Driscoll & Francia Restrepo
Determining Caffeine Pharmocokinetics in Rat Blood and Brain Using High-Performance Liquid Chromatography
The behavioral and pharmacokinetic profiles of caffeine have been well characterized in both human and animal models. Very little is known, however, about variations in caffeine concentrations within different brain structures over time. This information could allow for a deeper understanding of how caffeine conveys its stimulatory properties on specific behaviors and moods. Previous data on relative caffeine concentrations between brain regions have been inconclusive or contradictory, claiming greater concentrations in either cortical or subcortical areas, the most notable of the latter being the striatum. The present study sought to address such inconsistencies by measuring caffeine concentrations in five rat brain structures—medial prefrontal cortex, striatum, hippocampus, cerebellum, and brainstem—and blood plasma at four time points after intraperitoneal administration of a behaviorally relevant 30 mg/kg dose of caffeine. Medial prefrontal cortex and cerebellum harbored modest but statistically significant higher caffeine concentrations than the striatum. The higher concentration in cortical areas may be due to the short time period of the present study. Future research should more broadly explore the influence of time and caffeine metabolites on concentrations, as well as combine behavioral studies with what is known about caffeine concentrations to make such knowledge more applicable for therapeutic research.
---

Bridget Babcock
Psychology
Advisor: Kristi Erdal
Approaches to Mental Illness: Using Need Fulfillment to Improve Outcomes
The current approach to mental illness, through social service agencies, was examined within the context of Maslow's hierarchy of needs. Discrepancies between the priorities of clients and service providers were identified, and co-occurring problems, specifically unemployment, were explored. Finally, the critical aspects of the current models of care available (e.g. multidisciplinary staff, individualized treatment plans, integrated services, treatment plans that focus on basic needs) were reviewed to determine which elements of care need to be added to current successful elements in order to create the most successful approach to mental illness. The findings led to a suggested treatment plan, which addresses the discrepancies found between client and service providers, targets the reasons for high co-occurring problems, and integrates the missing elements from current models with the critical effective elements. The suggested treatment plan creates a holistic approach to mental illness that integrates the role of the case manager and clinician to better serve the wide range of needs that may be presented by clients.
---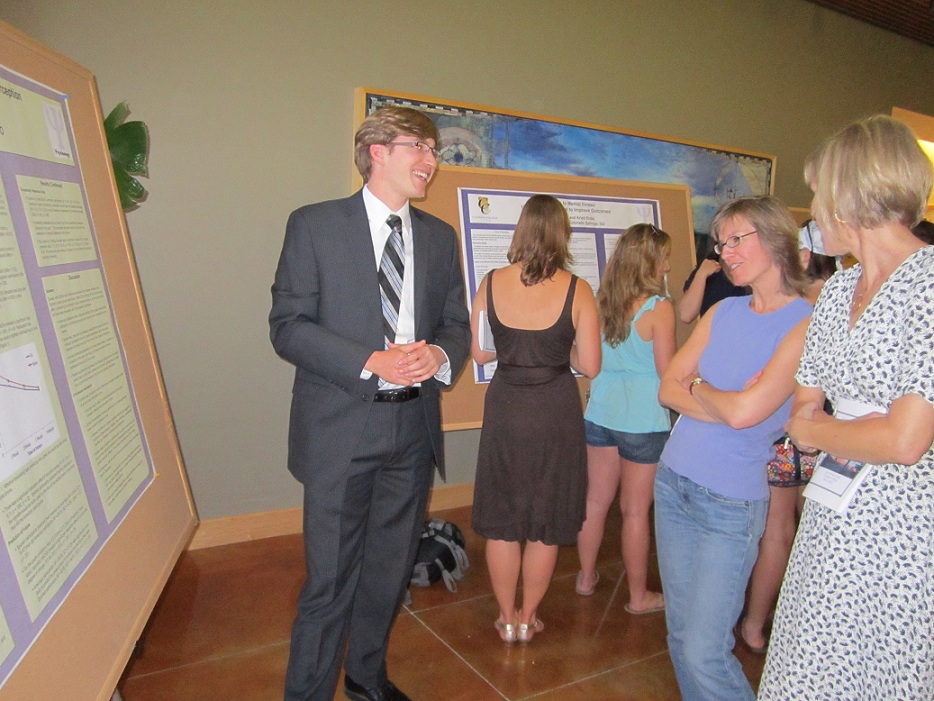 Brendan Berry
Psychology
Advisor: Emily Chan
Investigating the Role of Culture on Temporal Perception
Previous research has suggested that people from collectivist cultures perceive past information as more relevant and closer to the present than do people from individualist cultures. Similarly, people from collectivist cultures are more likely to view present trends to change in the future, when compared to people from individualistic cultures. These findings were replicated in new cultural settings, comparing collectivist Spanish and individualist American samples, while investigating a specific aspect of culture, uncertainty avoidance, as a possible mechanism to drive the differences in temporal perception. American participants defined the past and future as further away from the present, had a smaller definition of the present, and viewed current trends as more likely to continue in the future than did Spanish participants. Spanish participants projected more pain with a future loss. Overall, results provided further support for the cultural dependent nature of temporal perception in previously unexplored countries.
---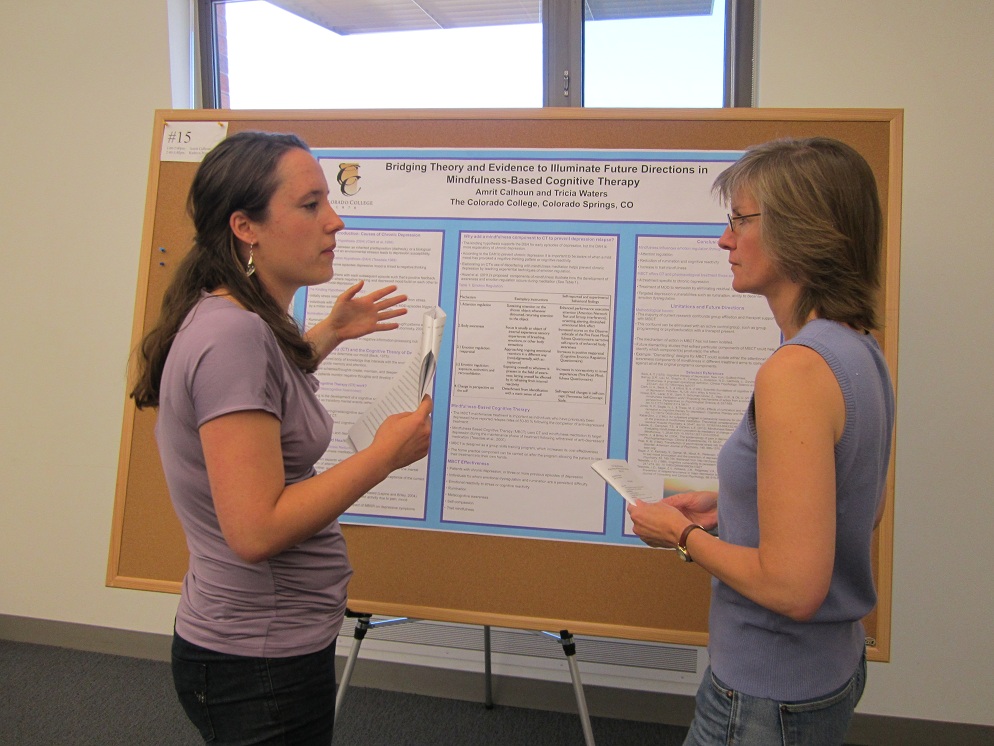 Amrit Calhoun
Psychology
Advisor: Tricia Waters
Bridging Theory and Evidence to Illuminate Future Directions of Mindfulness-Based Cognitive Therapy
Major Depressive Disorder (MDD) can be a chronic remitting and relapsing illness. This review focuses on Mindfulness-Based Cognitive Therapy (MBCT), which evolved from Cognitive Therapy (CT) and mindfulness interventions, and was designed as a maintenance therapy that specifically targets depression relapse. Theory and empirical support for CT and MBCT in connection with psychological constructs that predispose an individual to depression relapse illustrate how each is able to accomplish similar prophylactic effects with different mechanisms of change. Possible mechanisms of change for MBCT include facilitation of emotion regulation through decreased rumination and cognitive reactivity, and increased mindfulness. Future research requires use of a "dismantling" design to identify individual components of MBCT that are mediators of depression relapse prevention.
---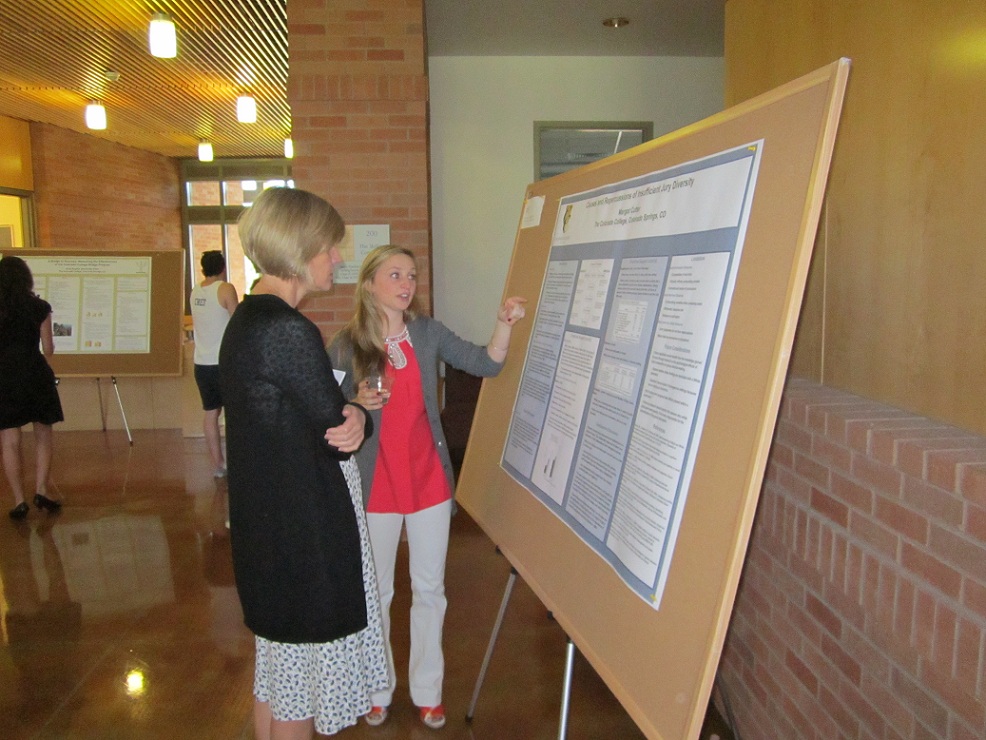 Margot Cutter
Psychology
Advisor: Emily Chan
Causes and Repercussions of Insufficient Jury Diversity
This paper seeks to review the current literature in order to explore the causes and repercussions of insufficient jury diversity. Empirical evidence shows that neither ethnic minorities nor low socioeconomic classes are proportionately represented on juries. Although it is illegal to remove people from a jury based on a characteristic that places them in a cognizable group (i.e. race, socioeconomic class, or gender), this practice occurs regularly. The first portion of this literature review aims to examine the reasoning behind attorneys' biased juror selections, and explore whether there is any validity to those claims. The second portion will explore psychological theories and findings implicated by an under representative jury, specifically the effects of in-group and out-group biases.
---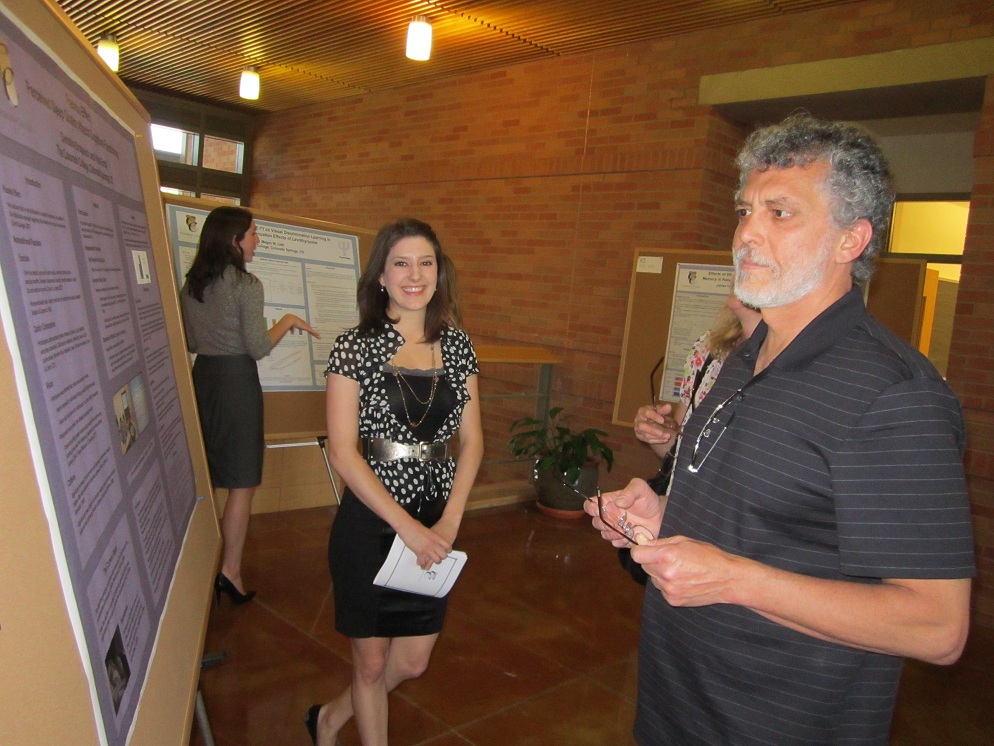 Christina Draganich
Neuroscience
Advisor: Kristi Erdal
Placebo Effect: Perceived Sleep Quality Affects Cognitive Functioning
The placebo effect is defined as any outcome that is not attributed to a specific treatment, but rather to an individual's mindset (Crum and Langer, 2007). While many instances of the placebo effect have been observed in test of pharmaceutical drugs, the phenomenon can also extend beyond this context to involve aspects of everyday life. In a study examining whether perceived sleep quality affects cognitive functioning, 50 participants completed a questionnaire about their previous night's sleep quality. This questionnaire was used to measure their sleep judgments. They were then randomly assigned to one of two sleep quality conditions. Those in the "above average" sleep quality condition were informed that they had spent 28.7% of their total sleep time in REM, while those in the "below average" sleep quality condition were informed that they had only spent 16.2% of their time in REM sleep. Assigned sleep quality significantly predicted participants' scores on the Paced Auditory Serial Addition Test (PASAT), a measure of auditory attention and memory, whereas self-reported sleep quality did not predict participants' PASAT scores. These findings support the hypothesis that mindset influences physiological states, suggesting a means of controlling one's health and cognition. If individuals are taught to alter their attitudes about sleep, it may be possible to alleviate some of the effects of poor sleep quality on cognitive functioning.
---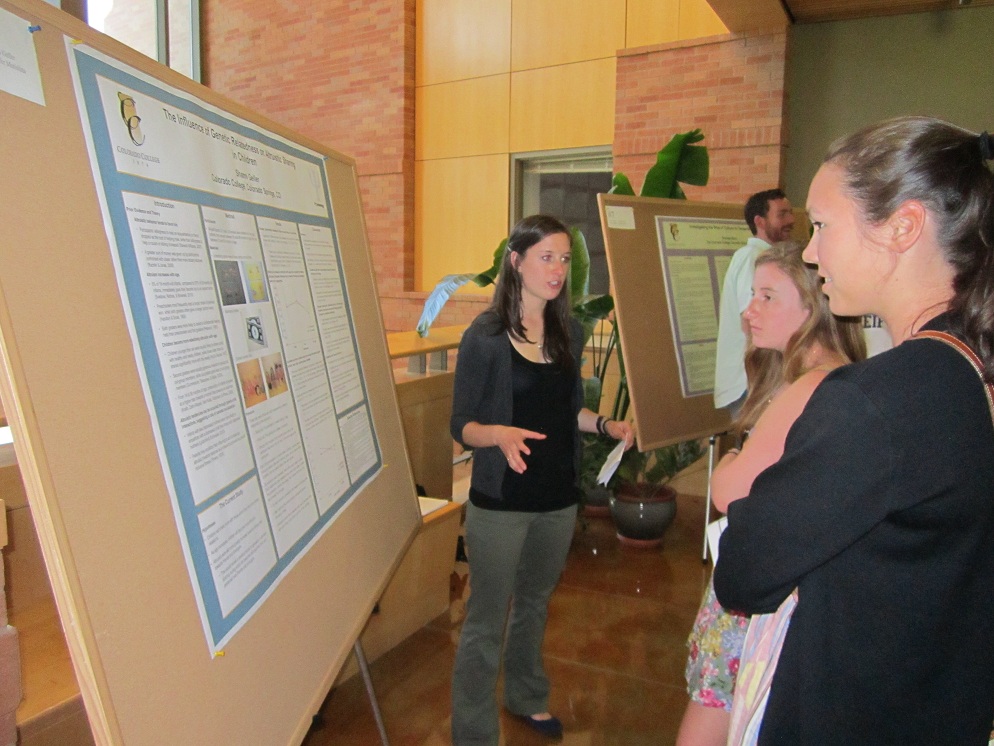 Shanni Geller
Psychology
Advisor: John Horner
The Influence of Genetic Relatedness on Altruistic Sharing in Children
Altruistic acts benefit a recipient at a cost to the actor. The present study explored the influence of genetic relatedness on altruistic sharing in a cross-sectional analysis. Past research has found that the altruistic tendencies of adults tend to follow relatedness factors in that adults favor kin over non-kin in altruistic circumstances. To capture the developmental progression during which kin become distinguished from and preferred over friends and strangers, children of two different age cohorts were asked to give a portion of dollars earned in a matching game to a sibling, a friend, and a stranger. While children between 36 and 89 months of age exhibited neither an increase in altruism with age, nor a preference for kin over non-kin, they did reveal a preference for both siblings and friends over strangers. Thus, children seemed to favor individuals with whom they more frequently interacted. Future studies should investigate whether an older cohort or a more costly activity would influence children's sharing behavior.
---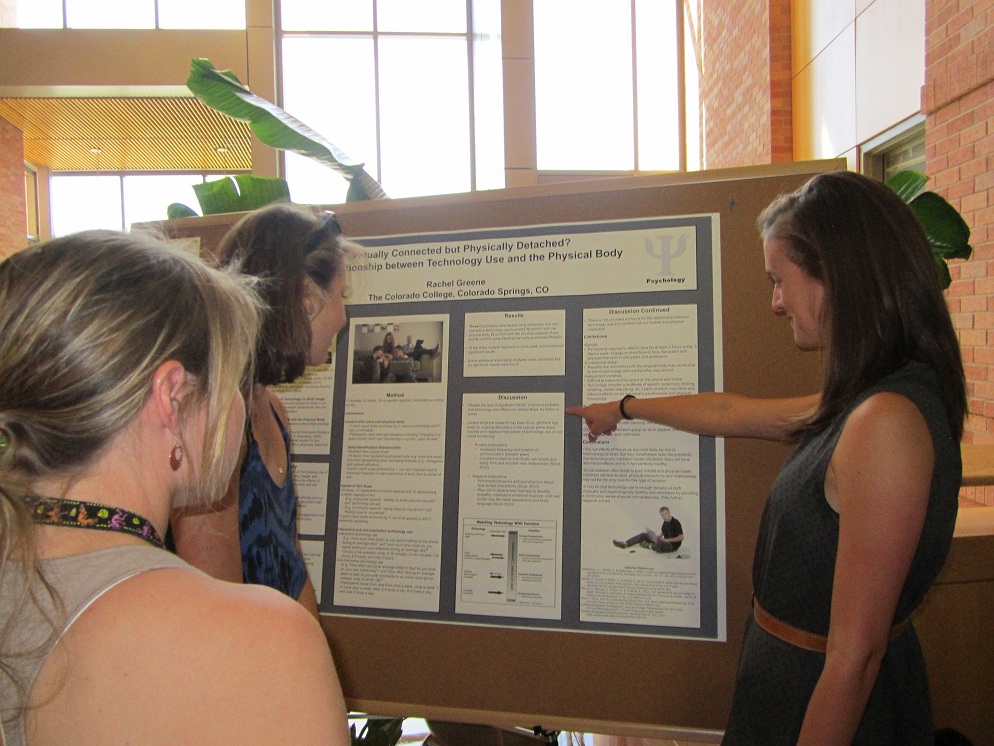 Rachel Greene
Psychology
Advisor: Tomi-Ann Roberts
Virtually Connected but Physically Detached? The Relationship between Technology Use and Comfort with the Physical Body
Although research has begun to explore the implications of our increasing dependence on technology on our psychological well-being and social functioning, there is little evidence for the effects of this dependency on our relationship to our own physical body. This study tested the hypothesis that higher use of technologically-mediated social interaction is related to decreased comfort with one's own physical body and with physical contact with others' bodies. One- hundred-thirty-nine undergraduates were surveyed about their Internet and cellphone use and completed three measures assessing their comfort with their physical body. The results did not support the hypothesis, suggesting that individuals who engage in high amounts of Internet and cellphone use do not actually experience a decrease in comfort with their own physical body. However, future research is necessary to further explore the relationship between technology use and our embodied lives. As young adults begin to substitute real life face-to-face interactions with virtual ones, research must examine whether texting, calling, and social networking via devices impacts our relationships with our physical selves.
---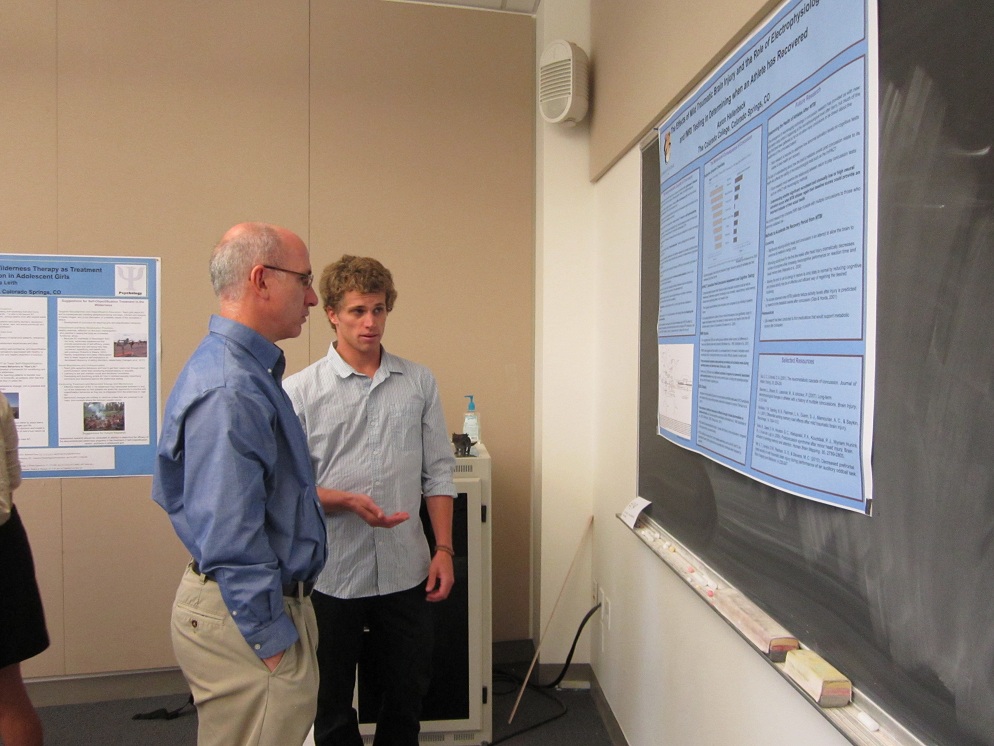 Aaron Hallenbeck
Psychology
Advisor: Kristi Erdal
The Effects of Mild Traumatic Brain Injury and the Role of Electrophysiological and fMRI Testing in Determining when an Athlete has Recovered
Concussions are one of the most common injuries that occur in sports. Despite this, research on concussion has only recently received significant attention, and proper return to play guidelines have not been established. The current paper examines the existing research on the metabolic events that happen after concussion, as well as the viewable symptoms. An analysis of current methods for returning athletes to their sport, including subjective symptom checklists and the ImPACT (Immediate Post-Concussion Assessment and Cognitive Testing), is undertaken with the aid of neuroimaging technologies. fMRI and electroencephalogram (EEG) studies indicate that unusual activation levels and additional neuronal recruitment occurs in concussion patients when they score similarly to healthy control groups on neuropsychological tests. This indicates that such tests may be ineffective at properly returning an athlete to their sports. It is recommended that future research further examine the meaning of neuroimaging results in order to put forth the best system to return athletes to their sport.
---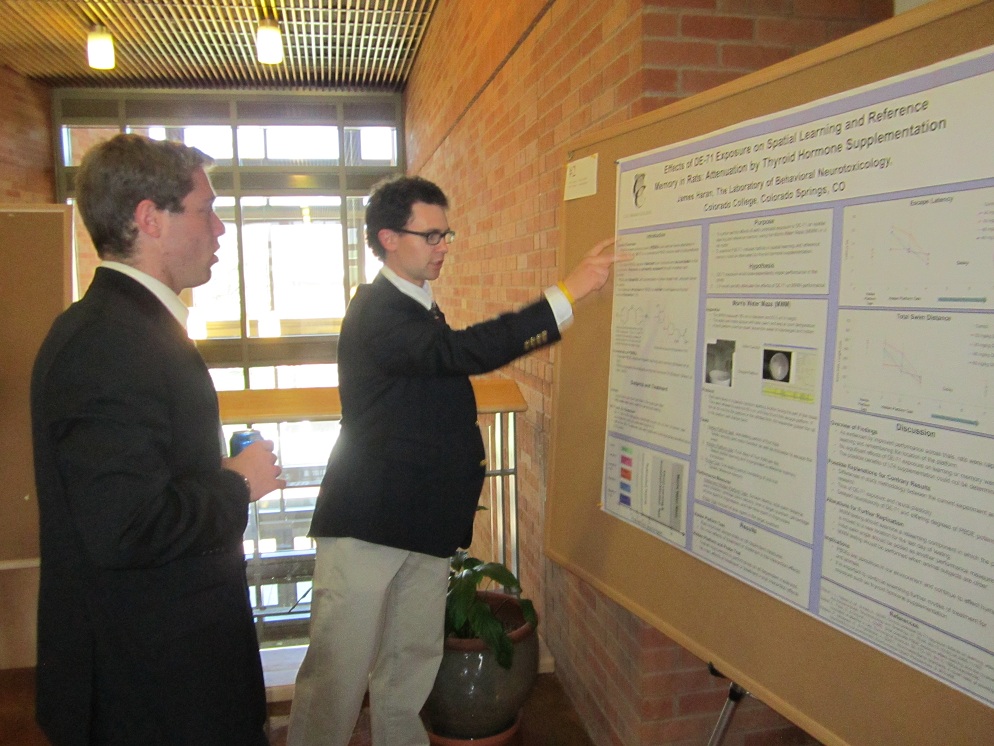 James B. Haran
Neuroscience
Advisor: Lori Driscoll
Effects of DE-71 Exposure on Spatial Learning and Reference Memory in Rats: Attenuation by Thyroid Hormone Supplementation
Polybrominated diphenyl ethers (PBDEs) are flame retardants used in a variety of commercial products. Over time, PBDEs leech from the products into which they were mixed and bioaccumulate in both animals and humans. The present study explored the behavioral neurotoxicology of developmental exposure to DE-71, a commercial PBDE mixture, on spatial learning and reference memory. In addition, the possible ameliorative effects of thyroid hormone supplementation were explored as a method for attenuating learning and memory deficits associated with DE-71 exposure. Rats were orally administered DE-71dissolved in corn oil, 60 mg/kg/day or 30 mg/kg/day, or corn oil alone, on postnatal days 6-12. Half of the DE-71-exposed pups were also supplemented with 6 µg/kg/day levothyroxine on the same days as the DE-71 exposure. Spatial learning and reference memory were assessed at an age of 2 months using the Morris Water Maze. No effect of DE-71 exposure was found on learning or reference memory, and thus it was not possible to determine if levothyroxine supplementation had a beneficial effect. Additional studies should continue to examine thyroid hormone as a method for offsetting PBDE induced hypothyroidism.
---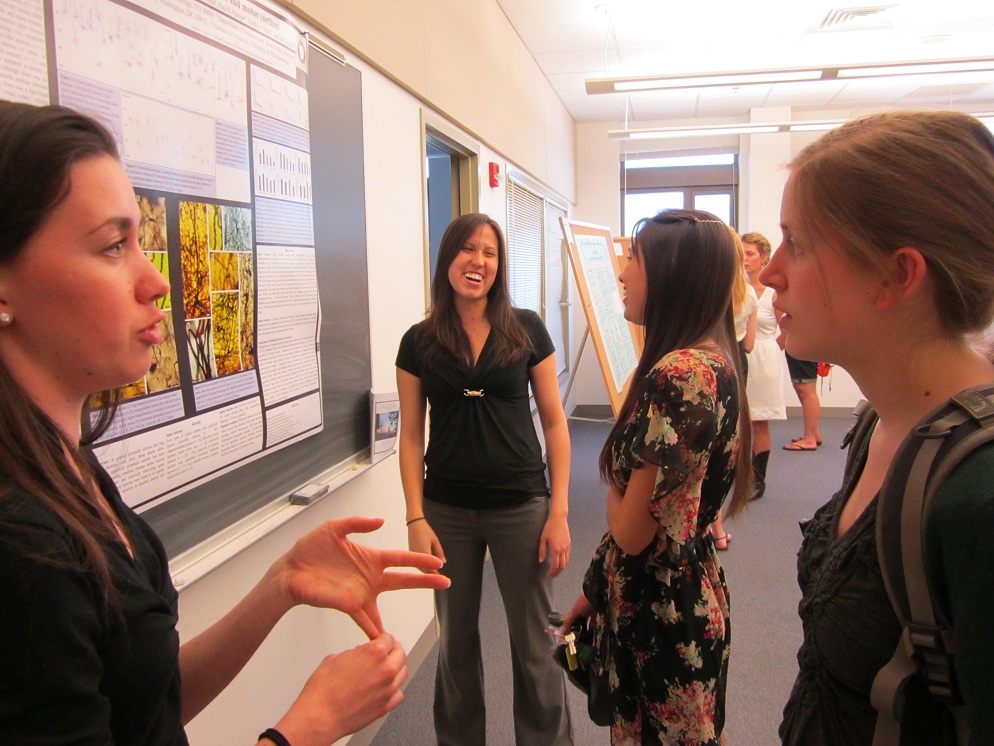 Tessa Harland & Deborah Kennedy
Neuroscience
Advisor: Bob Jacobs
Neuromorphology of Giraffe (Giraffa camelopardalis) Visual and Motor Cortices
The morphology of neurons in the giraffe (Giraffa camelopardalis) neocortex remains largely unexplored. The present study investigates giraffe primary visual and motor cortices removed from the perfusion-fixed brains of three sub-adults and stained with a modified rapid Golgi technique. Neurons (N = 269) were quantified on a Neurolucida computer-assisted microscopy system (MBF Bioscience), which allowed examination of dendritic and spine systems. Qualitatively, giraffe neocortex contained an array of complex spiny neurons that reflected both "typical" pyramidal neuron morphology and "atypical" spiny neurons in terms of morphology and/or orientation. In general, the neocortex appeared to exhibit a vertical columnar organization. Although there was no significant difference in dendritic complexity for pyramidal neurons between primary visual (n = 78) and motor cortices (n = 65), there was a significant difference in dendritic spine density (motor cortex > visual cortex). Giraffe aspiny neurons appeared to be morphologically consistent with those of other eutherian mammals. For cross-species comparisons, giraffe pyramidal neurons were compared to those quantified with the same methodology in elephants and cetaceans (e.g., bottlenose dolphin, minke whale, humpback whale). Across species, elephant exhibited widely bifurcating apical dendrites compared to cetaceans and giraffes. Quantitative dendritic measures showed that the elephant and humpback whale had more extensive dendrites than giraffes, whereas minke whale and bottlenose dolphin had smaller dendritic arbors. Spine measures were highest in the giraffe, perhaps due to high quality perfusion fixation. The morphology of neurons in giraffe neocortex thus seems generally consistent with what is known about neuromorphology in cetartiodactyls.
---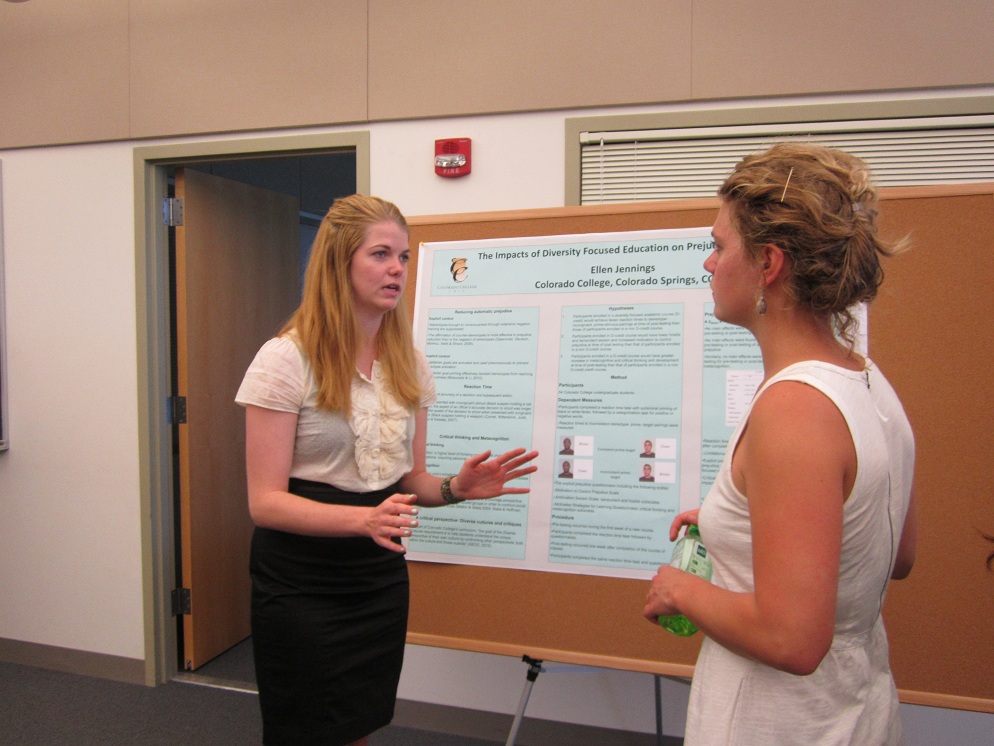 Ellen Jennings
Psychology
Advisor: Tricia Waters
The Impacts of Diversity Focused Education on Prejudice Reduction
The current research explored theories of prejudice reduction and investigated the impacts that diversity-focused education had on multiple types of prejudice, as well as critical thinking skills. Implicit and explicit automatic prejudice of 54 participants enrolled in either a diversity-focused academic course or a non-diversity-focused academic course, were measured through the use of a subliminal affective priming task and several explicit prejudice scales. Critical thinking skill development was measured using the Motivated Strategies for Learning Questionnaire. The results yielded no significant effects of time of testing (pre-test or post-test) or course (D-credit or non D-credit) on reaction times scores, ambivalent sexism, motivation to control prejudice or critical thinking skill development. Implications of the current research targeted the context of testing, including potential differences in academic environments as well as differences in academic curriculums.
---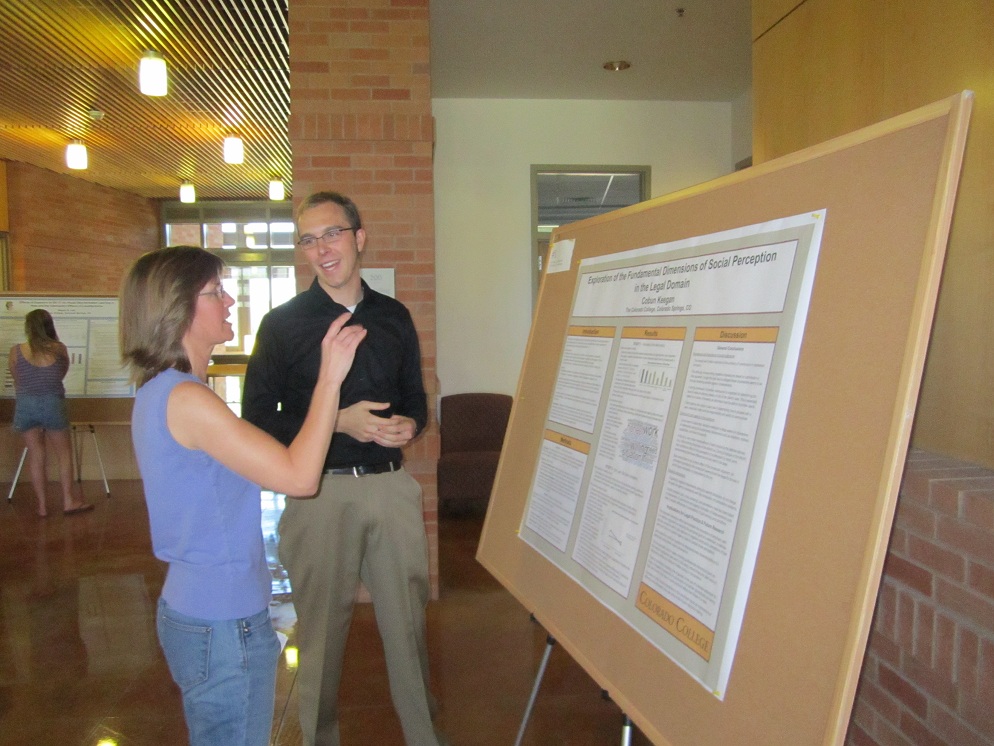 Cobun Keegan
Psychology
Advisor: Emily Chan
Exploration of the Fundamental Dimensions of Social Perception in the Legal Domain
This research represents an exploration of the fundamental dimensions of social perception, communion and agency, as they relate to the legal domain. A survey of attorneys was conducted to help establish the relevant factors of these dimensions in the legal context and found that communion-related traits (honesty, respect) were rated as more important than agency-related traits (responsibility, intelligence) for judgment of clients and decisions about how to treat them. A follow-up experimental study exposed mock jurors to a trial summary with attorney opening statements that focused either on communion or agency characteristics of a defendant in a medical negligence case. Though there was no difference in the effect of the prosecutor argument, the effectiveness of the defense response in mitigating impressions of guilt differed depending on prosecutor and defense conditions. Findings from this research can add to the understanding of how these fundamental dimensions affect impression formation in the legal context, specifically with respect to juror and attorney decision-making. Future directions for research are explored, including on the importance of perception formation of eyewitnesses in court trials as well as legal decision-making and negotiation based on perceptions outside the courtroom..
---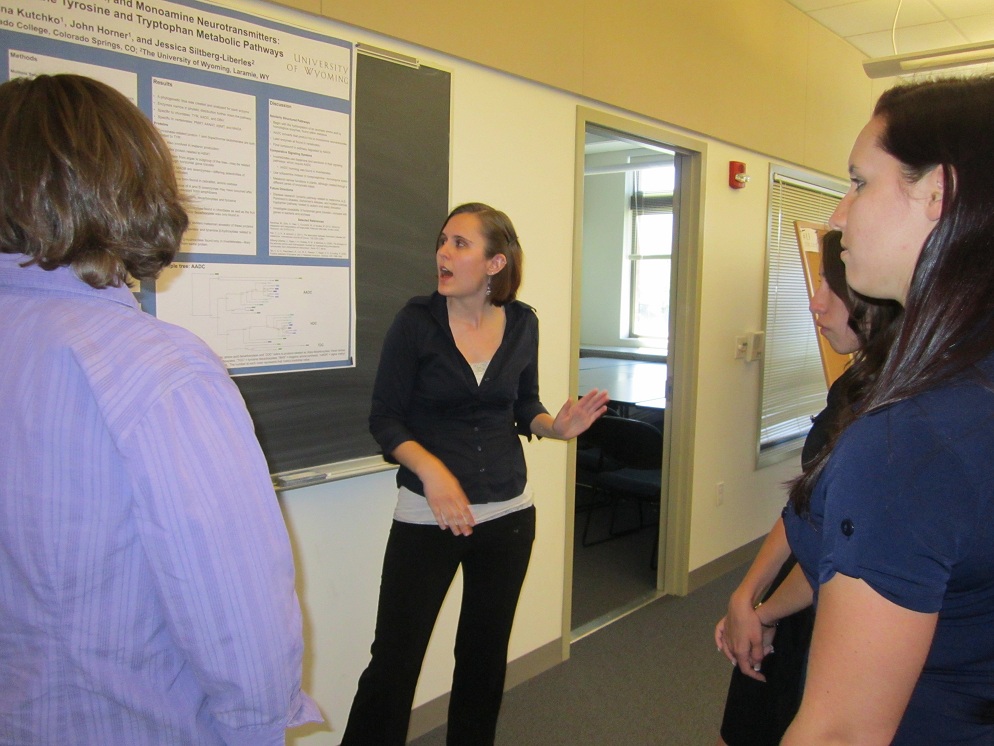 Katrina Kutchko
Neuroscience
Advisor: Jessica Siltberg-Liberies & John Horner
Creating Melanin, Melatonin, and Monoamine Neurotransmitters: The Evolution of the Tyrosine and Tryptophan Metabolic Pathways
Although plants, fungi, and bacteria can create tyrosine and tryptophan de novo, these pathways have been lost in most metazoa, which must obtain these amino acids from food. Humans metabolize tyrosine into several biomolecules including melanin, dopamine, norepinephrine, and epinephrine; and tryptophan into biomolecules such as serotonin and melatonin. This study investigated seven enzymes in these two metabolic pathways. The amino acid sequence of each enzyme in humans was compared to that in other eukaryotes to find similar proteins. These identified proteins were used to build phylogenetic trees for each enzyme, and the evolutionary pattern of each protein was analyzed. Overall, the further down the metabolic pathway an enzyme is, the more specific its phyletic distribution. The enzymes analyzed were all specific to either chordates or vertebrates. This investigation provides insight into cladistic differences in tyrosine and tryptophan metabolism, and presents a foundation for examining neurotransmitter systems throughout metazoa as well as exploring connections between diseases involving these pathways.
---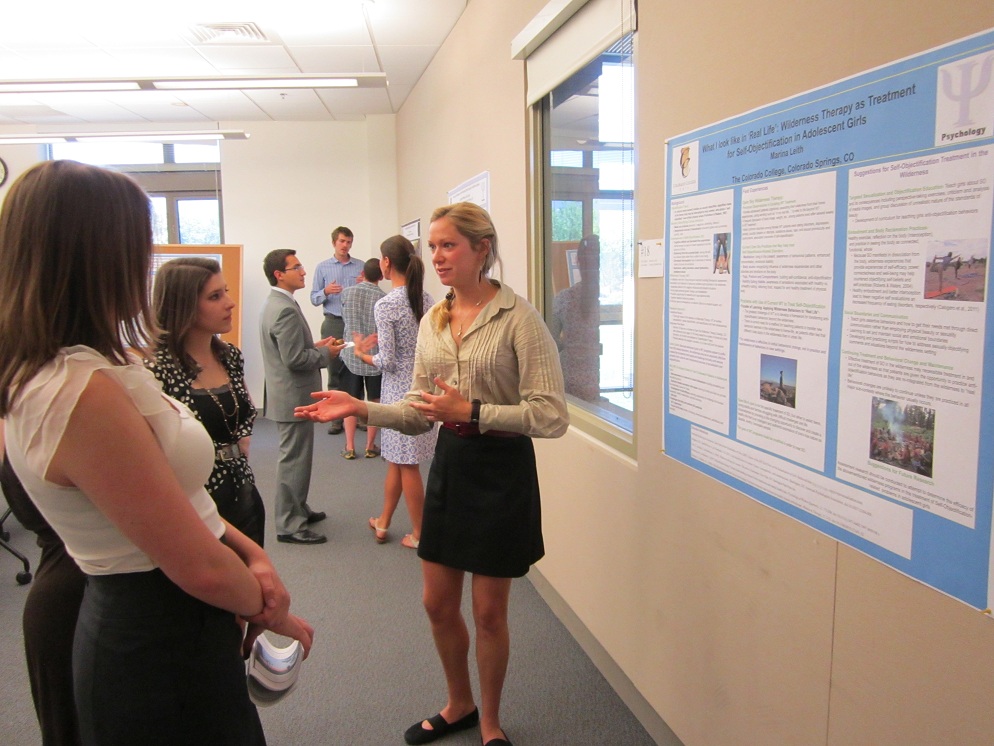 Marina Leith
Psychology
Advisor: Tomi-Ann Roberts
What I Look Like in 'Real Life': Wilderness Therapy as Treatment for Self-Objectification in Adolescent Girls
Objectification Theory proposes that media and social influences sexualize views of the female body, and women and girls self-objectify by internalizing these views, becoming distanced from their own corporeal selves, and focusing attention on outward appearance. Wilderness Therapy is a relatively new form of psychological treatment designed to treat problem behaviors in youth populations. This paper proposes, based on empirical evidence and field observations at a Colorado-based wilderness therapy program, that the wilderness setting is uniquely positioned to treat self-objectification in adolescent girls because wilderness survival experiences necessitate body awareness and care. Observations also showed, however, that the opportunity to explicitly and effectively treat self-objectification in the wilderness is not being utilized by the majority of wilderness therapy programs, therefore this paper concludes with suggestions for objectification education, embodiment and other practices to improve the treatment of self-objectification in the wilderness.
---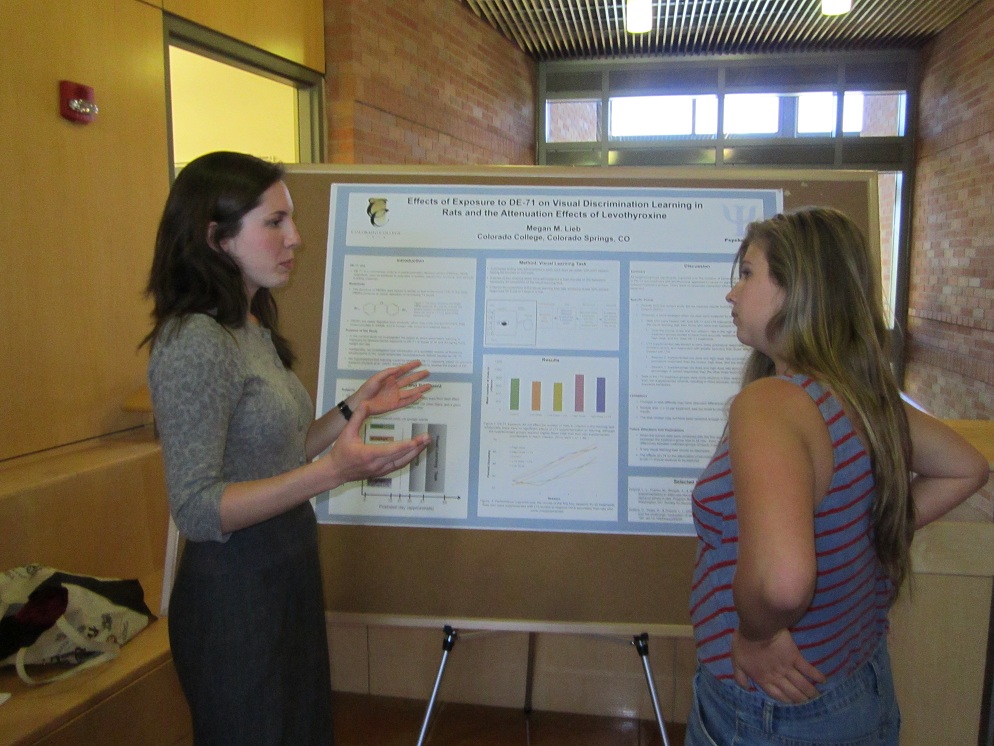 Megan M. Lieb
Neuroscience
Advisor: Lori Driscoll
Effects of Exposure to DE-71 on Visual Discrimination Learning in Rats and the Attenuation Effects of Levothyroxine
Polybrominated diphenyl ethers (PBDE) comprise a class of ubiquitous flame-retardants that bioaccumulate in lipid tissues. Exposure to PBDEs can cause complications in neurobehavioral functions in both animal models and humans. One mechanism by which PBDEs cause these disruptions is through its interference with the thyroid hormone system. In the present study, 50 male Long Evans rats were exposed to 30 or 60 mg/kg/day of the PBDE mixture DE-71 or vehicle from postnatal days 6-12. Half of exposed rats were also treated with levothyroxine (6μg/kg/day), with the intention of attenuating the adverse effects caused by DE-71. Beginning on postnatal day 30, subjects were tested on measures of associative learning using a 5-choice serial reaction chamber visual learning task. All dependent measures indicated that significant learning occurred across sessions, but there was no effect of DE-71 or levothyroxine treatment on learning. Further research is warranted, both on the effects of DE-71 on associative learning, and on the use of levothyroxine as a potential rescue treatment.
---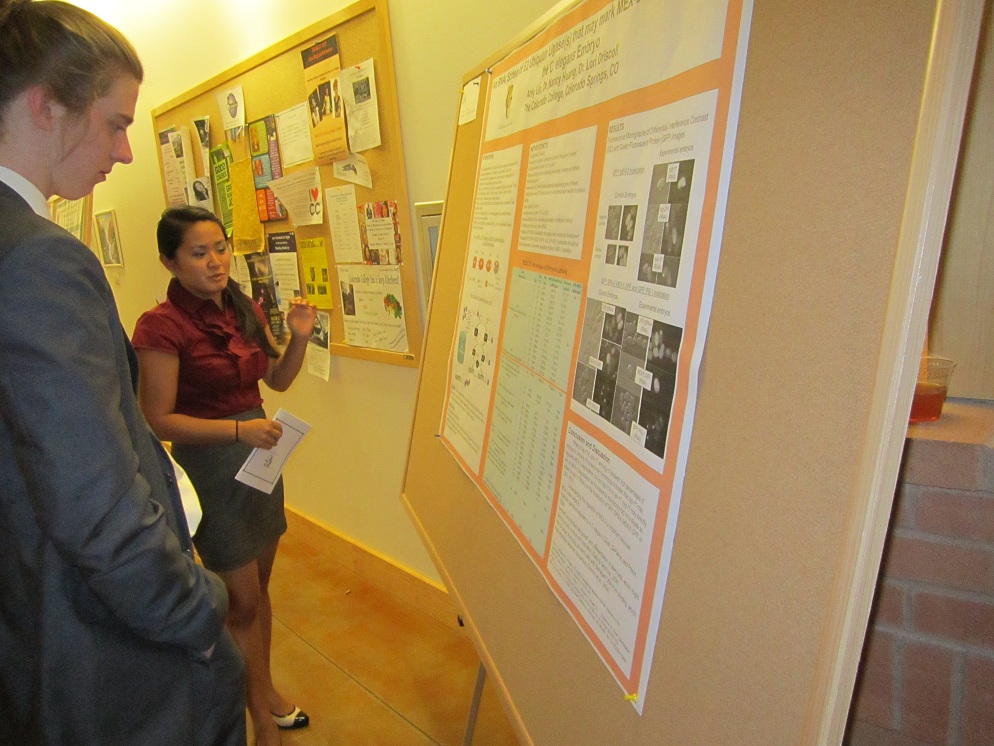 Amy Lin
Neuroscience
Advisors: Nancy Huang & Lori Driscoll
Using an RNAi Screen to Determine Which Proteins May Regulate Early Embryonic Development in the Nematode Worm, Caenorhabditis elegans
This study attempted to identify E3 ubiquitin ligase(s) that may mark MEX-3 for degradation during early embryonic development in C. elegans. MEX-3 protein regulates PAL-1 protein, which promotes posterior muscle development. The absence of MEX-3 allows PAL-1 to be expressed and appropriate muscle development to progress. The ubiquitin proteasome system is hypothesized to regulate MEX-3 degradation via an E3 ubiquitin ligase(s) that marks MEX-3 for degradation by the proteasome. If MEX-3 is not properly degraded, PAL-1 will not be expressed, leading to incorrect muscle development and embryonic lethality. This study screened 11 genes that code for E3's that may contribute to MEX-3 degradation. RNA interference (RNAi) was used to knock out the genes, and any resulting embryonic lethality was measured. Fluorescence microscopy determined whether RNAi affected the degradation of a GFP::MEX fusion protein for genes that showed at least 20% embryonic lethality. RNAi was performed by bacterial feeding and microinjection of dsRNA corresponding to our gene of interest. RNAi of genes tag-214, vps-11, and zyg-11 resulted in high levels of embryonic lethality. Fluorescence microscopy indicated an effect of RNAi on GFP::MEX-3 distribution for zyg-11, but not for tag-214 or vps-11. Knockout of zyg-11 in three additional worms strains did not affect the localization of GFP::PIE-1, MEX-5::GFP, or GFP::SPN-4, three proteins essential during early development, indicating that zyg-11 may be specific to MEX-3 localization. Understanding the regulation of MEX-3 in the C. elegans embryo may lead to better understanding of how MEX-3 and MEX-3 homologs maintain germline totipotency and prevent uncontrolled cell growth and division.
---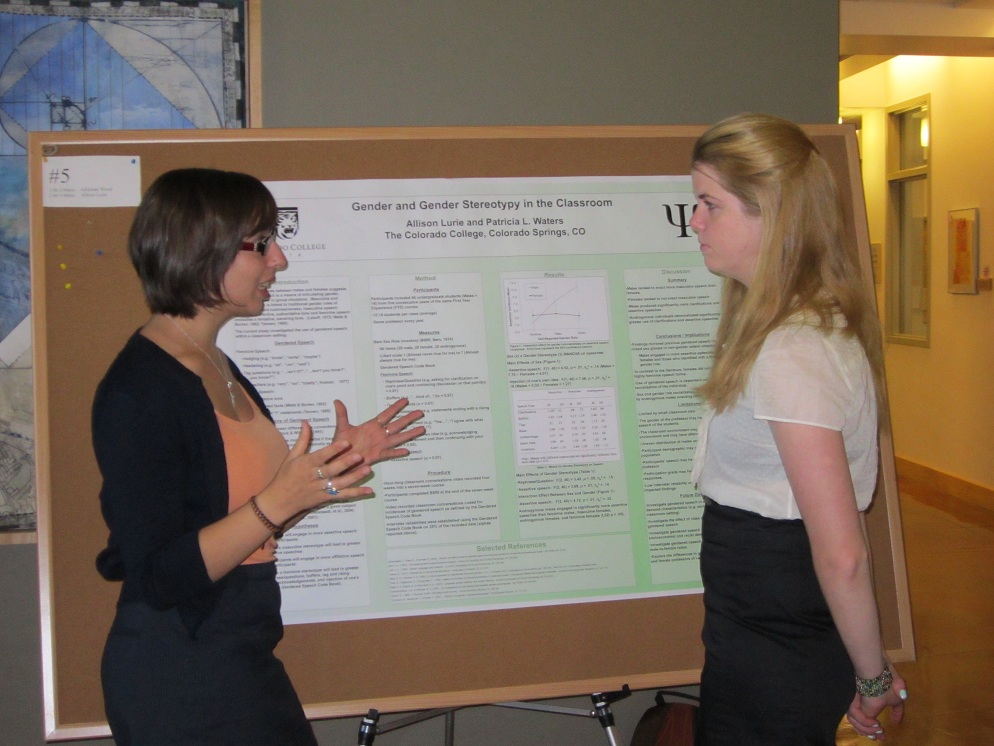 Allison Lurie
Psychology
Advisor: Tricia Waters
Gender and Gender Stereotypy in Classroom Interactions
The current study seeks to elucidate whether gendered speech is elicited by sex or gender stereotypy within the classroom. Prior research has demonstrated that gendered speech effects the way individuals communicate within all domains. Within a classroom, students are expected to perform and assertively demonstrate their knowledge; a performance upon which they are evaluated by peers and teachers. Embodied gendered speech may be indicative of the sex of a participant or the power dynamic within a given situation. Hour long classroom conversations in a First Year Experience class were video recorded and coded for specific gendered speech markers. Results showed that males tended to engage in more masculine forms of speech. Further, results demonstrated that gender stereotypy also affected gendered speech. Specifically, androgynous males tended to engage in more assertive speeches than feminine males, masculine females, feminine females, and androgynous females. The results of this study have limited generalizability, but suggest that expressed gender roles that are socialized into individuals are more salient than the physical sex of the individual.
---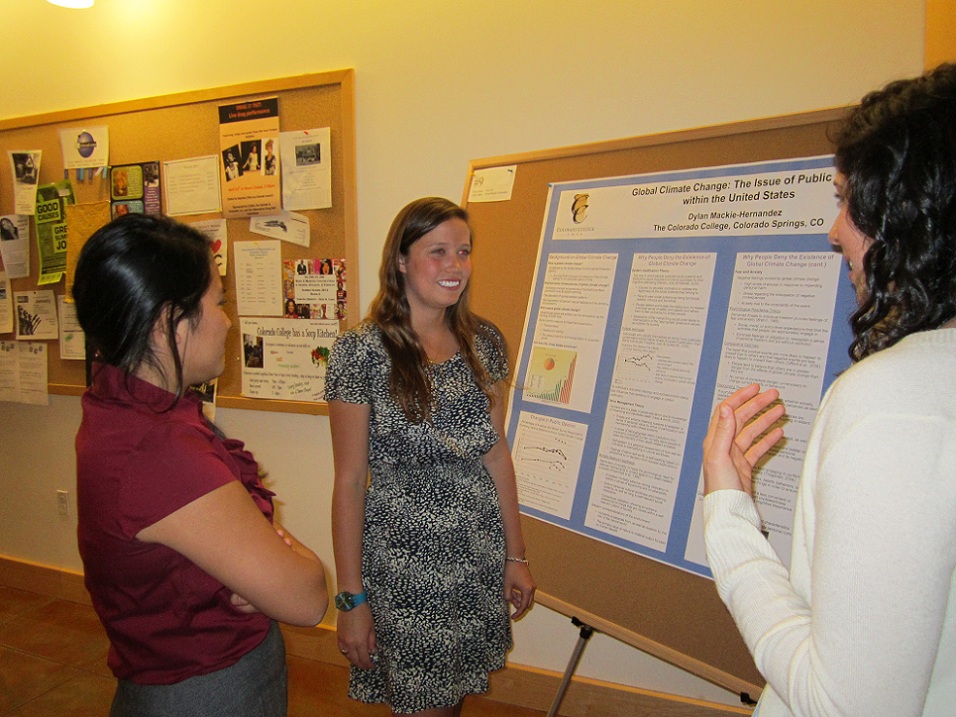 Dylan Mackie-Hernandez
Psychology
Advisor: Emily Chan
Global Climate Change: The Issue of Public Denial within the United States
The current paper examined existing literature regarding the possible psychological responses to global climate change and attempted to explain how and why people deny the problem. Although scientific evidence supporting the existence of global climate change is overwhelming, there has been a decrease in overall public concern as well as an increase in the number of people who do not believe that it exists. Rather than accommodating their personal attitudes to incorporate incoming information regarding environmental concerns, individuals may instead erect mental barriers to separate their beliefs from emerging scientific evidence. Motivation to create these barriers may be due to previous attitudes that lead to an aversion towards personal or social change, or due to coping strategies utilized to deal with fear and anxiety provoked by the issue. By examining the social, emotional, cognitive and ideological frameworks held by those who deny the existence of global climate change, we can better understand how to address the problem of disinterest and inaction regarding environmental conservation. With this information, we can work to reverse attitudes of disbelief and perhaps negate some of the negative effects that humans are imposing upon our planet.
---

Grace K. Maloney
Psychology
Advisor: Tomi-Ann Roberts
Gender Differences in Eye Gaze Patterns and the Ability to Discriminate Among Smiles
This study investigated gender differences in the ability to discriminate Duchenne from non-Duchenne smiles, and whether those differences are a function of variations in gaze-patterns. Research has shown that attention to the eyes is particularly important in identifying smiles. It has also been found that women outperform men in decoding facial expressions. The current study sought to explore whether these findings are related, with decreased attention to the eyes resulting in a lowered ability to discriminate smiles in men. Although women were found to be more accurate at discriminating smile types than men, this difference could not be attributed to differences in gaze patterns as men and women spent similar amounts of time gazing at the eyes and mouth. Further research is needed to identify the factors contributing to gender differences in the ability to discriminate smiles.
---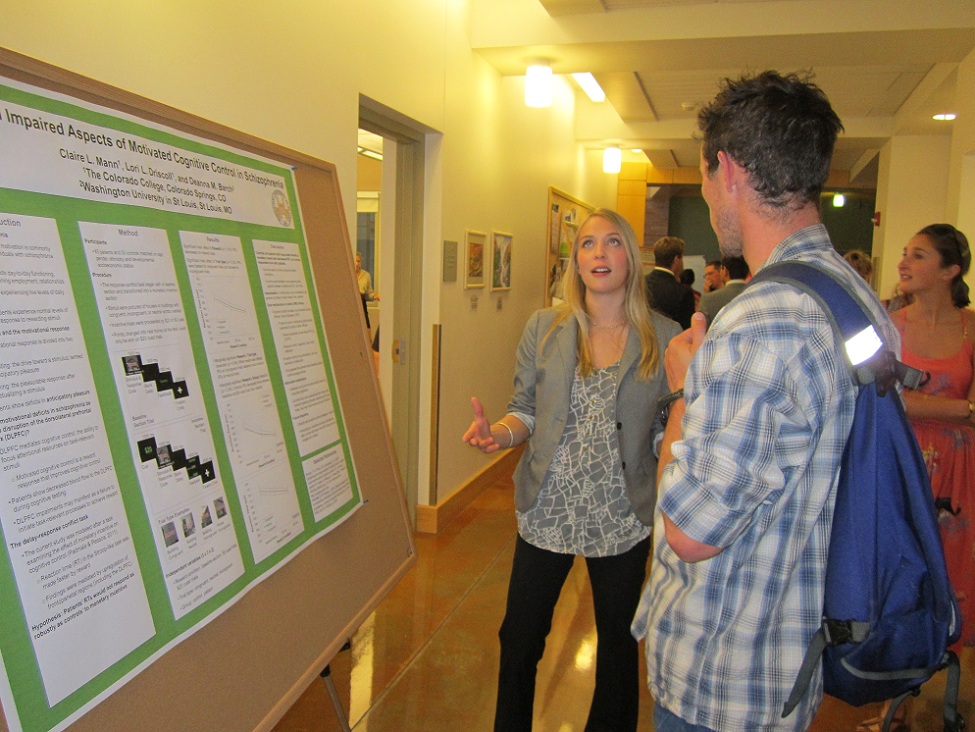 Claire L. Mann
Neuroscience
Advisor: Lori Driscoll & Deanna Barch
Spared and Impaired Aspects of Motivated Cognitive Control in Schizophrenia
The ability to upregulate cognitive control in motivationally salient situations was examined in individuals with schizophrenia (patients) and healthy controls. Forty-five adult patients and thirty-five healthy controls matched on gender, age, and ethnicity were recruited. A computerized monetary response conflict task required participants to identify a picture, over which was printed a matching (congruent), neutral, or incongruent word. After three blocks of baseline trials, participants were given seven blocks of incentive trials, in which they were initially informed that they could win money (creating motivation related to the context of reward). In addition, each incentive trial was immediately preceded by a monetary visual cue (creating motivation related to the cue). Both patients and controls responded robustly to monetary incentives with decreased reaction times (RTs) overall during the incentive trials. Controls' RTs changed more dramatically to the general context of reward (demonstrated by a decrease in RTs between baseline and incentive sections), suggesting a reliance on preemptive, efficient proactive control strategies. In contrast, patients' RTs were more strongly affected by individual reward-cued trials within the incentive section, implying the use of "just-in-time," short-term reactive control strategies. These findings may be indicative of proactive control strategy deficits in schizophrenia, although additional research will need to directly test this hypothesis.
---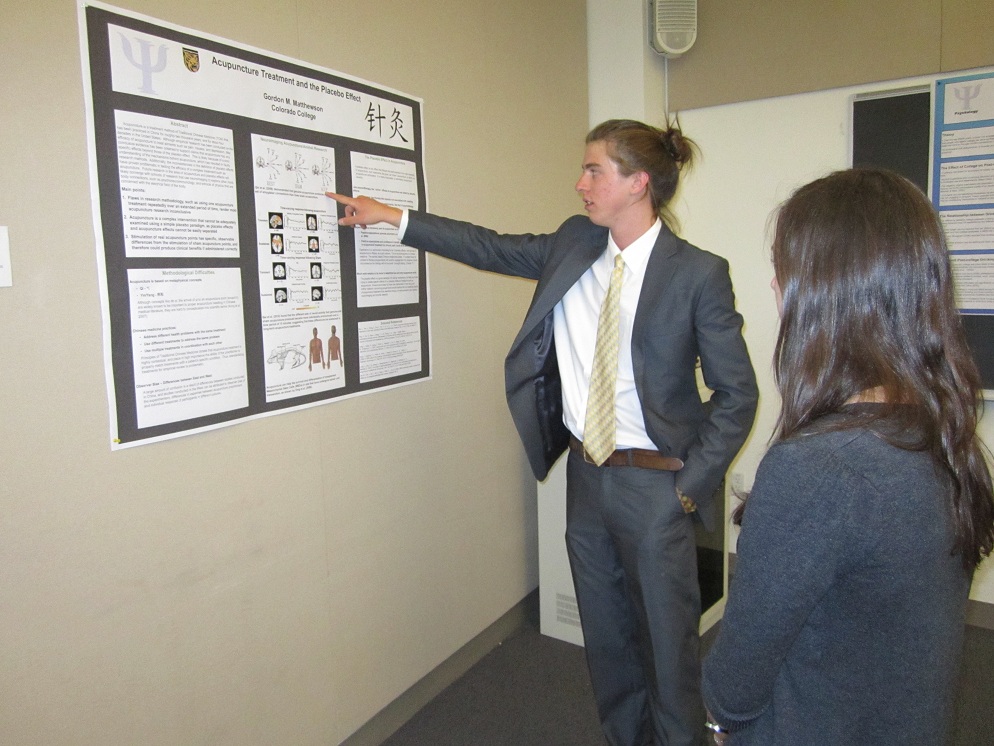 Gordon M Matthewson
Psychology
Advisor: Kristi Erdal
The Placebo Effect and Acupuncture Treatment
Acupuncture is a treatment method of Traditional Chinese Medicine (TCM) that has been practiced in China for roughly two thousand years, and for about four decades in the United States. Although empirical research has been conducted on the efficacy of acupuncture to treat ailments such as pain, nausea, and depression, little conclusive evidence has been obtained to support claims that acupuncture has any specific effects beyond those of the placebo effect. This is likely because of a poor understanding of the mechanisms behind acupuncture, which has resulted in faulty research methods. Additionally, the vast inconsistencies in the definition of placebo effects have proven problematic in testing the efficacy of a complex treatment such as acupuncture. Future research in the area of acupuncture and placebo effects will likely converge with schools of research that use neuroimaging to explore other mind-body connections, such as psychoneuroimmunology.
---
Samuel B. McCune
Neuroscience
Advisor: Bob Jacobs
The Localization, Morphology, and Function of Betz Cells
Betz cells are the largest neurons in the primary motor cortex, generally concentrated in the dorsomedial regions of the primary motor cortex. Betz axons constitute the largest and most rapidly conducting fibers in the corticospinal tract. Although similar in somal shape, Betz cell dendritic morphology is markedly different from that of other pyramidal neurons. An enhanced number of dendritic shafts may leave Betz perikarya from virtually any angle. Betz dendrites contribute to the formation of both apical and horizontal bundles, which appear to be intimately connected to function. Betz cells are phasically active before a movement is initiated. These spike volleys are thought to prepare the lower limbs for movement by inhibiting extensor tone and activating flexor tone. The preliminary activity of Betz cells subsequently recruits subpopulations of upper motoneurons, which are responsible for generating complex aspects of movement, through dendritic bundles. Future research on Betz cell should focus on studying Betz afferents at the spinal level, as virtually nothing is known about the termination patterns of Betz cell axons.
---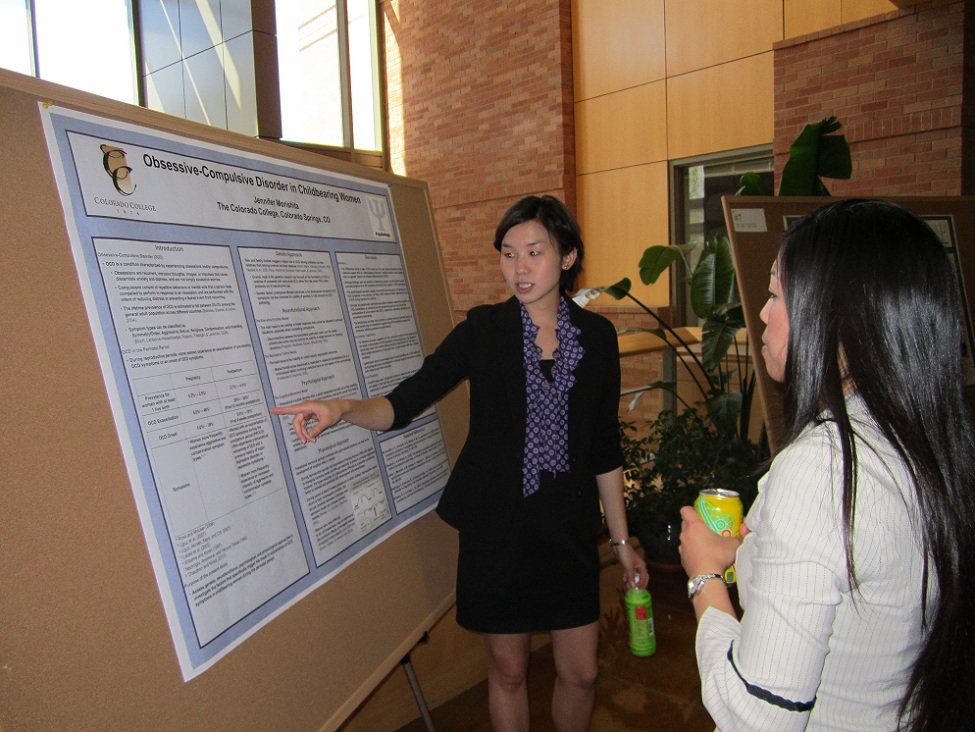 Jennifer M. Morishita
Psychology
Advisor: Bob Jacobs
Obsessive-Compulsive Disorder and the Female Reproductive Cycle
Obsessive-compulsive disorder (OCD) is a neuropsychiatric disorder that can affect individuals from childhood through adulthood. Previous research has focused on a manifestation of OCD specifically affecting the rapid onset or exacerbation of symptoms in women during certain perinatal periods, including pregnancy and postpartum. Investigations into the pathogenesis of this form of OCD explore potential psychological, genetic, neuroanatomical, and physiological factors. However, genetic and neuroanatomical findings should be interpreted with caution because studies were not specific to childbearing women. The psychological approach, including a cognitive-behavioral model, and the physiological approach, examining the influence of ovarian hormones and the serotonergic system on OCD, best support the suggested explanations of the relationship between OCD and the female reproductive cycle.
---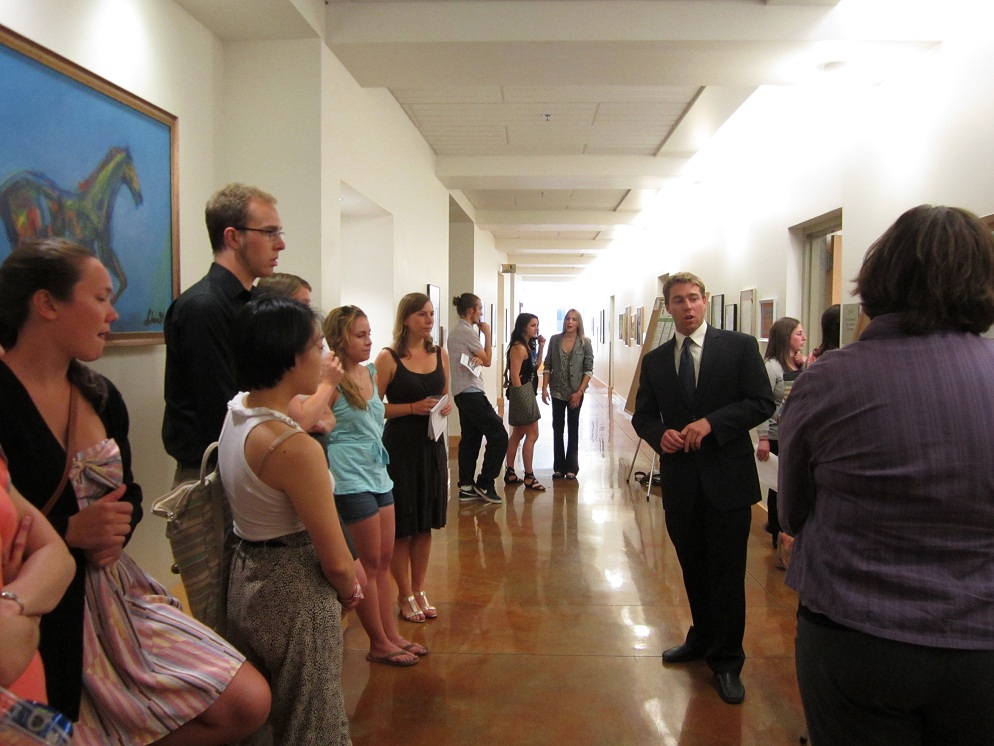 Jeffrey L. Nadel
Neuroscience
Advisor: Kristi Erdal
The Neuropsychological and Cognitive Impacts of Deep Brain Stimulation in Treating Parkinson's Disease
Parkinson's disease (PD), an idiopathic neurodegenerative disorder, affects approximately 1% of the world's population over the age of 50. It is characterized by bradykinesia, akinesia, rigidity, and resting hand tremors. Progressive cognitive impairment also accompanies the disease. Historically, treating PD has involved the administration of pharmacologic compounds. However, a recently developed neurosurgical technique known as Deep Brain Stimulation (DBS) has shown to be effective in reducing the motor pathologies of the disease. A growing body of literature suggests that DBS may result in neuropsychological complications, such as impairments in executive functions, memory, and global cognitive ability. This review examined those complications, the validity of their claims, and whether DBS should continue to be used widely for PD patients. Ultimately, amidst inconsistencies in the literature, DBS seems to be a highly successful technique in attenuating the cardinal symptoms of PD. Furthermore, there is little substantial evidence suggesting that DBS contributes to neuropsychological impairment beyond the typical progression of the disease.
---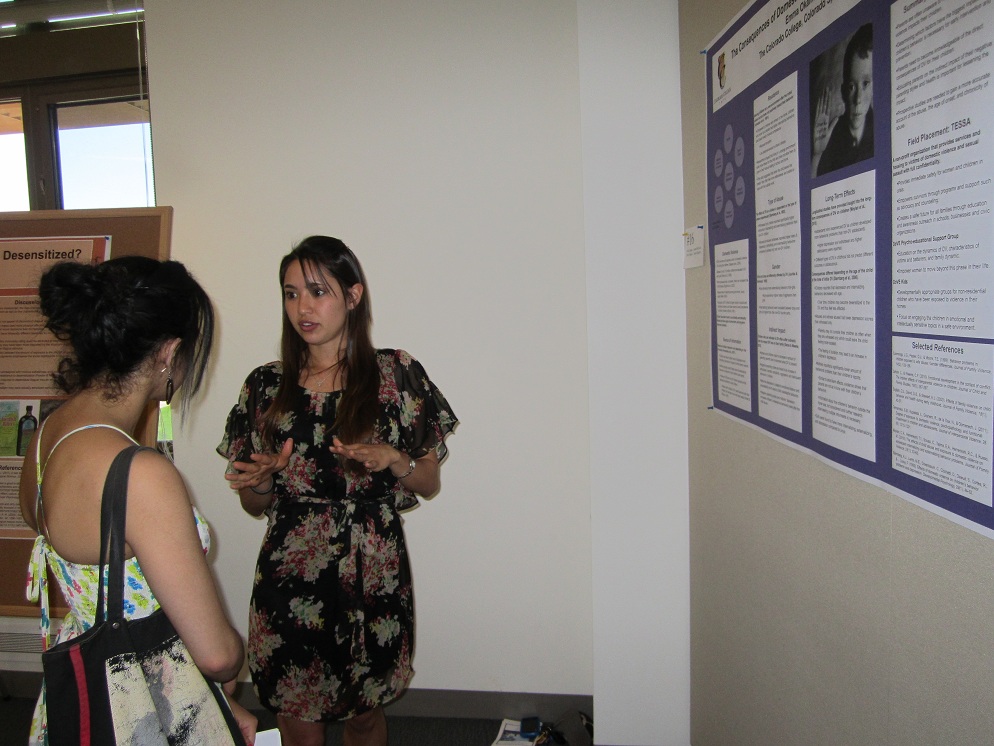 Emma Okamoto
Psychology
Advisor: Tricia Waters
The Consequences of Domestic Violence on Children's Behavior
Despite the vast research focusing on the consequences of domestic violence (DV) for children, little is known about the specific effects pertaining to children's behavioral development. Analysis of the research pertaining to DV and children's behavior was conducted. Children with a history of DV were found to have more behavioral problems than children with no DV history. Long-term and short-term consequences were examined and compared. Many factors, including gender, living situation, and type of informant or abuse, were found to impact children's DV experiences differently. Type and number of informants interviewed were consistently found to have the biggest impact on behavioral reports. The increase in different informants interviewed revealed that the change in children's behavior was subjective and did not reflect the child's own self-report. Future prospective studies incorporating multiple factors, i.e. age of onset, chronicity of abuse, and gender, are necessary for determining direct and indirect consequences of DV on children.
---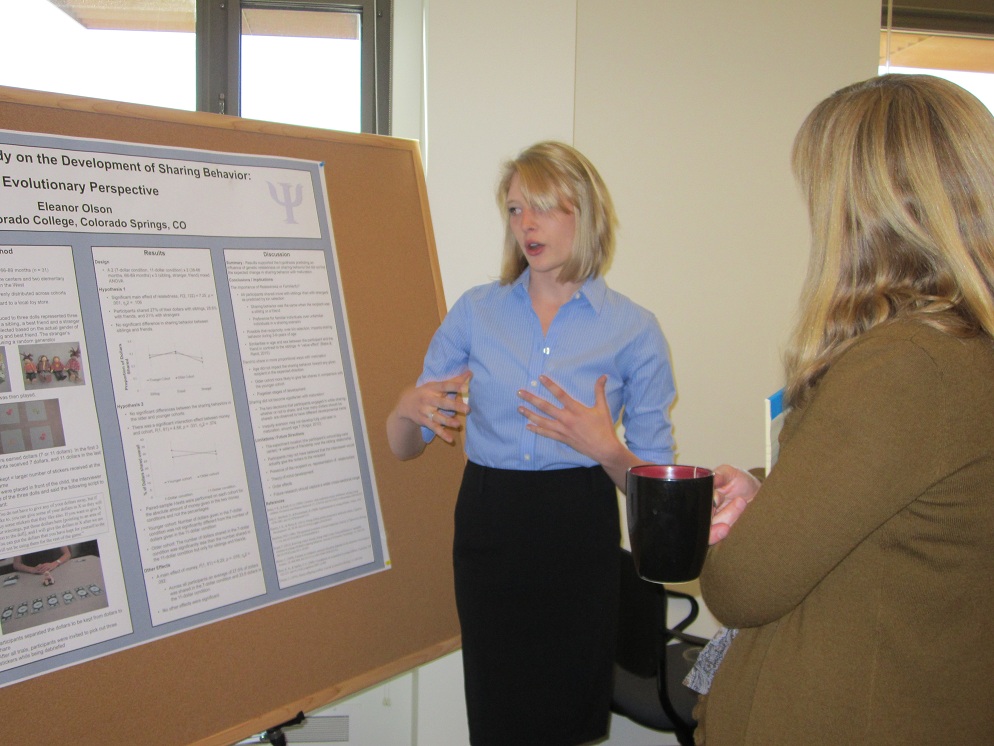 Eleanor Olson
Psychology
Advisor: John Horner
A Cross-Sectional Study on the Development of Sharing Behavior: An Evolutionary Perspective
Previous research has demonstrated that infants show innate preference for altruistic behavior. Environmental factors such as increased social exposure can influence the degree and direction of altruism with maturation. The theory of kin selection predicts that the relationship between the giver and receiver, of a sharing act, greatly impacts altruistic behavior. This study tests the effect of genetic relatedness on sharing behavior in a cross-sectional study. Sixty-three participants were divided into two age cohorts - 36-66 months and 66-89 months. The participants were asked to divide Monopoly dollars between themselves and three potential recipients - a sibling, a friend and a stranger - each represented by dolls. The results showed that sharing was significantly impacted by relatedness. Participants shared significantly more with kin than strangers. However, participants shared equally with friends and siblings, and sharing behavior did not change across cohorts. A number of alternative hypotheses are discussed that could explain the non-kin based sharing behaviors.
---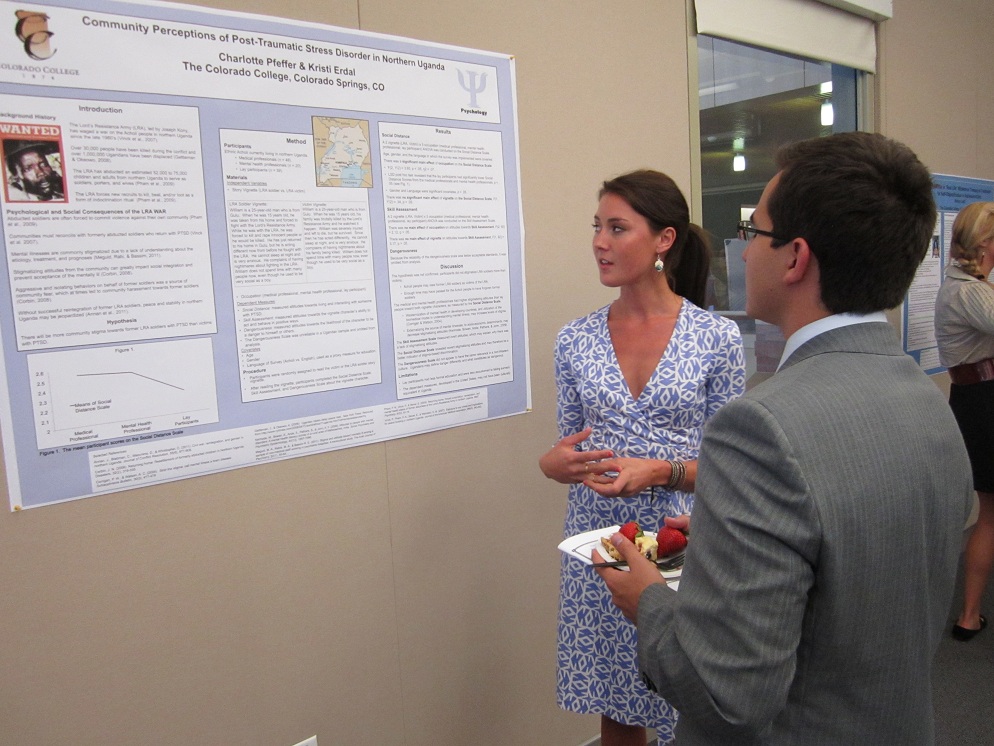 Charlotte Pfeffer
Psychology
Advisor: Kristi Erdal
Community Perceptions of Post-Traumatic Stress Disorder in Northern Uganda
In the aftermath of the recent war in northern Uganda, former soldiers from the Lord's Resistance Army (LRA) faced many challenges reintegrating into their former communities. Former LRA soldiers often returned home with post-traumatic stress disorder (PTSD), which exacerbated the social stigma of being in the LRA. The present study examined community attitudes toward former LRA soldiers with PTSD and compared them with attitudes toward victims with PTSD. It was hypothesized that there would be a greater negative bias towards former soldiers, due to their involvement with the LRA, particularly among lay participants who lacked education and information regarding the prognoses and treatment of the mentally ill. These attitudes could prevent successful reintegration of former LRA soldiers and pose a potential threat to peace and stability in northern Uganda. There was no significant difference in participants' attitudes towards LRA soldiers and victims. Lay participants were less stigmatizing than medical and mental health professionals. These findings suggest that the bio-medical explanation of mental illness, utilized by medical and mental health professionals in Uganda, may have adverse effects on attitudes towards the mentally ill.
---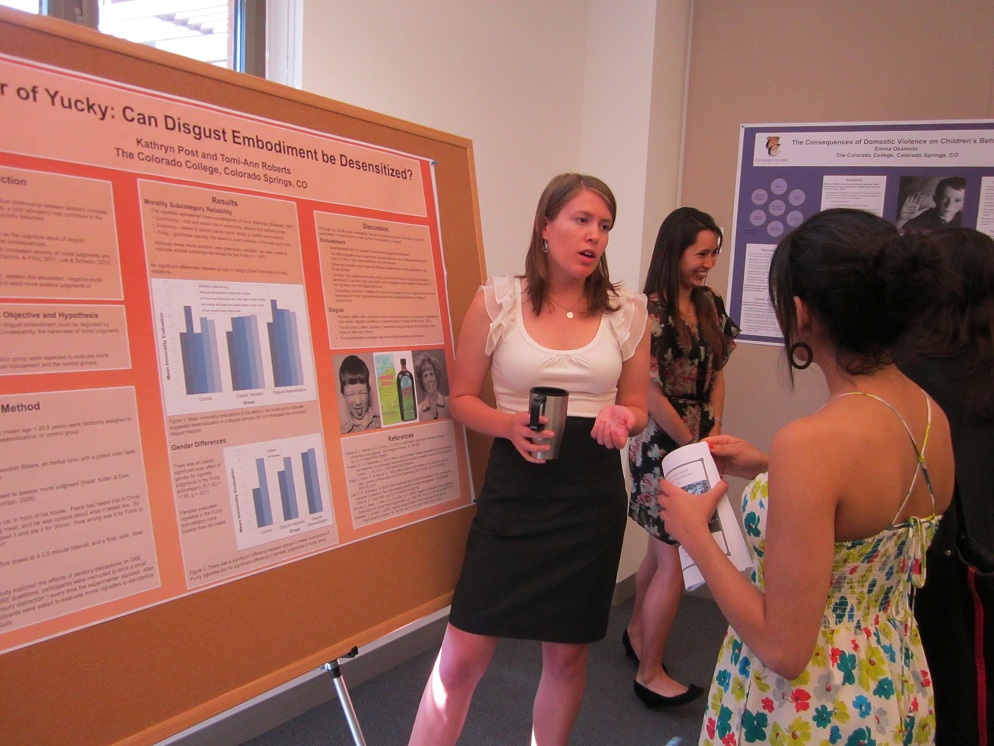 Kathryn Post
Psychology
Advisor: Tomi-Ann Roberts
The Power of Yucky: Can Disgust Embodiment be Desensitized?
Disgust embodiment often has cognitive results that manifest as negative associations which can have significant social consequences. Disgust primes have corresponded with increased judgment severity and negative evaluations of others. This phenomenon is salient in moral judgment situations which are strongly influenced by affective input—particularly disgust. The present study sought to decouple disgust embodiment reactions via desensitization to a disgust stimulus. Participants desensitized to disgust were expected to rate moral vignettes less harshly than those in the control and disgust induction groups. Results demonstrated the opposite of what was expected: increased disgust exposure corresponded with harsher moral judgments. There were significant gender effects; females evaluated vignettes more severely than males but showed little difference in judgments between experimental groups. Males showed a positive correlation between amount of disgust exposure and perceptions of immorality. These findings illuminated gender differences in disgust embodiment and emphasized the foundational relationship between disgust and morality.
---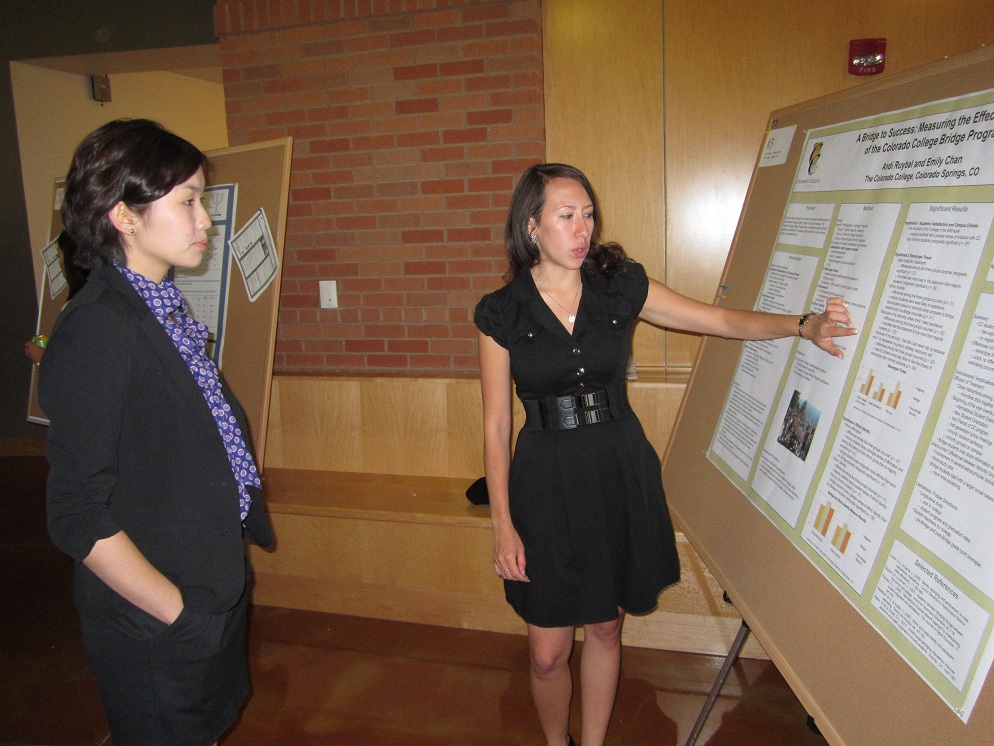 Andi Ruybal
Psychology
Advisor: Emily Chan
A Bridge to Success: Measuring the Effectiveness of the Colorado College Bridge Program
This study was conducted in an effort to evaluate the effectiveness of the Colorado College Bridge Program on student success. Although some statistically significant differences existed among majority students, Bridge students, and non-Bridge minorities, overall each group had essentially the same college experiences. Aspects of success such as academic satisfaction and campus climate, presence or absence of stereotype threat, self-esteem, ethnic identity, beliefs in malleability of intelligence, and mental well-being were examined. Some significant and marginally significant differences occurred in majority students having more academic and campus climate satisfaction and minority students reporting higher levels of stereotype threat, ethnicity based discrimination, ethnic affirmation, and ethnic identity. Ethnic affirmation and identity were the only areas with marginally significant differences between Bridge minorities and non-Bridge minorities. Bridge students held higher levels of ethnic affirmation and a stronger sense of ethnic identity.
---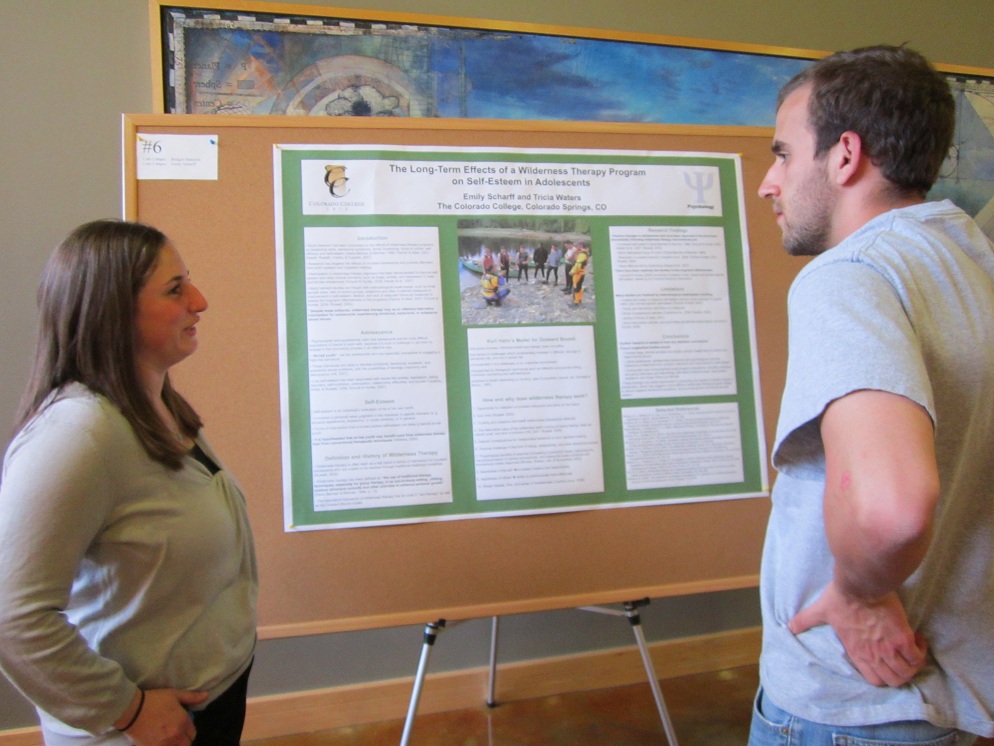 Emily Scharff
Psychology
Advisor: Tricia Waters
The Long-Term Effects of a Wilderness Therapy Program on Self-Esteem in Adolescents
Current psychological research suggests that wilderness therapy may be an effective treatment modality for troubled, at-risk adolescents. Various wilderness therapy programs have been demonstrated to improve self-esteem, locus of control, behavioral symptoms, and other clinical concerns. Potential benefits of these programs include opportunity for reflection, solo time, small group interpersonal interactions, physical challenge, the wilderness itself, and individual as well as group therapy. The success of these programs is well-documented, but is not well-understood. Many studies are hindered by methodological weaknesses such as small sample size, attrition, inadequate assessments of self-esteem, and lack of follow-up measures. The purpose of the present article is threefold: a) to provide an integrated review of past research in this field, b) to describe the mechanisms behind the reported outcomes, and c) to assess the long-term effectiveness of wilderness therapy interventions. Further research is needed to draw definitive conclusions and to determine how to incorporate techniques used in wilderness therapy into standard adolescent treatment plans.
---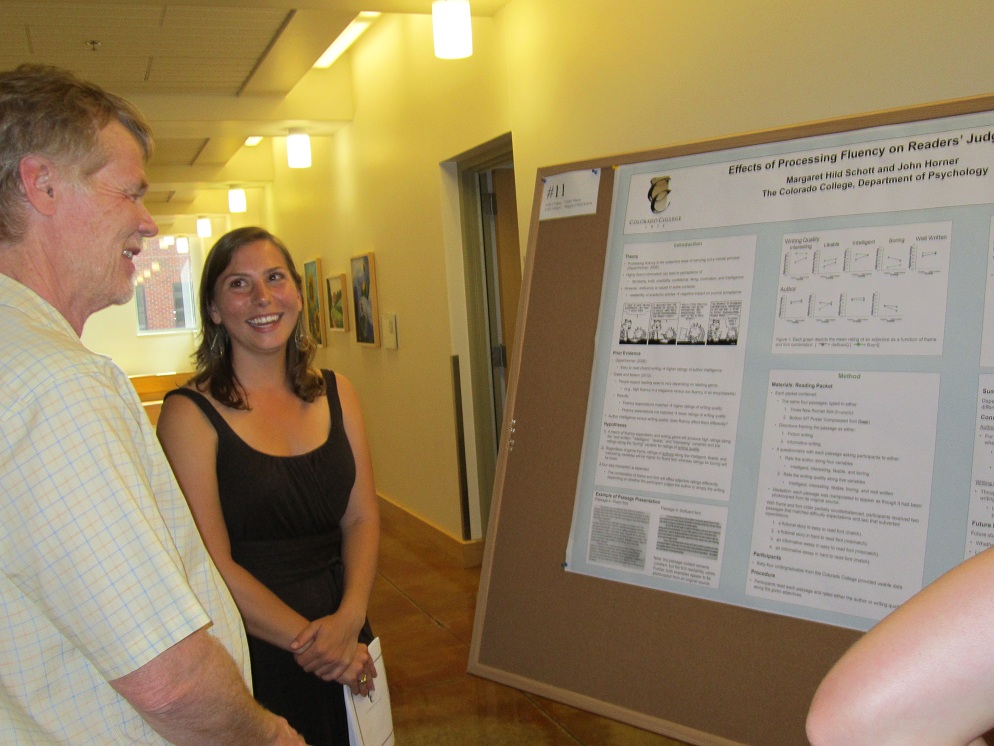 Margaret Hild Schott
Psychology
Advisor: John Horner
Effects of Processing Fluency on Readers' Judgments
Research suggests that participants rate authors of a text as more intelligent when that text is easy to read (fluent), regardless of writing genre (Oppenheimer, 2006). However, other research has demonstrated that participants' expectations of fluency vary depending on genre (Galak & Nelson, 2010). When the fluency of a text matches expectations for a genre, participants rate it as higher quality writing. The present study examines how meeting or violating text fluency expectations influences participants' judgments of writing quality as opposed to the judgments about the author. Participants read four passages presented as either fiction or informative writing in either fluent or disfluent font, and rated the writing quality or the author along several dimensions. Results revealed that participants judged writing quality as more interesting, likable, and intelligent when given a fluent font, and rated authors as more interesting and likable when their fluency expectations were not met.
---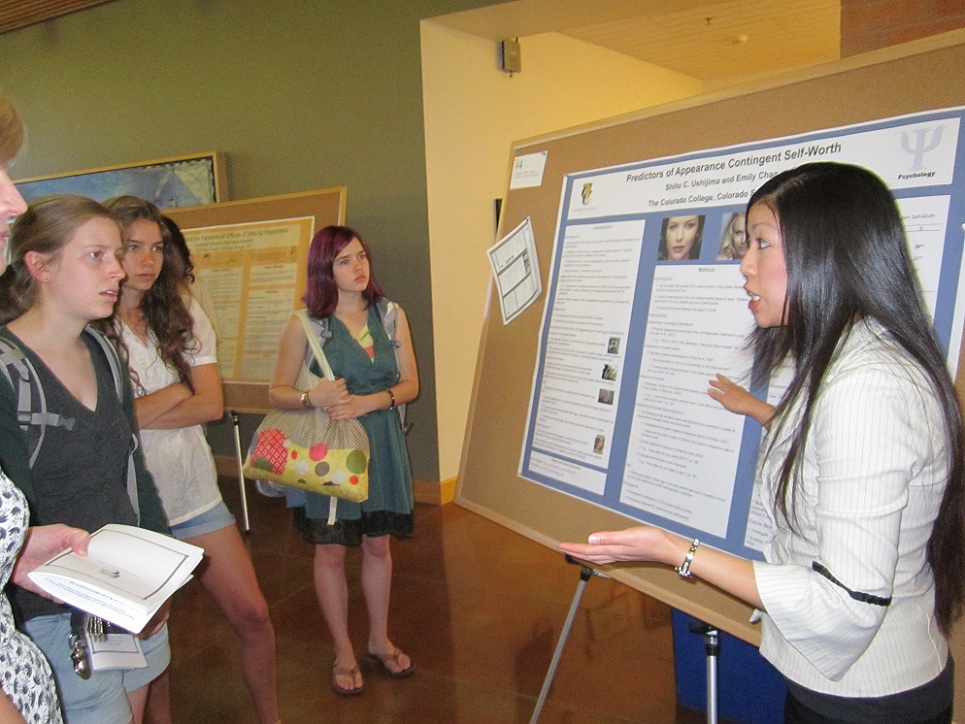 Shiho C. Ushijima
Psychology
Advisor: Emily Chan
Predictors of Appearance-Contingent Self-Worth
Researchers have found that basing one's self-worth on physical appearance can lead to a variety of negative outcomes including depression and eating disorders. While numerous studies have investigated the consequences of appearance contingent self-worth, few studies have examined its predictors. In this study, we examine whether attachment anxiety, investment in gender ideals, appearance focused media exposure, and age predict appearance contingent self-worth in women. A total of 294 women between the ages of 18-69 completed an online survey. Results indicated that a regression model with the proposed predictors was a good fit. Furthermore, investment in gender ideals and attachment anxiety were the best predictors of appearance contingent self-worth. In light of these findings, we discuss potential ways to decrease appearance contingent self-worth in women.
---
Devin M. Wahl
Neuroscience
Advisor: Bob Jacobs
Comparative Neuromorphology of Florida Manatee, Giraffe, African Elephant, and Human Cerebellar Cortex
Although the cerebellum has been widely investigated, particularly in terms of gross anatomy, neuron types, and their interconnections, little is known about quantitative and qualitative neuronal variation across species. To this end, the current study provides the first documentation of cerebellar neuronal morphology across four species: (1) Florida manatee (Trichechus manatus latirostris), (2) giraffe (Giraffa camelopardalis), (3) human, and (4) African elephant (Loxodonta africana). Cerebellar tissue was stained with a modified Golgi technique. Granule, Golgi, Lugaro, stellate, and basket neurons were quantified on a Neurolucida computer-assisted microscopy system (MBF Bioscience). Qualitatively, there were no distinct morphological differences in neurons across species. Quantitatively, dendritic complexity generally increased in the following manner: manatee < giraffe < human < elephant. This increase in cerebellar dendritic complexity for humans and elephants may be associated with the intricate motor dexterity exhibited by these two species.
---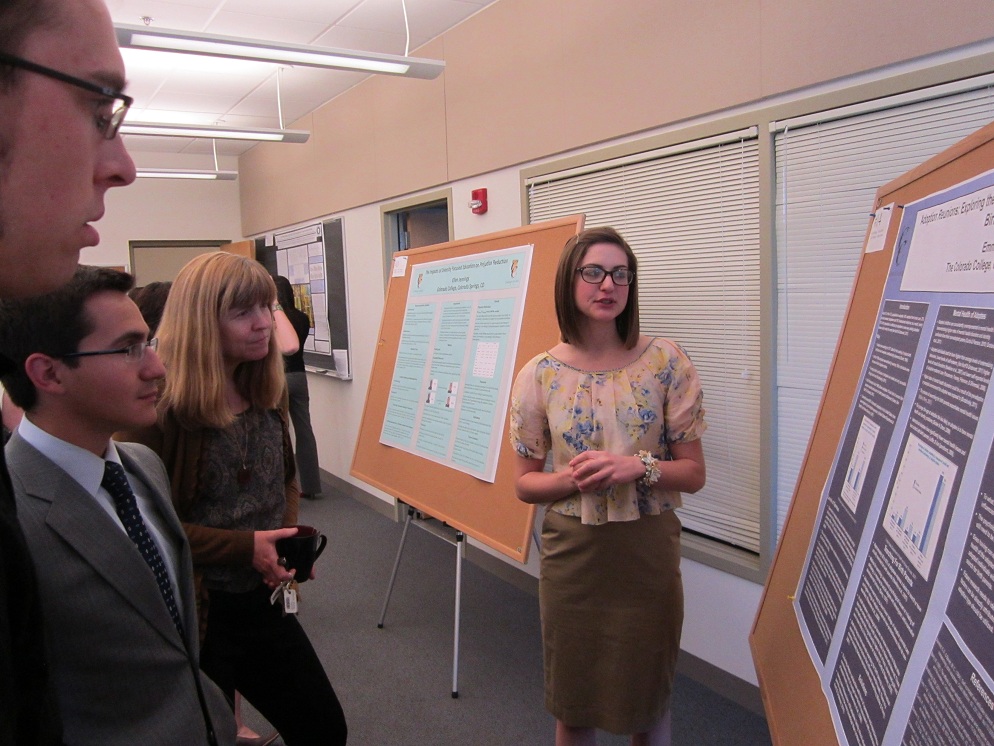 Emma Ward
Psychology
Advisor: Lori Driscoll
Adoption Reunions: Exploring the Psychological Impact of Contact with Birth Parents
Child adoption policies and practices in the United States have been actively changing throughout the last four decades, moving from fully closed adoptions to adoptions with varying levels of contact with birth parents. More research is needed to identify the potential mental health and adjustment risks associated with adoption and post-adoption contact with birth parents. The rise in open adoptions leads to a corresponding rise in adoptees searching for their biological parents. Whether post-adoption contact with birth parents is psychologically beneficial or detrimental to the adopted individual is a subject of much debate. This paper reviews the literature on the implications of adoption, openness in adoption and searching for biological parents for psychological well-being in adoptees. Discovering how adoption affects the adopted individual is important for shaping adoption policy, practice and psychological treatment.
---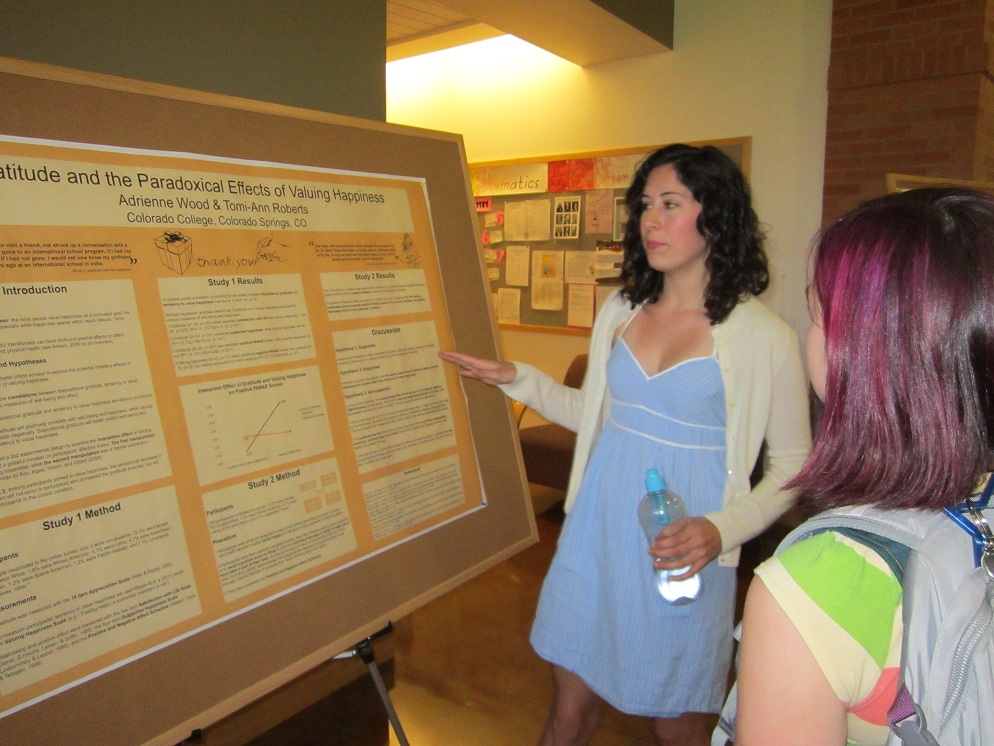 Adrienne Wood
Psychology
Advisor: Tomi-Ann Roberts
Does Happiness Come to Those Who Say Thanks? Gratitude and the Paradox of Valuing Happiness
Being happy is a universally valued goal and an important aspect to psychological well-being, and yet obtaining it can be a lifelong challenge. Studies show that actively pursuing happiness is often self-defeating and valuing happiness as a desirable goal can actually inhibit achieving it. Previous research on gratitude suggests that being grateful may be the simplest and most effective approach to promoting life satisfaction and sense of coherence. Therefore, the current research explored gratitude as a potential inhibitor of the negative impact of valuing happiness on subjective well-being in college students. The first study established that dispositional gratitude and tendency to value happiness operate as distinct traits and that gratitude better predicts most measures of well-being and happiness. The second study employed a 2x2 between-subjects design to examine the hypothesis that a gratitude exercise following a valuing happiness prime would prevent the paradoxical decrease in positive affect. However, the experiment revealed that combining valuing happiness and a gratitude exercise actually reduces the beneficial components of both variables. Potential explanations and implications are explored.
---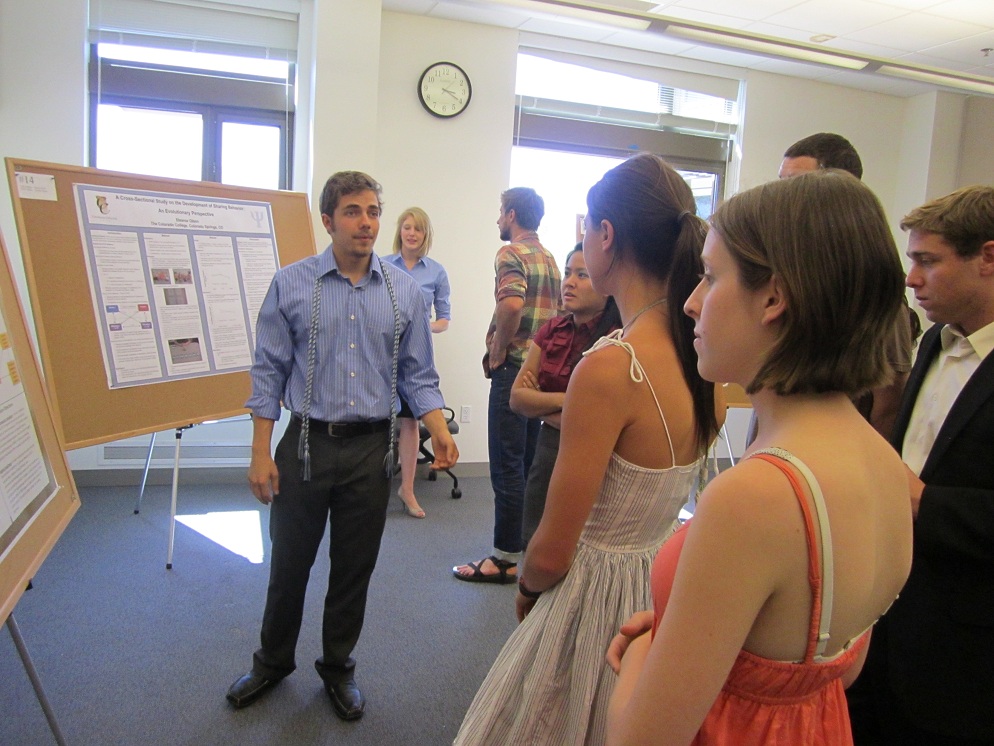 Zachary E. Zeidler
Neuroscience
Advisor: Lori Driscoll
The Effectsof Acute Neonatal DE-71 Exposure on Sustained Attention: Baby, You Are What You Eat
Polybrominated diphenyl ethers (PBDEs), flame retardant additives ubiquitous in durable goods manufactured prior to 2005, easily detach from products and accumulate in the environment. For humans, sources of PBDE intake vary depending upon their developmental stage. Infants obtain high quantities of PBDEs through breast milk and house dust consumption via frequent hand-to-mouth behavior compared to adults, who are exposed through meat consumption and inhalation. Once ingested, PBDEs disrupt neuronal functioning and reduce thyroid hormone levels, significantly and adversely impacting the developing cholinergic system. To elucidate the effects of PBDE exposure on sustained attention, which depends upon intact cholinergic function, Long-Evans rats were administered either 30 or 60 mg/kg/body weight per day of DE-71, a mixture of various PBDE congeners, or a corn oil vehicle during postnatal days (PNDs) 6-12. Half of the exposed subjects received levothyroxine (LT4) supplementation at 6 µg/kg body weight per day promptly following DE-71 administration. On PND 30, subjects were trained on a series of 5 choice serial reaction tasks which culminated in a test of sustained attention. Results indicate no effect of DE-71 exposure or LT4 supplementation on sustained attention. The lack of impairments may be due to functionally masked abnormal cholinergic development. The continued difficulty of distinguishing PBDE's effects on developing organisms emphasizes the need to further understand this persistent environmental contaminant.
---
This is the Department of Psychology
Browse all Departments & Programs
​