2011
List of Presenters
---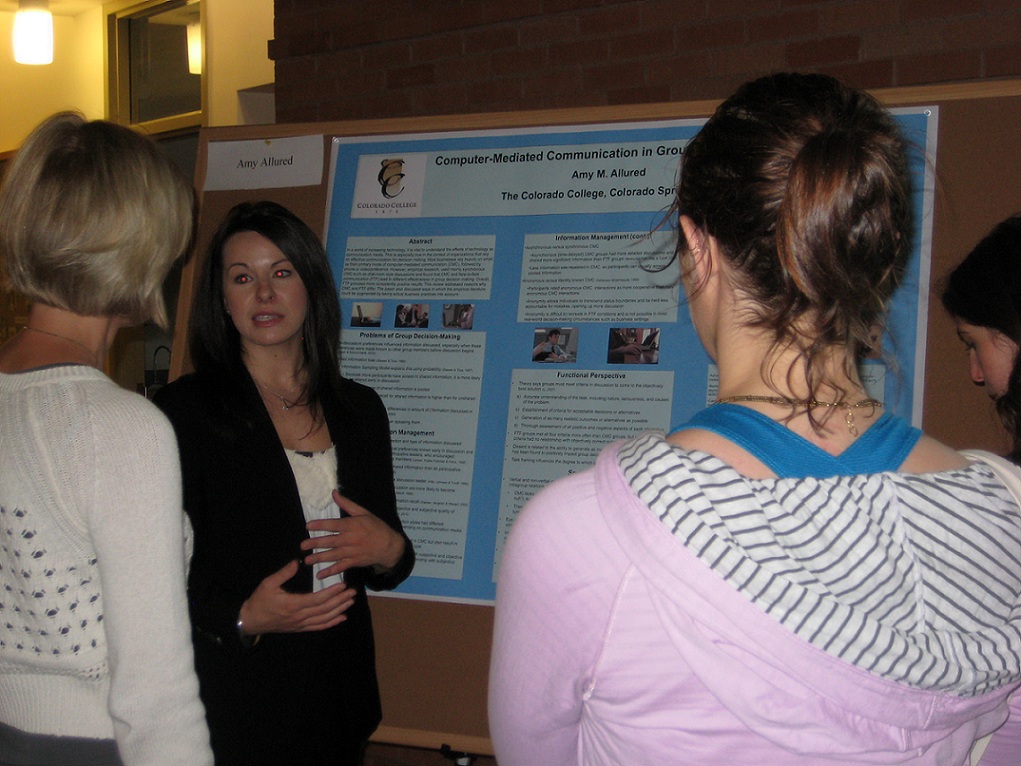 Amy M. Allured
Psychology
Advisor: Emily Chan
Effectiveness of Computer-Mediated Communication in Group Decision-Making
In a world of increasing technology, it is vital to understand the effects of technology as communication media. This is especially true in the context of organizations that rely on effective communication for decision making. Most businesses rely heavily on email as their primary mode of computer-mediated communication (CMC), followed by phone or videoconference. However, empirical research used mainly synchronous CMC such as chat-room style discussions and found that CMC and face-to-face communication (FTF) lead to different effectiveness in group decision making. Overall, FTF provided more consistently positive results. This review addressed reasons why CMC and FTF differ. The paper also discussed ways in which the empirical literature could be augmented by taking actual business practices into account.
---

Cameron Brown
Psychology
Advisor: Emily Chan
Optimizing Environmental Education
This thesis was written for the purpose of optimizing environmental education (EE) at the elementary school level in the 21st century. Findings and ideas from research in the realms of developmental and social psychology were reviewed in order to more fully understand the science of psychology's application to and relationship with environmental education. Ultimately, the current federal education mandate was viewed through a critical lens and in the context of EE, utilizing pertinent findings regarding optimal educational experiences and childhood development to point out the mandate's flaws. It was postulated than the most effective EE curriculum would offer elementary age children many opportunities to use their hands and senses, engage in dialogue in the classroom, and participate in competence-building experiences in the greater community. The author's own ideas for EE lessons and recommendations were interspersed throughout the text.
---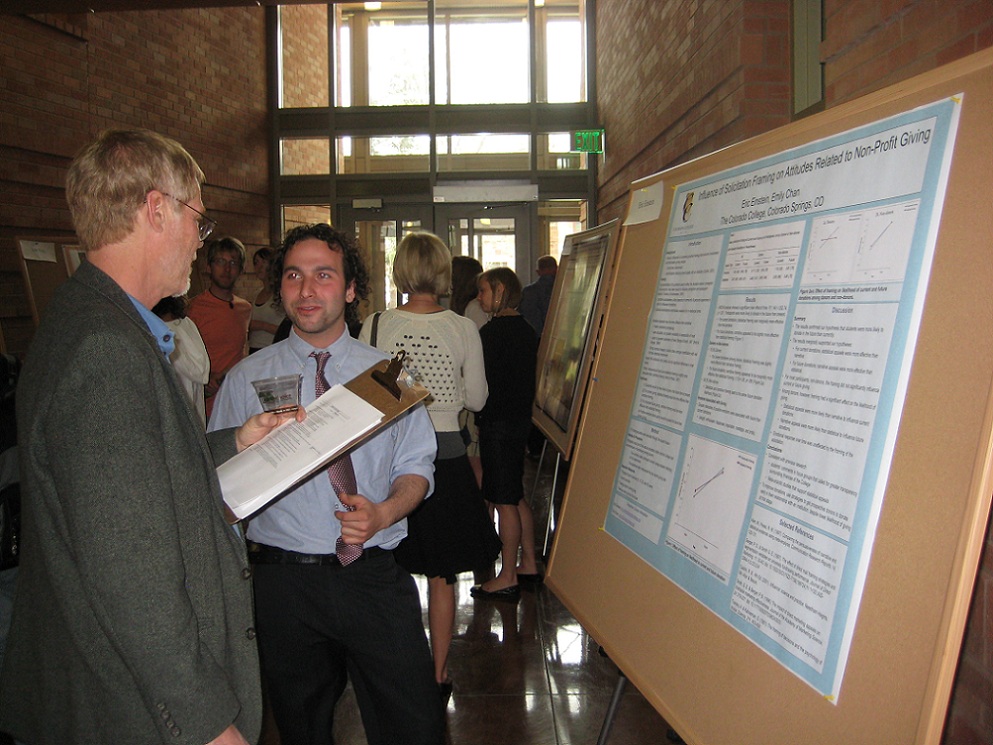 Eric Einstein
Psychology
Advisor: Emily Chan
Influence of Solicitation Framing on Non-Profit Giving
Researchers have long attempted to understand motivation for charitable giving. Whether a solicitation is framed narratively or statistically may influence responses to charitable solicitations. The current study focused on students and examined the effect of solicitation framing (narrative vs. statistical) for current and future contributions to a college. The results confirmed our hypothesis that students were more likely to donate in the future than currently, and positive emotions were more related to future than current giving. The solicitation framing did not influence emotional response, but did influence future likelihood that previous donors would give. Overall and among student non-donors, manipulation of solicitation framing did not affect the likelihood of giving, either in the present or the future, although for current donations, statistical appeals were marginally more effective than narrative. Among donors, statistical frames were more effective than narrative appeals on current donations, and narrative appeals were more effective than statistical on future donations. Our findings support the importance of getting prospective donors to donate small amounts early in their relationship with an institution.
---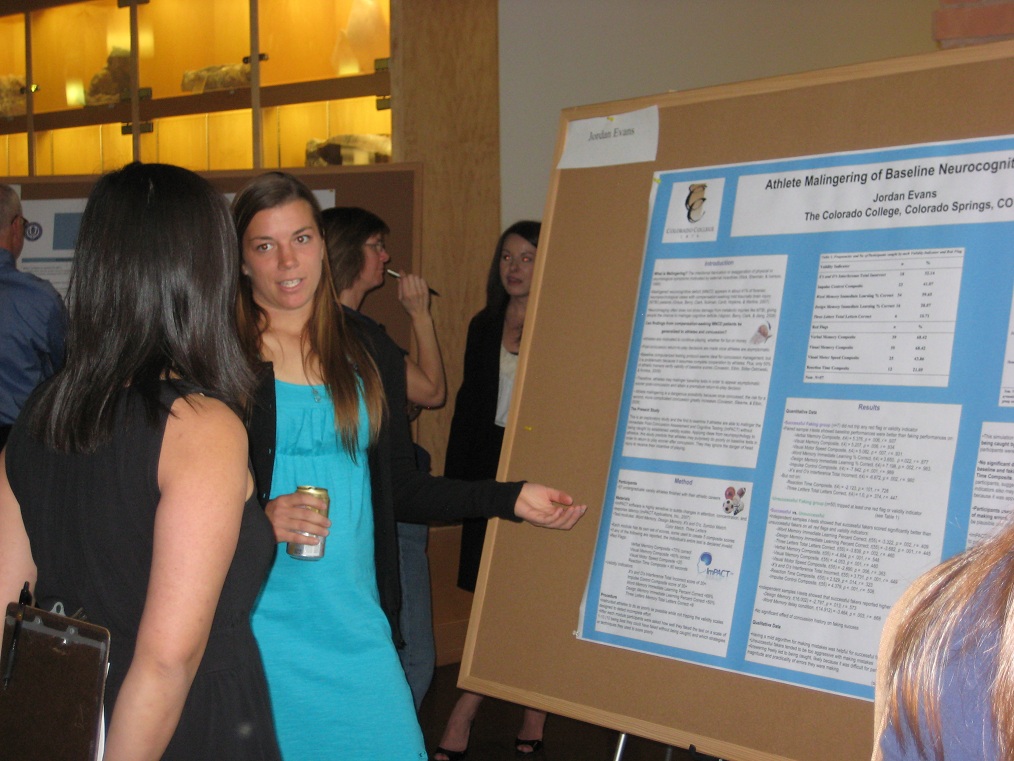 Jordan Evans
Psychology
Advisor: Kristi Erdal
Athlete Maligering of Baseline Neurocognitive Tests
Mild traumatic brain injuries (MTBIs) can be difficult to diagnose and measure, giving patients the opportunity to malinger and feign a certain appearance. Malingering is the intentional fabrication or exaggeration of physical or psychological symptoms, motivated by external incentives. Athletes potentially have motivation to malinger baseline neurocognitive tests in order to pass post-injury tests and quickly return to play. Establishing poor baselines would make post-concussion brain functioning appear less impaired and facilitate the return of normal scores, without waiting for recovery. The present simulation study examines the potential for athlete malingering by instructing undergraduate athletes to attempt scoring poorly on the Immediate Post-Concussion Assessment and Cognitive Testing (ImPACT), without being caught by validity scales designed to detect incomplete effort. Seven of the 57 participants scored significantly worse than baseline without being detected. Establishing realistically low scores was done best by mild patterns of error making that allowed for better tracking of performance. Evaluations of validity scales suggest that Three Letters Total Letters Correct and Reaction Time Composite scores be revised. These caught the least number of participants and were the only scores that did not significantly differ between the successful faking group's baseline and experimental data. Concussion history did not affect faking success, while reported confidence had an effect for two modules. Overall results suggest that athletes have the potential to malinger baseline tests without being caught, and that ImPACT should improve malingering detection methods to deter this behavior.
---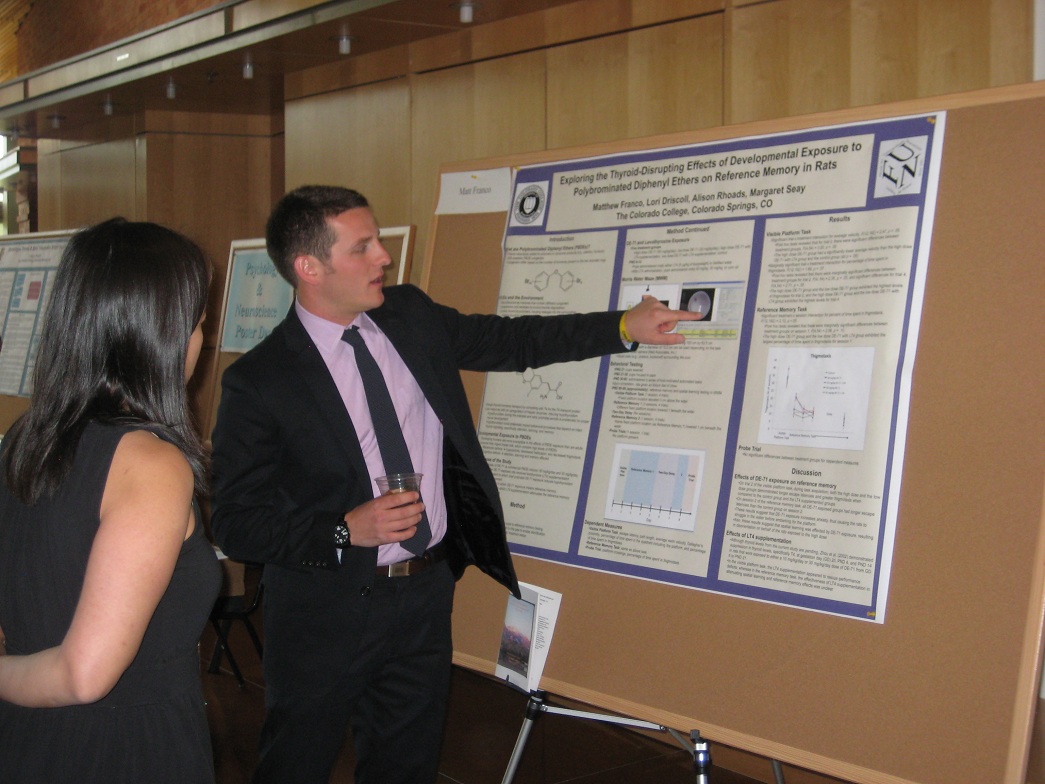 Matthew A. Franco
Neuroscience
Advisor: Lori Driscoll
Exploring the Thyroid-Disrupting Effects of Developmental Exposure to Polybrominated Diphenyl Ethers on Reference Memory in Rats
Polybromintated diphenyl ethers (PBDEs) are flame retardants added to polymer products during manufacturing. They are ubiquitous in the environment due to their propensity to leach out of materials, and they bioaccumulate in animals and humans. Possible toxicological properties of PBDEs are still being investigated. In the current study, the effects of daily oral administration of the penta-BDE mixture DE-71 (30 or 60 mg/kg/day bodyweight) from PND 6 to PND 12 on spatial learning and reference memory were explored in male Long-Evans rats. Half of the rats exposed to DE-71 were co-administered levothyroxine (LT4) to determine if any of the effects of DE-71 were thyroid-dependent. The rats performed three tasks in the Morris water maze (MWM): visible platform task, reference memory task, and probe trial. Poorer MWM performance was observed in the DE-71 exposed animals for a brief period in the visible platform and reference memory tasks. The pattern of effects could be due to high anxiety, which would cause delayed acquisition, or to spatial learning impairment. The efficacy of LT4 supplementation was unclear. Future research should continue to define the parameters of response to DE-71 on MWM performance, and then attempt attenuation of effects via LT4 supplementation.
---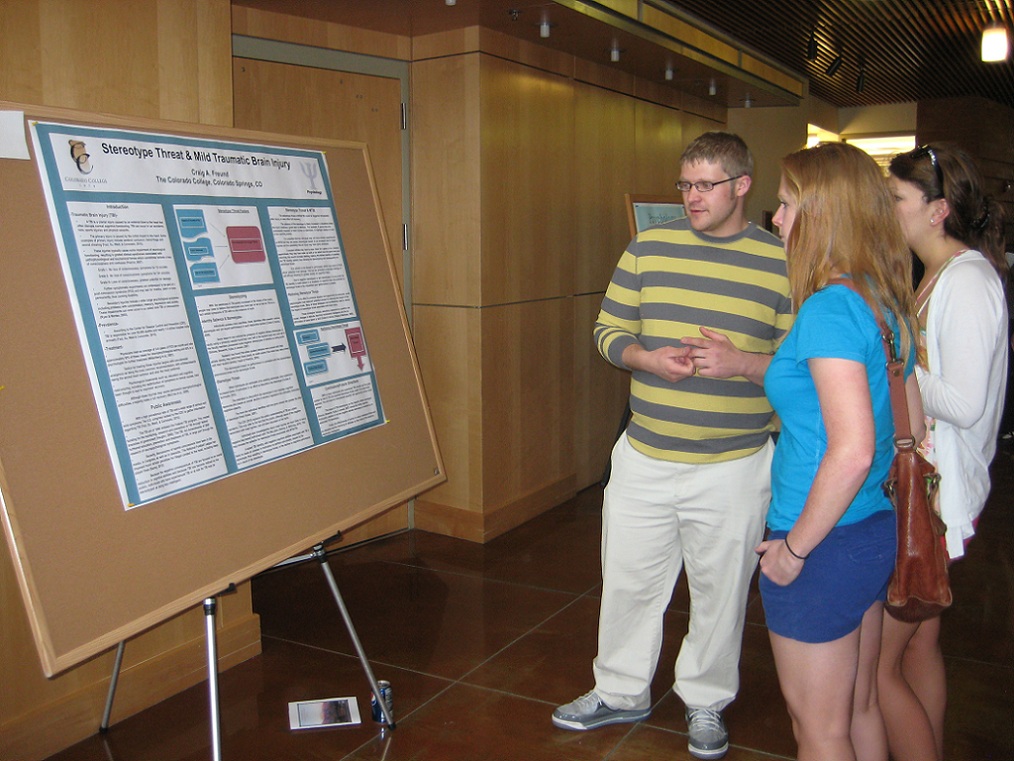 Craig A. Freund
Psychology
Advisor: Emily Chan
Stereotype Threat and Traumatic Brain Injury
Research has focused on exploring different domains impacted by stereotyping. Stereotypes have been found to negatively affect the performance of those susceptible to these stereotypes. Stereotype threat is a decline in performance as a result of anxiety associated with the concern for confirming the stereotype. In recent years, the media as well as federal programs have effectively exposed the dangers associated with traumatic brain injuries (TBI). Exposure has led to the acknowledgment of many neuropsychological problems associated with head injuries, but also an increase in the accessibility of stereotypes associated with TBI; therefore, leading to the potential stereotyping of individuals who have experienced TBI or who are at risk for TBI. As a consequence, these individuals are likely at risk for the stereotype threat associated with TBI. This literature review explores the potential for stereotype threat associated with TBI and suggests a need for research concerning stereotype threat and TBI.
---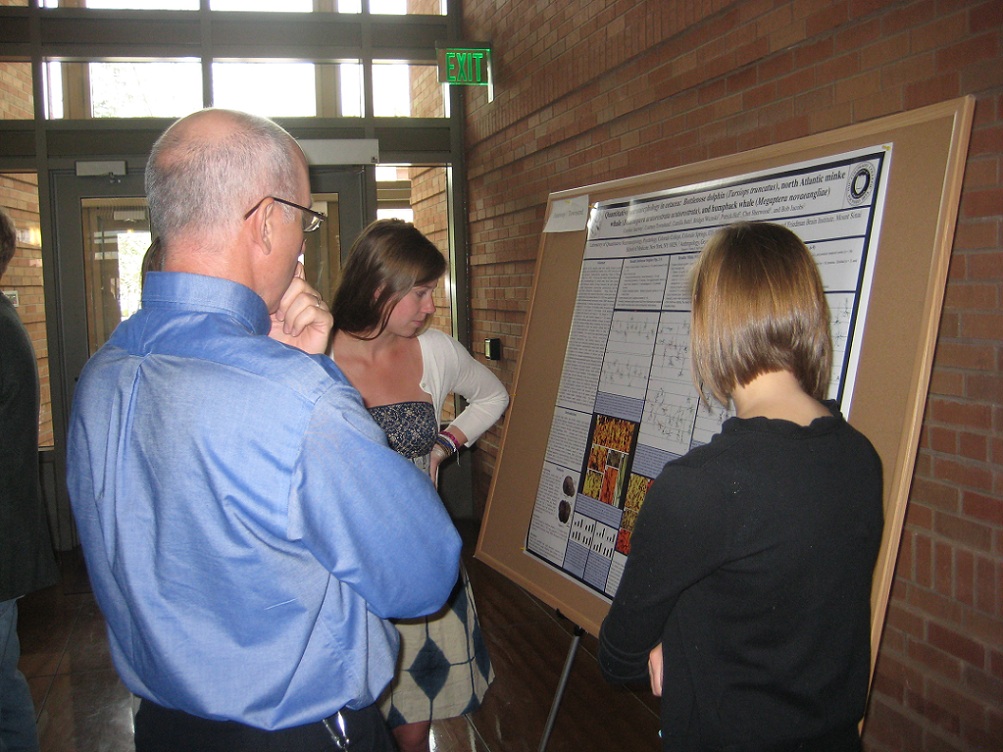 Caroline Janeway &
Courtney Townshend
Neuroscience
Advisor: Bob Jacobs
Quantitative Neuromorphology in Cetacea: Bottlenose Dolphin (Turisops truncatus), North Atlantic Minke Whale (Balaenoptera acutorostrata), and Humpback Whale (Megaptera novaeangliae)
Investigations of the cetacean cortex have mainly focused on gross neuroanatomy and cytoarchitecture, with only a few exploring qualitative somatodendritic morphology. To this end, the current study documents the quantitative neuromorphology of cortical areas in the bottlenose dolphin, the minke whale, and the humpback whale. Tissue blocks were removed from several cortical areas and Golgi stained neurons (N = 210) were quantified on a Neurolucida computer-assisted microscopy system. Qualitatively, all three species exhibited a diversity of complex neurons, including those that appeared more pyramid-like to those that radically differed from the "typical" (i.e., primate/rodent-like) pyramidal neuron in terms of morphology and/or orientation. Five neuron types approximated general pyramidal neuron morphology (e.g., general pyramidal, extraverted, magnopyramidal, multiapical, and bitufted neurons), with a predominance of typical and extraverted pyramidal neurons. Both superficial pyramidal and magnopyramidal neurons frequently exhibited a tri-tufted neuronal variant. Magnopyramidal neurons, found in both visual and motor cortices, respectively appear to be cetacean corollaries of Meynert and Betz neurons. Horizontal and inverted pyramidal neurons exhibited "atypical" (e.g., horizontal or inverted) orientations of the apical dendrite. Among the more "atypical" spiny neurons in cetacean cortex were Sternzelle, which possessed no discernable apical dendrite. Finally, aspiny interneurons appeared to be morphologically consistent with those in other mammals. Quantitative analysis indicated that neuronal size and complexity increased as the brain/body size of the species increased (dolphin < minke < humpback). The current study suggests that cetacean cortex exhibits a level of neuronal complexity similar to that of large-brained, terrestrial mammals.
---
Colleen R. Keresey
Psychology
Advisor: Kristi Erdal
Fair Play? Examining the Consequences of Collegiate Athletics
Participation in intercollegiate athletics has presented student-athletes with both costs and benefits. Negative media coverage has led many to believe that the costs of participation in collegiate athletics outweigh the benefits. Participating in collegiate athletics may also come at the expense of the student-athlete's psychological health and academic success. Research has shown that participating in intercollegiate athletics may provide benefits as well. Student-athletes reported greater levels of self-esteem and well-being, along with greater satisfaction with the university than their non-athlete peers. Through self-report measures, the literature shows that costs and benefits of intercollegiate athletic participation are related to the level of competition (NCAA divisions). Differences have been found between high-revenue Division I student-athletes receiving scholarship and Division III student-athletes not receiving scholarship.
---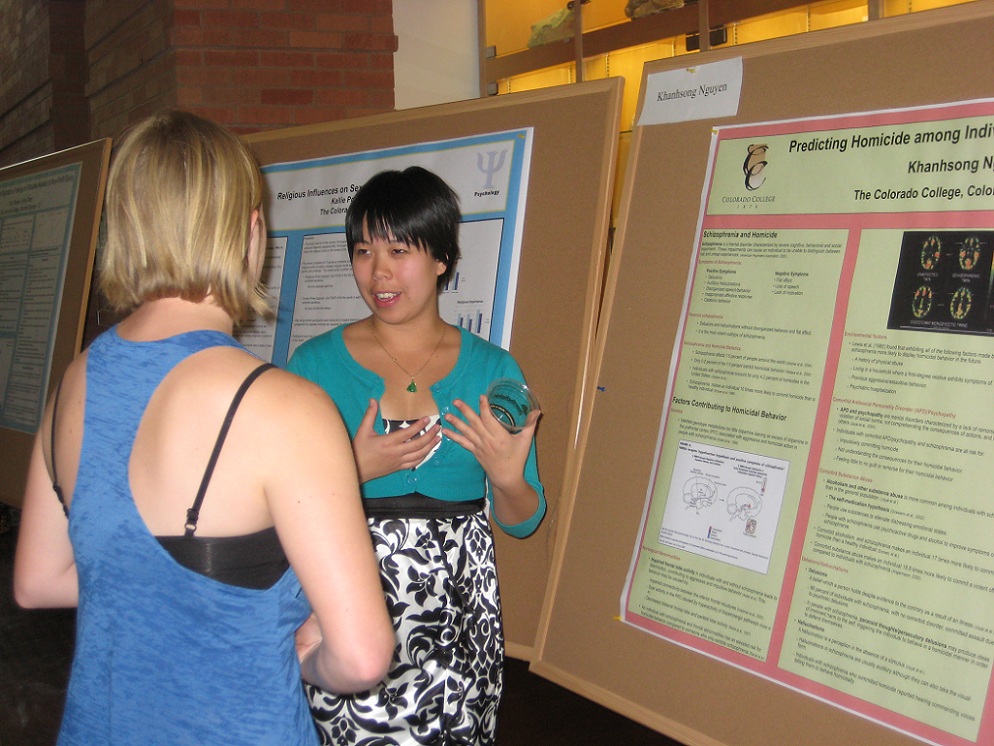 Khanhsong Nguyen
Psychology
Advisor: Kristi Erdal
Predicting Homicide among Individuals with Schizophrenia
An examination of the biological, genetic, environmental, and cognitive factors that contribute to homicidal behavior in individuals with schizophrenia. Studies have suggested that the genetic markers of homozygous Met and Val genotypes can predispose individuals to schizophrenia and aggressive behavior that may lead to homicidal behavior. Violent symptoms of schizophrenia may also be the result of frontal lobe dysfunction. The presence of delusions and commanding hallucinations during psychotic episodes experienced by individuals with schizophrenia also increase this risk. Studies have shown that comorbidity of antisocial personality disorder (APD), substance use disorder, and other major mental disorders increase the risk of homicidal behavior in individuals with schizophrenia. Haloperidol and risperidone, along with vocational rehabilitation, help reduce symptoms of schizophrenia, thereby reducing the risk of homicidal behavior in individuals with schizophrenia.
---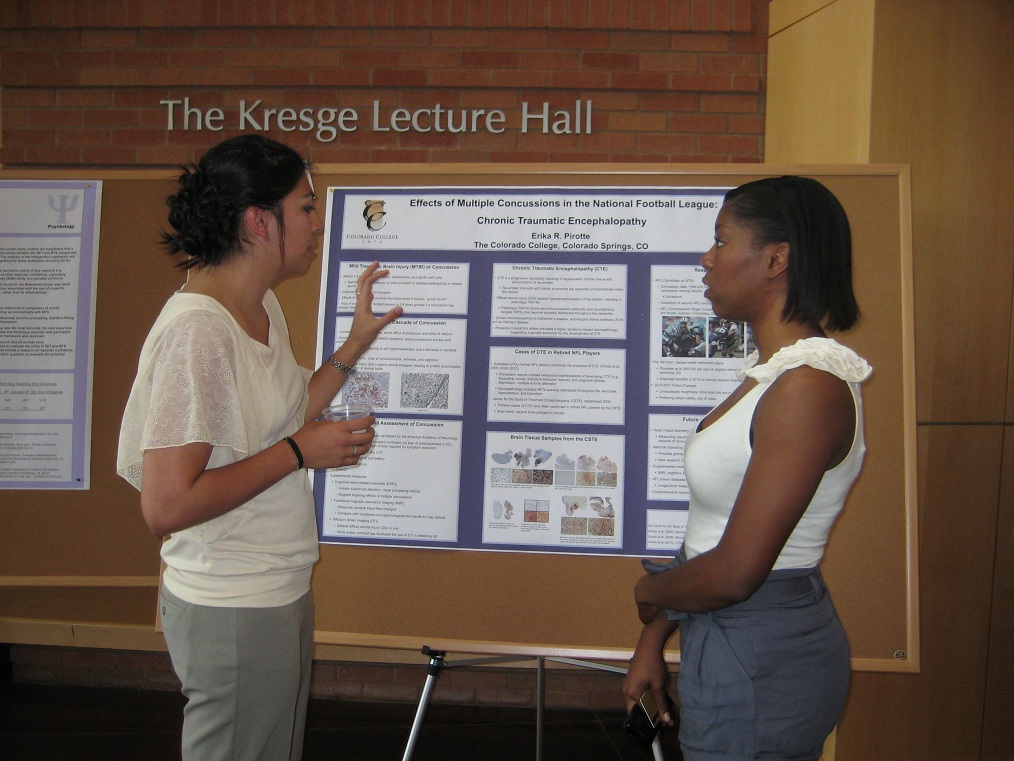 Erika R. Pirotte
Psychology
Advisor: Bob Jacobs
Effects of Multiple Concussions in the NFL: Chronic Traumatic Encephalopathy
Mild traumatic brain injury or concussion affects millions of children, adolescents, and adults in the United States each year. Sports-related concussion is most common in athletes who participate in contact sports such as American football. The cumulative effects of multiple concussions, first observed in boxers, is known as dementia pugilistica. Recent research has led to the discovery of a similarly neurodegenerative disease in retired professional football players: chronic traumatic encephalopathy. These findings have raised important questions regarding concussion management and player health care in the National Football League, leading to new developments of concussion severity measures and recovery monitoring.
---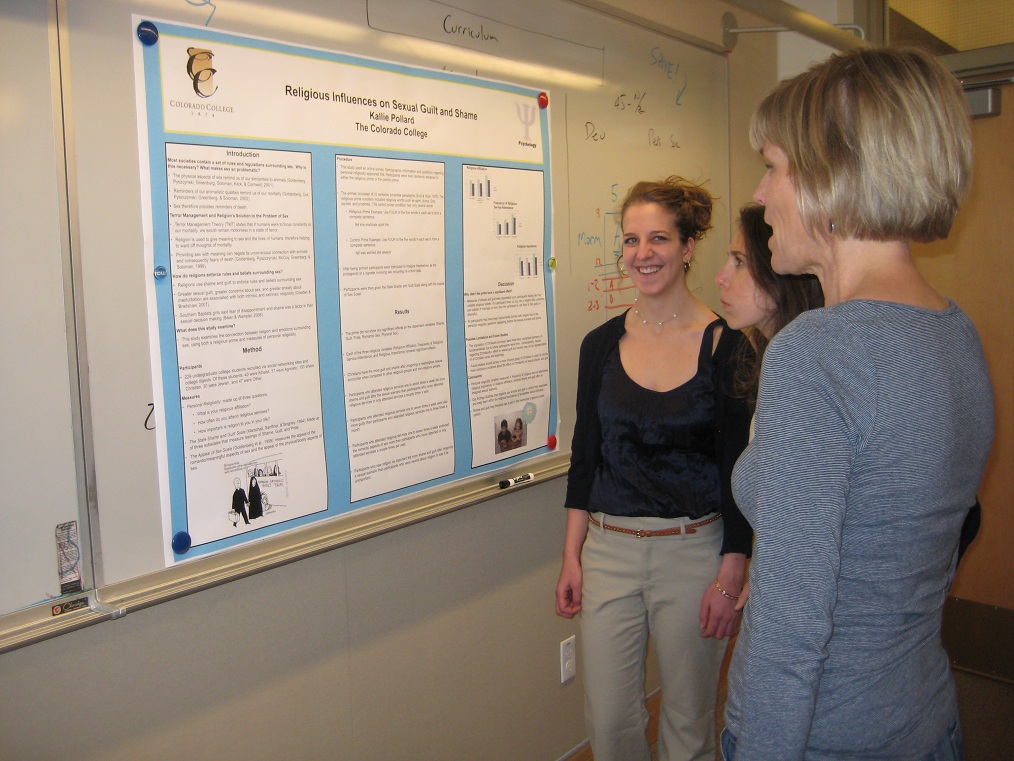 Kallie Pollard
Psychology
Advisor: Tomi-Ann Roberts
Religious Influences on Sexual Guilt and Shame
Proponents of Terror Management Theory(TMT) believe religions give people cultural worldviews that create distinctions between humans and animals. One way religion creates these distinctions is through rules surrounding sex and the feelings of guilt and shame that occur when such rules are violated. This study investigated the effects of religiosity and priming of religious concepts on sexual guilt and shame. Participants were undergraduate college students located in mostly conservative religious areas. Participants' personal religiosity was measured and half of the participants were primed with religious concepts in order to invoke religious worldviews and their rules surrounding sex. After participants imagined a sexual scenario, shame, guilt, and the endorsement of the romantic and physical aspects of sex were measured. Priming participants with religious concepts did not predict guilt and shame regarding sex or their investment in romantic ideology about sex. However, participants' personal religiosity levels predicted these factors.
---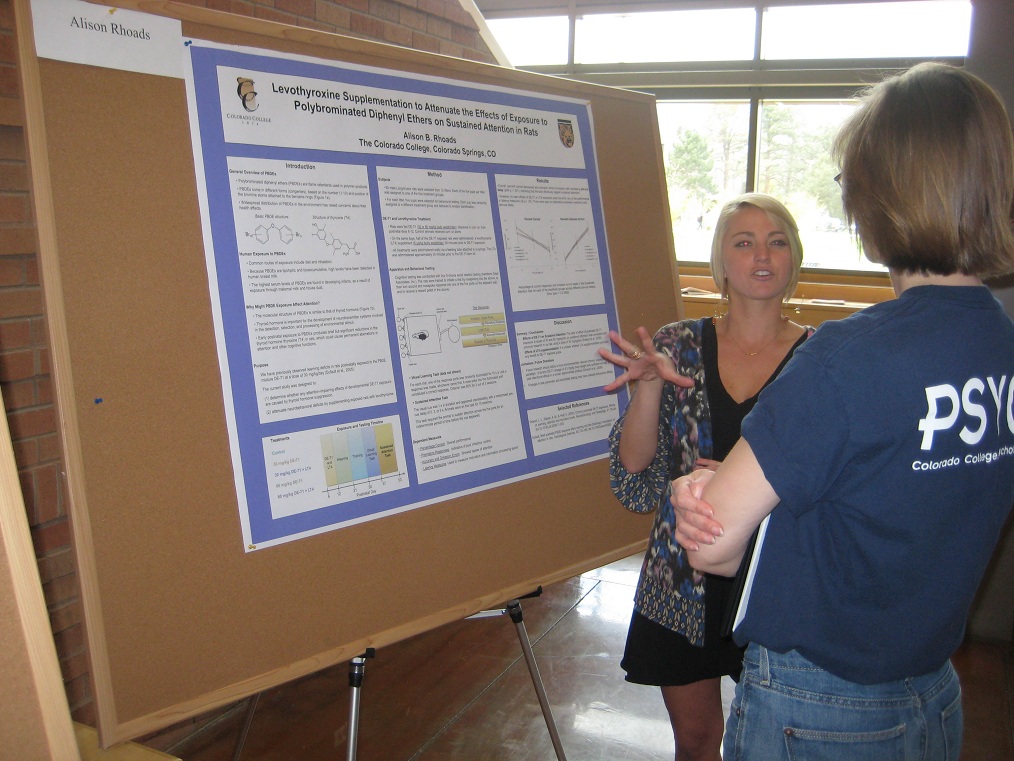 Alison Rhoads
Neuroscience
Advisor: Lori Driscoll
Levothyroxine Supplementation to Attenuate the Effects of Exposure to Polybrominated Diphenyl Ethers on Sustained Attention in Rats
Polybrominated diphenyl ethers (PBDEs), chemicals commonly used as flame retardants, are highly bioaccumulative in both humans and non-human animals. Increases in breast milk PBDE concentrations have raised concern regarding their potential toxicological properties in developing infants. Early postnatal exposure to PBDEs in rats has been shown to cause visual learning deficits as well as reductions in the thyroid hormone thyroxine (T4), which is essential for the proper development of the nervous system. To this end, the present study assessed the effects of brief postnatal exposure to DE-71, a commercial mixture, on sustained attention. In addition, we attempted to attenuate behavioral effects by supplementing exposed rats with levothyroxine (LT4). Male Long-Evans rats received daily oral doses of DE-71 (0, 30, or 60 mg/kg) from postnatal days 6-12; half of the DE-71 exposed rats also received daily doses of 6 µg/kg/day LT4 sodium. In adulthood, rats were administered a series of 5-choice serial reaction time tasks to assess their learning and attentional capacities. The DE-71 exposed rats did not demonstrate impairments in sustained attention when compared to controls. As such, it is unclear whether LT4 supplementation provided any benefit to DE-71 exposed rats. These findings suggest that the DE-71 exposure was not administered for a long enough period to produce attentional deficits. Future research should utilize the more environmentally relevant chronic exposure model.
---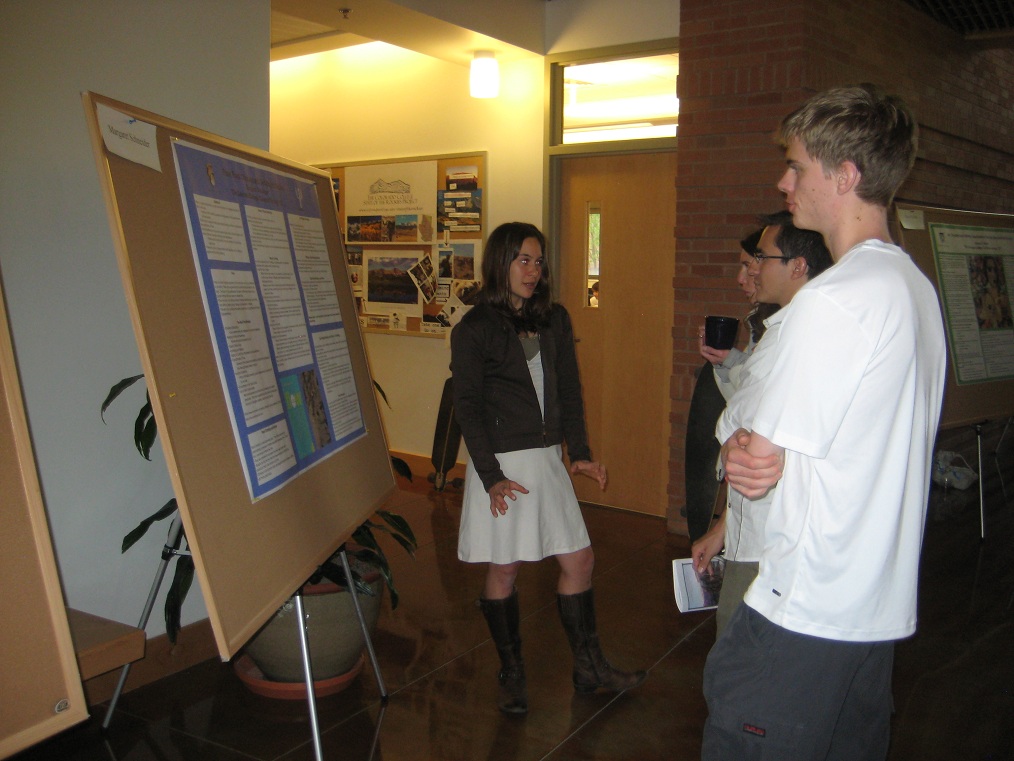 Margaret Schneider
Psychology
Advisor: Tomi-Ann Roberts
Flow, Rock Climbing and Self-Objectification
Flow, which is also known as optimal experience, occurs in the moments where attention is completely focused on the task at hand. During the state of flow, performance as well as enjoyment tend to be at an all-time high. Flow can be experienced in a variety of endeavors, including rock climbing. Climbing is equally mental and physical, and by training the brain as well as the body, one has a greater chance of experiencing flow. However, there is a societal force that can make flow more difficult to achieve. This is self-objectification, which primarily affects women. Self-objectification occurs when individuals begin to view their bodies as objects, and direct their attention towards monitoring their appearance. When attention is focused on one's appearance, it is not fully available for other more enjoyable tasks. Thus, it is hypothesized that when a female climber self-objectifies, she will be less likely to experience flow while climbing.
---
Maggie Seay
Neuroscience
Advisor: Lori Driscoll
Effects of Acute Postnatal Exposure to DE-71 on Five Port Visual Discrimination Learning in Rats
Polybrominated diphenyl ethers (PBDEs), lipophillic chemicals used as flame retardants, are bioaccumulating in the environment at alarming rates. Humans are exposed to PBDEs mainly through ingestion of contaminated seafood and inhalation of house dust. PBDEs accumulate in human blood, breast milk, and adipose tissue. Current research has demonstrated that exposure to PBDEs during development causes hypothyroidism as well as deficits in learning and memory, suggesting that suppression of thyroid hormones may be a mechanism for PBDE induced neurological effects. The present study aimed to demonstrate hypothyroidism as a major mechanism for PBDE induced deficits by conducting a rescue study. DE-71 exposed rats were supplemented with a thyroid hormone analog, levothyroxine sodium (LT4), in an attempt to attenuate learning and memory impairments that have been seen previously in the laboratory. Male Long Evans rats were administered DE-71 at doses of 30 mg/ kg of bodyweight per day 60 mg/ kg of body weight per day on postnatal days (PND) 6 through 12. The control group only received corn oil. Half of the DE-71 exposed rats received LT4 supplementation at a dose of 6 ml/ kg of body weight per day. As young adults, the DE-71 exposed rats did not show any cognitive differences, which may have been caused by a floor effect due to alteration in the testing protocol. Confirmation of T4 blood assays will contribute to future rescue studies that not only serve to isolate specific mechanisms of PBDE induced neurological deficits, but also help elucidate potential future treatments.
---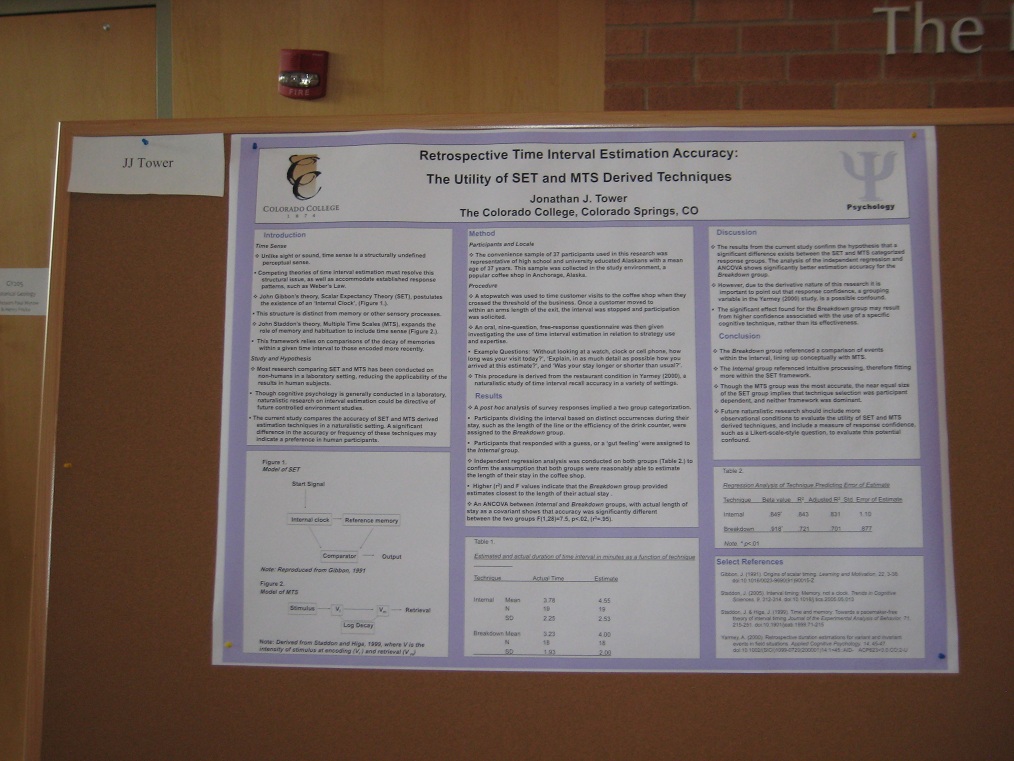 Jonathan J. Tower
Psychology
Advisor: John Horner
Retrospective Time Interval Estimation Accuracy: The Utility of SET and MTS Derived Techniques
Accuracy of retrospective time interval estimation was evaluated utilizing a free response format within a naturalistic coffee shop setting. Two general groups, 'breakdown' and 'internal' were selected based on the selection criteria outlined in Yarmey (2000) and the literature regarding scalar expectancy (SET) and multiple time scale (MTS) models. The breakdown group was significantly more accurate than the internal group, suggesting greater utility of MTS over SET within the experimental conditions. However, these selection criteria may not be operationally defined to avoid a possible confound with response confidence, or to generalize the results of the study to more theoretical elements of the MTS and SET debate.
---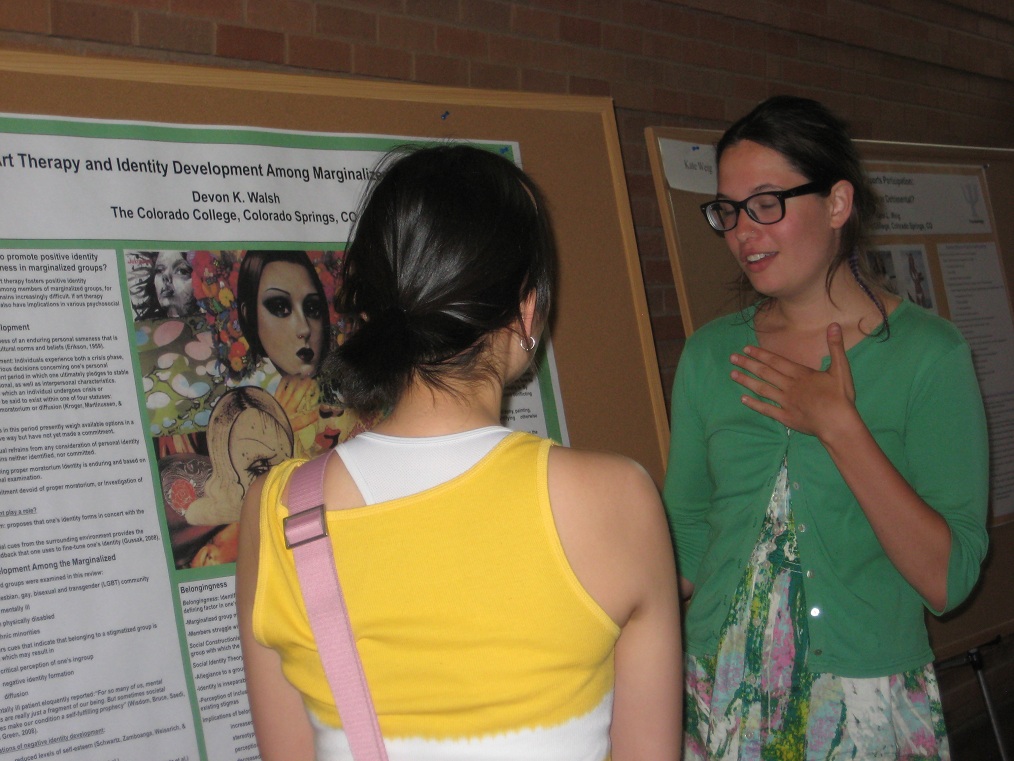 Devon K. Walsh
Psychology
Advisor: Tricia Waters
Art Therapy and Identity Development Among Marginalized Groups
Prior literature suggests that if normative identity formation is interrupted, and individuals fail to forge positive identities as a result of insufficient self-exploration, they remain at greater risk of psychosocial maladjustments such as depression, anxiety and decreased self-esteem. Marginalized group members face opposition during the course of their identity establishment as a result of stigmatisation, and as such, make up a population in dire need of programs that generate self-discovery and identity proliferation. Early stages of research in art therapy with marginalized groups indicate this medium's inherent ability to prompt self-expression and, in turn, make contributions the growth of participant identity. Furthermore, art therapy lends the marginalized a chance to redefine the implications of their membership in a stigmatised group through interaction with others. Despite conclusive evidence regarding the correlation between art therapy and identity development, more empirical evidence that ties this vehicle of growth to positive psychological adjustments remains to be seen.
---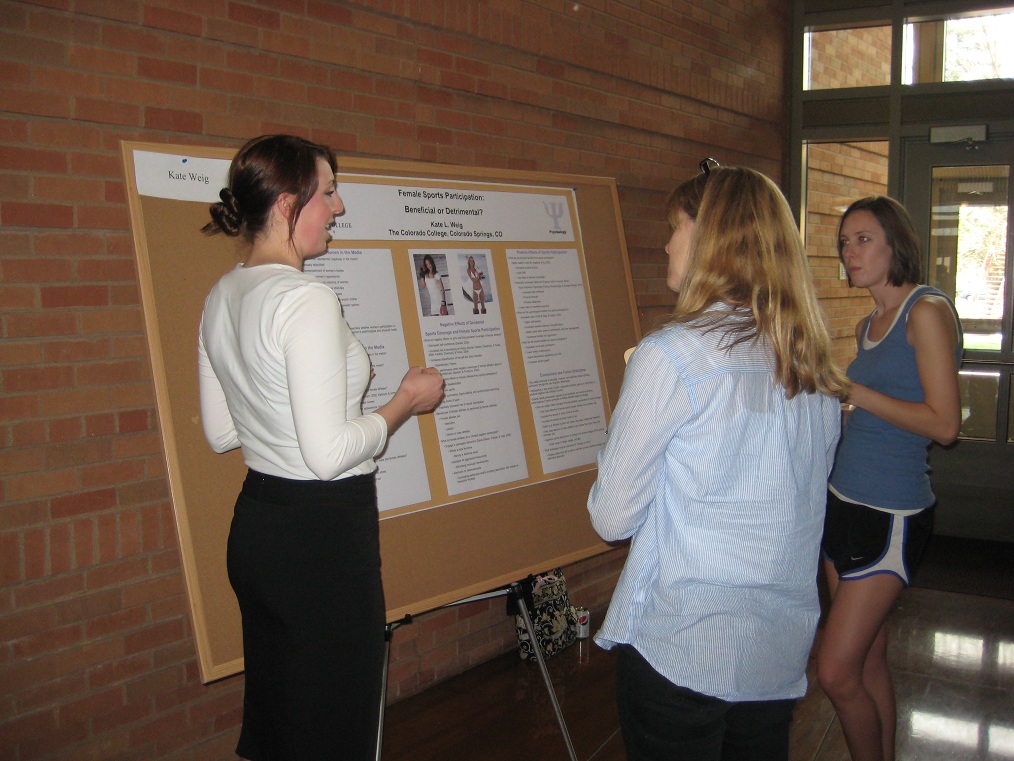 Kate L. Weig
Psychology
Advisor: Tomi-Ann Roberts
Female Sports Participation: Beneficial or Detrimental
In a review of the literature, it was discovered that women are frequently underrepresented or portrayed in stereotypical ways in news and media coverage, and female athletes are no exception to this rule (Fink & Kensicki, 2002). Media coverage has been found to sexualize, trivialize, and infantilize female athletes in order to combat the challenge female athletes represent to the male dominated sphere of sports (Collins, 2011). Though there was some evidence that certain media outlets are making progress for women (Cunningham, Sagas, Sartore, Amsden, & Schellhase, 2004), others have been found to regress over time and now feature women less frequently, and in more stereotypical roles (Adams & Tuggle, 2004). This negative media has been shown to influence young girls and women, and can affect the psychological and physical health of females worldwide (Ferrand, Champley, & Filaire, 2009). However, positive psychological and physical outcomes as a result of sports participation have also been found, and as such, this paper argues that women's participation in sports is ultimately a beneficial activity, though it has the potential for detrimental consequences. Ultimately, more progress needs to be made by the media to portray female athletes in less stereotypical and gendered ways.
---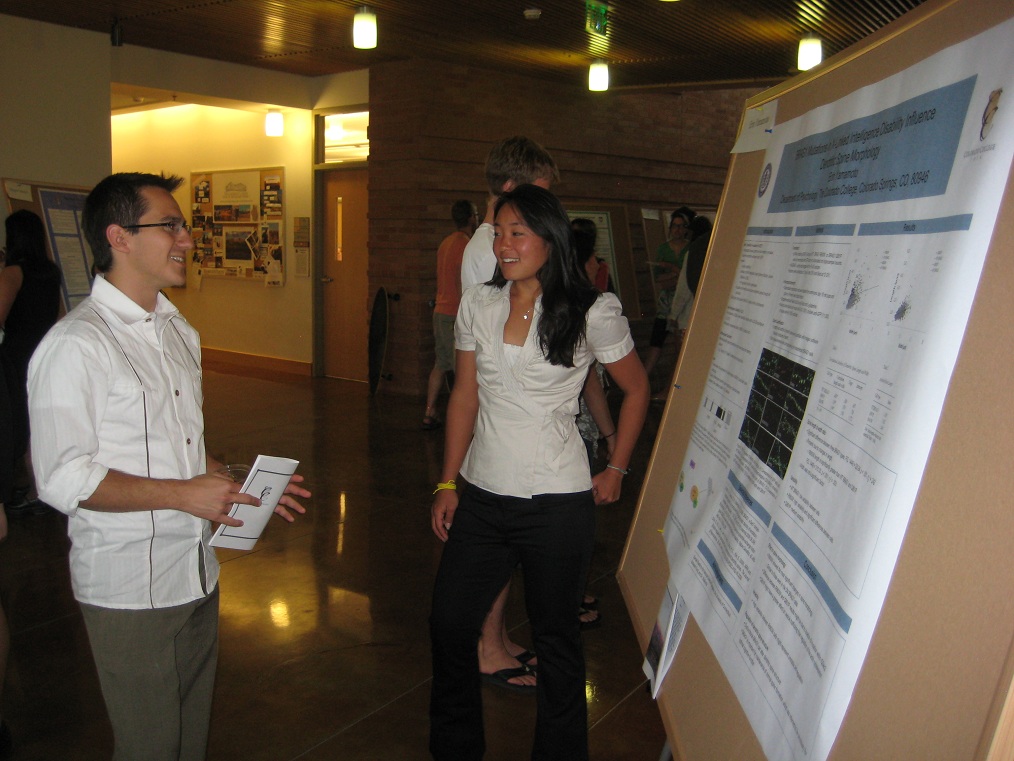 Erin Yamamoto
Neuroscience
Advisor: John Horner
BRAG1 Mutations in X-Linked Intelligence Disability Influence Dendritic Spine Morphology
X-Linked Intelligence Disability (X-LID) is a form of mental impairment that results from an altered gene on the X chromosome. Four point mutations on the IQsec2 gene, located on the X chromosome, were identified in four families afflicted with X-LID. IQSec2 codes for the putative protein BRAG1, which can affect dendritic spine maintenance through interaction with the Arf family of proteins. The current study investigated whether two IQSec2 mutations identified in X-LID (R863W and Q801P) are associated with changes in dendritic spine morphology. Elongated dendritic spines were expected for both mutations; however, the results showed only the R863W mutation to be associated with longer dendritic spines. These differences provide a potential morphological explanation regarding the intellectual deficits among families with X-LID.
---
This is the Department of Psychology
Browse all Departments & Programs
​