2010
List of Presenters
---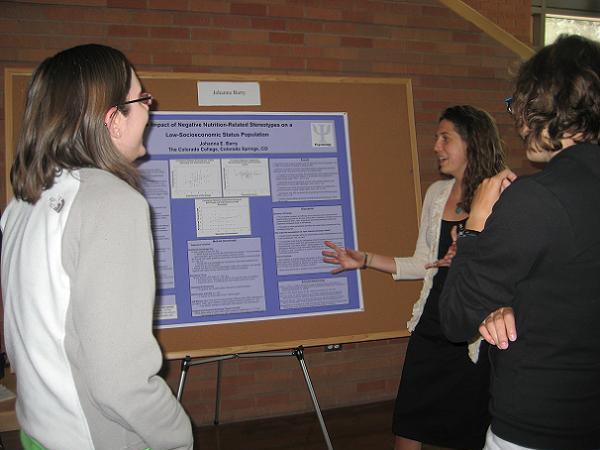 Johanna E. Barry
Psychology
Advisor: Emily Chan
The Impact of Negative Nutrition-Related Stereotypes On a Low-Socioeconomic Status Population
We explored identification and negative stereotypes within a sample of low socioeconomic status (SES) individuals. Previous research has shown that the degree to which an individual identifies with a stigmatized social group (i.e., race, gender) affects one's performance and efficacy on subsequent domain-related tasks. The current study extends the research on identification with stigmatized groups to the applied domain of nutrition. Low-income individuals are stereotyped to be lazy and uneducated about health and nutrition. This research explored how identification with low-SES might be a risk factor for the development of undesirable nutritional attitudes and behaviors. Contrary to our predictions, we found that participants under stereotype threat did not report higher-risk nutritional behavior, and did not underperform on a nutritional knowledge assessment. Stereotype threat furthermore did not appear to influence efficacy for enacting positive dietary changes. Significant correlations, however, revealed relationships between stereotype threat, stereotype endorsement, and dietary habits.
---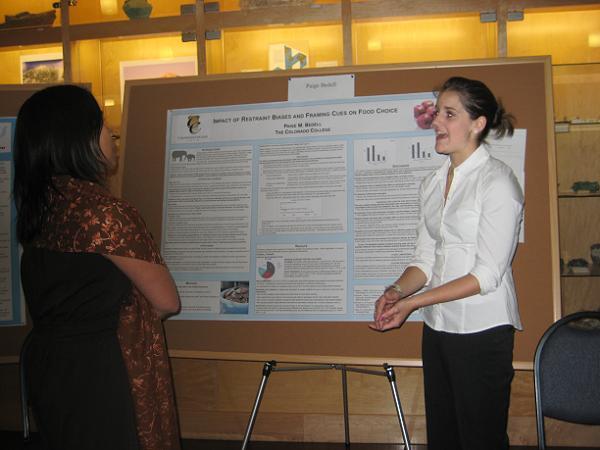 Paige M. Bedell
Psychology
Advisor: John Horner
Impact of Restraint Biases and Framing Cues on Food Choice
A number of environmental factors influence food choice behaviors. This investigation measured the impact nutrition-framing cues had on restraint biases in a snack-choice scenario. Participants took a trivia exam (a distraction task) and were told the highest scoring group member would win a snack prize. Prior to selection, the researcher identified the snack options to subjects with a frame sentence identifying the healthy options (frame-gain), unhealthy options (frame-loss), or neither (control). Participants' pre-selections and actual selections were made based on this scenario. In half the groups, snacks were not present during selection. Results found framing had an indeterminate effect on snack choice, while restraint biases were a more powerful predictor of food selection. Overall, participants preferred unpackaged and packaged snacks and were more likely to switch from healthy to unhealthy choices upon selection. As predicted, hours since last meal increased restraint biases, measured by unhealthy snack selection.
---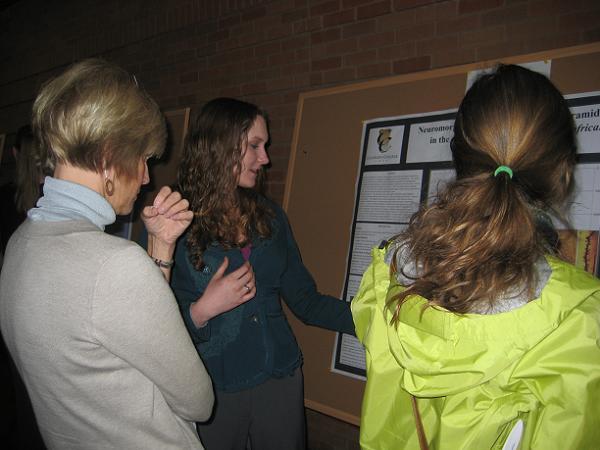 Jessica Borst
Neuroscience
Advisor: Bob Jacobs
Neuromorphology of Supragranular Pyramidal Cells in the African Elephant ( Loxodonta africana )
Despite the elephant's complex sociocognitive repertoires and uniquely large brain, there have been no investigations of elephant cortical neuromorphology. The current study presents the first qualitative and quantitative examination of supragranular pyramidal neuromorphology in African elephant (Loxodonta africana) cortex. Twenty neurons from frontal and occipital cortices (N = 40) of two male African elephants (ages 20 to 30 years) were stained using a modified rapid Golgi technique and traced on a Neurolucida computer-assisted microscopy system (MBF Bioscience). All pyramidal cells possessed a bifurcating apical dendrite, resulting in branches that traveled obliquely to the pial surface and formed V-shaped apical bundles. This suggests that cortical architectures other than the vertical, columnar architecture seen in primate and rodent cortex can exist in mammalian neocortex. In terms of basilar dendrites, frontal neurons had significantly more complex dendrites than occipital neurons, with greater dendritic length and more dendritic segments. In comparison to humans, elephant supragranular pyramidal neurons exhibited similar overall basilar dendritic lengths, but the dendrites tended to be longer with less branching than human neurons. Overall, results suggest that the elephant may have increased processing demands in frontal over occipital cortices, and a more global processing system with less compartmentalized circuitry.
---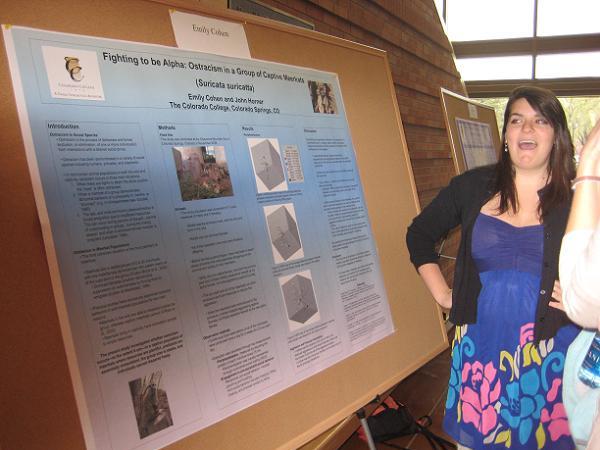 Emily Cohen
Psychology
Advisor: John Horner
Fighting to be Alpha: Ostracism in a Group of Captive Meerkats ( Suricata suricatta )
Ostracism has been observed among a variety of social animals through a spectrum of aggressive behaviors ranging from the "cold shoulder" to infanticide. Ostracism-like behaviors have been observed in wild meerkat populations in the Kalahari, however, no previous research has looked at ostracism in captive meerkats. Therefore, the present study investigated whether ostracism occurs in a captive population of meerkats where resources are plentiful, predators are essentially nonexistent, the group size is stable, and individuals cannot disperse freely. During the observation period, one of the female meerkats was significantly peripheralized, aggressed against, and excluded from social interactions with other meerkats. These observations supported the proposal that captive meerkats, like wild meerkats and other social species, utilize ostracism as a tool to increase cohesion in the remaining group. The presence of ostracism in a stable troop of meerkats demonstrates that ostracism is integral to the long-term adaptation of meerkats, as it is for primates and other social animals.
---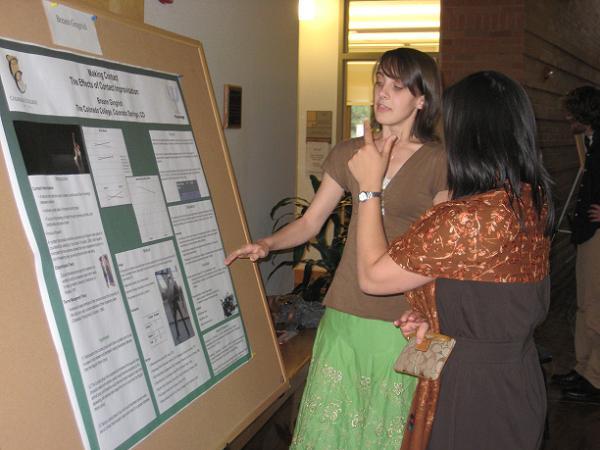 Breann Gingrich
Psychology
Advisor: Tomi-Ann Roberts
Effects of Contact Improvisation
The effects of two different dance forms, Contact Improvisation and Improvisation, on a person's body esteem and anxiety levels were examined. Previous research has shown the negative impact of current cultural trends on body objectification. The current study hypothesized that the physical contact and the heightened bodily sensations inherent in Contact Improvisation would decrease a person's self objectification and the accompanying negative consequences (e.g., disordered eating and body shame). The relationship between self objectification and Terror Management Theory is also examined. After participating in a 2-month long dance class, participants' scores did not show a significant change. The means did, however, move in the predicted direction. The implications for future research on the effect of Contact Improvisation are discussed.
---
Laura Glen
Psychology
Advisor: Tricia Waters
Academic Entitlement, Motivational Tendencies, and Narcissism in College Students: Cause for Concern in Higher Education?
For this study, potential relationships between academic entitlement, motivational strategies (intrinsic motivation, extrinsic motivation, and amotivation), and narcissism in college students were analyzed. Additionally, the potential relationship between the above mentioned variables and students' financial aid status (aid versus no aid) was investigated. Results indicated that the sample contained college students that were not particularly academically entitled, narcissistic, or amotivated, but that were highly motivated, both intrinsically and extrinsically. Significant relationships were found between narcissism and academic entitlement, amotivation and academic entitlement, and narcissism and amotivation. Conclusions from the study are encouraging for college faculty and administrators; results suggest that most college students are actually not entitled, narcissistic, lazy individuals, but rather are motivated, honest individuals with a strong desire to learn.
---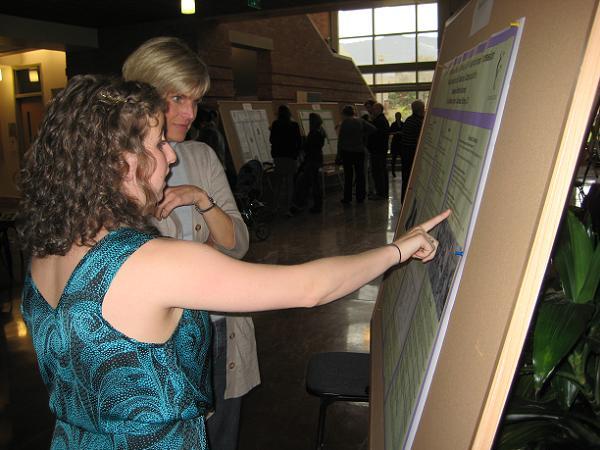 Madeleine Bernice Gordon
Psychology
Advisor: Tricia Waters
Gender Orientation, Gendered Speech, Self-Silencing and Depression: An Examination of Classroom Communication
Women and men are socialized to behave in specific ways as designated by cultural conceptions of gender. As a result, women and men learn different styles of communication (female communication being characterized as submissive and caring and male communication being characterized as dominant and combative). Due to these submissive communicative constraints, females have been found to engage in self-silencing behavior or loss of voice, the suppression of self-expression. Empirical research focuses on self-silencing in women or in feminine gender oriented individuals and the consequences of such self-silencing behavior (loss of voice and depression). The current study views the relationship between gender orientation, gendered speech, loss of voice and depression in an actual classroom setting and through self-report measures. Findings revealed the presence or absence of masculinity more so than the presence or absence of femininity to have the greatest associated affect on reported level of voice, use of feminine speech, and depression scores.
---
Katherine E. Groothuis
Psychology
Advisor: Kristi Erdal
Immigration and Mental Health: Latinos in the United States
Research has shown that the mental health of Latino immigrants is influenced both positively and negatively by a number of complex factors, with acculturation, social support, nativity, and gender as the principal variables. This paper outlines how these factors affect the mental health of various generations of Mexican, Puerto Rican, and Cuban immigrants in the United States. Research has found differences in lifetime and past-year rates of anxiety, depressive, and substance use disorders among the specific ethnic populations, which were primarily mediated by the aforementioned variables. The current literature has focused on either Mexican immigrants in particular or on Latinos as an aggregated entity, and as the overall Latino population increases from 14% to 29% of the population of the United States by 2050 it will become progressively important to investigate the mental health of specific Latino immigrant groups if the psychological literature is to remain relevant.
---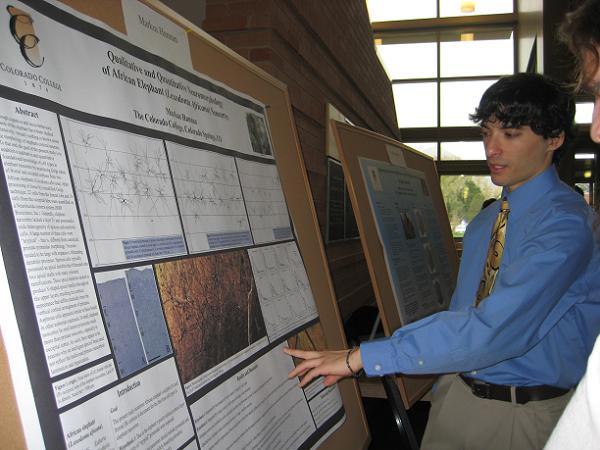 Markus Hannan
Neuroscience
Advisor: Bob Jacobs
Qualitative and Quantitative Neuromorphology of the African Elephant ( Loxodonta africana ) Neocortex
Although cognitive and socio-behavioral aspects of the elephant have been studied extensively, virtually nothing is known about the morphology of elephant cortical neurons. To that end, the present study seeks to establish a qualitative and quantitative foundational knowledge of cell types in elephant neocortex by examining Golgi stains of frontal and occipital cortices from two African elephants (Loxodonta africana). After processing of tissue by a modified Golgi technique, 22 cells from the frontal lobe and 19 cells from the occipital lobe were quantified on a Neurolucida camera system (MBF Bioscience, Inc.). Generally, elephant neocortex lacked a layer IV and possessed a wide heterogeneity of spinous and aspinous cells. A large number of these cells were "atypical" – that is, different from canonical, primate pyramidal morphology. Neurons tended to be large with expansive, bifurcating dendritic processes. Spinous cells typically possessed an apical dendrite that bifurcated into two apical shafts with many collateral ramifications. These apical dendrites tended to produce V-shaped apical bundles throughout the upper layers, resulting in a cortical appearance that differs markedly from the vertical cortical arrangement of primates. Aspinous cells appeared similar to those found in other eutherian mammals. Overall, elephant neocortex favored lateral projections much more than primate neocortex, especially in occipital cortex. As such, there appear to be reasons why an intelligent species' brain need not reflect the traditional primate neocortical lamination and organization.
---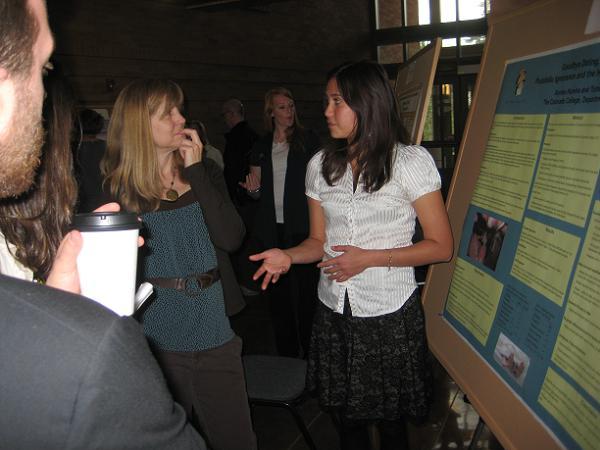 Annisa Harsha
Psychology
Advisor: Tomi-Ann Roberts
Goodbye Dating, Hello Mating: Pluralistic Ignorance and the Hookup Culture in College
Previous research has found that the social phenomenon of pluralistic ignorance can affect how students perceive and, in turn, shape what becomes the normative social behavior on college campuses. The present study investigated pluralistic ignorance in relation to the hookup culture by surveying students from a liberal arts college. Participants' self-reports and perceptions of other college students were measured through questions concerning hookup-related behavior, comfort, and social contributions. As predicted, several pluralistic ignorance effects were found. Students overestimated the actual amount of hooking up that occurs on campus, as well as other students' comfort with hooking up. This indicates that there is a significant divergence between individuals' perceptions of the norm and their actual self-reported behavior/attitudes. Differences between gender and class year were of particular interest. Although males expressed more comfort with the hookup culture, pluralistic ignorance effects were actually very similar for both genders. A smaller pluralistic ignorance effect emerged for first-year male students, perhaps due to gender stereotypes and the transition to college.
---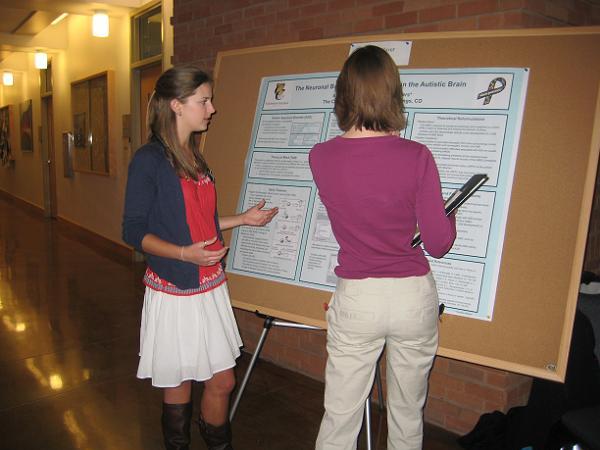 Samara M. Haver
Psychology
Advisor: Tricia Waters
The Neuronal Basis of Theory of Mind in the Autistic Brain
The social and cognitive deficits of Autism Spectrum Disorder (ASD) are well documented, including a noted difficulty in interpreting and predicting behavior of others – a capability known as theory of mind. However, the etiology of these symptoms remains elusive. Recent investigations about theory of mind in ASD have focused on mirror neurons, a newly popular biological explanation for the many cognitive and social symptoms of ASD. However, despite copious studies and theories, little evidence is available to support the claims. Our research considers the current suggestions about mirror neurons in terms of established knowledge about ASD, as well as proposes future research directions.
---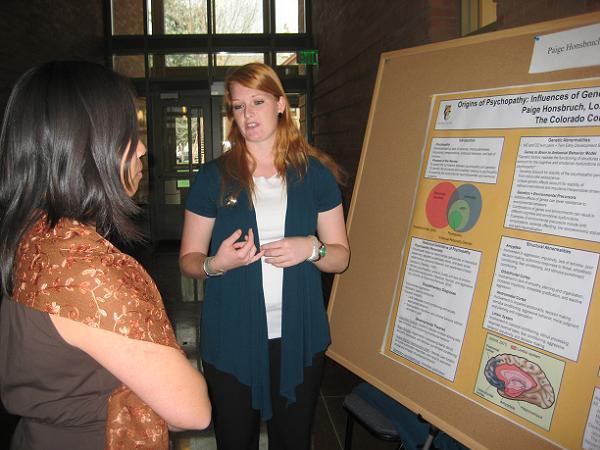 Paige Honsbruch
Psychology
Advisor: Lori Driscoll
Origins of Psychopathy: Influences of Genetic and Structural Abnormalities
Psychopathy is a component of antisocial personality disorder (APD) characterized by lack of remorse, manipulativeness, superficial charm, impulsivity, irresponsibility, antisocial behavior, and shallow affect. In an attempt to identify the etiology of psychopathy, research has focused on the mediating effects of genetics and correlating structural abnormalities. Although specific genes have yet to be identified (possibilities include MAOA, 5HTT, BDNF, NCAM, tlx, Pet-1-ETS), impacted structures are amygdala, orbitofrontal cortex, ventromedial cortex, paralimbic cortex, temporal lobe, and hippocampus. Additional research implicates dysfunctional neurotransmitter and hormonal systems such as that of monoamine oxidase (MAO), serotonin, noradrenaline, cortisol, and testosterone. Based on the available evidence, the genes to brain to antisocial behavior model best explains the development of psychopathy: genetic factors contribute to structural abnormalities, and structural abnormalities contribute to cognitive and emotional dysfunctions. Future investigation of psychopathy will require an interdisciplinary approach incorporating both genetic and environmental influences, and forensic implications.
---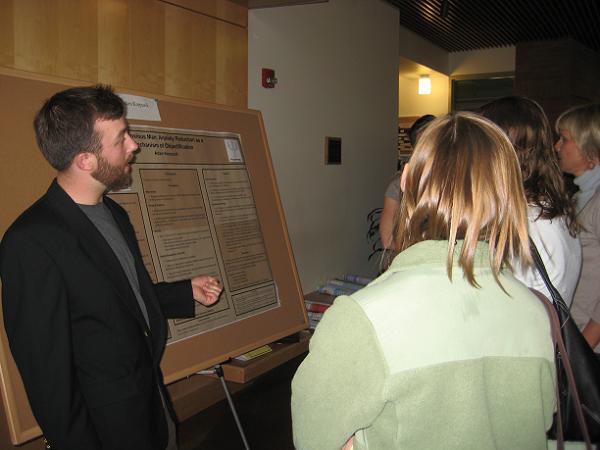 Adam B. Korpusik
Psychology
Advisor: Tomi-Ann Roberts
The Anxious Man: Anxiety Reduction as a Mechanism of Objectification
The conditions under which men objectify women have not been empirically investigated. Thus, in this study we explored anxiety reduction as a potential mechanism of objectification. Men's masculinity was threatened with a hair-braiding task (Bosson, Prewitt-Freilino & Taylor, 2005). Objectifying attitudes were subsequently measured with a novel implicit association test and modified self-objectification questionnaire (Fredrickson et al., 1998). The hypothesis that men would reduce anxiety by objectifying women was not supported. Issues of methodological validity and theoretical implications are presented.
---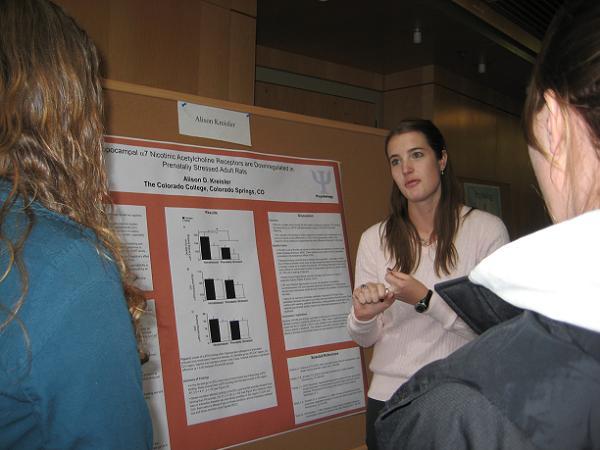 Alison Kreisler
Neuroscience
Advisor: Lori Driscoll
Hippocampal a 7 Nicotinic Acetylcholine Receptors are Downregulated in Prenatally Stressed Adult Rats
Chronic stress in adulthood has been shown to have harmful effects on hippocampal structure and function, but less is known about the effects of prenatal stress (PS) on the hippocampus of adult offspring. In the present study, the effects of chronic variable stress during the last week of gestation on hippocampal nicotinic receptors of adult offspring was explored. An a -bungarotoxin ( a -BTX) binding assay was used to stain for a 7 nicotinic acetylcholine receptors (nAChRs) in the CA1, CA3, and dentate gyrus regions of adult male and female rats subjected to PS and in matched nonstressed (NS) controls. Results indicated significantly lower a 7 binding intensity in the dentate gyrus in PS animals compared to NS controls, implying a downregulation of a 7 nAChRs in this region in response to PS. There was no significant difference in binding intensities between PS and NS groups in any other region. These findings suggest that PS can have harmful effects on a 7 nAChRs that persist well into adulthood. These harmful effects may mediate the relationship between PS and impaired learning and memory observed in adult animals.
---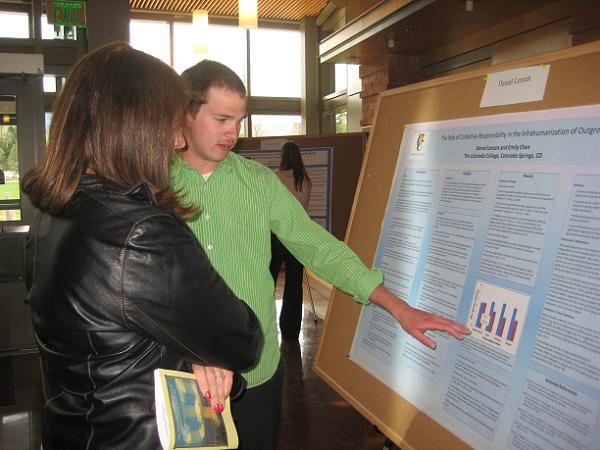 Daniel S. Lenzen
Psychology
Advisor: Emily Chan
The Role of Collective Responsibility in the Infrahumanization of Outgroup Victims
Infrahumanization is the denial of the human essence, specifically secondary (uniquely human) emotions, to out-group members. Castano and Giner-Sorolla (2006) argued that people infrahumanize out-group victims only when they feel in-group responsibility. This study counter-argues that in-group responsibility is not a prerequisite for infrahumanization. Extending the Just World Hypothesis, victim derogation should occur regardless of the attribution of responsibility. Participants read a vignette describing a natural disaster with massive fatalities in an out-group. We manipulated the attribution of responsibility: (1) In-group responsible, (2) out-group responsible, (3) no group responsible, and (4) control. Participants selected 7-10 emotions that out-groupers were most likely to experience, out of a list of 24 (half primary and half secondary). Results supported our hypothesis. Compared to the control, infrahumanization occurred in all three responsibility conditions, which did not differ from each other. Discussion focuses on the role of guilt, in-group identity, and intergroup conflict.
---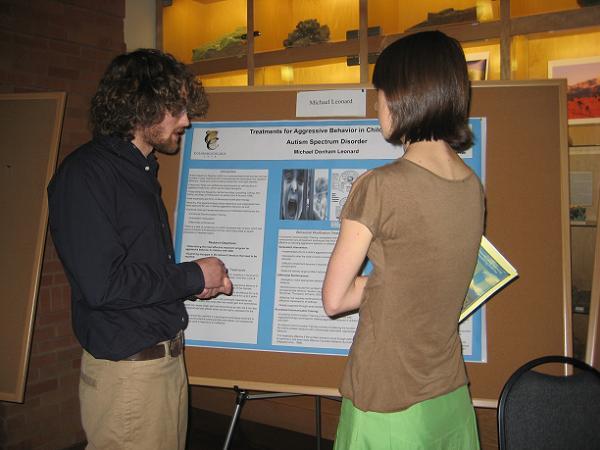 Michael Donham Leonard
Psychology
Advisor: Lori Driscoll
Treatments for Aggressive Behavior in Children with Autism Spectrum Disorder
Aggressive behavior in children with Autism Spectrum Disorder (ASD) can be debilitating and disruptive for these children's treatment plans, peers, teachers, and parents. Established treatments for aggressive behavior in children with ASD consist either of behavioral modification treatments or psychopharmacological treatments; however it is unclear which subtype of each of these treatments is most effective in curtailing aggressive behavior. Many therapists use different tactics to treat aggressive behavior in children with ASD, making it difficult for these children to switch therapists because they often must start over on a different treatment plan. The purpose of this paper is to determine which treatment plan is most effective at eradicating aggression in children with ASD. Based on evidence from case studies and clinical trials, Functional Communication Training, a behavioral modification treatment, in conjunction with risperidone, a psychopharmacological treatment, is the most effective and quickest-acting treatment plan for aggression in children with ASD.
---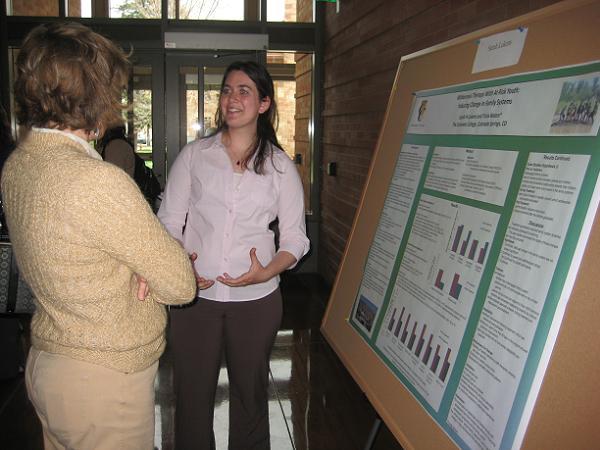 Sarah Lukens
Psychology
Advisor: Tricia Waters
Wilderness Therapy with At-Risk Youth: Inducing Change in Family Systems
Change in the functioning of family systems of at-risk youth enrolled in a wilderness therapy program that used family and Gestalt therapy was measured through pre- and post-treatment questionnaires and interviews. Family functioning was analyzed using the circumplex model of family systems developed by Olson, Sprenkle, and Russell (1979). Significant improvement in family cohesion and family problems/family relations were found, and there was a trend towards improvement in family adaptability. Parent, staff, and therapist reports also demonstrated significant individual improvement in the youth, though the youth's self-reports did not reveal any significant change. Case studies revealed that families had an enmeshed, disengaged, rigid, and/or chaotic family system pre-treatment which developed into a balanced and healthy system post-treatment. The therapy was successful and changes in the youth and family systems persisted after treatment.
---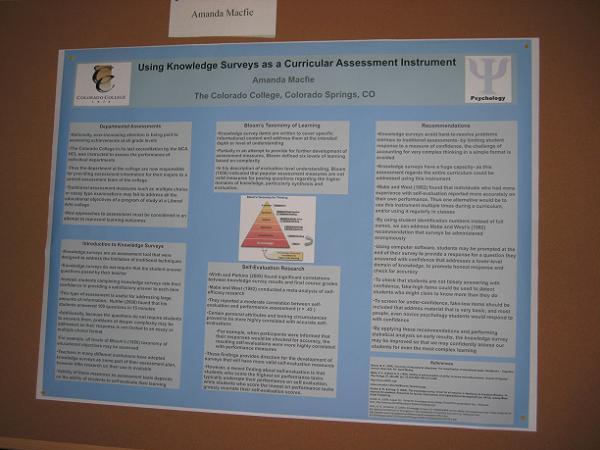 Amanda Macfie
Psychology
Advisor: John Horner
Using Knowledge Surveys as a Curricular Assessment Instrument
A curricular assessment tool must test a broad scope of information. The information surveyed should represent the depth of coverage provided in the curriculum. The amount of material addressed by a curricular assessment tool may take four or more years to teach, yet the assessment ought to be brief enough to complete in one administration. Popular methods of assessment fail to meet these standards. A new assessment tool called the knowledge survey was developed to address these elements in a timely manner. Knowledge surveys are designed so that students respond with their level of confidence at being able to thoroughly answer a prompt or question. Knowledge of trends in student self-evaluations may be used to implement changes in the original format of the knowledge survey to produce a more valid assessment measure. Research in student self-efficacy has provided the framework for changes in design. Including items such as fake-high questions that no student is expected to be confident about, or fake-low questions that even introductory students commonly feel confident responding to provide parameters for considering individual student responses. Changes informed by research will provide new direction for this promising assessment measure.
---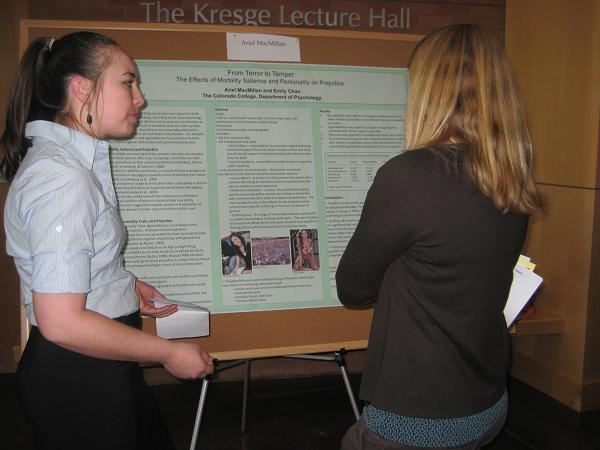 Ariel MacMillan
Psychology
Advisor: Emily Chan
From Terror to Temper: The Effects of Mortality Salience and Personality on Displayed Prejudice
This study looks at the effects of mortality salience, as well as the effects of personality, on prejudice. Mortality concerns have been found to play a part in heterosexual men's negative reactions towards sexually alluring women. However, in this study the mortality salience prime failed to have a significant effect. Instead, significant relationships were found between personality factors and prejudice. Conscientiousness was at least marginally positively correlated with sexism, homophobia, racism, and anti-Semitism and consistently significantly predicted all forms of prejudice. Agreeableness was negatively, though not significantly, correlated with all four types of prejudice. Similarly, openness was negatively correlated with sexism and racism. Therefore, those with increased conscientiousness and decreased openness and agreeableness were generally more likely to exhibit prejudice.
---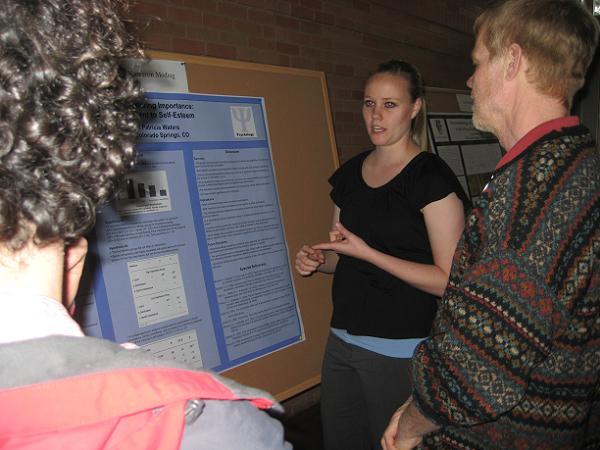 Kameron Moding
Psychology
Advisor: Tricia Waters
The Importance of Measuring Importance: Linking Sport Involvement to Self-Esteem
Research on the link between sport involvement and self-esteem has yielded conflicting results. The present study attempts to resolve this disparity in the literature on sport involvement and self-esteem by analyzing differences among four levels of athletes, while including importance ratings for the athletic domain. Varsity and club/organized athletes had higher reported athletic competence and importance ratings for the athletic domain than did recreational and non-athletes. All four groups, however, did not differ significantly on their reported global-self worth and self-esteem. When importance ratings for the athletic domain were considered, only those who viewed athletics as important had a significant correlation between athletic competence and self-esteem. This study emphasizes the importance of importance ratings in sport involvement and self-esteem studies.
---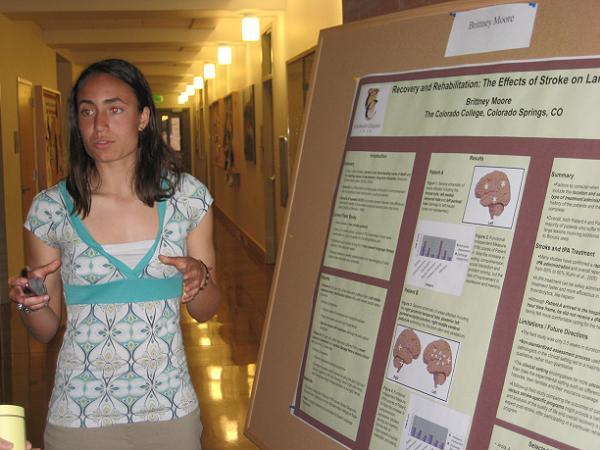 Brittney Moore
Psychology
Advisor: Kristi Erdal
Recovery and Rehabilitation: The Effects of Stroke on Language
In the United States, stroke is the third leading cause of death and the leading cause of permanent, long-term disability (American Stroke Association [ASA], 2009). A stroke, also known as a cerebrovascular accident (CVA), can lead to a variety of disabilities depending on its location and severity. One of the most common disabilities patients suffer from post-stroke is impaired language ability, particularly in the case of middle cerebral artery CVAs. During the present field study, the rehabilitation process of two CVA patients was observed to gather data for case studies for each patient. Therapy sessions, weekly assessments and neuroimaging of each patient was recorded and analyzed. Each patient's rehabilitation data indicated that they were able to regain some of their expressive and receptive language abilities, however, both patients were still severely impaired upon discharge. Research on the effects of stroke on language was also discussed, as well as recent developments in stroke treatment.
---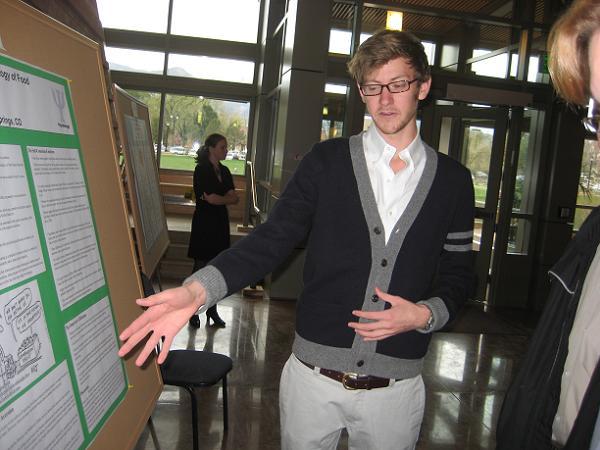 Jack Myers
Psychology
Advisor: Tomi-Ann Roberts
Perceptions, Emotions and the Psychology of Food
This paper explores the broad yet highly relevant relationship between food and emotion. This relationship is examined from its base in perception, and the integration of those perceptions into unique, individual schemas. Emotions such as comfort, anxiety, guilt and disgust are discussed in relation to numerous topics, including: obesity and weight concerns, vegetarianism, genetically modified foods and the omnivore's dilemma. The bi-directional relationship between food and emotion is also discussed, as emotions influence our eating behaviors, while our eating behaviors also influence our emotional reactions. This relationship is highly relevant to Antonio Damasio's theory of emotion, which states that emotions are at the root of all decision-making processes. While perceptions, schemas and emotions are all incredibly relative to each individual, this paper attempts to further clarify the base of knowledge on the relationship between food and emotions.
---
Rachel G. Pizzie
Psychology
Advisor: Tomi-Ann Roberts
The Effect of Mortality Salience on Attitudes Concerning Human Sexuality
According to Terror Management Theory (TMT), homosexuality may serve as a threat by contradicting culturally-held values around "normative" heterosexuality. Additionally, homosexuality may remind us of our corporeal existence, creating the emotion of disgust, which in turn increases the cognitive accessibility of death-related concepts. In the present experiments, we tested whether mortality salience (MS) increased implicit and explicit prejudice against homosexuals, especially when presented in a physical, rather than romantic, context. We also examined whether presentation of homosexuality within a sexual versus a romantic framework increases death-thought accessibility. Contrary to predictions, MS did not create increased prejudice in either explicit or implicit judgments of homosexuals, and primes of homosexuality did not significantly increase death-related thoughts. Within a liberal population, the effects of MS may be mitigated by desire for acceptance of homosexuals, thereby reducing the potential existential threat presented by homosexuality.
---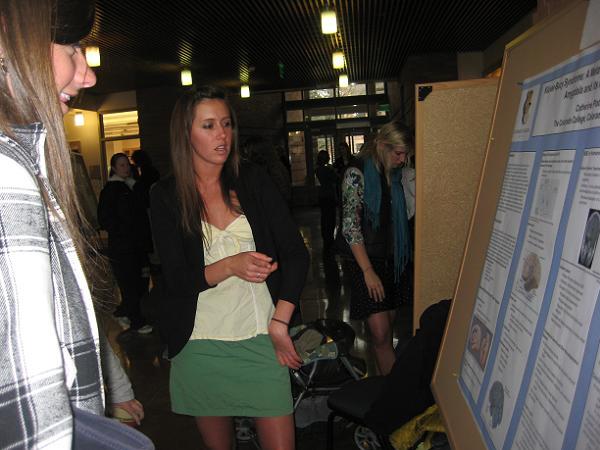 Catherine "Molly" Platt
Neuroscience
Advisor: Bob Jacobs
Klüver-Bucy Syndrome: A Meta-Analysis of the Role of the Amygdala and its Projections
It is widely accepted that Klüver-Bucy syndrome can be attributed to the isolation and bilateral removal of the amygdalae. Its most recognizable symptoms include hyperorality, hypersexuality, and the disruption of community organization in monkeys, or decreased social comprehension in humans. Symptoms of Klüver-Bucy syndrome are regulated or, most often, inhibited by, the orbitofrontal prefrontal-cortex, amygdala, anterior cingulate, and reciprocal projections to the limbic system. Initial studies were limited to procedures performed on monkeys and human interpretation of these symptoms. Clinical evaluation of humans displaying Klüver-Bucy syndrome, however, implicates the frontal and temporal neocortices in neurological malfunction, visual agnosia, and lack of social inhibition.
---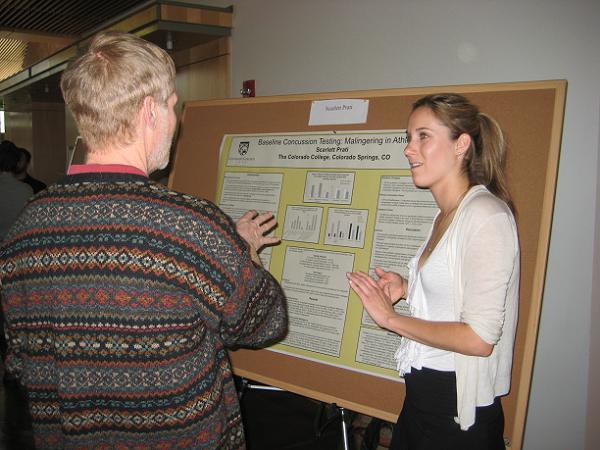 Scarlett Prati
Psychology
Advisor: Kristi Erdal
Baseline Concussion Testing: Malingering in Athletes
Malingering on neuropsychological testing among athletes is an understudied yet essential aspect of making accurate return-to-play (RTP) decisions. Athletes that do intentionally malinger on their real baseline exams can put themselves at great risk if they continue to play with a misdiagnosed concussion. Twenty-nine post-season athletes from Colorado College were recruited to retake their baseline Immediate Post-Concussion Assessment and Cognitive Testing (ImPACT) exam, while intentionally faking bad. Participants performed significantly worse on the ImPACT compared to their original scores from pre-season. 34.5% were classified as successful malingerers for not "tripping" any of the validity indicators, regardless of faking strategies. Although a reflection of the ImPACT's success in catching a majority of malingerers, further research addressing how athletes malinger is still needed to better identify malingering in athletes.
---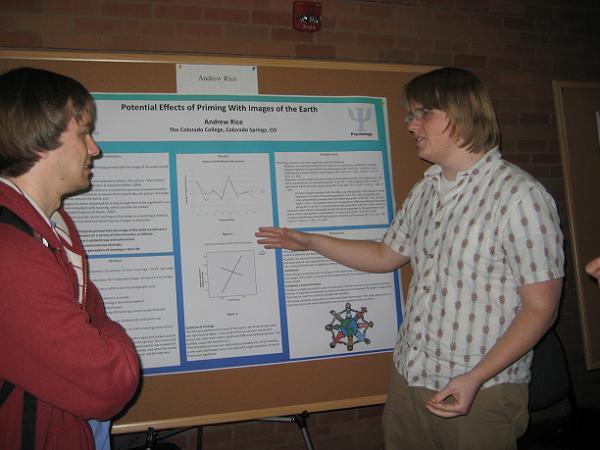 Andrew Rice
Psychology
Advisor: Emily Chan
Potential Effects of Priming with Images of the Earth
The earth has become a popular symbol of the emerging "green" movement. This earth image is often associated with charities and generosity, along with environmentalism and meaningful experiences. This study tested whether that priming observers with images of the earth would evoke the feelings that would be beneficial to organizations using the earth images to persuade people such as philanthropy or environmentalism. Ninety-eight college students completed questionnaires about environmentalism, philanthropy, collectivism/individualism, money conservation, and the meaningfulness of their lives. Half of the participants were primed with images of the earth on the clipboards used in the study, and the other half completed the survey on blank clipboards. We found that the prime had its intended effect in several of the philanthropic questions, but had no effect on environmentalism, money conservation, individualism and collectivism, and perceptions of the meaningfulness of the participants life.
---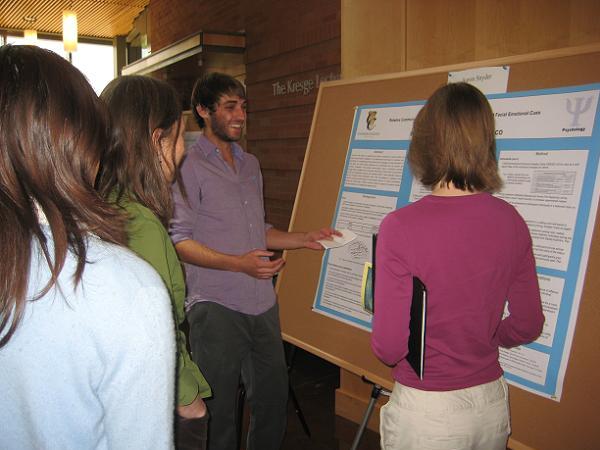 Aaron Snyder
Neuroscience
Advisor: Lori Driscoll
Relative Communicative Value of Semantic, Prosodic, Gestural and Facial Emotional Cues
The aim of this work is to determine the relative contribution of various auditory and visual communicative modalities to the interpersonal transmission of emotional cues. Specifically, it is hypothesized that emotional body language and facial expression will elicit faster and more robust responses from participants than will prosodic and semantic vocalization. The relative communicative value of information conveyed through these modalities will be evaluated using Ekman's Facial Action Coding System (FACS) and participants' galvanic skin response (GSR). These dependent measures will be evaluated while participants view a film clip designed to selectively elicit reactions to these specific types of communication, alone or in various combinations. Results are forthcoming; however, previous research suggests that gestural signals may be processed more rapidly than auditory ones.
---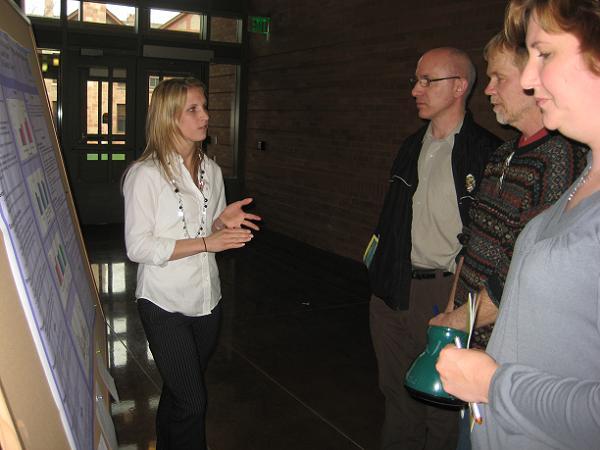 Lauren M. Talbot
Psychology
Advisor: Kristi Erdal
Differences in Athletes' Motivation as a Function of Gender, Collegiate Division, and External Rewards
Sport motivation has generated conflicting research concerning the influence of monetary rewards and gender on intrinsic (IM) and extrinsic motivation (EM). The Cognitive Evaluation Theory has been used to guide motivational research, stating that levels of IM depend on how one perceives his/her competence and whether his/her behavior is self-determined. This study investigated sport motivational profiles as a function of gender, collegiate division, and a priming condition. The results indicated that females had higher EM scores than males. High female EM scores might be explained by social motivation. Division I athletes had higher IM scores than Division III athletes. Supporting the Cognitive Evaluation Theory, Division I athletes may have interpreted scholarships and their successes as indicators of competence and opportunity rather than a controlling factor, which could account for their higher IM.
---
This is the Department of Psychology
Browse all Departments & Programs
​