2009
List of Presenters
---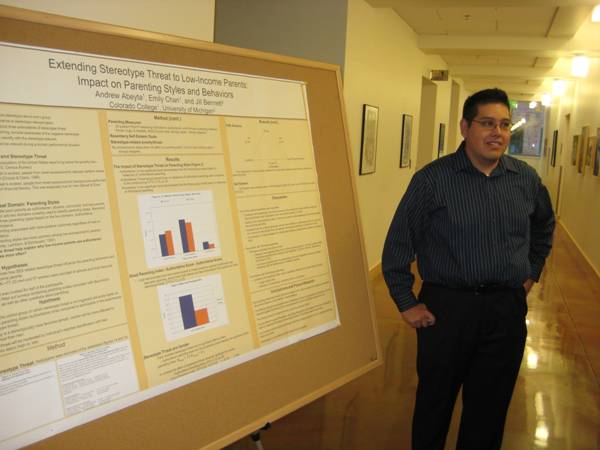 Andrew Abeyta
Psychology
Advisor: Emily Chan
Extending Stereotype Threat to Low-Income Parents: Impact on Parenting Style and Behavior
Although stereotype threat has been studied in numerous stigmatized groups, there has been little research of low socioeconomic status individuals. The current study explored how stereotype threat impacts the domain of parenting among low-income groups. Stereotypes describe low-income parents as ineffective and uninvolved. Therefore, we hypothesized that low-income parents put under stereotype threat would exhibit attitudes and self-report behaviors that are normatively considered less desirable parenting compared to those not under threat. Low-income parents recruited at service agencies filled out a questionnaire measuring parenting styles and practices. Parents in the threat condition were reminded of the stereotype that people from different social class have different parenting styles. As expected, parents in the threat condition reported being significantly less authoritative and significantly less desirable parents than lower income parents in the control condition. This effect was especially true for women. The current findings stress the ubiquitous and pervasive nature of stereotype threat and its implications for how low socioeconomic status individuals perceive themselves to be in the domain of parenting.
---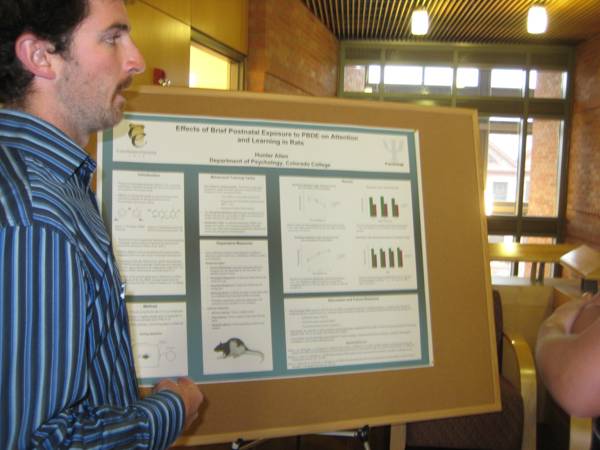 Hunter Allen
Psychology
Advisor: Lori Driscoll
Effects of Brief Postnatal Exposure to PBDE on Attention and Learning in Rat
Polybrominated diphenyl ethers (PBDEs), commonly used flame retardants incorporated into polyurethane foam, electronics, and construction equipment, are ubiquitous in the environment and bioaccumulate in humans and wildlife. Because infants are exposed to significant concentrations of PBDEs via breast milk and hand-to-mouth behaviors, it is necessary to examine the compound's developmental toxicological effects. Previously it was demonstrated in rats that administration of 30 mg/kg body weight of the commercial PBDE mixture DE-71 orally for 1 week, beginning on postnatal day (PND) 6, results in significant learning deficits and an altered response to scopolamine compared to controls. To identify a critical dose threshold for these PBDE induced deficits, the present study examined lower DE-71 doses of 5 mg/kg and 15 mg/kg body weight, using the same corn oil vehicle as in the previous study. As adults, the rats were tested on a series of behavioral tasks designed to tap learning, sustained attention, and selective attention. No significant treatment effects were observed on any of the behavioral measures, suggesting that either the doses were too low to disrupt neural development, or the development of compensatory neural mechanisms prevented the detection of any behavioral deficit.
---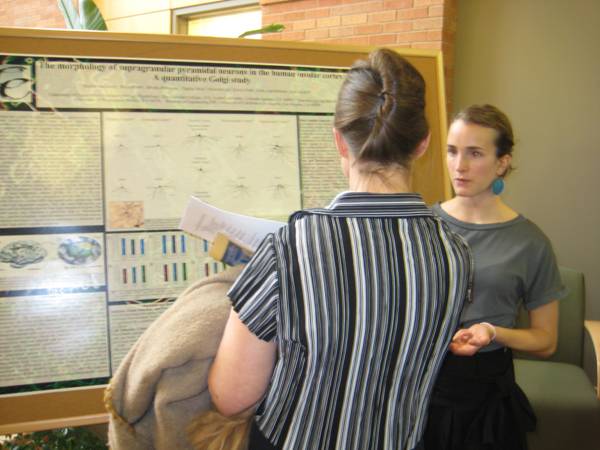 Kaeley Anderson
Neuroscience
Advisor: Bob Jacobs
The Morphology of Supragranular Pyramidal Neurons in the Human Insular Cortex: A Quantitative Golgi Study
Although the primate insular cortex has been studied extensively, a comprehensive investigation of its neuronal morphology has yet to be completed. To that end, neurons from 20 human subjects (10 males and 10 females; N = 600) were selected from the secondary gyrus brevis, precentral gyrus, and postcentral gyrus of the left insula. The secondary gyrus brevis was generally more complex in terms of dendritic/spine extent than either the precentral or postcentral insular gyri, which is consistent with the posterior-anterior gradient of dendritic complexity observed in other cortical regions. The male insula had longer, spinier dendrites than the female insula, potentially reflecting sex differences in interoception. In comparing the current insular data with regional dendritic data quantified from other Brodmann's areas (BA), insular total dendritic length (TDL) was less than the TDL of high integration cortices (BA6b, 10, 11, 39), but greater than the TDL of low integration cortices (BA3-1-2, 4, 22, 44). Insular dendritic spine number was significantly greater than both low and high integration regions. Overall, the insula had spinier, but shorter neurons than did high integration cortices, and thus may represent a specialized type of heteromodal cortex, one that integrates crude multisensory information crucial to interoceptive processes.
---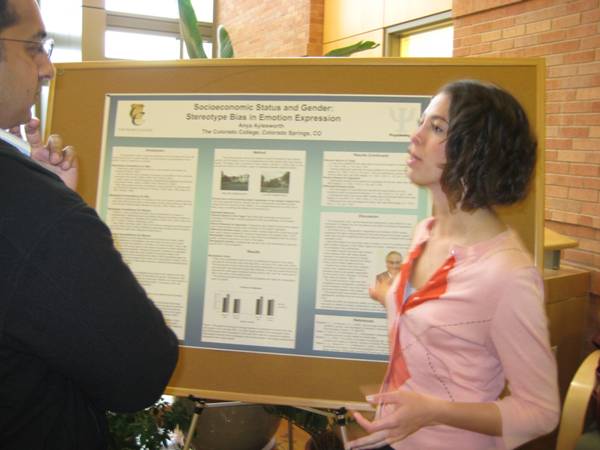 Anya Aylesworth
Psychology
Advisor: Emily Chan
Socioeconomic Status and Gender Stereotype Bias in Emotion Expression
Emotions signify 'place' based on socioeconomic status (SES) and gender. Anger is seen as a high status emotion consistent with the masculine stereotype. Sadness is seen as a low status emotion consistent with the feminine stereotype. The present research found that male targets were seen as more justified and were met with more compassion than female targets. Sad male targets elicited the most shame when of a high SES and pity when of a low SES. Female targets of a low SES elicited the most pride in participants. Targets of a low rather than high SES were seen as being the most justified, elicited the most pity and compassion, and when they expressed sadness they were agreed with the most.
---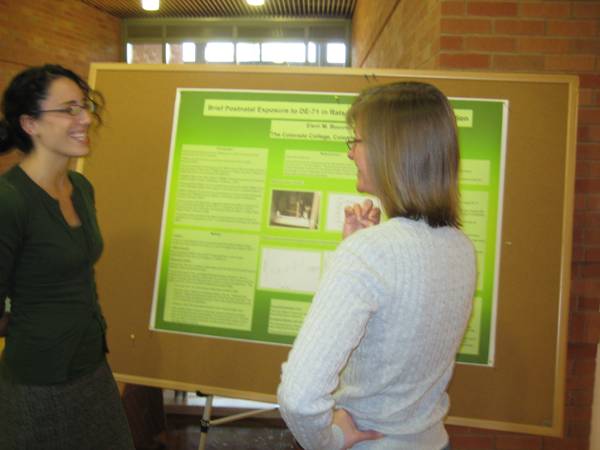 Eleni Bucuvalas
Psychology
Advisor: Lori Driscoll
Brief Postnatal Exposure to DE-71 in Rats: Effects on Learning and Attention
Polybrominated diphenyl ethers (PBDEs) are bioaccumulative flame retardants ubiquitously used in consumer products. Previous studies suggest that PBDE exposure may have detrimental effects on cholinergic system development and learning ability. The present study investigated the effects of early postnatal PBDE exposure on learning and attention abilities in adulthood. Male Long-Evans rats were orally intubated daily with 15, 5, or 0 mg/kg body weight of DE-71 on postnatal days 6-12, and assessed on performance on a learning task and an attention task as adults. The 5 mg/kg DE-71 group performed significantly better on the learning task when compared to control animals; the 15 mg/kg DE-71 group was unaffected. No effect of DE-71 exposure on performance on the attention task was found. These findings suggest that PBDE exposure at these levels is insufficient to cause learning or attention deficits.
---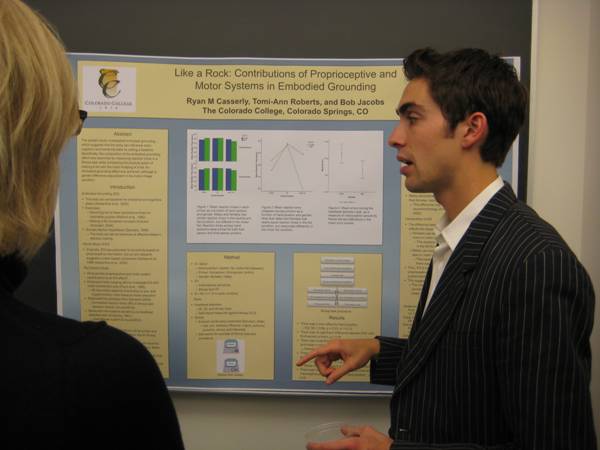 Ryan Casserly
Neuroscience
Advisors: Bob Jacobs & Tomi-Ann Roberts
Like a Rock: Contributions of Proprioceptive and Motor Systems in Embodied Grounding
The study of embodied grounding has shown that the body can influence the cognitive and emotional state by setting a baseline. However, the neural basis for embodied grounding has remained unclear. The present study investigated the composition of the embodied grounding effect on reaction times in a Stroop task by contrasting the physical action of making a fist with the motor-imaging (kinesthetic imagery) of a fist. An embodied grounding effect was achieved. A gender difference was present in the motor-image condition, suggesting that females may rely more on motor planning information to form an embodied grounding effect, whereas males may depend more on proprioceptive channels. This gender difference in motor imaging is corroborated by the gender differences in interoceptive sensitivity.
---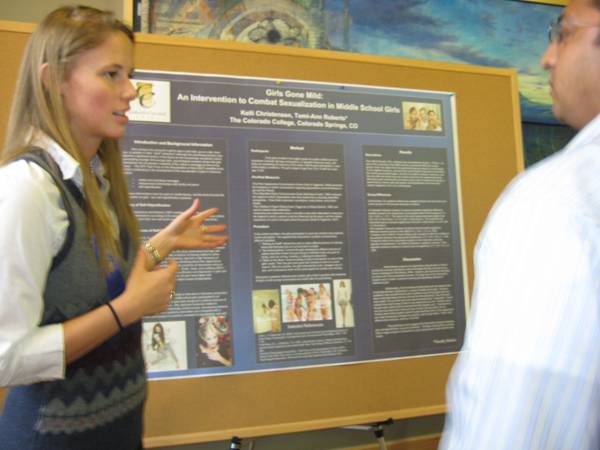 Kelli Christensen
Psychology
Advisor: Tomi-Ann Roberts
Girls Gone Mild: An Intervention to Combat Sexualization in Middle School Girls
The sexualized culture encourages self-objectification among younger and younger girls. In order to combat the negative effects of self-objectification, an intervention program created to increase a group of middle school girls' awareness of the behavior was tested. The program assessment included pre and post testing consisting of four measures related to self-objectification. The intervention did not lead to significant decreases in self-objectification and related behaviors compared to a control condition. This could have been caused by methodological problems regarding the age of the girls and the measures used, as well as the required brevity of the program. Qualitative data from the intervention program, however, indicated that the girls found it enlightening, and were able to discuss appearance issues that they confront daily.
---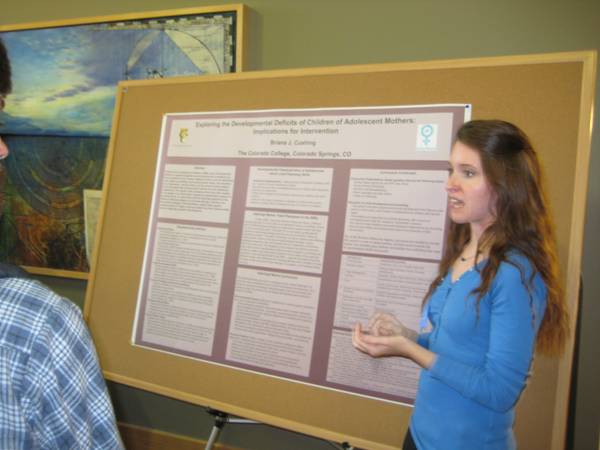 Briana Cushing
Psychology
Advisor: Tricia Waters
Exploring the Developmental Deficits of Children of Adolescent Mothers: Implications for Intervention
Research has shown children born to adolescent mothers show developmental deficits in cognitive-linguistic and socioemotional competence as well as academics and conduct. Maternal factors including attachment style, negative parenting, low socioeconomic status, low education level, depression, minority status and low levels of social support are all correlated with developmental deficits and with adolescent motherhood. This paper reviews the literature on various developmental deficits found in children of adolescent mothers from infancy to adolescence and the possible contributing factors for these deficits. The results of this literature review have been applied to the design of an intervention program for adjudicated teenage females who are pregnant or parenting. In conjunction with the InterCept programs of the Women's Resource Agency of Colorado Springs, Colorado, this new intervention program, InterCept Moms, targets specific maternal factors of an at-risk population in hopes of giving mothers and their children better tools for fostering normative development.
---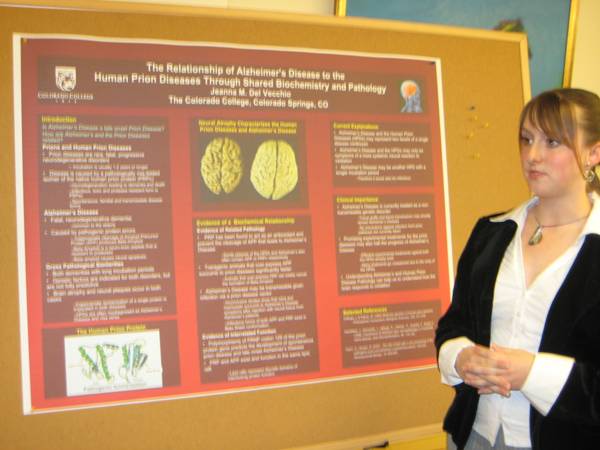 Jeanna Del Vecchio
Neuroscience
Advisor: Kristi Erdal
The Relationship of Alzheimer's Disease to the Human Prion Diseases Through Shared Biochemistry and Pathology
Alzheimer's disease and the human prion diseases are fatal, progressive neurodegenerative disorders characterized by dementia, ataxia, neuronal apoptosis and toxic proteinaceous plaques. Recent experimental evidence indicates that the two diseases are strikingly similar on both a biochemical and pathological level. Moreover, the proteins responsible for the pathology of each disorder may be intrinsically related through both genetic expression and functional cellular compartmentalization. It may be that both disease forms are actually separate facets of a common fundamental neurological problem. If so, greater clarification of the mechanisms and disease properties of Alzheimer's disease may be achieved through the study of prions, and a treatment or cure may eventually be found.
---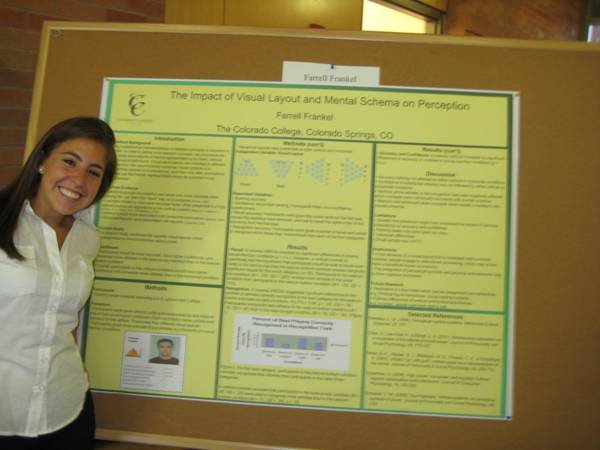 Farrell Frankel
Psychology
Advisor: Emily Chan
The Impact of Visual Layout and Mental Schemas on Perception
Applying visual representations to abstract concepts, such as power, happens unconsciously. A vertical visual representation of a hierarchy is schema-consistent when the most powerful person is placed on top, and schema inconsistent with the most powerful person is placed on the bottom. Previous research suggests that when visual layout and mental schema are consistent with each other, cognitive processes are enhanced. The current study examined how judgmental accuracy, confidence, and memory were influenced when visual layouts were either consistent or inconsistent with mental schemas. Participants ranked profiles of athletes using different visual layouts: vertical (best-on-top vs. best-on-bottom) and horizontal (best-on-left vs. best-on-right). Findings revealed that memory was improved when the hierarchy was consistent with mental schemas in a vertical best-on-top visual layout. The horizontal hierarchies did not reveal significant findings, lending to implications that horizontal layouts are associated with equality rather than comparison.
---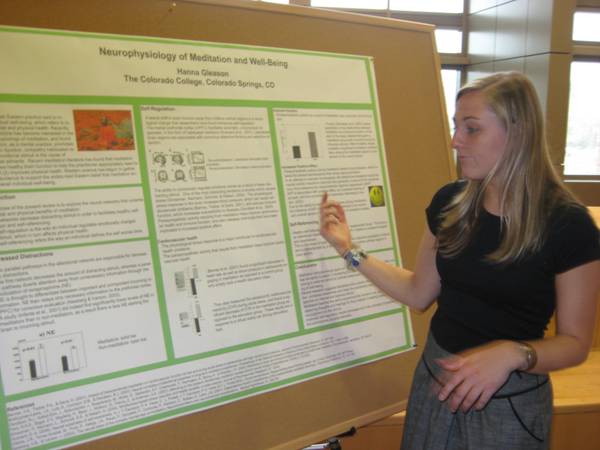 Hanna Gleason
Psychology
Advisor: Bob Jacobs
Neurophysiology of Meditation and Well-Being
Meditation is an Eastern practice said to increase individual well-being. Individual well-being refers to increased mental and physical health. Only recently has Western medicine become interested in the neural underpinnings of the benefits of meditation. Western research has indeed found that meditation, as a mental practice, promotes healthy brain function. Improper automatized brain function, i.e. habituated reactions to emotional stimuli, is the cause of many mental ailments. The medial prefrontal cortex is where automatized brain function occurs, while executive function occurs more laterally. Meditation has been implicated in the lateralization of brain function. This lateralization increases attention paid to healthy brain function. Recent meditation literature has found that healthy brain function comes with the improvement of mental processes related to self-regulation and self-referencing. Self-referencing is the way individuals define the self in space and time, while self-regulation is how individuals react to emotional stimuli. Furthermore, meditation improves physical health. Studies have shown that meditation increases cardiovascular and immune function, and decreases blood pressure and weight. This paper reviews the Western empirical evidence that supports the widely-held Eastern belief that meditation enhances overall individual well-being.
---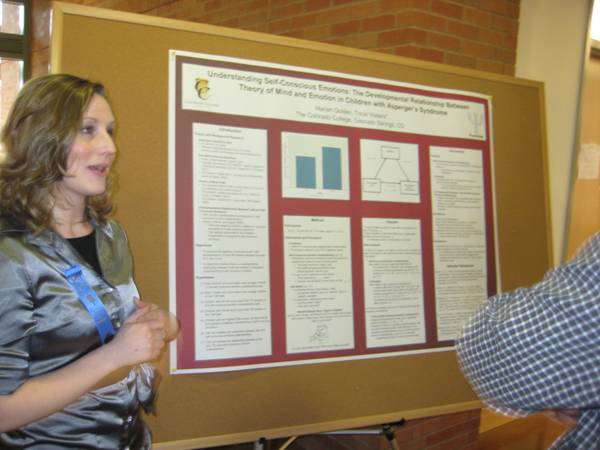 Mariah Golden
Psychology
Advisor: Tricia Waters
Understanding Self-Conscious Emotions: The Developmental Relationship Between Theory of Mind and Emotion in Children with Asperger's Syndrome
Previous research has indicated that children with Asperger's Syndrome (AS) have impaired self-conscious emotion understanding and theory of mind (ToM) capacities, which are crucial to the development of social competence. This study examined emotional and ToM development in typically developing (N = 16) and AS (N = 15) male children between the ages of 5- and 13-years old. Participants were asked to define two basic emotion words (happy, sad) and four self-conscious emotion words (pride, embarrassment, shame, guilt) and then describe a time when they felt each emotion. Participants also completed a modified version of the Strange Stories ToM Task (Happe, 1994). As predicted, participants with AS demonstrated a significantly impaired understanding of self-conscious emotions in comparison to typically developing participants. Additionally, ToM ability and self-conscious emotion understanding were significantly positively correlated. The findings have implications for treating the social impairments that children with AS experience.
---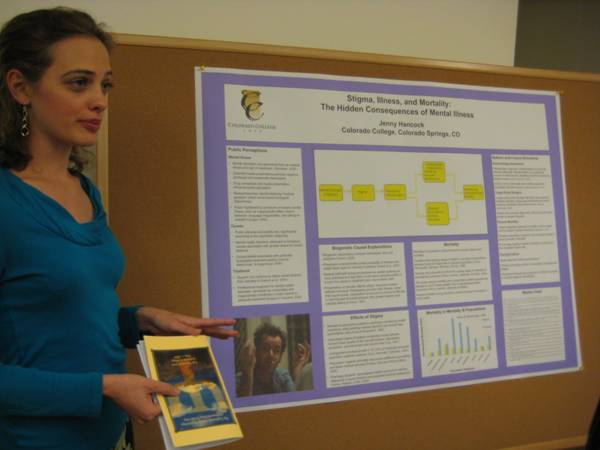 Jenny Hancock
Psychology
Advisor: Kristi Erdal
Stigma, Illness, and Mortality: The Hidden Consequences of Mental Illness
The relatively recent medical movement to recreate and establish a common understanding of mental illness which emphasized the biomedical and genetic nature of the disorders has produced mixed results. Many researchers have concluded that this has communicated the desired understanding of mental health disorders as legitimate and heritable diseases much like somatic illness. Others have found that this reconceptualization has created an understanding of mental illness as a permanent defect and effectually caused a rejection or stigmatization of the afflicted individuals. The stigma has, over time, spread to other realms of life, affecting the mentally ill populations in terms of detrimental social interaction and relationships, employment and housing opportunities, inadequate medical treatment and, eventually, premature death.
---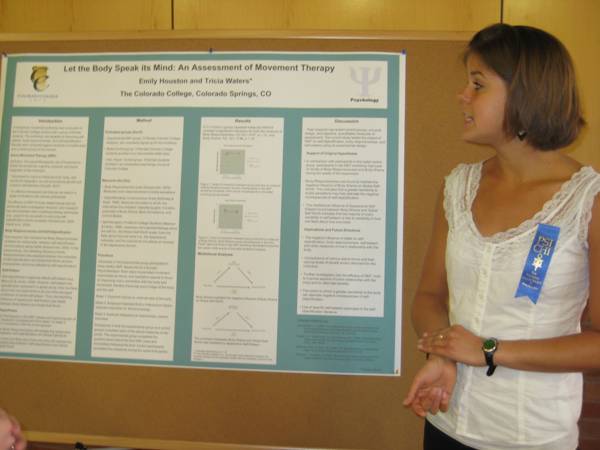 Emily Houston
Psychology
Advisor: Tricia Waters
Let the Body Speak its Mind: An Assessment of Movement Therapy
Previous research has illuminated both the efficacy of Dance/Movement Therapy (DMT) in improving and treating various negative symptoms, and focused on the severity and range of consequences resulting from negative body image and self-objectification. However, little research has integrated the 2 fields, thus leaving the potential efficacy of mind/body therapeutic techniques (such as DMT) for improving one's view of the body relatively unknown. The present study assesses the efficacy of DMT for improving body responsiveness, self-objectification, and measures of self-esteem in a sample of college-aged women. A DMT workshop was conducted over a 3-week interval. Participants in the workshop improved significantly on their reports of Body Shame and Body Responsiveness in comparison with students enrolled in a ballet class at the same time, whose scores worsened over the interval. In a theoretical extension of the literature, Body Responsiveness was found to mediate the negative effects of Body Shame on Global Self-Worth. The relationship between Body Shame and Global Self-Worth was also mediated by Appearance Self-Esteem, indicating that how one feels about how one looks is a major factor in how they feel about themselves overall. Implications for the literature on self-esteem, self-objectification, and DMT are discussed.
---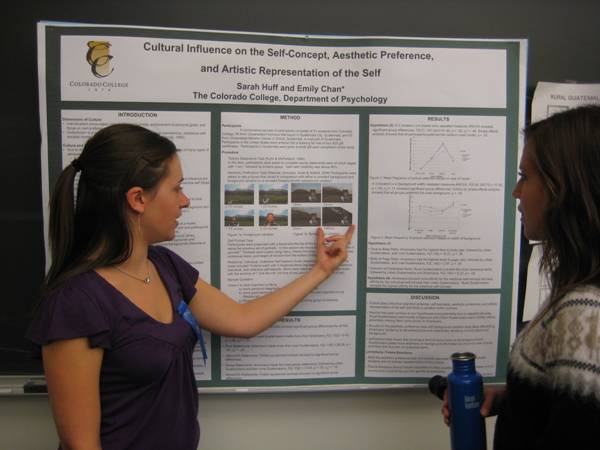 Sarah Huff
Psychology
Advisor: Emily Chan
Cultural Influence on the Self-Concept, Aesthetic Preference, and Artistic Representation of the Self
Past research indicates profound influence of culture on a person's perception, cognition, aesthetic preference, and self-concept. The current study investigated differences among undergraduate students in the United States and two locations in Guatemala, one urban and one rural. The study employed a multi-measure approach, including dimensions of the self and culture, while focusing on core distinctions of individualism and collectivism. The tasks aimed to test self-concept, aesthetic preference, and a combination of the two with an artistic representation of the self. In general, rural Guatemalans showed the most collectivistic tendencies followed by urban Guatemalans, then Americans. However, in some tasks, urban Guatemalans demonstrated the most individualistic characteristics, suggesting variance among cultures in the basic distinctions of individualism and collectivism. Further studies in this field would greatly benefit from gathering data in more locations in both countries, including studies of rural Americans.
---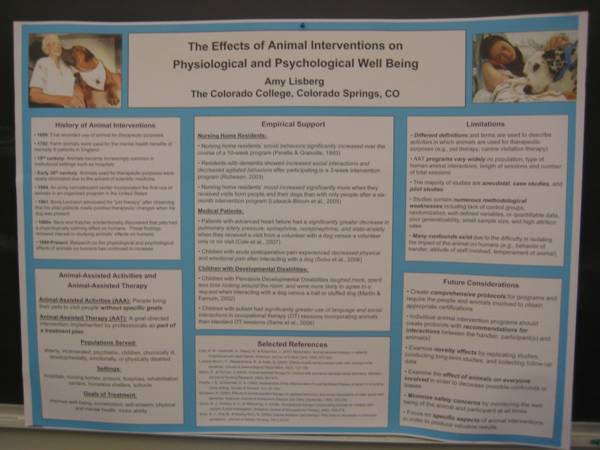 Amy Lisberg
Psychology
Advisor: Kristi Erdal
Effects of Animal Interventions on Physiological and Psychological Well Being
Although there has been a long history of the utilization of animals for therapeutic purposes, research in the area is still relatively new. The history of animals in a therapeutic role was examined, and current research on animal interventions was reviewed. Due to the complexity of human-animal interactions, many studies contain numerous limitations and weak methodologies. However, potential benefits of animal interventions include improved psychological well-being as well as increased physiological functioning.
---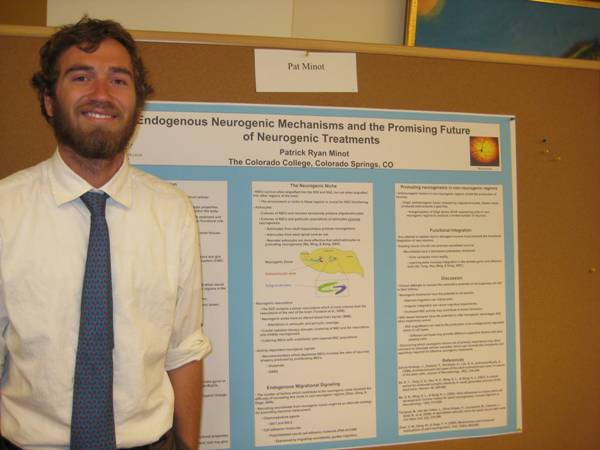 Pat Minot
Neuroscience
Advisor: Lori Driscoll
Endogenous Neurogenic Mechanisms and the Promising Future of Neurogenic Treatments
The discovery of postnatally derived neurons in the sub ventricular (SVZ) and sub granule (SGZ) zones of the mammalian central nervous system (CNS) has changed the way researchers today think about neuronal plasticity. Although the capacity of endogenous mechanisms to contribute to neuronal replacement outside of the SVZ and SGZ is extremely limited, a clear characterization of neural stem cell (NSC) identity, and the prioritization of environmental factors that are necessary for NSC proliferation, differentiation, migration, and integration, may one day allow researchers to promote the regeneration of lost neural circuits outside of these endogenous neurogenic regions and restore the well being of individuals suffering from many forms of injury and disease resulting from neuronal cell death.
---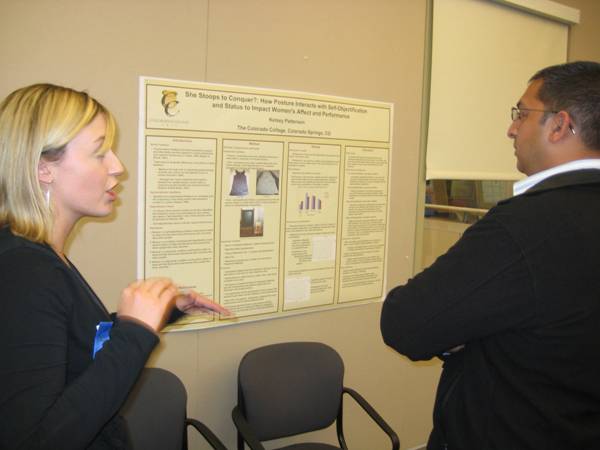 Kelsey Patterson
Psychology
Advisor: Tomi-Ann Roberts
She Stoops to Conquer? How Posture Interacts with Self-Objectification and Status to Impact Women's Affect and Performance
Research suggests that proprioceptive feedback exerts affective and cognitive influences upon individuals, though recent research has indicated that these effects are moderated by gender. The present study sought to examine two sociocultural factors that may contribute to the effects of postural feedback in women: self-objectification and power. Eighty female participants completed various tasks and measures while in an upright or slouched posture, a grandiose throne or child's chair, and a tank top or sweatshirt. Results showed a three-way interaction among the variables. Participants wearing the sweatshirt and sitting in the throne felt better upright than slouched, and participants wearing the tank top and sitting in the child's chair felt better upright than slouched. The results are discussed in terms of the appropriateness hypothesis and objectification theory, and directions for future research are suggested.
---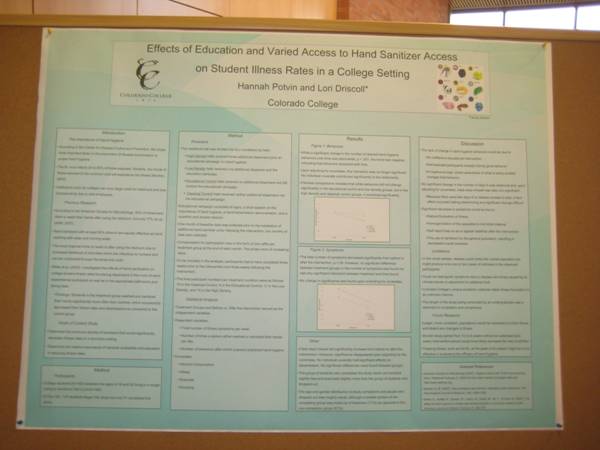 Hannah Potvin
Neuroscience
Advisor: Lori Driscoll
Effects of Education and Varied Hand Sanitizer Access on Student Illness Rates in a College Setting
This study explored the effects of education and varied availability of hand sanitizer dispensers on the illness rates of students in a college residence hall. Participating in the study were 51 college students between the ages of 18 and 22, who were assigned to one of four treatment groups according to their location in one large campus residence hall: a classical control, an educational control, a low density group that received one additional hand sanitizer dispenser, and a high density condition with three extra dispensers. Participants were asked, via a weekly survey, to report illness symptoms, practice and frequency of hand hygiene, and other behaviors that may influence health. In the classical control and high density groups, a significant decline in desired hand hygiene behavior was observed from before to after the intervention. However, an overall decline in symptoms and increase in health was also observed, regardless of condition. The decrease in illness rates could be caused by many different factors, including natural fluctuation in illness rates, a homogenization of the microbial population, or global increase of hand sanitizer use by non-participants. Further studies should be conducted with larger populations and with increased means of ensuring compliance.
---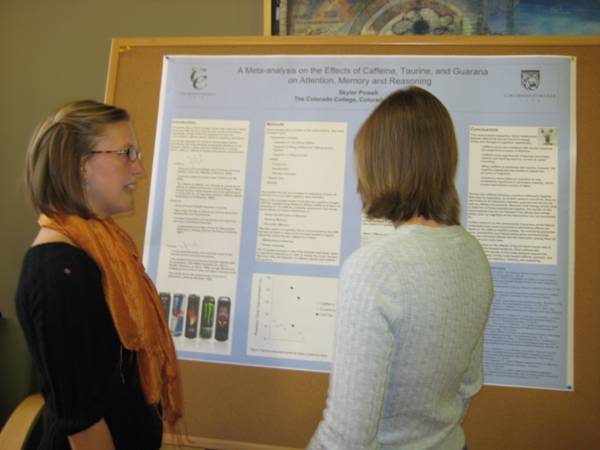 Skylor Powell
Psychology
Advisor: John Horner
A Meta-analysis on the Effects of Caffeine, Taurine, and Guarana on Attention, Memory and Reasoning
Energy drinks are very popular because of their claims to increase certain cognitive abilities. This meta-analysis evaluates previous research on the effects of three substances that are commonly found in energy drinks on cognitive abilities. The 12 studies included evaluate speed and accuracy of attention, working and secondary memory and logical reasoning shortly after ingestion of caffeine, caffeine and taurine together, or guarana. Results indicate that these ingredients do improve cognition. Specifically, caffeine alone influences the reaction speed and accuracy of attention tasks, secondary and working memory tasks, as well as reasoning tasks. Caffeine and taurine together also improve the reaction time in speed of attention tasks. Guarana consistently improves only secondary memory. This meta-analysis concludes that there is evidence to support the claims of cognitive improvement caused by consuming drinks that contain these substances.
---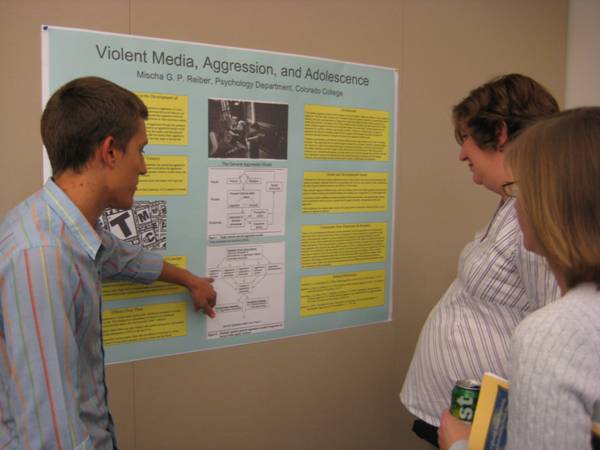 Mischa Reiber
Psychology
Advisor: Tomi-Ann Roberts
Violent Media, Aggression, and Adolescence
Recently a great deal of attention has been focused on the possible ties between exposure to violent media, in the forms of television, film, and electronic games, and increases in aggressive behavior. Current research suggests that violent media influences aggressive behavior, but results, and effect sizes, have varied between genders, with male subjects displaying larger effect sizes than females. This review of the literature will focus on the differences in effects found between genders, and will attempt to explain these differences as being due to gender based developmental processes occurring during adolescence. Implications of this complex literature are discussed, and future researchers are encouraged to emphasize a developmental perspective in understanding the varied impacts of violent media on behavior and attitudes.
---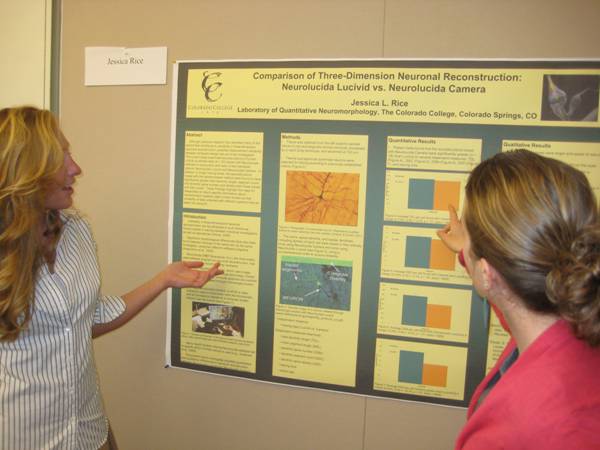 Jessica Rice
Neuroscience
Advisor: Bob Jacobs
Comparison of Three-Dimension Neuronal Reconstructions: Neurolucida Lucivid vs Neurolucida Camera
Although previous research has identified many of the factors that contribute to variability in three-dimension neuronal reconstruction, possible measurement variability between hardware setups has yet to be investigated. The current study examined reconstructions of human cortical pyramidal cells (N = 20) traced with Neurolucida software in conjunction with each of two hardware options: Neurolucida Lucivid and Neurolucida Camera. In addition to longer tracing times, the reconstructions traced with the camera-based method were found to have significantly greater total dendritic length, segment count, and dendritic spine number and density than those traced with the Lucivid. These findings highlight the need for researchers to report specific information about reconstruction systems used in their studies so that variability of data collected with different systems may be taken into account.
---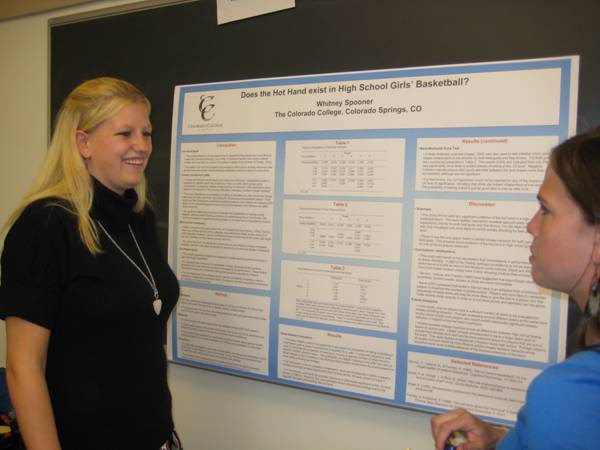 Whitney Spooner
Psychology
Advisor: John Horner
Does the Hot Hand Exist in High School Girls' Basketball?
The hot hand belief is the perception held in basketball that players are more likely to make their next shot following a run of hits. The present research evaluated the hot hand in high school girls' basketball, where a player is expected to have greater variability in their shooting, possibly making it more likely for them to experience streak shooting. The shots for six players were recorded in each of 14 games throughout a single season. A mathematical quadratic expansion and the Wald-Wolfowitz runs test were used to analyze the data. Only one player was significantly more likely to exhibit streak shooting at p < .05, which implies the hot hand may not be present in high school girls' basketball.
---
Sarah Stults
Psychology
Advisor: John Horner
The Discriminability of Playing Card Dimensions: Color and Suit
Thirty participants were presented 3 sets of playing card stimuli: standard playing cards (regular), cards with color and suit reversed (trick), or a set containing both regular and trick cards (mixed) at 1 of 3 brief presentation intervals (13 ms, 26 ms and 52 ms). Participants were informed beforehand about which stimulus set to expect, and then participants were required to identify each stimulus' color, number and suit. The percent of accurate identifications was recorded. Results showed that as interval of presentation increased, so did correct identification, but more importantly, correct identification of mixed stimuli was worse than for regular or trick sets. Discriminability measures of color and suit were constant across the 3 conditions.
---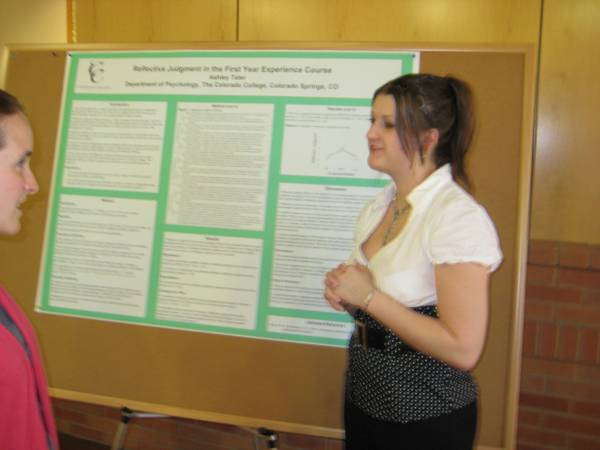 Ashley Teter
Psychology
Advisor: Tricia Waters
Reflective Judgment in the First Year Experience Course
The present research examines the relationship between reflective judgment and course performance in a first year experience course. King and Kitchener's (1994) Reflective Judgment Model was applied to 17 college students' e-journal entries across the 7 week course (10 e-journal entries/student). It was hypothesized that students scoring at higher stages of reflective judgment, as measured through the e-journals, would perform better academically, as measured by overall course grade and course paper grade. Additionally, it was hypothesized that students scoring at higher reflective judgment stages would speak more freely in the classroom setting, as measured by two days of recorded discussion. A significant positive correlation between reflective judgment and overall course grade was found, but no relationship was observed between reflective judgment and the course paper grade, or reflective judgment and speaking time in the classroom. Results do not provide support for growth of reflective judgment during the short time of the first year experience course, but do demonstrate that students with higher stages of reflective judgment tend to perform better academically in the course. Analyses showed growth from the beginning of the course to the middle of the course, followed by a decrease in reflective judgment from the middle to the end of the course. Implications and future directions are also given.
---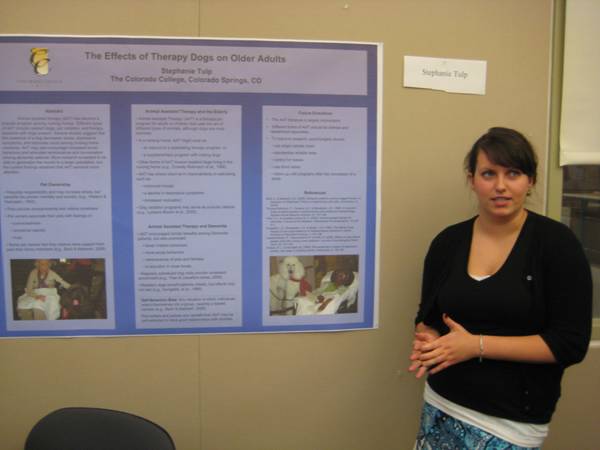 Stephanie Tulp
Psychology
Advisor: Kristi Erdal
The Effects of Therapy Dogs on Older Adults
Animal assisted therapy (AAT) has become a popular program among nursing homes. Different types of AAT include resident dogs, pet visitation, and therapy sessions with dogs present. Several studies suggest that the presence of a dog decreases stress, depressive symptoms, and improves mood among nursing home residents. AAT may also encourage increased social behaviors and stimulate reminiscence and conversation among dementia patients. More research is needed to be able to generalize the results to a larger population, but the current findings establish that AAT warrants more attention.
---
This is the Department of Psychology
Browse all Departments & Programs
​