2008
List of Presenters
---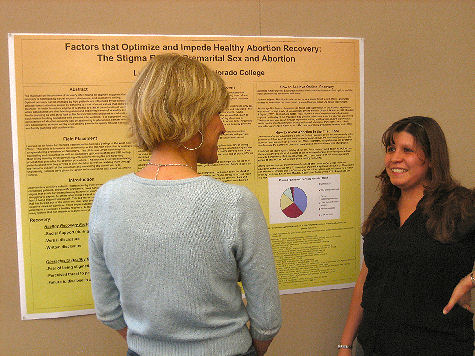 Lynda Aguado
Psychology
Advisor: Tricia Waters
Factors that Optimize and Impede Abortion Recovery: The Stigma Behind Sex and Abortion
The literature on the process of abortion recovery suggests that the process is optimized by social support, and verbal or written disclosure. Optimal recovery can be impeded by how patients interpret the stigmatized attitude toward abortion and/or by adhering to moral values that condemn abortion. In order to reduce stigma, it is crucial to start at the educational level when adolescents are first learning about and exploring sexuality and family planning as well as to look at the factors that limit unbiased sex education such as parental communication and federal funding limitations. It is suggested that unwanted pregnancy can be avoided by implementing comprehensive sex education in schools and encouraging parents to discuss sexuality and family planning with adolescents. Personal field experience is discussed.
---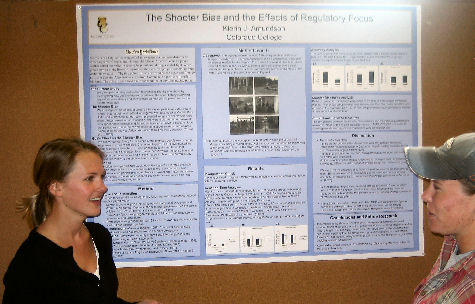 Kierin Amundson
Psychology
Advisor: Emily Chan
The Shooter Bias and the Effects of Regulatory Focus
The current study examined how regulatory focus influenced how people perform on the shooter bias task. Past research (Correll, Park, Judd, & Wittenbrink, 2002) has found that race influences the rate of firing and the response speed when participants were in a simulated shooter scenario. Research on regulatory focus has found that individuals when primed with a promotion focus respond to tasks with a "risky response," whereas individuals with a prevention focus respond to tasks with a "conservative response" (Crowe & Higgins, 1997). In the current study, the relationships between these two findings were examined through questionnaires and a videogame task. Participants performed the shooter bias task where images either of an African American man or a Caucasian man appeared on a computer screen. A partial shooter bias effect in the control group, no shooter bias effect in the promotion focus condition, and no shooter bias in the prevention focus condition were found.
Poster accepted at the Fifth Annual Colorado Springs Undergraduate Research Forum at the United States Air Force Academy - Colorado Springs, April 12, 2008.
---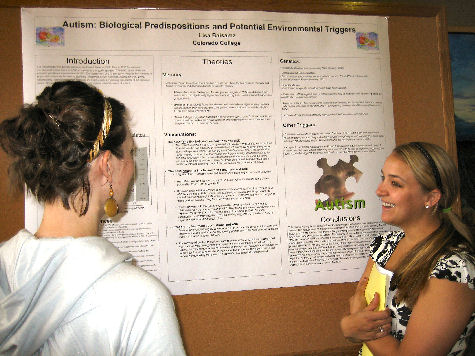 Lisa Balsama
Psychology
Advisor: Lori Driscoll
Autism: Biological Predispositions and Potential Environmental Triggers
According to the Centers for Disease Control (CDC, 2007), 1 in 150 children will develop autism in the United States in 2007. Prior to 1970 the estimated prevalence of autism was 1 in 2,000, compared to 1 in 1,000 between 1970-1990 (Gilberg & Wing, 1999). In the 1990s the estimated prevalence increased to 1 in 500 (Bristol, Cohen, & Costello, 1996). The increase to 1 in 150 new cases of autism has led many to believe that autism has become an epidemic (Bradstreet, Geier, Kartzinel, Adams & Geier, 2003; Mason, 2007). Unfortunately, these dramatic rate increases are coupled with a continuing uncertainty of the causes of autism. It is believed that autism has a strong genetic predisposition with an environmental trigger, particularly mercury toxicity, which has sparked intense debate over the role of vaccinations and thimerosal. However, the majority of the evidence shows no causality between the increases in ASD and thimerosal. The cause of autism is most likely due to complex genetic predispositions coupled with environmental triggers.
---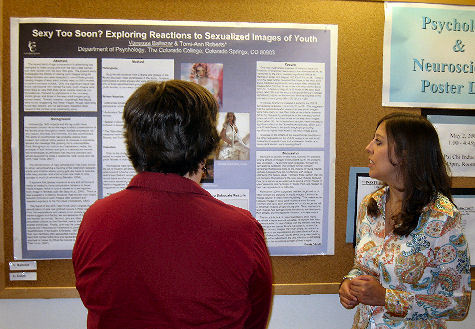 Vanessa Baltazar
Psychology
Advisor: Tomi-Ann Roberts
Sexy Too Soon? Exploring Reactions to Sexualized Images of Youth
The recent trend of age compression in advertising has attempted to make young girls look like sexy older women and older women look like sexy little girls. The present study investigated the effects of viewing such images using 60 college females who were assigned to one of three groups, viewing images of sexy adult models, sexy youthful models, or control non-sexy models. Results revealed that participants who viewed the sexy youth images were more likely to view their body as an outside observer (i.e. Surveillance), followed by participants in the non-sexy control group, and those in the sexy adult images group scored lowest. Surprisingly few effects were found, however, and it appears that college aged women do not respond particularly negatively at all to such images. These non-results raise the chilling possibility that consumers have become immune to the sexualized content of advertising. Discussion centers on the use of media literacy education and policy changes to raise awareness of the negative effects of these sexualized and idealized images on both women and young girls.
Poster presented at the Fifth Annual Colorado Springs Undergraduate Research Forum at the United States Air Force Academy, Colorado Springs, April 12, 2008.
---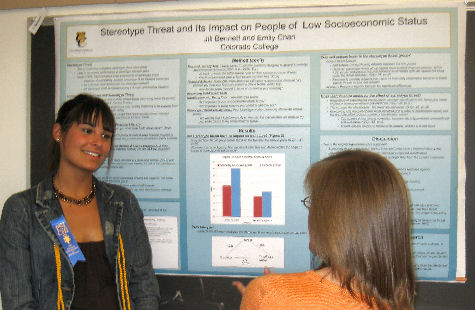 Jill Bennett
Psychology
Advisor: Emily Chan
The Impact of Stereotype Threat on People of Lower Socioeconomic Status
Research continues to demonstrate the detrimental effects of stereotype threat on performance. Nevertheless, it is limited in its study of an important stigma: low socioeconomic status. Croizet and Claire (1998) demonstrated that stereotype threat could impair intellectual task performance of students from poor families. However, stereotypes of low SES clearly extend beyond intelligence. The current study explores how stereotypes about being poor negatively impact people's performance on tasks that measure financial literacy. Participants in the stereotype threat condition were explicitly reminded of the stereotype that poor people are less knowledgeable about money management. Study 1 examined clients of a soup kitchen and Study 2 examined women from a Women's Resource Agency program. As expected, the stereotype threat group scored lower on the test than the control group. Furthermore, regression analysis showed an interaction between identification with SES and performance, suggesting that for people who were highly identified (top 25%), threat predicted performance, whereas for those who were not highly identified (bottom 25%), threat had little impact on performance.
Poster presented at the 9th Annual Conference of the Society for Personality and Social Psychology Society in Albuquerque, NM, February 9th, 2008.
---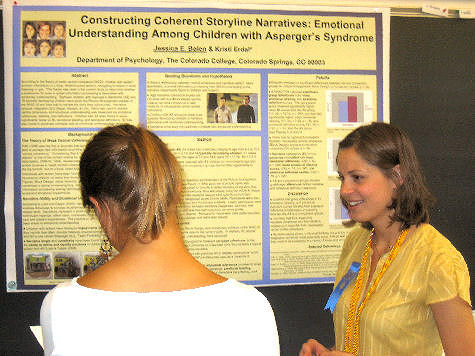 Jessica Bolen
Psychology
Advisor: Kristi Erdal
Constructing Coherent Storyline Narratives: Emotional Understanding among Children and Adolescents with Asperger's Syndrome
According to the theory of weak central coherence (WCC), children with autism display a strong propensity to process information in a local, detail-focused fashion, often struggling to extract overall meaning or gist. This theory was used in the current study to determine whether a preference for local or global information processing is associated with emotional understanding. Eighteen children with Asperger's Syndrome (AS) and 18 typically developing children were given the Picture Arrangement subtest of the WISC-III and then told to narrate the story they constructed with the picture cards. Narrative episode integration (EI) (Segal, Westen, & Lohr, 1993) was used to assess central coherence, and emotional understanding was measured via emotional references, labeling, and definitions. Children with AS were found to score significantly lower on EI, emotional labeling, and emotional definitions. EI was also found to positively correlate with all emotional understanding measures. Implications for developmental and educational interventions were discussed. Poster presented at the Fifth Annual Colorado Springs Undergraduate Research Forum at the United States Air Force Academy, Colorado Springs, April 12, 2008.
---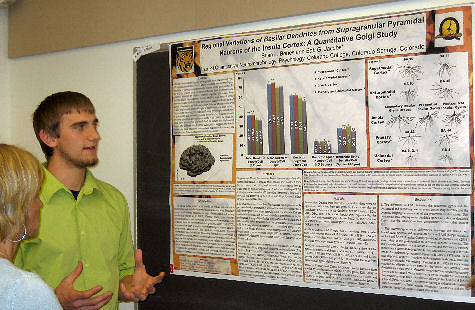 Brian Bones
Neuroscience
Advisor: Bob Jacobs
Regional Variation of Basilar Dendrites from Supragranular Pyramidal Neurons of the Insula Cortex: A Quantitative Golgi Study
Although neuromorphological investigations have documented cyto- and myeloarchitectonics, little is known about the neuromorphological properties of supragranular pyramidal neurons in the insula cortex. To this end, the present study reconstructs basilar dendrites from insular pyramidal neurons to explore potential regional differences. Total dendritic length, mean segment length, dendritic spine count, dendritic spine number, and dendritic spine density were quantified. Using a nested analysis of variance, no differences were detected among insular gyri for total length, mean segment length, segment count, and spine number. The precentral insular gyrus had significantly greater spine density than the postcentral and secondary insular gyrus breves. In comparison to previously quantified cortices from Jacobs et al. (2001), the insula had similar spine number but less total dendritic length than higher-order cortices. The difference in dendritic composition suggests that insular neurons may have optimized heteromodal integration for sensory and limbic percepts through structural-related alterations. Poster presented at the Fifth Annual Colorado Springs Undergraduate Research Forum at the United States Air Force Academy, Colorado Springs, April 12, 2008.
---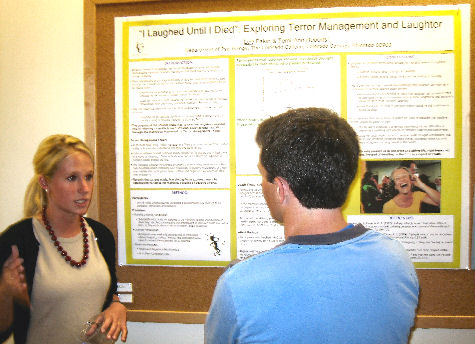 Lee Eakin
Psychology
Advisor: Tomi-Ann Roberts
Exploring Terror Management Theory and Laughter
Empirical research on laughter has tended to equate laughter with humor. Ethnographic research, however, has shown that most real-world laughter is simply mirthless. Many physical and psychological benefits of laughter have been demonstrated through the research on humor and positive mood, one being laughter's power to reduce stress. Terror Management Theory states that humans show many negative defensive reactions to reminders of their mortality. The current study explored whether laughter might ameliorate mortality salience effects. Participants engaged in 30 seconds of forced laughter, smiling, or howling after a mortality salience induction. Results showed that those who laughed experienced significantly more positive affect, and showed significantly lower death-thought accessibility, than those in the other conditions. Implications for laughter as a tool for existential protection are discussed.
Poster presented at the Fifth Annual Colorado Springs Undergraduate Research Forum at the United States Air Force Academy, Colorado Springs, April 12, 2008.
---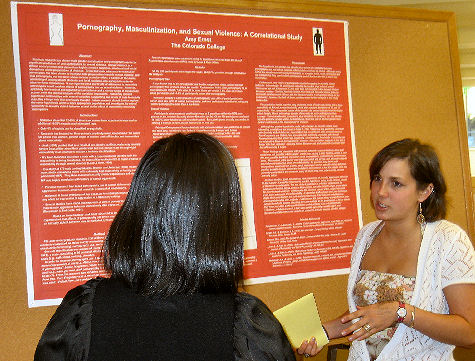 Amy Ernst
Psychology
Advisor: Tricia Waters
Pornography, Masculinization and Sexual Violence: A Correlational Study
Previous research has shown male gender socialization and pornography use to be significant predictors of, and contributors to sexual violence. Sexual violence is a diffuse social problem that stems from highly complex cognitive, emotional and social disruptions within perpetrators of violence. Given that male adherence to masculine stereotypes has been shown to increase male propensities towards sexual violence, and that pornography use has been shown to have a similar effect, a sample of 284 males, consisting of undergraduate students and Colorado Springs residents was surveyed in order to observe these interactions. It was hypothesized that levels of adherence to masculine stereotypes would mediate effects of pornography use on sexual violence. However, extremely low levels of self-reported sexual violence and a narrow range of masculinity scores made it an inappropriate sample for observation of these variables. Although masculinity showed no significant effect on pornography use or sexual violence, male levels of femininity and discrepancy of femininity in comparison to masculinity emerged as an unexpected possible mediator. This finding suggests an even more complex relationship between gender socialization and sexual violence than was originally hypothesized.
---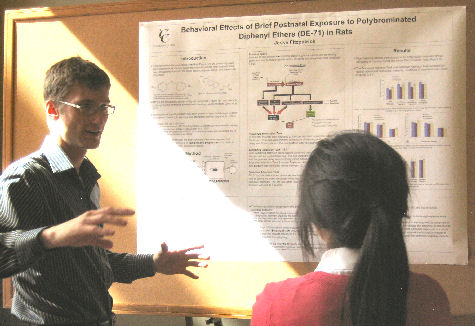 Jesse Fitzpatrick
Neuroscience
Advisor: Lori Driscoll
Behavioral Effects of Brief Postnatal Exposure to PBDEs (DE-71) in Rats
Polybrominated diphenyl ethers (PBDEs), commonly used flame retardants, are frequently found in the fatty deposits of wildlife and humans. Previous research has found that both chronic and brief postnatal exposure to the commercial PBDE mixture DE-71 causes cognitive deficits in rats. In order to determine the minimum dose capable of producing cognitive deficits, lower brief postnatal doses of DE-71 (5mg/kg/day and 15mg/kg/day) were administered during the second week of postnatal life. Rats were administered various five choice visual discrimination tasks intended to evaluate learning, sustained attention, and selective attention. Following completion of these tasks, rats were administered the muscarinic antagonist scopolamine and the effects of the drug on sustained attention were measured in both treatment groups. No major cognitive differences were observed between treatment groups except for mild learning impairments in the 5mg/kg/day dose group. These results indicate that the lower DE-71 dosages were insufficient to produce cognitive deficits.
Presented at the 37th Annual Meeting of the Society for Neuroscience in San Diego, CA, November 4th, 2007.
---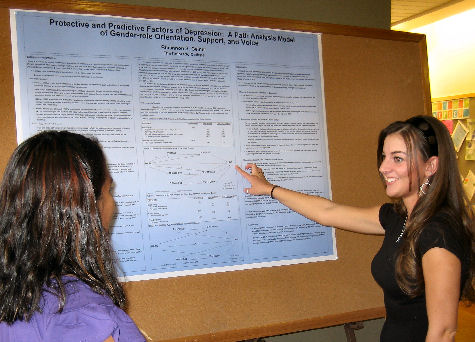 Rhiannon Gelner
Psychology
Advisor: Tricia Waters
Protective and Predictive Factors of Depression: A Path Analysis Model of Gender-role Orientation, Support, and Voice
Females have a lifetime rate of depression 1.7- to 2.7-fold greater than males (Burt & Stein, 2002). Miller (1984), Gilligan (1993), and Jack (1991) theorize that this gender difference is because females are socialized differently and taught to suppress their voice. Harter, Waters, and Whitesell (1997a) theorize that it is not biological sex, but gender-role orientation that makes some adolescents suppress their voice and become more vulnerable to depression. The present study proposes a path analysis model to examine the relationship between gender-role orientation, perceived level of support, voice, and depression within a public domain and a private domain. Results revealed masculinity to be a protective factor of depression and a promoter of voice in public, while perceived level of support protected against depression in private for college students. These findings have important implications for college professors and for the treatment of depression.
---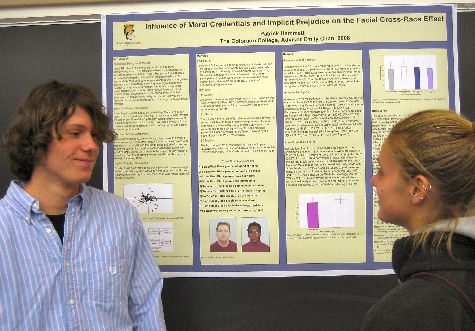 Patrick Hammett
Psychology
Advisor: Emily Chan
Influence of Moral Credentials and Implicit Prejudice on the Facial Cross-Race Effect
The present study examined the role of the manipulation of moral credentials as a potential mediating factor for the facial Cross-Race Effect (CRE). The college-aged participant pool was bi-gendered and primarily Caucasian, half of whom were assigned to the pro-credential condition, the other half to the no-credential condition. Moral credentials were manipulated through the use of the "Some/Most" paradigm, which was followed by an African American and White male facial recognition test. Implicit racial attitudes were employed to determine the influence of prejudice on facial recognition. The participants performed better on the White recognition test, confirming the presence of a facial CRE, but the manipulation of moral credentials did not affect subsequent performance on the facial recognition tests. Higher levels of implicit anti-African American prejudice were positively correlated with poorer performance on the African American recognition test; the reverse was true for participants with low levels of anti-African American prejudice. Contrary to the original hypothesis, the participants were found to display greater levels of implicit prejudice towards Whites than African Americans. Further research on the social and cognitive etiological bases of CRE, as well as its neurological correlates, is needed to add clarity to this complex memory phenomenon and the factors that mediate it.
---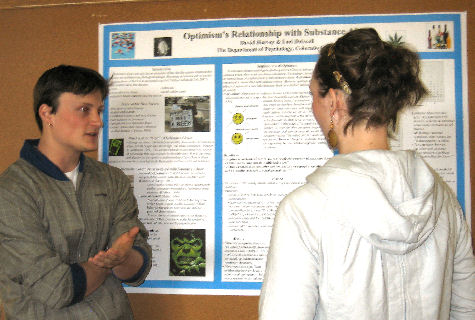 David Harvey
Psychology
Advisor: Lori Driscoll
Optimism's Relationship with Substance Abuse
The current study examined the relationship between optimism and substance abuse. Optimism is considered in light of its outward similarity to other personality constructs which have been examined in association with substance abuse (e.g. self-efficacy, locus of control, and learned helplessness). Many of the personality constructs that have been found to improve the longevity of sobriety seem to be inherently optimistic. Previous research shows that locus of control is more predictive of substance abuse than self-efficacy and learned helplessness. Locus of control scores are also more predictive than several demographic variables. The current research found that locus of control is more strongly correlated with substance abuse than optimism, and that the two are positively correlated with each other. However, optimism was found to be significantly negatively correlated substance abuse. These relationships hold after controlling for demographic variables such as SES, quality of family life, general health and a person's weekly amount of exercise.
---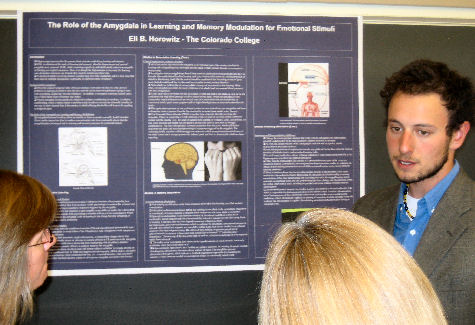 Eli Horowitz
Psychology
Advisor: Tomi-Ann Roberts
The Role of the Amygdala in Learning and Memory Modulation for Emotional Stimuli
Recent research has highlighted that the amygdala is capable of modulating long-term potentiation (LTP – the cellular mechanism thought to underlie learning) both intra-structurally and in other brain regions involved in memory processes, for example, the hippocampus. The consequence is that the amygdala is not vital in emotional learning, but is integral in consolidating explicit emotional memories for storage in other brain regions. It is necessary to more precisely identify such amygdala-dependent learning and memory processes for therapeutic benefits related to anxiety disorders and even repressed memories.
---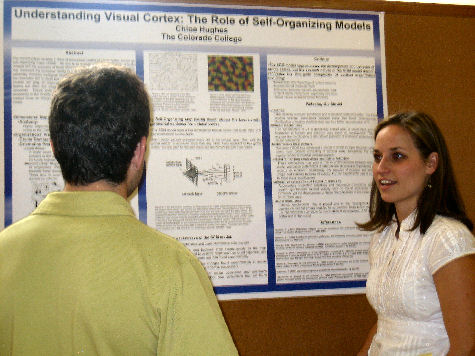 Chloe Hughes
Neuroscience
Advisor: John Horner
Understanding Visual Cortex: The Role of Self-Organizing Models
The current paper reviews a class of theoretical models of visual cortex known as self-organizing maps (SOM). Its aim is to explore the abstract nature of SOM models and the accuracy of these models within the bounds of experimental data that represent the biological reality of cortex. The mammalian neocortex has an extremely complex biological structure, whereas abstract (functional) models of the neocortex aim to distill this complexity into some basic functional roles. SOM models can play an important role in determining the importance of various factors but often are insensitive to the underlying biological structure of the neocortex. Future work should remain cognizant of the fact that too much complexity in the models overwhelms what can be learned from them and should instead focus on bringing together available research into a biologically viable model.
---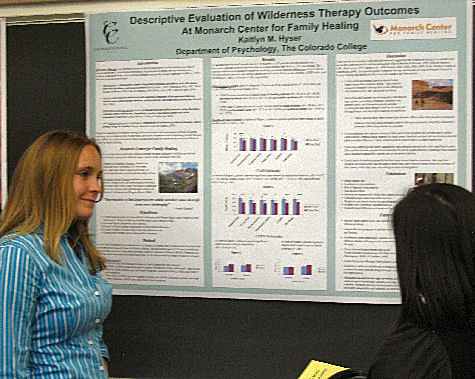 Kaitlyn Hyser
Psychology
Advisor: Tricia Waters
Descriptive Evaluation of Wilderness Therapy Outcomes at the Monarch Center for Family Healing
Previous research suggests that wilderness therapy has been successful in treating at-risk youth, but more specific research is necessary to improve practices and ensure efficacy. Pre and post evaluations were conducted to provide Monarch Center for Family Healing, a Gestalt and Wilderness Therapy Program, with outcome research. Significant improvements were seen in student-reported family problems, and family adaptability, and parent-reported oppositional behavior, psychosomatic issues, ADHD and DSM-IV totals. Many trends toward improvements were also seen, and perhaps the most noteworthy finding was that Monarch's treatment helped bring many clinical range problems back into normal range. This research provided Monarch with information on the success of their program, and also supplied feedback for improvement, and directions for future research.
---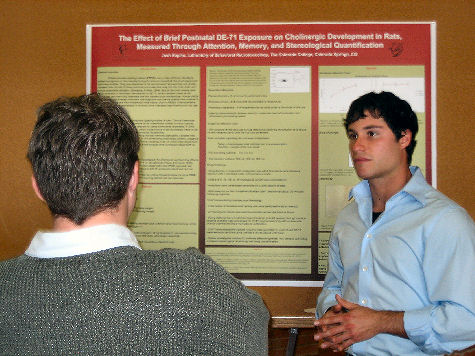 Joshua Kaplan
Neuroscience
Advisor: Lori Driscoll
The Effect of Brief Postnatal DE-71 Exposure on Cholinergic Development in Rats, Measured Through Attention, Memory, and Stereological Quantification
Polybrominated diphenyl ethers (PBDEs) are a class of flame retardants added to polymers in the manufacturing of common household products. Increases in breast milk PBDE concentrations have raised concern regarding their potential toxicity. The effect of brief postnatal exposure to DE-71, a commercial PBDE mixture, was investigated on learning and attention in rats. Rats received one of three daily oral treatment doses of DE-71 (0 mg/kg, 5 mg/kg, or 15 mg/kg) from postnatal day (PND) 6-12. Behavioral testing consisted of variations of a 5-choice serial reaction time task used to assess learning, attention, and inhibitory control. Rats were also administered a drug challenge with the muscarinic agonist scopolamine on the second attention task. No significant effect of DE-71 treatment group was found on any of the dependent variables, suggesting that the investigated doses were below threshold to induce cognitive impairment or that the sample size was insufficient to reveal effects. Scopolamine effectively impaired attention but failed to differentially affect the treatment groups. However, a stereological pilot study found decreased cholinergic development in the basal forebrains of DE-71 exposed rats compared to the control. Future study should include a larger sample size as well as a wider range of doses. Presented at the 37th Annual Meeting of the Society for Neuroscience in San Diego, CA, November 4th, 2007.
---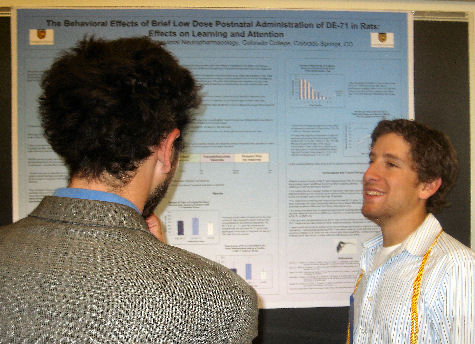 Joshua Kraut
Psychology
Advisor: Lori Driscoll
The Behavioral Effects of Brief Low Dose Postnatal Administration of DE-71 in Rats: Effects on Learning and Attention
Polybrominated diphenyl ethers (PBDEs) are common chemicals used as flame retardants, which are highly bioaccumulative in both wildlife and humans. Current research surrounding the toxicological properties of PBDEs suggests that the substance may have neuro-developmental and behavioral effects on the brain, similar in nature to the effects seen in hypothyroidism. Hypothyroidism during development has been previously shown to suppress the expression of thyroid hormone, which is essential for the proper development and functioning of the cholinergic system. Previous research concerning the behavioral effects of postnatal PBDE exposure has used only non-specific measures (e.g., habituation and locomotor activity) to evaluate behavioral deficits. In the present study, male Long-Evans rats were orally administered either corn oil, 5mg/kg body weight, or 15mg/kg body weight of the commercial PBDE mixture DE-71 for one week, beginning at postnatal day (PND) 6. Rats were then tested on a visual discrimination task and a sustained attention task in order to assess their learning and attentional capacities. The DE-71 exposed rats showed signs of impaired learning, but did not demonstrate sustained attention impairments when compared to controls. These results suggest that brief postnatal exposure to DE-71 may impair or delay the proper development of the cholinergic neuron system in rats, which may lead to adulthood deficits in learning.
Presented at the 37th Annual Meeting of the Society for Neuroscience in San Diego, CA, November 4th, 2007.
---
Nicole LaBue
Psychology
Advisor: Lori Driscoll
Murderesses: The Etiology of Female Murder
Males and females are both involved in murder as victims or offenders. Most picture a man as the offender and a woman as the victim. The current research has shown that women are capable of being as lethal as men. Battered Woman Syndrome is the most used explanation for female murderers. Personality and psychopathic disorders and symptoms are also commonly used as an explanation for females who murder. Although research and media focus on male killers more than females, males are not given as many explanations for their anger, lack of remorse and aggression. The current research tries to explain the causes of murder committed by women, and the possible gender biases that are exhibited within previous research. It would be beneficial to implement additional research regarding genetic and environmental causes of murder for both males and females.
---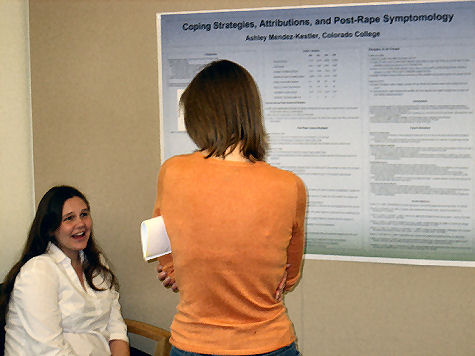 Ashley Mendez-Kestler
Psychology
Advisor: Tricia Waters
Coping Strategies, Attributions, and Post-Rape Symptomology
Nearly 10 percent of women in America have been raped since age 18 (Tjaden & Thoennes, 2000). Given that so many have experienced this traumatic event, it is important to determine the relationship between coping strategies, attributions, and perception of life changes and post-rape symptomology in order to improve therapies for these victims. Current research has compared post-rape symptomology of victims using approach and avoidance strategies, problem-focused and emotion-focused strategies, cognitive, behavior, and emotion strategies, attributions and self-blame, and the perception of positive and negative life changes. Approach strategies are used more often and are correlated with lower symptomology than are avoidant strategies. Greater recognition of positive life changes correlate with higher levels of approach coping and lower symptomology than does greater recognition of negative life changes. Limitations of current research and suggestions for future research are discussed.
---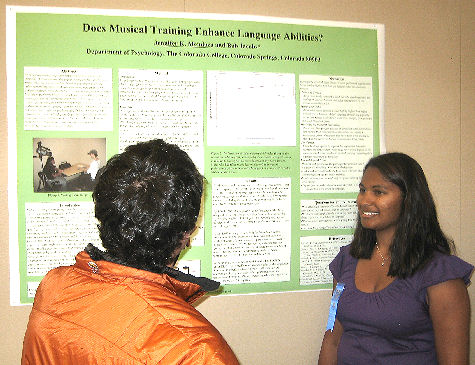 Jennifer Mendoza
Psychology
Advisor: Bob Jacobs
Does Music Training Enhance Language Abilities?
Overlapping neural structures appear to process music and language. Consequently, the present study examined whether music training is associated with enhanced language abilities. After completing music and language tests, participants (53 college students) were divided into musicians and non-musicians. Musicians performed significantly better on the rhythm test than non-musicians, reflecting musicianship. The number of years of music lessons showed a trend towards significance in predicting performance on the sentence-combining test, indicating a relation between music training and language ability. Variation in the participants' musical backgrounds possibly contributed to the non-significance of these results. Future studies could employ more precise, homogenous grouping to investigate effects of musical training on language abilities. Poster presented at the Fifth Annual Colorado Springs Undergraduate Research Forum at the United States Air Force Academy, Colorado Springs, April 12, 2008.
---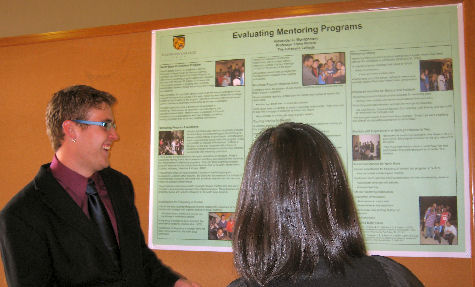 Alex Montgomery
Psychology
Advisor: Tricia Waters
Evaluating Mentoring Programs
Mentoring programs in the U. S. have grown in popularity and variety since their inception in the early 1900s. Evaluations of mentoring programs have increased in frequency as researchers have tried to identify the best practices to incorporate into mentoring program curricula. Meta-analyses of numerous individual mentoring program evaluations represent recent attempts to examine the best features/practices of mentoring programs. The current review sought to identify features of mentoring programs that were likely to impact program effectiveness. Several features, including expectations for frequency of contact, monitored program implementation, ongoing training for mentors, and program setting, increase the impact of programs on participants. In general, program features hypothesized to be crucial to program effectiveness had yet to be systematically manipulated, and support for these features was not forthcoming. Finally, this paper provided recommendations for future program evaluations.
---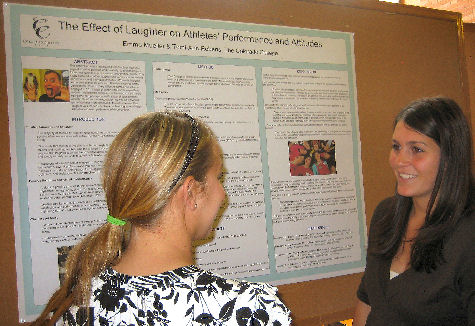 Emma Mueller
Psychology
Advisor: Tomi-Ann Roberts
The Effect of Laughter on Athletes' Performance and Attitudes
The positive emotions associated with laughter have been argued to aid in attention and creativity, to broadening our focus, and even to improve mental and physical heath. This study explored whether laughter can enhance team athletic performance and individual attitudes. Women's lacrosse and men's soccer players from Division III sports teams participated. Prior to three different games, the athletes engaged in 15 minutes of either: non-humor dependent laughter, callisthenic exercises, or listening to loud music. Pre-game and post-game self-ratings of team efficacy, anxiety, "flow" and team cohesion, as well as individual game statistics were assessed. Results revealed that laughter was indeed effective in enhancing team athletes' attitudes and even performance in competition.
---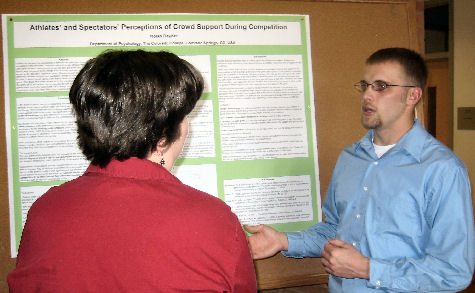 Nolan Reyher
Psychology
Advisor: Kristi Erdal
Athletes' and Spectators' Perceptions of Crowd Support During Competition
Differences between the perceptions of athletes and spectators regarding crowd support during competition were assessed. Thirty-six male and female athletes from a small liberal arts college were asked to rate crowd support during half time and at the end of a competition. These results were compared to the ratings of an educated spectator and assistant coaches, who served as the collective "spectator" group. Results showed that there was no significant difference between athletes' and spectators' ratings of crowd support. There was a main effect for time, in which overall ratings were more positive at half time as compared to the end of the game. This could have been influenced by the crowd being more supportive at half time, when the game could still be won, as compared to the end of the game, when the majority of the games were lost by the home team. Also, ratings could have reflected the attitudes of the participants, who were most likely more negative at the end of the game after a loss.
---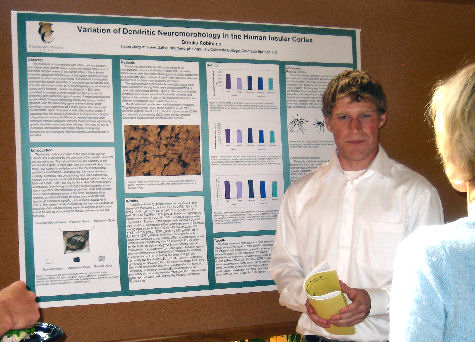 Brooks Robinson
Neuroscience
Advisor: Bob Jacobs
Variation of Dendritic Neuromorphology in the Human Insular Cortex
The multitude of connections with limbic, primary sensory, and higher level cortical areas makes the insular cortex one of the most complex areas of the human brain. Little is known however, about the morphology of this cortex and how it might compare to other neocortical areas. The present investigation analyzed the basilar dendrites of supragranular pyramidal cells from the left insular cortex of 10 neurologically normal adults (5 males and 5 females). Basilar dendrites (N = 300) were quantified from each of three insular gyri (the postcentral, precentral and secondary gyrus breves). A repeated measures nested ANOVA found increasing complexity along a rostral gradient, with the secondary gyrus breves having longer dendrites, more segments, and more spines than its caudal counterparts. Upon comparison with other cortical areas, it appeared that the insula is involved in a unique form of highly integrative processing. A difference between genders also emerged from the analysis, showing males to have significantly greater dendritic measures than females. This may be due to increased lateralization that males display in language functioning and increased interhemispheric communication of females.
---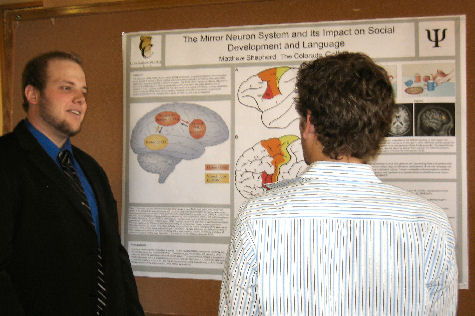 Matthew Shepherd
Psychology
Advisor: Bob Jacobs
The Mirror Neuron System and its Impact in Social Development and Language
The discovery of the mirror neuron system and its involvement in social development has promoted a new branch of research. Mirror neurons are substantially involved in processing information from observation as well as forming a basis for imitation. The mirror neuron system is not only important in learning of a language or in learning social cues, but is essential in the social development of humans. Crucial cognitive functions like "theory of mind", or a feeling of empathy, are also dependent on the functioning of the mirror neuron system. However, that extent to which the mirror neuron system contributes to the development of these faculties has yet to be investigated.
---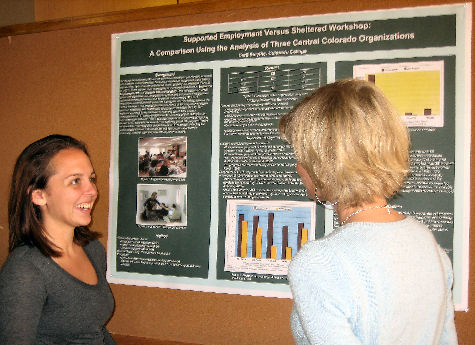 Carli Ilima Smythe
Psychology
Advisor: Kristi Erdal
Sheltered Workshop Versus Supported Employment: A Comparison through the Analysis of Three Central Colorado Organizations
Vocational rehabilitation (VR) programs aim to provide employment opportunities for disabled populations, including individuals with mental health disabilities. There are two main approaches to VR: Supported Employment (SE) and Sheltered Workshop (SW). This paper examines SE and SW through the description of three VR organizations in the central Colorado area: Aspen Diversified Industries (ADI), Pueblo Diversified Industries (PDI), and Goodwill Industries. Information regarding ADI, PDI, and Goodwill was gathered through interviews, journal articles, and data provided by interviewees. ADI is a SE program, while PDI and Goodwill are primarily SW programs. SE programs are supported by recent research findings. SW programs are supported by the opinions and anecdotes of the executives interviewed. While it is suggested that vocational rehabilitation programs enhance their focus on SE, SW may be valuable in the service of less able populations. However, this paper focuses on a limited population and is open to bias due to more time spent at ADI.
---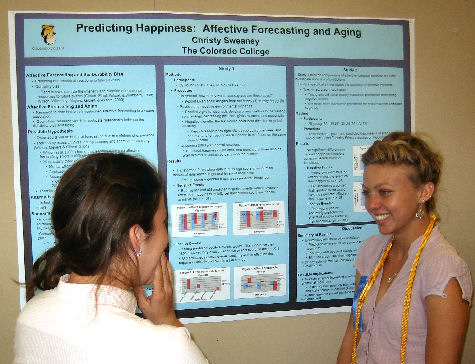 Christine Sweaney
Psychology
Advisor: Emily Chan
Predicting Happiness: Affective Forecasting and Aging
Two studies investigated age differences in affective forecasting. In Study 1, young and old adults predicted their emotional reactions to hypothetical future events over time. Young participants discounted the effects over time of all events on their happiness, while the elderly only discounted the effects of negative events. Study 2 investigated the accuracy of both populations' forecasts regarding a real-life event. Young participants made accurate predictions for positive events, but overestimated the effects of negative events, while elderly participants accurately predicted the effects of both positive and negative events on their happiness. Based on socioemotional selectivity theory, the combined results suggest that elderly adults use affective forecasting as a means of emotional regulation. Recipient of a Psi Chi Research Award presented at the 78th Annual Meeting of the Rocky Mountain Psychological Association in Boise, ID, April 10-12.
---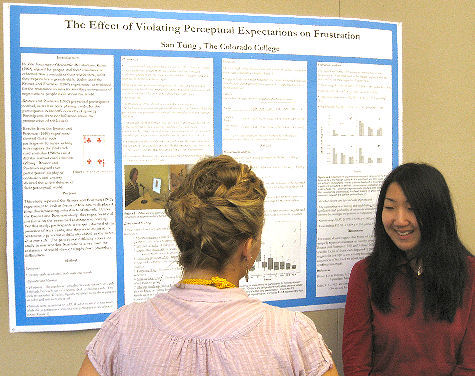 San Tung
Psychology
Advisor: John Horner
The Effect of Violating Perceptual Expectations on Frustration
This experiment replicates Bruner and Postman's (1949) experiment to examine whether violating subjects' expectations produced frustration that represents resistance to novelty, as Kuhn (1962) claimed in The Structures in Scientific Revolutions. Twenty participants were asked to correctly identify playing cards that were briefly presented on a computer screen. Each stimulus was presented at increasing presentation intervals until participants could correctly identify a stimulus twice consecutively. There were 10 card stimuli overall; the first 3 and last 3 card stimuli were taken from a normal set of playing cards, but Cards 4 through 7 had the color and suit reversed (e.g., red club) and thus were trick cards. Participants were not informed of the presence of trick cards before or during the experiment. A repeated measure MANOVA showed that certain behavioral measures of frustration, such as questioning the experimenter, talking to one's self, expressive vocalizations, and shaking of one's head, increased significantly upon first encountering a trick card stimulus. However, the initial encounter of a trick card stimulus did not show frustrations that were significantly more than frustrations shown to other procedural difficulties, such as the requirement to correctly identify cards twice consecutively. Thus, rather than showing resistance to expectations, these findings demonstrate that the kind of behaviors participants showed to encountering trick cards is synonymous with that of other procedural difficulties that may occur in experiments. Part of a presentation at the 20th Annual Meeting of the American Psychological Society in Chicago, IL, May 24, 2008.
---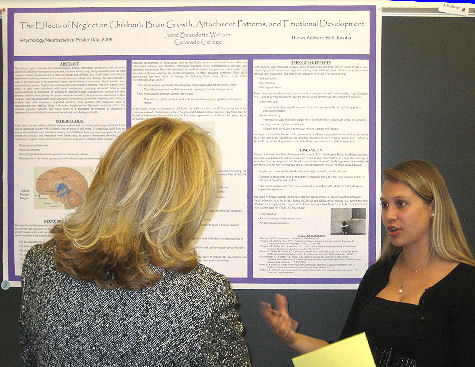 Jaime Webster
Psychology
Advisor: Bob Jacobs
The Effects of Neglect on Children's Brain Growth, Attachment Patterns, and Emotional Development
The present paper examines the neurobiological effects, attachment disruptions, and emotional deficits for children who experience parental privation when young. Being separated from the main caregiver creates elevated levels of stress in infants and children that, if prolonged, can alter the hypothalamic-pituitary-adrenal axis's normal hormone release and damage the development of areas in the brain such as the prefrontal cortex, medial temporal structures, orbital frontal cortex, and infralimbic cortex. Neglect and maltreatment were found to correlate with low cortisol levels which, in turn, were correlated with social competence, emerging antisocial behavior and psychopathology in adulthood. In addition to neurobiological consequences, parental privation prevents children from getting the proper attention needed to form a secure attachment to their caregiver. Insecure attachments create emotional dysfunctions in children, impeding their ability to properly deal with emotions. Neglected children often present with behaviors such as indiscriminate care seeking along with either heightened or flattened emotional affect. The available evidence indicates that being raised in a neglectful environment in childhood is detrimental to an individual's emotional, social, and neurobiological health.
---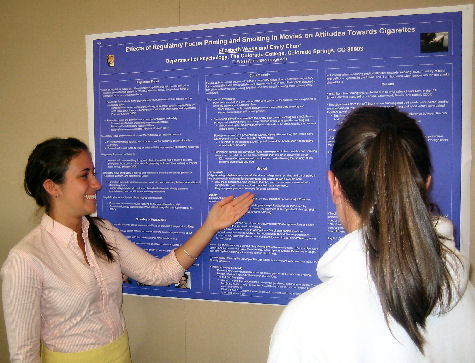 Elizabeth Weiss
Psychology
Advisor: Emily Chan
Effects of Regulatory Focus Priming and Smoking in Movies on Attitudes toward Smoking
The present research applies regulatory focus to mass media influences on audiences' anti-smoking attitudes. Regulatory is defined by Werth and Foerster (2007) as "two different self-regulatory systems to achieve a goal: People can either target their attention towards the achievement of ideals and gains, or towards the fulfillment of duties/the avoidance of losses." Promotion focused individuals will give more attention to their goals and aspirations as well as maximizing gains while prevention focused individuals focus more on their chores/responsibilities and work to prevent negative experiences. Participants were non-smokers and were primed in either a prevention or promotion focus and then shown a film clip, which either involved actors smoking or not. I assessed participants' attitudes with a computerized implicit attitudes test as well as an explicit attitudes questionnaire. Results show a non-significant trend that, in the prevention focus/smoking clip group, participants had stronger anti-smoking views than the control/smoking clip group. In the promotion focus/smoking clip group, the trends were not consistent with the hypothesis; participants had anti-smoking views equivalent to the control group. Poster presented at the Fifth Annual Colorado Springs Undergraduate Research Forum at the United States Air Force Academy, Colorado Springs, April 12, 2008.
---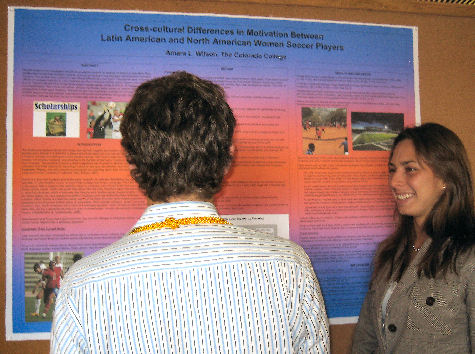 Amara Wilson
Psychology
Advisor: Kristi Erdal
Cross-cultural Differences in Motivation between Latin American and North American Women Soccer Players
Recent research has investigated the effects of external rewards on athletes' motivation to play sport. Many studies have shown that monetary rewards, such as scholarships, may decrease overall intrinsic motivation. However, few studies have looked at cross-cultural differences in motivation. The present study compared the effects of monetary rewards on Latin American and North American women soccer players' motivation to play soccer. Results indicated that Costa Rican women showed greater levels of Intrinsic Motivation toward Accomplishments. North American women scored significantly higher on financial aid support for their participation in their sport. However, financial aid was not a significant covariate. These findings suggest that any possible motivational differences found between both groups cannot be due solely to monetary rewards, but may, perhaps, be due to fundamental cultural differences.
---
This is the Department of Psychology
Browse all Departments & Programs
​