2007
List of Presenters
---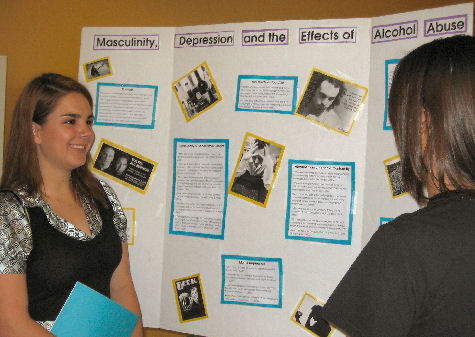 Margaret Beck
Psychology
Advisor: Kristi Erdal
Masculinity, Depression, and the Effects of Alcohol Abuse
This paper is an examination of college men, depression and its relation to alcohol abuse via an examination of gender roles. I argue that men's ways of dealing with conflicts regarding masculinity and gender role may lead them to over compensate in other aspects of the gender norm, such as alcohol abuse. Masculine norms suggest that men use embarrassment and alcohol use to "test" each others' "manhood." Such activities may lead to increased stress psychologically and may even lead to depression.
---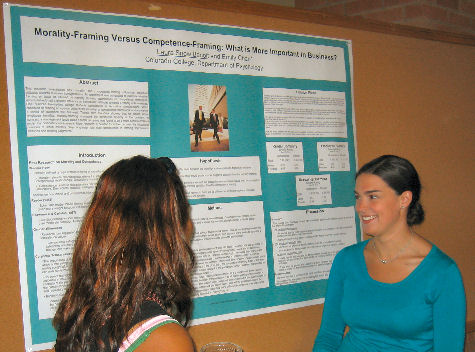 Laura Snow Benoit
Psychology
Advisor: Emily Chan
Morality-Framing versus Competence-Framing: What is More Important in Business
This research investigated how morality- and competence-framing influences individual attitudes towards business transgressions. An experiment was conducted to examine whether framing an issue as caused by morality or competence had a greater influence on individuals' attitudes towards a variety of businesses. One hundred twenty-two college students participated in an online questionnaire, which consisted of reading an opinion piece in the morality- or competence-framework and answering a series of questions that followed. Trends from the data showed that for issues about employee benefits, morality-framing increased the perceived severity of the problem. In contrast, a management issue about a rental company and a sexual harassment case were found to be a more serious problem under the competence-framework. More research is needed to further uncover the situational nuances of when morality plays a greater role than competence in forming impressions, attitudes and making judgments.
Poster presented at the Fourth Annual Colorado Springs Undergraduate Research Forum at the University of Colorado - Colorado Springs, April 14, 2007.
---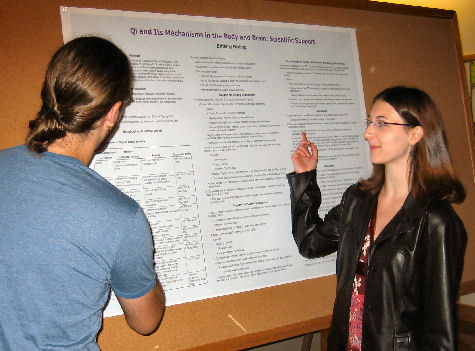 Brittany Bishop
Neuroscience
Advisor: Bob Jacobs
Qi and Its Mechanisms in the Body and Brain: Scientific Support
Qi is the vital energy of the body and is the basis of all Traditional Chinese Medicine (TCM). The present paper focuses on Qigong, the practice of working with Qi, and the aim is to show that Qi may indeed exist and that it may produce quantifiable health benefits due to a mechanism other than the placebo effect. Qigong has been used to cause many health benefits in China, so scientists are trying to find a mechanism for Qi. Qigong and the placebo effect have many potentially similar mechanisms because both appear to be either caused by or result in changes to energy levels. Qigong is likely a combination of placebo mechanisms and mechanisms specific to Qigong.
---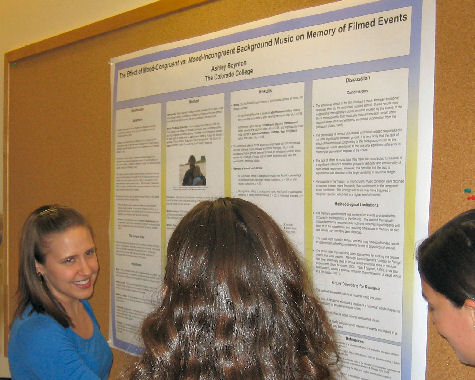 Ashley Boynton
Neuroscience
Advisor: Lori Driscoll
The Effect of Mood-Congruent vs. Mood Incongruent Background Music on Memory for Filmed Emotional Events
The current study examined the effect of mood-congruent vs. mood-incongruent music on the type and number of events and details remembered from an emotional movie scene. Sixty participants, 23 male and 37 female, watched a negatively-valenced movie clip with either congruent (i.e., anxious or sad) or incongruent (i.e., happy) music playing in the background. Participants filled out the PANAS mood inventory as well as two experimenter-designed questionnaires in order to measure their changes in affect and memory of the scene. Analyses revealed that the emotional valence of the music clip had no significant effect on participants' mood-states, memory for details or events within the scene, verbosity, emotionality of responses, or nature of responses. The emotional stimuli in the movie clip most likely overpowered the emotionality of the music, resulting in a similar emotional response regardless of group. Participants who listened to incongruent, or happy, music along with the movie scene reported significantly more interest in their responses than did participants in either mood-congruent music condition, p = .005, indicating that a "surprise" reaction may have occurred, and further reiterating the context-dependent nature of emotionality in music.
---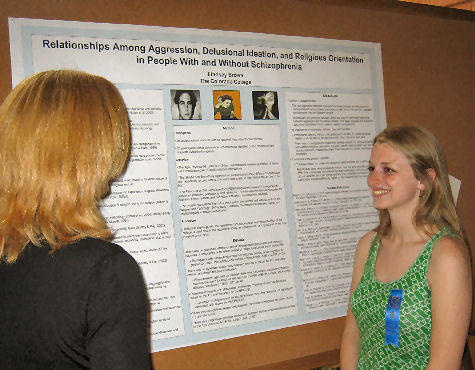 Lindsey Brown
Psychology
Advisor: Kristi Erdal
Relationships Among Aggression, Delusional Ideation, and Religious Orientation in People With and Without Schizophrenias
The present research examined relationships between aggression, delusions, and religious orientation in outpatients with schizophrenia and a healthy control group. Twenty outpatients with schizophrenia and 20 undergraduate students without a diagnosis of schizophrenia completed the Age Universal I-E Scale, the Short-Form Buss-Perry Aggression Questionnaire (BPAQ-SF), the Peters et al. Delusions Inventory (PDI), and an Implicit Association Test (IAT) for religion. Analyses revealed no significant between group difference for total score on the PDI, but did reveal a significant between group difference for conviction of religious delusions, p<.05. There were significant negative correlations between religious delusions and intrinsic religious orientation, p<.05, religious delusions and extrinsic religious orientation, p<.001, between persecutory delusions and intrinsic religious orientation, p<.05, and conviction of religious delusions and intrinsic religious orientation, p<.001. There were no significant correlations between delusional ideation and the BPAQ-SF or the IAT. These findings highlight the importance of considering delusion type and conviction when examining delusional ideation, and also differences between outpatient and inpatient data for people with schizophrenia.
---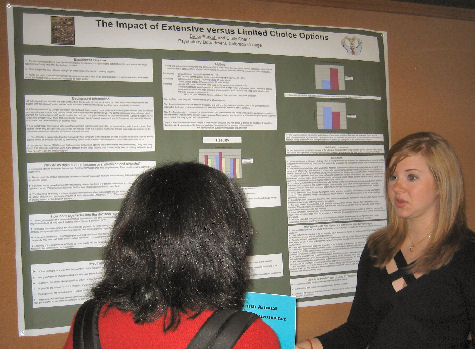 Betsy Burkett
Psychology
Advisor: Emily Chan
The Impact of Extensive versus Limited Choice Options on Choice Satisfaction
Expanding upon Iyengar and Lepper's work (2000), this study investigates the impact of extensive choices on a decision maker; specifically, college-age and retirement-age subjects' experience of the decision making process. The experiment consisted of a limited choice condition (6 chocolate varieties, condition 1), and an extensive choice condition (21 chocolate varieties, condition 2) for both younger and older participants. The participants were asked to choose one of the chocolates, and then complete questionnaires regarding the decision-making process and sample satisfaction. All participants found condition 1 more difficult despite feeling more informed than they did in condition 2. When separated by age, older participants enjoyed the process more and didn't report difficulty in either condition, while younger participants reported condition 2 to be more difficult. The age-related findings contradict the hypothesis - perhaps this is indicative of the mechanisms of coping with age-related cognitive decline and decrease in negativity bias.
Poster presented at the Fourth Annual Colorado Springs Undergraduate Research Forum at the University of Colorado - Colorado Springs, April 14, 2007.
---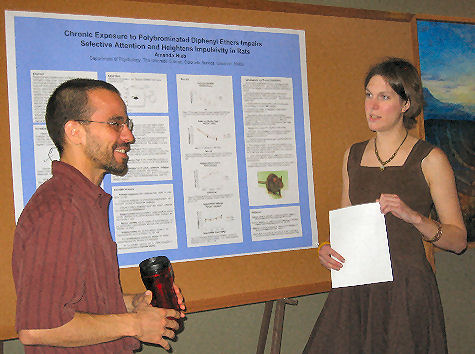 Amanda Hieb
Psychology
Advisor: Lori Driscoll
Chronic Exposure to Polybrominated Diphenyl Ethers Impairs Selective Attention, Learning, and Heightens Impulsivity in Rats
Polybrominated diphenyl ethers (PBDEs), which are commonly used in the industrial setting as flame retardants, have spread throughout the environment and, as a consequence, accumulated in wildlife and humans. Previous studies have established rising bioaccumulation and possible toxicological properties of PBDEs. The current study chronically exposed male Long-Evans rats to a commercial mixture of PBDE, called DE-71, via their food source, beginning at post natal day 1 to perfusion. They were tested on a battery of behavioral tasks including a visual discrimination task, two variations of a sustained attention task, and a drug challenge using the muscarinic antagonist, scopolamine (0, 0.01, 0.03, and 0.05 mg/kg) which was subcutaneously injected 30 minutes before administering the second sustained attention task. DE-71 was found to produce sustained attention impairments, increased impulsivity, and a slight initial learning deficit in the experimental group. PBDE rats showed no sub-sensitivity to scopolamine when compared with control rats. Thyroxine (T4) serum levels taken from the rats' blood were depleted in the experimental group. These findings suggest that animals exposed chronically to DE-71 have lasting alterations and impairments to the cholinergic system and to normal thyroid hormone function.
---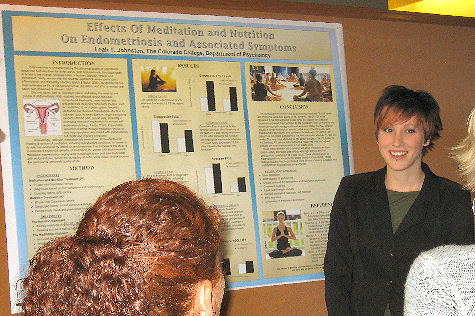 Leah T. Johnston
Psychology
Advisor: Lori Driscoll
Effects of Meditation and Nutrition on Endometriosis and Associated Symptoms
Endometriosis is a prevalent and painful disorder characterized by growth of endometrial tissue outside of the uterus. Many women find traditional treatments undesirable and may benefit more from complementary and alternative medicine such as meditation. No studies to date have investigated the benefits of meditation for mitigating the causes and symptoms of endometriosis. Two women diagnosed with endometriosis were recruited for an eight-week case study. P1 was trained in, and engaged in, Mindfulness Meditation in addition to participating in an established endometriosis diet, while P2 participated in the diet manipulation alone. Both participants showed improved subjective quality of life and serum CA-125 levels. P1, who initially rated her quality of life with the highest scores, showed greater subjective improvements (e.g., reduction in composite pain, health concerns, energy loss, daily interference, and emotional impact) upon completion of the diet and Mindfulness Meditation treatment. P2, who initially had the highest CA-125 level (P1 = 11.8 U/mL vs. P2 = 25.9 U/mL) showed a greater reduction of this protein after following the diet only treatment (P1 = 10.3 U/mL vs. P2 = 21.1 U/mL). Future studies should be designed to reexamine this relationship between meditation and endometriosis, while improving upon methodological problems encountered in the current study such as low participation, high attrition, non-standardized instruction, inconsistent meetings, and unbalanced groups.
---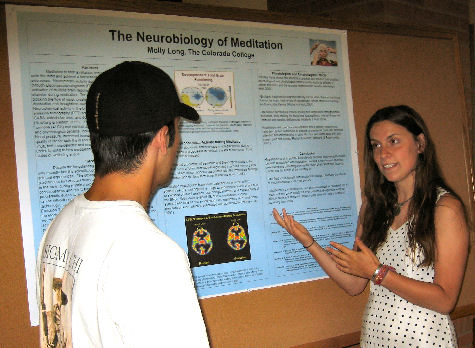 Molly Long
Psychology
Advisor: Bob Jacobs
The Neurobiology of Meditation
Meditation is both a religious and secular practice aimed to calm the mind and achieve a transcendent state of thoughtless, restful awareness. Neuroelectric activity during meditation is understood through Electroencephalograms (EEG) that show the simultaneous activation of multiple brain regions. The prefrontal cortex sustains attention during meditation. The sensory regions become deafferented, blocking the flow of input, creating the subjective experience of self dissolution and thoughtless awareness (Newberg et al., 2001). Neurochemical activity in the brain is revealed through Positron emission tomography (PET) scans that show changes in glutamate, GABA, catecholamines, and dopamine from the baseline waking state (Newberg & Iverson, 2003). The decrease in adrenocorticotropic hormone (ATCH) and cortisol during meditation has many physiological and psychological benefits, including improved cognition, decreased blood pressure, increased immune system functioning and an improved quality of life for both the ill and the healthy (Maclean et al., 1997). Thus, both neuroelectric and neurochemical activity, together, lends an understanding to how meditation works in the brain and why positive states of wellbeing ensue.
---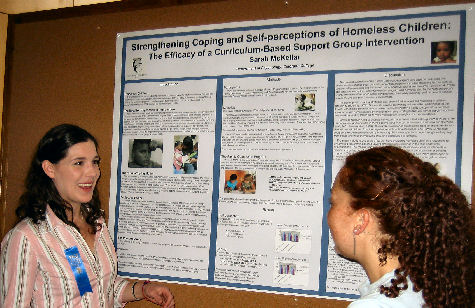 Sarah McKellar
Psychology
Advisor: Tricia Waters
Strengthening Coping and Self-Perception of Homeless Children: The Efficacy of a Curriculum-Based Support Group Intervention
This study examined whether curriculum-based support groups can influence the coping skills and self-perception of homeless children. In this study, children currently residing in homeless shelters were evaluated regarding several areas of self-perception and positive and negative coping strategies. The treatment group participated in the Family Connection curriculum-based support groups, while the control group did not participant in systematic programming. The results revealed that children in the Family Connection groups increased in positive self-perceptions of their social competence, physical appearance, and behavioral conduct more than children in the control group. Participants in the treatment group were also more likely to cope positively through support seeking and less likely to cope negatively through avoidance. In this study, participants in the Family Connection groups exhibited stronger coping strategies and a more positive self-perception than participants not engaged in systematic programming.
Paper presented at the Fourth Annual Colorado Springs Undergraduate Research Forum at the University of Colorado - Colorado Springs, April 14, 2007.
---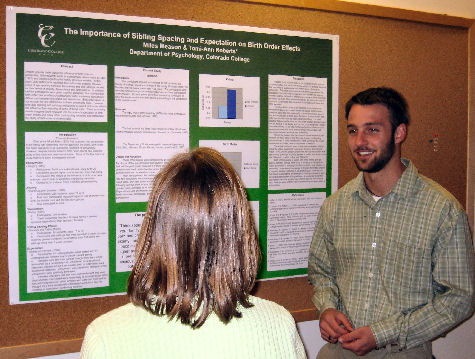 Miles Meason
Psychology
Advisor: Tomi-Ann Roberts
The Importance of Sibling Spacing and Expectation on Birth Order Effects
Despite popular belief about the influence of birth order on personality, little research exists to substantiate claims made by Adler (1931) and others regarding this family structure variable. In this study, 200 participants reported their birth order position, the exact years of age spacing between themselves and their siblings, as well as their levels of anxiety, dependence and extraversion. In addition, half the participants were given a prime paragraph that claimed that birth order has an effect on personality traits, explaining stereotyped differences between first- borns and later-borns. Birth order alone did not account for any differences in these personality traits. However, both age spacing and priming participants to expect birth order effects did influence their reporting of some of these traits. These promising results suggest future research into the area of expectation of birth order effects and many other confounding variables that complicate the study of birth order and personality.
---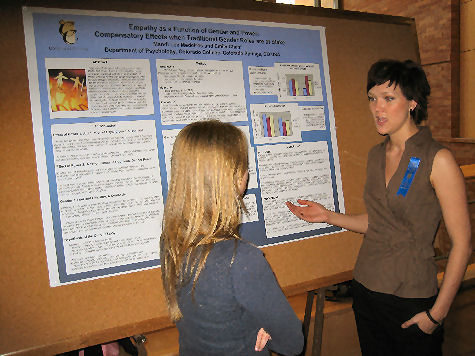 Mandi Medeiros
Psychology
Advisor: Emily Chan
Empathy as a Function of Gender and Power: Compensatory Effects when Traditional Gender Roles are at Stake
The present study examined empathy as a function of gender and power. It was hypothesized that having low power would lead to lower levels of empathy in males, whereas having high power would lead to lower levels of empathy in females. The study also analyzed gender and power effects on rape victim empathy as well as acceptance of romantic fantasies. As expected, females showed more empathy than males. However, the results also indicated a number of compensatory effects. Men who were primed with low power, and whose masculinity was threatened, showed significantly lower levels of affective empathy. Women primed with high power had less empathy for rape victims and were more likely to endorse romantic fantasies. The theoretical and practical implications of this study are discussed, specifically in concern to sexual harassment and rape attitudes.
---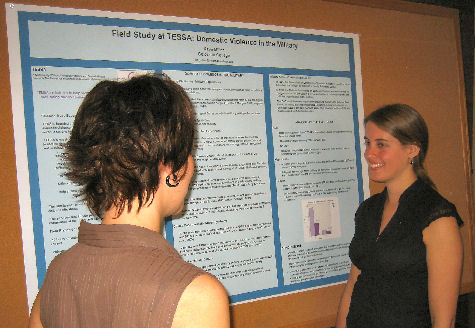 Kaye Miller
Psychology
Advisor: Tricia Waters
A Field Study at TESSA: Domestic Violence in the Military
Domestic violence is a widespread problem that has been receiving increasing attention in the last few decades. Recently, members of scientific as well as popular communities have noted the possibility of higher rates of domestic violence among military vs. civilian populations. It has been suggested that unique factors of the military lifestyle could account for this difference. These factors include increased stress due to the possibility of frequent separations, relocations, and dangerous work environments, as well as deployment, combat exposure, and PTSD. The military culture itself may also promote ways of thinking and behaving that justify violence, which may then be applied to relationships, leading to increased levels of violence in the home. While there is support for most of these ideas in currently available research, more research is needed to solidify the findings and clarify the unique dynamics of domestic violence among the military population. The Department of Defense has recently begun to take actions and develop programs to deal with the problem of domestic violence within the military community. While the effectiveness of these actions is unknown at this time, the development and implementation of these programs is a much needed acknowledgment that domestic violence in the military is a problem that should be confronted.
---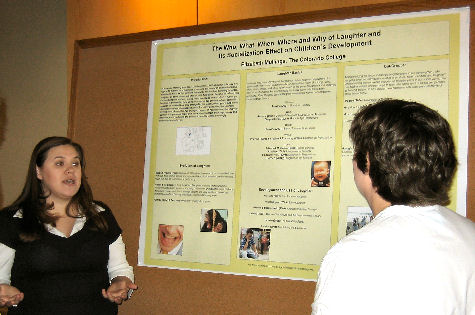 Elizabeth Mullings
Psychology
Advisor: Tomi-Ann Roberts
The Who, What, When, Where, and Why of Laughter and their Socialization Effects on Child Development
This paper examines the social function of laughter and explores its importance in the socialization of children. The evolutionary explanation for human laughter is considered and its relevance to the role of laugher in a social context is examined. A basic understanding of laughter basics (who, what, when, where, and why) are explained and the social implications of these basics are reviewed. In particular, laughter as a tool for both forming friendships and maintaining the status quo is suggested. Lastly, the implications of what impact the inability to hear or understand laughter may have on a child's development are explored through the examination of deaf and autistic children. This paper will also explore some possible future applications of this line of research.
---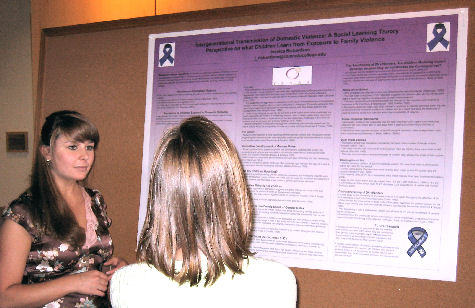 Jessica Richardson
Psychology
Advisor: Tricia Waters
Intergenerational Transmission of Domestic Violence: A Social Learning Theory Perspective on what Children Learn from Exposure to Family Violence
The intergenerational transmission of domestic violence (DV) is one of the leading explanations used to account for intimate partner violence. The theoretical foundation for understanding how marital violence is transmitted intergenerationally is based on social learning theory which argues that growing up in an abusive family teaches individuals that violence and victimization are normal and acceptable ways for dealing with conflicts. Gender socialization of males and females is examined as a possible explanation for why males are often perpetrators of DV and females are often victims of DV. In order to find support for this claim, the normative development of gender roles based on the modeling of behavior of the same-sex parent and how DV impacts this development are discussed. The low sanctioning rates of perpetrators of DV are also discussed as a possible cause for the belief that violence and victimization are acceptable. Evidence suggests that children are more likely to model aggressive behaviors when they are not punished and can gain social power and rewards for aggressive behavior. Implications for future research are discussed.
---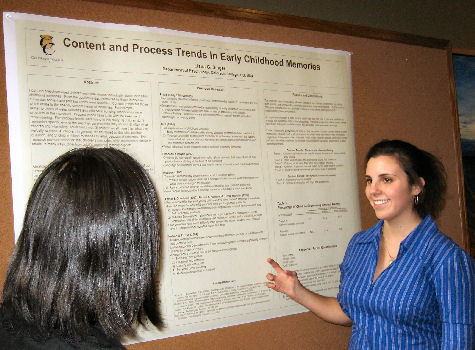 Liana Singer
Psychology
Advisor: John Horner
Content and Process: Trends in Early Childhood Memories
Fourteen preschool-aged children were interviewed individually about their early childhood memories. From the qualitative data produced by these interviews, numerous content and process trends were identified. Content trends are those that relate to the specific content matter of memories. For example, remembrances of water activities and father-son bonding experiences were prevalent in the interviews. Process trends have to do with the exercise of remembering. Five process trends were found in this study: 1) children don't remember specific events the way their parents think they should, 2) often what children find interesting, adults find trivial, 3) children recall more than what they verbally express, 4) children, in general, are not fooled by the false positive question, and 5) children blend memories together because of schemas. This research provides evidence that children's memories, while qualitatively similar to adults', differ from adult's memories in many aspects.
---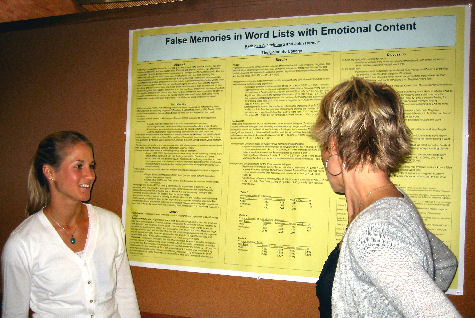 Kathleen Steinberg
Psychology
Advisor: John Horner
False Memories in Word Lists for Positive, Negative, and Neutral Emotional Words
Forty-eight participants listened to four lists of 12 words each (one list with positive emotional words, one with negative emotional words, and two with neutral words). Each list was created to elicit a non-presented critical word following the false memory paradigm of Roediger and McDermott (1995). After the presentation of each list, participants were given a recall task, and then following the presentation of all lists, participants received a recognition test. Participants most accurately remembered the positive emotional word lists in both recall and recognition tasks. On the recall task, positive emotional word lists had significantly fewer intrusions than both the negative emotional and neutral word lists, and fewer critical word intrusions than the neutral word lists. On the recognition test, positive emotional word lists had fewer critical word intrusions than both the negative emotional and neutral word lists. Further, participants were more likely to label an intrusion and critical word intrusion as having "known it occurred" rather than being "vividly remembered", while a hits were more likely to be labeled as being "vividly remembered".Poster presented at the Fourth Annual Colorado Springs Undergraduate Research Forum at the University of Colorado - Colorado Springs, April 14, 2007.
---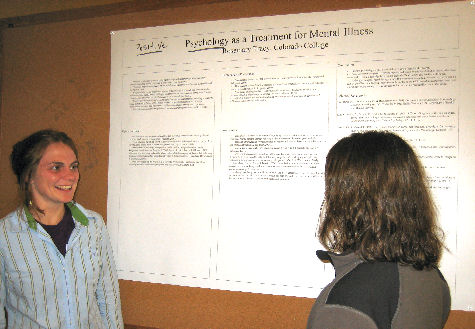 Rosemary Tracy
Psychology
Advisor: Bob Jacobs
Positive Psychology as a Treatment for Mental Illness
Positive psychology is an emerging empirical discipline that aims to identify the qualities in humans that promote a healthy, strong, and content individual. Strengths-based therapy, the application of positive psychology to psychotherapy, is reviewed in the current paper as a treatment for patients with mental illnesses. Three personal strengths, optimism, perseverance and forgiveness and subsequent benefits for psychological health are presented. Examples of the practical applications of these strengths in therapy and interventions are also discussed. The studies reviewed suggest that applying optimism, perseverance, and forgiveness in strengths-based therapy may aid in the treatment of psychopathologies in patients.
This is the Department of Psychology
Browse all Departments & Programs
​