Priority: Fine Arts Center
Since the alliance between CC and the FAC was formed in August 2016, thousands of students have visited the museum as part of college classes or programs. Colorado College Music Department faculty and students composed and recorded original music for a theatrical production; CC faculty members contributed their expertise to a photography exhibit; two key positions have been added to the museum staff, a curator of Southwest art and a director of museum education; and the Bemis School of Art's annual fine arts sale and Colorado College's annual arts and crafts sale combined to create a collaborative community event.

OUR PROGRESS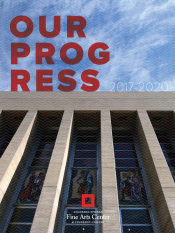 Since the alliance, we have witnessed the ongoing actualization of our three guiding principles: excellence, access, and collaboration. Fine Arts Center exhibitions, performances, and programming are designed for a dynamic audience, for community members of all ages, abilities, and cultural backgrounds. The FAC has expanded the classroom for
CC students and members of our community
alike. As a classroom, the FAC allows for experiential learning and brings diverse voices and perspectives into the curriculum. From August 2019 through January 2020, the Fine Arts Center hosted 3,190 CC student visits from 50 different classes across 21 academic departments.

WAYS TO MAKE A DIFFERENCE
Contact Laura Rosendo at lrosendo@coloradocollege.edu or (719) 389-6270 to discuss Fine Arts Center giving opportunities.