About Us
MOBILE ARTS TEAM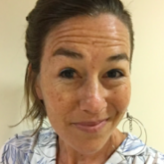 Program Director 
Dr. Naomi Pueo Wood (she/her(s))
Associate Professor of Spanish and Portuguese, Department Chair
Armstrong Hall 346
Short Bio: I grew up between Hawai'i and California, did graduate work in Minnesota, and have made Colorado Springs, Colorado, my home for the past ten years. My research, activism, and pleasure all find their roots in music. The ability of music to alter spaces, connect people, tell stories, and transform emotional states inspires my Mobile Arts project. The Arts Mobile reflects my priority of centering local artists, communities, and interest in creating a bridge between the CC campus and Colorado Springs' activities. A review of artists I have invited in the past demonstrates my commitment to showcasing artists whose work contributes to a revised archive of the history of the Americas and, oftentimes, centers on Black and Queer-identified artists. I envision the Arts Mobile as a way to share stories and inspire a closer look at the complex history and diversity of this city. 
---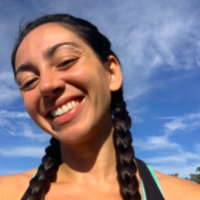 Program Assistant
Mitra Ghaffari (she/her/hers)
'17 CC Alum
Short Bio: Hi all! I love hiking in the fresh mountain air, swimming in the ocean, and biking downhill:) I've had the opportunity to work in Cuba, Costa Rica, and Brazil since graduating from Colorado College in 2017. I love the connectedness of artistic expression; the more I step out of myself, the more I can recognize myself within a world of endless exploration, uncertainty, and beauty. I'm grateful to be supporting this vision for community arts.
---
Research and Programming Assistant
Jane Hatfield (she/they)
Class of 2022
Integrative Design major, Premed 
Short Bio: Hi everyone! Super excited to work with you all and get to build out an amazing program together. I am a rising senior very interested in the intersection of art, design, and science. Community building has been one of my favorite parts of my time at CC, actually getting out into the community has been when I've felt the most grounded, alive, and passionate about collaborating and beginning to tackle our cities issues. I see the truck as an amazing, glittery, amalgamation of learning, love, and activism. I am from San Francisco, CA, and love surfing, skateboarding, and all things ocean. 
---
Research and Programming Assistant
Daya Stanley (she/her/hers)
Class of 2022
Feminism and Gender Studies Major 
Short Bio: Hello! My name is Daya Stanley. I am a Junior Feminism & Gender Studies major. I look forward to helping both the Colorado Springs and Colorado College community redefine their relationship with creativity, the arts, and each other. My artistic interests included baking, painting, and button making. I am from the Southside of Chicago, Illinois.
---
Marketing Assistant
Kenza Zakarya (She/Her/Hers)
Class of 2024
Undecided
Short Bio: Hi everyone!  My name is Kenza Zakarya. I am a first-year, winter start student from Morocco. I lived for some time in Jordan too. I am very excited to be part of CC Mobile Arts and advance its vision to make arts accessible and get to learn and help promote a strong link between CC and the broader Colorado Springs community. I really love hiking, traveling, crocheting, and being around people. Very excited to work with you all!
---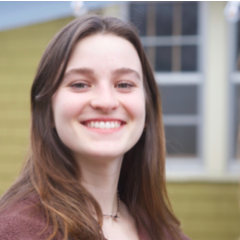 Marketing Assistant
Stella Biehl (she/her/hers)
Class of 2022
Neuroscience major; Studio Art minor
Short Bio: Hi everyone! My name is Stella, and I'm a Junior Neuroscience major and a Studio Art minor. I'm super interested in graphic design as a potential career path, which is part of the reason I was drawn to this position. I am also passionate about increasing accessibility to the arts, as well as fostering a more positive and present connection between CC students and the Colorado Springs community. My other interests and hobbies include playing ultimate frisbee, screenprinting, crocheting, and being outside in the sunshine. I'm excited to meet you all!
---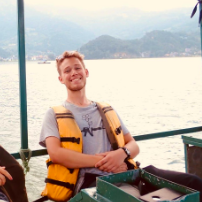 Digital Media Assistant
Augie Voss (He/him/his)
Class of 2023
Film & New Media Major
Short Bio: Hey everyone, my name is Augie and I'm a second year student from Madison, WI! I'm a photographer, filmmaker, and writer, and I'm looking forward to helping the Mobile Arts team with digital media in whatever shape or form that takes. I'm particularly interested in interactive storytelling, and have been exploring AR/VR, new media, and data visualization techniques in my free time. I'm also an avid music-listener and concert-goer, so I'm very excited to see how we can incorporate live music into our programming. Can't wait to work with and get to know you all!
---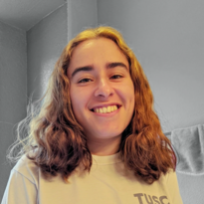 Audio Assistant
Eliza Neiman-Golden (She/Her/Hers)
Class of 2021
Music major, Computer Science minor
Short Bio: Hi! I'm a senior at CC from New York City. I'm very involved with the music scene on campus. I've played in multiple student bands and am a member of the B-Side collective. My current project is called Tiny Tomboy. I also do recording work for the music department and live sound work for AV. I am really excited to work with CC Mobile Arts and connect with the music and arts scene in the greater Colorado Springs community.
---