Deans and Directors
Divisional Leadership Team
Rochelle T. Dickey
Dean of Students/Vice President for Student Life
rdickey@coloradocollege.edu
(719) 389-6684
Bio
Rochelle T. Dickey is the dean of students and vice president for Student Life at Colorado College. She has previously served as senior associate dean of students, associate dean, and director of minority student life, and director of minority and international students, also at Colorado College. Rochelle is honored and excited to lead the Student Life Division in bringing the College's values and mission to life through our ability to connect, integrate, and engage students.
Since 1990, she has worked to improve the lives of students by creating constructive conversation and building bridges. She received the Victor Nelson-Cisneros Award for her commitment to diversity and inclusion for all members of the CC community and an Urban League Service Award for commitment to the welfare of minority students. Dickey received three awards from the NAACP; the Community Education Award, Freedom Fund Award, and was recognized for enduring support of civil rights and social justice. She also received the CC Student Mentor Award for five years, as well as Advising Awards from CCSGA Student Government, Blue Key, and Mortar Board National Honor Societies.
Rochelle has served on and chaired numerous campus and national committees, including the Associated Colleges of the Midwest Committee on Minority Concerns. She is very excited and honored to be a recent recipient of the Gresham Riley Award for making a difference in the Colorado College community through outstanding service, commitment, and accomplishment.
She also has been instrumental in outreach and partnership efforts that connect CC to the greater Colorado Springs community and has served on the African-American Youth Leadership Conference Board of Directors for several years. Her involvement in community projects has focused on enhancing education and access for youth so that they might have the kind of support she received as a first-generation college student.
The Rochelle T. Dickey Award for an Outstanding Event Contributing to the Empowerment of Communities of Color is presented by the Butler Center at Colorado College. She was a first-generation student at Colorado College and earned her BA in Drama from CC and a Master's in Education with a focus on Intercultural Counseling from the University of Colorado at Colorado Springs. She has directed and co-produced numerous theatrical performances at Colorado College over the years, performed professionally, served as assistant director of Mariachi Tigre, and is a member of the CC Choir. She is also a proud CC parent, as her son recently graduated from Colorado College.
---
Edwin Hamada
Assistant Vice President for the Residential Experience
ehamada@coloradocollege.edu
(719) 389-6725
Bio
Dr. Edwin Toshio Hamada started his role as Assistant Vice President for the Residential Experience at Colorado College in September 2020. Prior to joining Colorado College, he served as Associate Dean of Students/Director of Housing and Residence Life at Washington State University. He also has worked in various capacities at the University of Washington, University of California - Irvine, and San Jose State University. He has a BA in Psychology from the University of San Francisco, an MS in College Student Personnel/Student Development from Western Illinois University, and a Ph.D. in Educational Leadership and Policy Studies from the University of Washington.
He has served as a faculty mentor for ACUHO-I STARS College and values authentic, mentoring relationships. He looks forward to returning to a small liberal arts institution where he can get to know more students and staff. When he is not advocating for students and staff at work, he spends his time tinkering with a few classic cars and hiking with his wife, Sue, and their 2 dogs.
---
Rosalie Rodriguez
Senior Associate Dean of Students for Diversity, Equity & Inclusion
rrodriguez@coloradocollege.edu
(719) 389-6169
Bio
Rosalie comes to CC from Bucknell University, where she was most recently the director of multicultural student services. In that role she worked closely with students of color, advising, mentoring, and connecting students to resources. In addition, she developed and facilitated campus-wide programs to increase cultural awareness, understanding, and competence, and promoted the understanding of diverse cultures and perspectives including privilege and power relationships. She advised and supported multicultural student organizations.

---
Ryan Hammes
Director of Outdoor Education
rhammes@coloradocollege.edu(719) 389-8131
Bio
Ryan Hammes began working for Colorado College as the Director of Outdoor Education in 2012. Previously, he was the coordinator of the Outdoor Recreation Program at Sonoma State University in northern California. He has taught courses in outdoor pedagogy and been published for his work in adventure education and rock climbing. Ryan holds a Bachelor of Science in Geology from the University of Wisconsin-Eau Claire and a Master of Science in Adventure Education from the University of Wisconsin-La Crosse. His extensive outdoor certifications include technical rock climbing, avalanche analysis, backcountry skiing, and wilderness medicine. Ryan is active with the American Mountain Guides Association and the Association of Outdoor Recreation and Education.
---
Megan Nicklaus
Director of the Career Center
mnicklaus@coloradocollege.edu
(719) 389-6424
Bio
Megan Nicklaus began working for Colorado College as the Director of the Career Center in 2013. Previously, she was the Associate Director for the Center for Student Development at Vanderbilt University in Nashville, TN. She has extensive experience both with career coaching and campus recruiting programs. Megan holds a Bachelor of Science in Biology from the University of Dayton and a Master of Arts in Student Affairs in Higher Education from the Indiana University of Pennsylvania. She is a member of several professional associations including the National Career Development Association. When she is not helping students with their transition, you can generally find her enjoying the outdoors rock climbing, hiking, or trail running.
---
Heather Horton
Senior Director of Student Health & Wellbeing
hhorton@coloradocollege.edu
(719) 389-6211
Bio
Heather Horton, Ph.D., came to Colorado College in 2005. Prior to her appointment as Director of the Wellness Resource Center in 2012, she served as the college's first Sexual Assault Response Coordinator for more than 8 years. Heather earned her B.A. in Psychology from the University of California at Davis, and an M.A. and Ph.D. in Clinical Psychology from Kent State University. She is a Licensed Clinical Psychologist and has more than 20 years of experience in providing mental health services and in working with survivors of interpersonal violence. Heather also has extensive experience with program development.
During her years here at Colorado College, much of her energy has gone toward developing and implementing comprehensive prevention programs focused on preventing violence, promoting mental health, and creating a healthy, caring campus community. She has been recognized by the college, receiving the Theodore Roosevelt Collins Award for commitment to diversity, as well as the college Mortar Board Honor. She is a member of a number of professional organizations including the National Association of Student Personnel Administrators (NASPA).
When not engaged with her work at the college, Heather enjoys hiking, camping, and making art.
---
Amy Hill
Director of Campus Activities and Student Orientation
ahill@coloradocollege.edu
(719) 389-6326
Bio
As Director of Campus Activities & Student Orientation, Amy is responsible for welcoming new students and easing their transition to campus as well as overseeing many aspects of co-/extra-curricular student life such as student events and organizations. A product of the liberal arts, Amy values being a mindful, lifelong learner and strives to be a student-centered professional who values holistic development, recognizing the interconnectedness of students' experiences and identities. She enjoys checking out live music, cooking for large groups, practicing Yoga, and going on adventures in the local area, sometimes with her 17-year-old Chihuahua in tow, when not working. Originally from Texas, Amy attended college in Tennessee (at Sewanee) before heading to Ohio for graduate school (at Bowling Green State University) and most recently worked in Los Angeles, CA (at Occidental). Amy joined the Colorado College and Student Life team in July 2018 and is excited about helping continue to build and contribute to a supportive and inclusive campus community.
---
Cathy Buckley
Director of Campus Safety
cbuckley@coloradocollege.edu
(719) 389-6707
Bio
Catherine "Cathy" Buckley joined Colorado College in the summer of 2018 after 30 years with the City of Colorado Springs, the last ten as a police lieutenant. Cathy brings combined experience in law enforcement, emergency management, and firefighting to the college. Cathy has a BA in Sociology and a master's degree in Public Administration from the University of Colorado, Colorado Springs. She completed the FEMA Professional Development Series and possesses practical experience with floods, fires, and active assailant situations in operations, logistics and as a public information officer.  Having lived on three continents before high school, Cathy considers her passport a valuable possession because of the adventures it affords her. When not traveling she enjoys time in the country with her animals which include a pair of rescue donkeys!
---
Sarah Hinkle
Director of Competitive Communications
shinkle@coloradocollege.edu
(719) 389-6509
Bio
Sarah started at Colorado College in 2011. In addition to overseeing Competitive Communications: Speech and Debate, Mock Trial, and Model UN teams, she is the communications consultant to faculty, creates communications-based assessment training, and leads communication strategy sessions in the classroom. Additionally, she actively designs and leads sessions to department and campus affiliates including El Pomar Foundation, Athletics, Advancement, Campus Activities, SCORE, CSURF, Career Center, the CCE, Venture Grant Forum, and Global Scholars Symposium. Sarah is serving on the executive council of two national Speech and Debate organizations: International Forensics Association and American Forensics Association and enjoys tournament travel with Speech and Debate and MUN teams.
Christian Gonzalez
Director of the Butler Center
cgonzalez@coloradocollege.edu
(719) 389-6844
---
Sam Soren 
Director of Housing and Residential Experience
ssoren@coloradocollege.edu
(719) 389-6819
Divisional Directors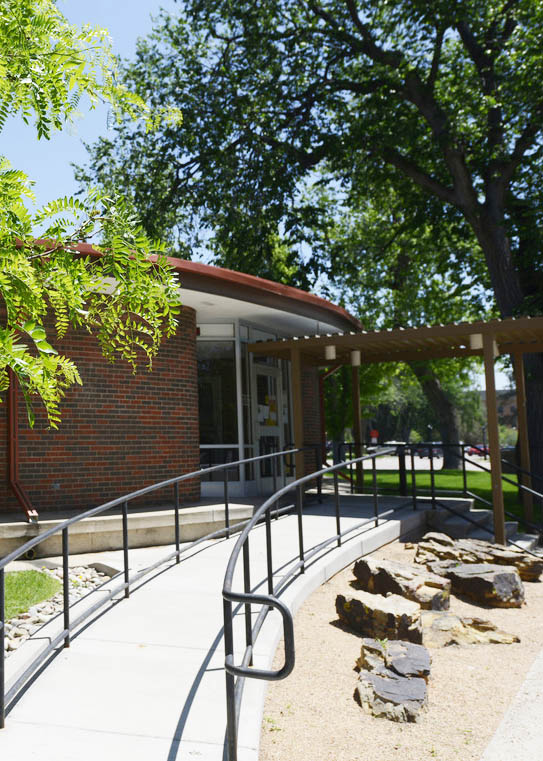 Bill Dove
Director of the Counseling Center
wdove@coloradocollege.edu
(719) 389-6093
Bio
Bill Dove, Ph.D., is the Director of the Counseling Center and Psychological Services and is a licensed clinical psychologist in Colorado. He is a CC graduate and received his doctorate from the University of Denver. He has a broad range of clinical experience and has worked at the Counseling Center for many years. Bill was previously the Director of Emergency Services for the local community mental health center and has been the clinical director of a number of different mental health programs in the Colorado Springs area. He has also maintained a private psychotherapy practice. He has done research on young adult cognitive development and complex decision-making.