Deans and Directors
Divisional Leadership Team
Mike Edmonds
Dean of Students/Vice President for Student Life
medmonds@coloradocollege.edu
(719) 389-6684
Bio
Mike Edmonds, PhD, is the Dean of Students/Vice President of Student Life at Colorado College, where he has served for nearly 30 years. Dean Edmonds is also an Executive in Residence in the Economics and Business Department. Dean Edmonds holds a Bachelor of Arts, Master's, and Ph.D. from Ole Miss, and was inducted as a Hall of Fame graduate in 1984. He has completed a post-graduate institute at Harvard University, and is a graduate of the Center for Creative Leadership. He frequently judges for the National Speech and Debate Association.
Dean Edmonds is a member of the North Central Institution Action Committee of the Higher Learning Commission, and serves as a peer reviewer for accreditation visits. At Colorado College, he has been recognized with the Colorado College Center for Service and Learning Award; the Victor Nelson Cisneros Diversity Award, which was presented at the 2010 Colorado College Honors Convocation; and the 2011 Gresham Riley Award, which recognizes faculty and staff of the College who have made a significant difference to the Colorado College community through outstanding service, commitment and accomplishment.
Nationally, Dean Edmonds is a member of the Lott Institute Trustees at the University of Mississippi and the School of Liberal Arts Board of Trustees at Ole Miss. He is treasurer of the Delta Sigma Rho-Tau Kappa Alpha forensics honorary. Regionally, Dean Edmonds is a past chair of the Board of Trustees for Memorial Health System, past chair of United Way for the Pikes Peak Region, a member of the Tocqueville Society United Way and on the Board of Trustees of the Colorado Springs School. He is past chair and current member of the Board of Directors of the Cheyenne Mountain Zoo, president-elect of the Great West American Cancer Society Board of Directors, and past member of the Colorado Springs Chamber of Commerce Board. He was appointed by Governor Bill Owens to serve on the Fourth District Judicial Commission of Colorado and served as chair of the Colorado Springs Municipal Airport Commission. Dean Edmonds holds a professional membership in Delta Sigma Rho-Tau Kappa Alpha and is a silver lifetime member of the NAACP.
Dean Edmonds has been honored with the Educator of the Year Award from the Urban League of the Pikes Peak Region; the national St. George Award from the American Cancer Society; the inaugural Lifetime Achievement Award from the National Forensic League; the MLK award from James Logan High school in Union City, CA; the Delores Taylor Arthur Award from Holy Cross High School in New Orleans; the Men of Achievement award from Delta Sigma Theta; and the Citizen of the Year Award from Omega Psi Phi. He was the recipient and awardee of the Uplift Community Foundation's support in 2015. For his work in speech and forensics, he has been recognized with the National Speech and Debate Association's Lifetime Achievement Award, and inducted into the Gold Key Society at Emory University.
---
John J. Lauer
Associate Vice President for Student Life
jlauer@coloradocollege.edu
(719) 389-6200
Bio
John Lauer began work at Colorado College in 2007. He has held multiple positions in higher education for nearly 30 years. He holds a Bachelor of Science in Education from the University of Wisconsin-Madison, a Master of Arts in Social Science with an emphasis in Student Development from California State University, Chico, and an MBA from the University of Colorado. John is chairing the colleges' multi-year JED Campus initiative focused on student emotional and mental health, suicide and substance abuse prevention, and the overall wellness of college students.
John is active in the Association of College and University Housing Officers-International (ACUHO-I), and is leading CC's participation in that association's 21st Century Project. He is a member of the National Association of Student Personnel Administrators (NASPA), the Association of American Colleges and Universities (AAC&U), and the Association for the Study of Higher Education (ASHE). John's research interests including student Thriving, the positive impacts on student learning through living on campus, safe campus initiatives, and strengths-based leadership. John and his wife Lily are the proud parents of three Colorado College students: Jake '17, Josh '19, and Ariel '21.


---
Rochelle T. Dickey-Mason
Senior Associate Dean of Students
rmason@coloradocollege.edu
(719) 389-6800
Bio
Rochelle T. Dickey-Mason is the senior associate dean of students at Colorado College. Previously, she served as associate dean and director of minority student life and director of minority and international students, also at Colorado College. For more than 25 years, she has worked to improve the lives of students by creating constructive conversation and building bridges. She received the Victor Nelson-Cisneros Award for her commitment to diversity and inclusion for all members of the CC community, and an Urban League Service Award for commitment to the welfare of minority students. Mason received three awards from the NAACP; the Community Education Award, Freedom Fund Award, and was recognized for enduring support of civil rights and social justice. She also received the CC Student Mentor Award for five years, as well as Advising Awards from Blue Key and Mortar Board National Honor Societies.
Rochelle has served on and chaired numerous campus and national committees, including the Associated Colleges of the Midwest Committee on Minority Concerns. She is very excited and honored to be a recent recipient of the Gresham Riley Award for making a difference in the Colorado College community through outstanding service, commitment, and accomplishment.
She also has been instrumental in outreach and partnership efforts that connect CC to the greater Colorado Springs community and has served on the African-American Youth Leadership Conference Board of Directors for several years. Her involvement in community projects has focused on enhancing education and access for youth, so that they might have the kind of support she received as a first-generation college student.
The Rochelle T. Dickey-Mason Award for an Outstanding Event Contributing to the Empowerment of Communities of Color is presented by the Butler Center at Colorado College. She was a first-generation student at Colorado College, and earned her BA in Drama from CC and a Master's in Education with a focus on Intercultural Counseling form the University of Colorado at Colorado Springs. She has directed and co-produced numerous theatrical performances at Colorado College over the years, performed professionally, served as assistant director of Mariachi Tigre, and is a member of the CC Choir. She is also a proud CC parent, as her son recently graduated from Colorado College.


---
Manya Whitaker
Interim Director of the Butler Center
mwhitaker@coloradocollege.edu
(719) 389-6169
Bio
Dr. Manya Whitaker is an Associate Professor of Education at Colorado College. She is a developmental educational psychologist with expertise in social and political issues in education. Her courses include Urban Education, Diversity & Equity in Education, and Educational Psychology, among others. She researches the stability of teachers' diversity-related belief systems across time and settings, and how those beliefs can be intentionally disrupted and re-structured through teacher training. She is the author of Schooling Multicultural Teachers: A Guide for Program Assessment and Professional Development, Learning from the Inside-Out: Child Development and School Choice and co-editor of Counternarratives from Women of Color Academics.



---

Ryan Hammes
Director of Outdoor Education
rhammes@coloradocollege.edu
(719) 389-8131
Bio
Ryan Hammes began working for Colorado College as the Director of Outdoor Education in 2012. Previously, he was the coordinator of the Outdoor Recreation Program at Sonoma State University in northern California. He has taught courses in outdoor pedagogy and been published for his work in adventure education and rock climbing. Ryan holds a Bachelor of Science in Geology from the University of Wisconsin-Eau Claire and a Master of Science in Adventure Education from the University of Wisconsin-La Crosse. His extensive outdoor certifications include: technical rock climbing, avalanche analysis, backcountry skiing, and wilderness medicine. Ryan is active with the American Mountain Guides Association and the Association of Outdoor Recreation and Education.
---
Megan Nicklaus
Director of the Career Center
mnicklaus@coloradocollege.edu
(719) 389-6424
Bio
Megan Nicklaus began working for Colorado College as the Director of the Career Center in 2013. Previously, she was the Associate Director for the Center for Student Development at Vanderbilt University in Nashville, TN. She has extensive experience both with career coaching and campus recruiting programs. Megan holds a Bachelor of Science in Biology from the University of Dayton and a Master of Arts in Student Affairs in Higher Education from Indiana University of Pennsylvania. She is a member of several professional associations including the National Career Development Association. When she is not helping students with their transition, you can generally find her enjoying the outdoors rock climbing, hiking, or trail running.


---
Maggie Santos
Director of Campus Safety & Emergency Management
msantos@coloradocollege.edu
(719) 389-6707
Bio
Maggie Santos graduated from Colorado College in 1986 with a degree in Spanish/Secondary School Teaching Certificate. She taught middle school and high school locally for five years, and in 1992, she became a police officer for Colorado Springs Police Department. As a CSPD officer, she spent time in the Neighborhood Policing Unit, taught DARE, Project Alert, and was a School Resource Officer. She was the project coordinator for the COPS Demonstration Center, working on the enhancement of community policing within CSPD and the Colorado Springs Community. She was promoted in 2000, supervised Major Crimes Unit/Sex Crimes/Crimes Against Children Unit and retired in role of the Internal Affairs Lt.
She returned to Colorado College in 2015 as the Director of Campus Safety.
Divisional Directors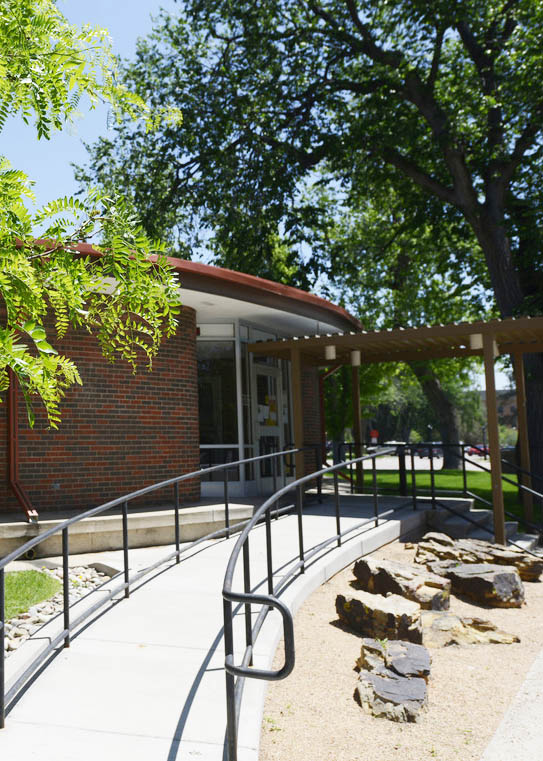 Bill Dove
Director of the Counseling Center
wdove@coloradocollege.edu
(719) 389-6093
Bio
Bill Dove, PhD, is the Director of the Counseling Center and Psychological Services and is a licensed clinical psychologist in Colorado. He is a CC graduate and received his doctorate from the University of Denver. He has a broad range of clinical experience and has worked at the Counseling Center for many years. Bill was previously the Director of Emergency Services for the local community mental health center and has been the clinical director of a number of different mental health programs in the Colorado Springs area. He has also maintained a private psychotherapy practice. He has done research on young adult cognitive development and complex decision making.
---
Amy Hill
Director of Campus Activities and Student Orientation
ahill@coloradocollege.edu
(719) 389-6326
Bio
As Director of Campus Activities & Student Orientation, Amy is responsible for welcoming new students and easing their transition to campus as well as overseeing many aspects of co-/extra-curricular student life such as student events and organizations. A product of the liberal arts, Amy values being a mindful, lifelong learner and strives to be a student-centered professional who values holistic development, recognizing the interconnectedness of students' experiences and identities. She enjoys checking out live music, cooking for large groups, practicing Yoga, and going on adventures in the local area, sometimes with her 17 year old Chihuahua in tow, when not working. Originally from Texas, Amy attended college in Tennessee (at Sewanee) before heading to Ohio for graduate school (at Bowling Green State University) and most recently worked in Los Angeles, CA (at Occidental). Amy joined the Colorado College and Student Life team in July 2018 and is excited about helping continue to build and contribute to a supportive and inclusive campus community.
---
Bethany Grubbs
Director of Residential Life
bgrubbs@coloradocollege.edu
(719) 389-6819
Bio
Bethany Grubbs provides programmatic and educational vision and leadership focused on student development and implementing learning-based experiences for students. As the Director, she provides leadership and mentorship to the Residential Life Coordinators, has integral responsibility for the oversight of the residential experience for students living in a variety of communities on and off campus, and serves as the advisor to Greek organizations. Bethany also provides programmatic and educational vision and leadership focused on co-curricular student development by creating and implementing learning-based experiences for students.


---
Heather Horton
Director of the Wellness Resource Center
hhorton@coloradocollege.edu
(719) 389-6211
Bio
Heather Horton, PhD, came to Colorado College in 2005. Prior to her appointment as Director of the Wellness Resource Center in 2012, she served as the college's first Sexual Assault Response Coordinator for more than 8 years. Heather earned her B.A. in Psychology from the University of California at Davis, and an M.A. and Ph.D. in Clinical Psychology from Kent State University. She is a Licensed Clinical Psychologist and has more than 20 years of experience in providing mental health services and in working with survivors of interpersonal violence. Heather also has extensive experience with program development.
During her years here at Colorado College, much of her energy has gone toward developing and implementing comprehensive prevention programs focused on preventing violence, promoting mental health, and creating a healthy, caring campus community. She has been recognized by the college, receiving the Theodore Roosevelt Collins Award for commitment to diversity, as well as the college Mortar Board Honor. She is a member of a number of professional organizations including the National Association of Student Personnel Administrators (NASPA).
When not engaged with her work at the college, Heather enjoys hiking, camping, and making art.
---
Jeanne Steiner
Director of Arts and Crafts
jsteiner@coloradocollege.edu
(719) 389-6769
Bio
Jeanne Steiner received her B.F.A. in Art from Colorado State University in 1973 and holds a Colorado Teaching Certificate in Art, K-12. She is the Arts and Crafts Program Director for the Student Life division, scheduling 15 to 20 classes each block for CC students in the fields of clay, fibers, and metals. She currently serves as Fiber Arts Instructor for the Art Department, teaching two classes per academic year. As weaving and dyeing processes have been an enduring interest and passion, Jeanne maintains a studio at home and weaves on a 16 harness AVL dobby loom, and a 24 harness Louet dobby loom. Her work is part of many private collections around the United States.