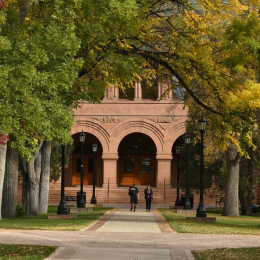 Colorado College continues its acclaimed Visiting Writers Series this fall with an outstanding line-up of authors.The Visiting Writers Series, which has brought more than 225 authors - both established and emerging - to campus since its inception, celebrates a wide variety of genres, ranging from poetry to short stories to non-fiction as well as blended and hybrid genres.
"It is essential that we create a space on campus to interact with contemporary writers," says CC Assistant Professor of English and fiction writer Natanya Ann Pulley, who is one of the coordinators of the series, along with English Department faculty members Steve Hayward, Jane Hilberry, and Sylvan Goldberg.
Among those coming to campus during Blocks 1-4 are Pulitzer Prize poetry finalist Diane Seuss, award-winning journalist Helen Thorpe, and award-winning Diné (Navajo) poet and multimedia artist Esther G. Belin. Visiting writers Seuss, Kathryn Kuitenbrouwer, and Ramona Ausubel will be teaching blocks in the creative writing track as well.
"The literary world is more than readers and writers, more than an audience and truth-speakers or world-builders. It's about participating as a citizen in a literary community that is changing daily and taking on volatile and critical topics in every genre," says Pulley.

"We invite our community to engage in the arts through an embodied experience - attuned to the rhythms of voice and stillness, the sensory impact, and for those moments when our blood and skin respond a tiny second before our thoughts and emotions. We offer opportunities to ask our visitors questions, learn from them in craft talks and class visits, and to imagine creativity as a communal engagement. We also want our students, faculty, and staff to hear about the journey, the obstacles, and the negotiations of positionality and identity within the publishing market that writers and poets experience. By seeking and supporting diverse voices and styles as well as writers at every stage of their career and from a multitude of backgrounds, we hope to build a thriving and dynamic literary community at Colorado College and for Colorado Springs," she says.
Here's the lineup for the fall Visiting Writers Series:

Tuesday, Sept. 11: Julia Dixon Evans
Julia Dixon Evans is the author of the novel "How to Set Yourself on Fire." Her work can be found or is forthcoming in McSweeney's, Paper Darts, New York Tyrant / Tyrant Books, Barrelhouse, San Diego CityBeat, and elsewhere. She is the founding editor and host of Last Exit, a new literary journal, reading, and workshop series. She also serves as senior columns editor for The Coil and is nonfiction editor for Noble Gas Qrtrly. She was a 2014 PEN in the Community resident, a program of PEN America that brings professional writers into underserved schools and communities, and taught creative writing to ARTS' TranscenDANCE youth dancers. She also is the former program director and editor for So Say We All, a literary nonprofit. She lives in San Diego. 7 p.m., McHugh Commons, 1090 N. Cascade Ave.
Thursday, Sept. 27: Diane Seuss
Diane Seuss is the author of three poetry collections, including "Wolf Lake," "White Gown Blown Open," winner of the Juniper Prize for Poetry, and "Four-Legged Girl," which was a finalist for the 2016 Pulitzer Prize in Poetry. The New York Times Book Review calls her newest volume, "Still Life with Two Dead Peacocks and a Girl," a "marvelous, complex, attractive, frightening book." Her work has appeared in The New Yorker, Poetry, Brevity, and The Missouri Review, as well as "The Best American Poetry" (2014). 7 p.m., Gaylord Hall, Worner Campus Center, 902 N. Cascade Ave.
Tuesday, Oct. 2: Helen Thorpe
Helen Thorpe is an award-winning journalist who lives in Denver. Her journalism has appeared in The New York Times Magazine, The New Yorker, Texas Monthly, and 5280. Her most recent book, "The Newcomers: Finding Refuge, Friendship, and Hope in an American Classroom," is the 2018 Pikes Peak Library District All Pikes Peak Read selection. Says The New York Times Book Review of her new book, "A delicate and heartbreaking mystery story... Thorpe's book is a reminder that in an era of nativism, some Americans are still breaking down walls and nurturing newcomers, the seeds of the great American experiment." Sponsored by the Pikes Peak Library District. 3 p.m., Gates Common Room, third floor of Palmer Hall, 1025 N. Cascade Ave.
Tuesday, Oct. 9: Juan J. Morales
Juan J. Morales is the son of an Ecuadorian mother and Puerto Rican father. He is the author of three poetry collections, including "Friday and the Year That Followed," "The Siren World," and "The Handyman's Guide to End Times." His poetry has appeared in CSPAN2, Copper Nickel, Crab Orchard Review, Hayden's Ferry Review, Pleiades, Poetry Daily, and others. He is a CantoMundo Fellow, a Macondista, the editor and publisher of Pilgrimage Press, and department chair of English and World Languages at Colorado State University-Pueblo. 7 p.m., McHugh Commons, 1090 N. Cascade Ave.
Thursday, Nov. 8: Esther G. Belin
Esther G. Belin is an award-winning Diné (Navajo) poet and multimedia artist. She is a graduate of the University of California, Berkeley, the Institute of American Indian Arts, and Antioch University. Her writing has appeared in outlets including Wicazo Sa Review, BOMB, Democracy Now!, and Studies in American Indian Literatures. She considers the following locations her homeland: Los Angeles; Durango, Colorado; and Diné bike'yah. Her writing and art grow from and are an offering to the collective humanity, bila' ashdla'ii. Sponsored by the NEH Professorship. 7 p.m., McHugh Commons, 1090 N. Cascade Ave.
Monday, Dec. 3: Ramona Ausubel and Kathryn Kuitenbrouwer
Ramona Ausubel is the author of two novels and two story collections. Her most recent book, "Awayland," was a New York Times Editors' Choice selection. She also is the author of "Sons and Daughters of Ease and Plenty," "No One is Here Except All of Us," and "A Guide to Being Born." She is the recipient of the PEN/USA Fiction Award, the Cabell First Novelist Award and was a finalist for the New York Public Library Young Lions Award. Her work has appeared in The New Yorker, The New York Times, Tin House, One Story, Ploughshares and many other journals.
Kathryn Walsh Kuitenbrouwer is the bestselling author of the novels "All the Broken Things," "Perfecting," and "The Nettle Spinner." Her short-story collection "Way Up" won a Danuta Gleed Award and was a finalist for the ReLit Award. Kuitenbrouwer's recent short fiction has been published in Granta, The Walrus, Maclean's, Joyland, 7X7 LA, and Storyville. She is an instructor with the University of Toronto's School of Continuing Studies, associate faculty with the University of Guelph's Creative Writing MFA, and she works on creativity, language, and enchantment in the English Department at the University of Toronto. 7 p.m., Gaylord Hall, Worner Campus Center, 902 N. Cascade Ave.
Monday, Dec. 10: Stanley Crawford
Stanley Crawford is the author of eight novels, among which is "The Log of the S.S. The Mrs Unguentine" and three works of nonfiction about Northern New Mexico, including "A Garlic Testament: Seasons on a Small New Mexico Farm." Recent novels include "Seed," "Intimacy," "The Canyon," and "Village." An NEA Writing Fellow and a Lila Wallace-Reader's Digest Writer's Award winner, Crawford has held residencies at the MacDowell Colony, the Bellagio Study Center, and Centrum in Port Townsend, Washington. He taught at the Institute of American Indian Arts, UMass/Amherst, and Colorado College. Sponsored by the Hulbert Center for Southwest Studies. 7 p.m., Gaylord Hall, Worner Campus Center, 902 N. Cascade Ave.
The series is sponsored by the Colorado College Department of English with the support of the MacLean Visiting Writers Endowment and through co-sponsors such as the NEH Professorship, the Hulbert Center for Southwest Studies, the Journalist-in-Residence program, and The Press at Colorado College.