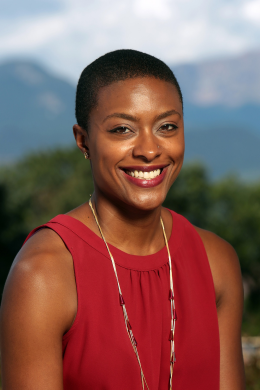 Assistant Professor and Associate Chair of the Education Department Manya Whitaker has published a new book, "Counternarratives from Women of Color Academics," that includes chapters from 28 contributors whose stories document the strength, resilience, and innovation women of color bring to work every day.
The book, published by Routledge, includes a chapter by Natanya Pulley, assistant professor of English at Colorado College, titled "Vulnerability: The New Brave," and is co-edited with Eric Anthony Grollman, assistant professor of sociology at the University of Richmond.
Subtitled "Bravery, Vulnerability, and Resistance," the book documents the lived experiences of women of color academics who have leveraged their professional positions to challenge the status quo in their scholarship, teaching, service, activism, and leadership. By presenting reflexive work from various vantage points within and outside of the academy, contributors document the cultivation of mentoring relationships, the use of administrative roles to challenge institutional leadership, and more. Through an emphasis on the various ways in which women of color have succeeded in the academy - albeit with setbacks along the way - this volume aims to change the discourse surrounding women of color academics: from a focus on trauma and mere survival to a focus on courage and thriving.
Whitaker, who joined the Colorado College faculty in 2011, says as a woman of color, she was tired of reading about the negative aspects of academic life for women of color. "Common discourse is mostly about our struggles with racism, classism, and overall marginalization in a male dominated, white space. From my own experiences I know there are women of color academics who have had extremely successful careers and I felt that their stories deserved to be told," she says. "Such stories can be the only source of encouragement on days when we've experienced just one too many micro- or macroaggressions. I co-edited this volume to give women of color academics a space to share their triumphs in hopes that other women of color can find inspiration and guidance."

The book was a labor of love for Whitaker. "In many ways, it was the injection of soul I needed after being mired in teaching and mentoring for five years. While I love this job, I needed something to remind me of my humanity - of my uniqueness, my capabilities, and my accomplishments. I needed something that let me know that I have what it takes to make a career out of this. So in many ways, this book was a selfish endeavor that gave me emotional and spiritual sustenance," she says.
She notes that the book is actually the result of a miscommunication between herself and co-editor Grollman, with whom she edited a blog on Inside Higher Ed. When Grollman asked about turning the blog into a book, she thought the question centered on writing a book about academics whose identities placed them on the margins. That miscommunication eventually led Whitaker and Grollman to craft a call for proposals for stories from women of color academics that portrayed their bravery, broadly construed.
"We received over 300 abstracts, most of which detailed trauma," says Whitaker. "We invited approximately 35 women from all academic ranks, from all racial/ethnic groups, and from all academic divisions to submit full chapters," she says.
"I am quite honored to have been able to read so many stories and to help women whose stories have always been told for them, find their voice," says Whitaker.