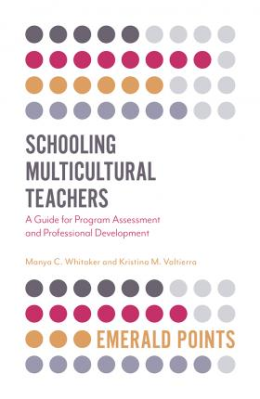 Two members of the Colorado College Department of Education have co-authored a new book that helps develop and expand teachers' inclusive instructional practices.
Associate Professor Manya Whitaker and Assistant Professor Kristina Valtierra have drawn on years of research to co-author "Schooling Multicultural Teachers: A Guide for Program Assessment and Professional Development," which was published a week ago by Emerald Publishing.
Whitaker, a developmental educational psychologist with expertise in social and political issues in education, and Valtierra, a scholar-practitioner who has spent more than 15 years as a classroom teacher, instructional coach, and educational consultant, write that the cultural identities of teachers inevitably influence the interactions they have with their students. These relationships, in turn, impact teaching and learning processes, with many low-income, racial, ethnic, and linguistic minority students failing to receive the same quality of education as their more privileged counterparts.
The book offers guidance for enhancing teachers' inclusive instructional practices by using the Dispositions for Culturally Responsive Pedagogy Scale (DCRPS). Developed by Whitaker and Valtierra, this is the only validated scale that measures the diversity-related beliefs, values, and attitudes that underpin multicultural teaching practices. The DCRPS measures three domains: dispositions for community, dispositions for social justice, and dispositions for praxis (the cyclical process of reflection and action).
"In the first four years of our scholarly partnership we've found that teachers most successfully enact inclusive teaching practices when they have equity-oriented values, beliefs, and attitudes," says Whitaker. "This book explains how such dispositions can be cultivated, leveraged, and affirmed by education leaders."
"In my early career as an urban elementary teacher it was clear to me that educators' attitudes toward diverse students directly influenced the opportunities they did or did not provide in the classroom," says Valtierra. "I have since dedicated my career to preparing multicultural educators who value and leverage the cultural identities of their students. This book offers teacher educators and school leaders practical tools to develop teachers' dispositions that predict inclusive practices."
"Schooling Multicultural Teachers" offers a historical overview of the multicultural education context, followed by practical examples of how the DCRPS can support program evaluation, as well as guide pre-service and in-service teacher development across diverse programs and demographic contexts.
The book provides educators with examples of how to interpret DCRPS responses, how to combine the DCRPS with other resources, and how to customize professional development that builds on teachers' dispositional strengths while also addressing community-specific needs.
Whitaker came to Colorado College in 2011 as a Riley Scholar-in-Residence and joined the faculty in 2013. Among the courses she teaches are Diversity and Equity in Education, Urban Education, and Educational Psychology.
Valtierra came to CC as a visiting assistant professor in 2014 and joined the faculty the following year. Among the courses she teaches are From Multicultural Education to Critical Pedagogy, Culturally Responsive Teaching and Disciplinary Literacy Methods, and Inclusive Pedagogies in Literacy, Curriculum, and Instruction.