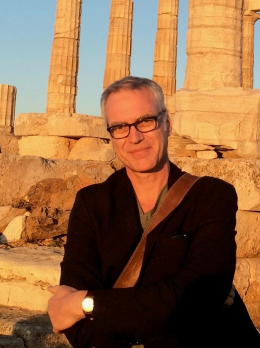 Associate Professor of Comparative Literature and German William Davis has published a new book, "Romanticism, Hellenism, and the Philosophy of Nature."
The book, published by Palgrave Macmillan, investigates intersections between the philosophy of nature and Hellenism in British and German Romanticism, focusing primarily on five central literary/philosophical figures: Friedrich Schelling, Friedrich Hölderlin, Johann Wolfgang von Goethe, Percy Shelley, and Lord Byron.

Near the end of the 18th century, poets and thinkers reinvented Greece as a site of aesthetic and social unity, a move that corresponded with a refiguring of nature as a dynamically interconnected web in which each part is linked to the living whole. This vision of a vibrant materiality that allows people to become "one with all that lives," along with a Romantic version of Hellenism that wished to reassemble the broken fragments of an imaginary Greece as both site and symbol of this all-unity, functioned as a two-pronged response to subjective anxiety that arose in the wake of Kant and Fichte.
Davis, who joined the Colorado College faculty in 1993, says the book grew out of the combination of research he had been doing for a number of years on German Idealist philosophy and its connection to literary texts in the years around 1800, and a developing interest of his in Greece and Hellenism that started in 2010.

"With the help of a grant that Professor Susan Ashley of the History Department (and dean of the faculty at the time) obtained for the college, I was able - together with my colleague Lisa B. Hughes, who has long taught in Greece - to develop a comparative literature course on Romanticism and the idea of Greece," he says. Davis and Hughes have since team-taught the course three times as a block abroad in Greece.

"My book is thus closely connected to my teaching," says Davis. "Since 2010 I have been able to spend a fair amount of time traveling, teaching, and researching, as well as attending conferences and language classes in Greece." In the summer of 2017, he organized and hosted a colloquium in Athens for scholars from many different countries on "Romanticism in the Mediterranean World."

"This project on Romanticism and Hellenism is thus caught up both in my intense interest in philosophy and literature, as well as in the love for Greece itself that I have developed over the past several years," says Davis.