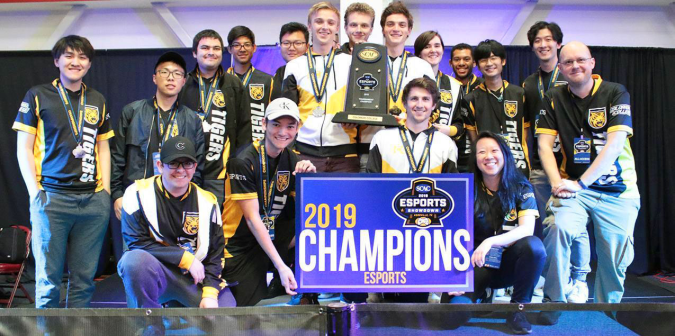 By Laurie Laker '12
Colorado College has arrived in the world of esports! The CC esports team brought home the first-ever Division III Esports Conference Championship April 6-7.
Competing against five other Southern Collegiate Athletic Conference schools at the inaugural SCAC Esports Showdown at Schriener University, in Kerrville, Texas, the team posted victories in both League of Legends and Overwatch, as well as second-place finishes in Fortnite and Super Smash Bros. Ultimate over the course of the two-day tournament.
"It was awesome seeing all the work everyone - not just the players -has put in over the past years come to fruition as an overall first place victory for CC," says Quentin Kakuda '19 of the championship win.
CC competed against over 100 students and coaches from five colleges across the SCAC, including CC, Austin College, Schriener University, Southwestern University, and Johnson & Wales University. The esports team at CC has grown in both prestige and success since its launch in 2017-18, with support from the college's administration and information technology team. Chad Schonewill, the ITS Solutions Center team lead, heads the group. At the moment, CC esports has two dedicated teams in both League of Legends and Overwatch, and combines forces from both teams for other games when necessary.
"Esports has skyrocketed in popularity and shows no signs of slowing down. The last world championship for League of Legends had physical attendees and people who watched in numbers that rival the Super Bowl, and is projected to easily surpass that this year," Schonewill says. "I personally think it's important to include it at CC because a significant part of our student body is passionate about video games. Even if they don't play at a competitive level, many students like to spectate."
League of Legends is a multiplayer online battle arena game, where players compete in teams to take over and destroy an opposition team's "nexus" - a structure that lies at the heart of a base protected by defensive structures. Overwatch is an objective-based six vs. six, team game, with each match lasting between 10 and 20 minutes. Set in the future, each match pits teams of heroes, scientists, adventurers, and mercenaries against each other.
In addition, student employees on CC's video production team did the entire broadcast for the event, making it possible to watch the championship matches. They provided a video stream for a total of 19 hours, 27 minutes with 922 unique viewers and 2,585 total views. The high during the two-day event was 77 concurrent viewers, with an average of 30 concurrent viewers (across 19.5 hours!).