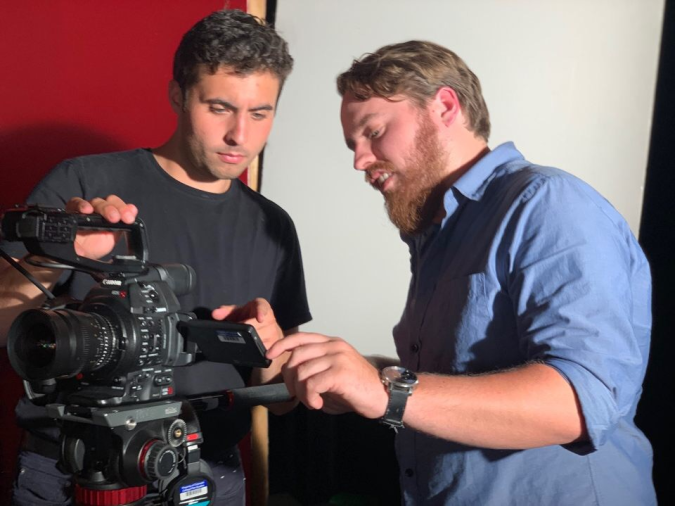 By Laurie Laker '12

"July Rising" - a film written, directed, produced, edited by, and starring a slew of Colorado College graduates - has taken flight. The film is the creative output of a group of CC students, graduates, and staff, including Robert Mahaffie '15. Premiering at the 23rd Sonoma International Film Festival in March, it won the Stolman Award for Best American Indie Feature film.
A film and media studies major at CC, Mahaffie taught the Advanced Filmmaking class in Block 8 of last year. After graduating CC, he worked as a paraprofessional for the Film and Media Studies Department, and in CC's Office of Communications, before moving to Los Angeles to work full-time in the film industry. Now, with teaching a block under his belt, he says he's literally "done everything possible at CC that is related to film!"
"July Rising" all started as the thesis screenplay of Chauncey Crail '17, Mahaffie explains.
"It was something that he'd been developing for two years by that point. Before he turned in a final script, we'd started casting roles for the film."
Over the course of the summer of 2017, the project took shape, with Crail and Mahaffie as the lead producers. Casting calls were held in Denver, Los Angeles, Colorado Springs, and San Francisco. In order of appearance in the film, a total of 17 CC graduates appear as cast members: Joshua Zambrano '19, Doron Jépaul Mitchell '14, Elle Gannon '18, Will Stockton '19, Thomas Crandall '16, Robert Mahaffie '15, Ben Coldwell '17, Julia Greene '19, Lauren Antonoff '15, Madeline Ng '20, Anna Lynn-Palevsky '18, Grace Powell '18, Lucy Houlihan '18, Sophia Capp '17, Nick Merritt '19, James Ryan Dinneen '16, and Charlie Theobald '17.
The film tells the story of 16-year-old Andy, orphaned after the death of her grandfather, who works to save her family pear orchard. Her aunt tries to get her to return to the city, but Andy is determined to stay and retain the land.
"She's working to save the orchard from money issues, alone, while also trying to work out who she is. She's also a woman in a male-dominated world, so she's got a huge fight on her hands," Mahaffie explains.
Using their CC film connections, Crail and Mahaffie immediately involved Houlihan and Greene as co-producers, before starting a location scouting trip. With locations found, the team grew to include Crandall as cinematographer, Theobald as the film's sound recordist, Stockton as the digital imaging technician, Zambrano as chief grip and electric supervisor, and Coldwell as the assistant camera and second assistant director.
Filming started on July 26, 2017, and wrapped on August 21 of the same summer.
"Everyone was doing four or five jobs at once. I was a set designer, props manager, and managed all the vehicles on set, as well as a producer!" says Mahaffie.
After initial shooting, the team hired Meredith Mantik '11 to edit the film, who'd been working in Los Angeles as an editor since attending the National Film and Television School in the UK for her master's. With her edits, the team knew what holes they had to fill, bringing them back to their alma mater in late 2017 into early 2018.
"The Colorado Springs shooting was amazing," says Mahaffie. "With CC's blessing, we used a lot of locations on campus like the Bemis kitchen, the Cornerstone studio space, and around the campus area too."
The finishing of the film took most of the next year, with James Ryan Dinneen '16 as the soundtrack composer. Chris Bittner, CC's digital arts and media technology director, and his students, worked on the sound mixing.
With the film complete, the question of "What now?" came to the fore.
"We always wanted to submit to festivals, but we had to work on which ones to target to be well received," explains Mahaffie. Narrowing down took time, with Crail, Mahaffie, and Houlihan deciding on festivals due to their location, film community inclusion, and the festival's focus.
The film premiered at the Sonoma International Film Festival between March 27-29, 2019.
"The Sonoma festival is about food and wine, with a heavy focus on strong filmmaking, so our agricultural and locally themes matched well," Mahaffie says. "We were able to bring our cast and crew to the premiere, which allowed us to reconnect the film with the local community - and then we won!"
"It was incredible," says Mahaffie. "The success was gratifying, but it also allowed our cast and crew to connect with more directors, talent agents, and people in the film world - that was an unforeseen bonus of the experience - the professional networking development."