Jones Award Recipients
Kathleen A. Jones Memorial Fund
Kathleen A. Jones was a 1980 Colorado College anthropology graduate.
While enrolled as a graduate student in the Environmental Studies program at the University of Colorado, Denver, she passed away. A fund to support senior paper research was established right after her death in September, 1980.
Recipient Experiences
Amalie Hipp '22
I am doing my senior capstone research on a shed structure near South Fork, Colorado, where passengers along the Creede branch of the Denver and Rio Grande Western Railroad would wait for their trains during 1900-1930. The structure is covered in graffiti inscriptions of names, places, occupations, and dates. It is also one of the only passenger sheds of its description that survived the Colorado railroad decommissions of 1915-1965.
Jack O'Halloran '22
I am going to conduct research on Vervet monkey feeding ecology in South Africa, specifically at a private reserve called Selati, this summer. My focus is comparing feeding behaviors between the two sexes, how they differ, and what they can tell us about their species and ours.

Anabella Owens '22
One way to approach decolonization of the Anthropology field is repatriation. Repatriation refers to the reciprocal render and surrender of corporeal and spiritual heritage material by predominantly western museums, universities, and other institutions to reconcile and restore these cultural goods to the cultures, nations, and/or owners of origin.
Repatriation: An Anthropological Examination of Mitigating Factors and Migratory (Re)Distribution of Cultural Goods to Senegal, West Africa. 
Monique Gaspar '21
I am proud to have chosen to focus my project on the continuity of Maya languages. Although there is much literature about my Maya heritage, much of it has not been produced by descendants which means the majority of the community have never seen the results of said documentation. My project traces the documentation of the Maya Q'anjob'al and Maya Akateko linguistic communities, specifically, to provide a fresh perspective of the state of our ancient languages.
Daniel Lopez '19
I am currently in Bali, Indonesia and have the privilege of conducting ethnomusicological field research and participant-observer ethnography. To date, I have interviewed 4 separate artists including members of a grunge-psychedelia band named Navicula and famed Ethnic Fusion Guitarist Balawan Guitar. Both are international artists that have left their respective mark in Balinese and Indonesian soundscapes.
Nikki Mills '19
I have been working with a private artifact collector in the San Luis Valley of Colorado. We've been working together to both documents his collection and his knowledge of the region. Rather than utilizing typical methods of archaeologic research where professionals use the material record to inform the past, this reserve uses collaborative methods to understand materials and the past with contemporary partners and ethnography.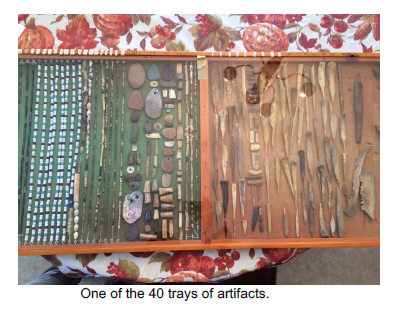 Zizi Zhao '19
I went to Shangrila, Yunnan, China, and conducted ethnography on the local tourism industry and cultural preservation. I discussed how Tibetan cultural preservation in Shangrila organized itself as a form of sustainable development that reacted against and negotiated with state-sponsored tourism. By doing so, local Tibetan activists strived to preserve Tibetan traditions and incorporate local rural communities into modernity.